Gio Ponti, Bruno Munari, Ettore Sottsass, Gae Aulenti and Alessandro Mendini: Lorenzo Petrantoni's illustrations for Domus for Design are a tribute to five symbolic figures of Italian design culture. Petrantoni re-elaborates the repertoire of illustrations from the ancient 19th century encyclopedias that characterize his expressive language in order to portray five Italian creative talents who share the same voracious curiosity and, with a personal, poetic and multidisciplinary approach, have made the history of design and Domus.
Gio Ponti (1891-1979)
He founded Domus in 1928 and directed it for over forty years. He was an architect and designer, even though he also dreamed of becoming a painter. Through the pages of his magazine, he invited readers to build the domestic environment around their own needs, without following trends but "according to intelligence and with a loving culture and Italian common sense". A tireless creator, Ponti wrote, designed, created the covers of the magazine and invited friends, architects and artists to collaborate with him. With him, Domus became the space where the arts could dialogue and spread the new culture of modern living, to which Ponti contributed with design projects, ceramics, glass, cutlery, furniture and architecture, beach houses, Milanese offices, the Pirelli skyscraper, villas in Caracas and Theeran… According to his daughter Lisa, who helped him manage the magazine, Ponti's Domus "knew how to be Milanese and universal".
Ponti's Domus knew how to be Milanese and universal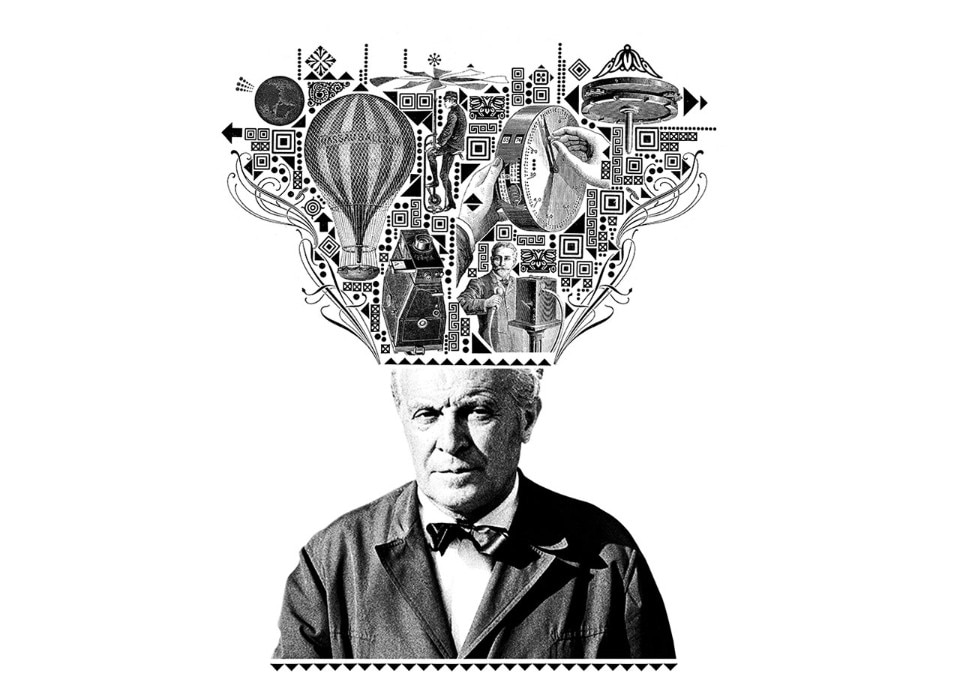 Bruno Munari (1907-1998)

It's impossible to tie Bruno Munari down to a single definition. His Leonardesque inclination, which led him to constantly look for new ideas and inspirations, ranges in all fields, from art to graphics, from design to writing. Since the 1940s, he collaborated with Domus, where he published his reflections on living and "useless machines", abstract works in relation to the surrounding environment. In his text published in 1944, entitled "One comes back home after a tiring day at work, and finds an uncomfortable armachair " (Domus 202, 1944), Munari inaugurated the debate between aesthetic choice and functionality when designing an object. Domus followed his collaboration with the Milanese Danese company, which designed timeless and successful pieces, such as the Cubo ashtray in 1957, and the Falkland lamp published in April 1965, with that nylon structure that "can be washed and takes up very little space when disassembled".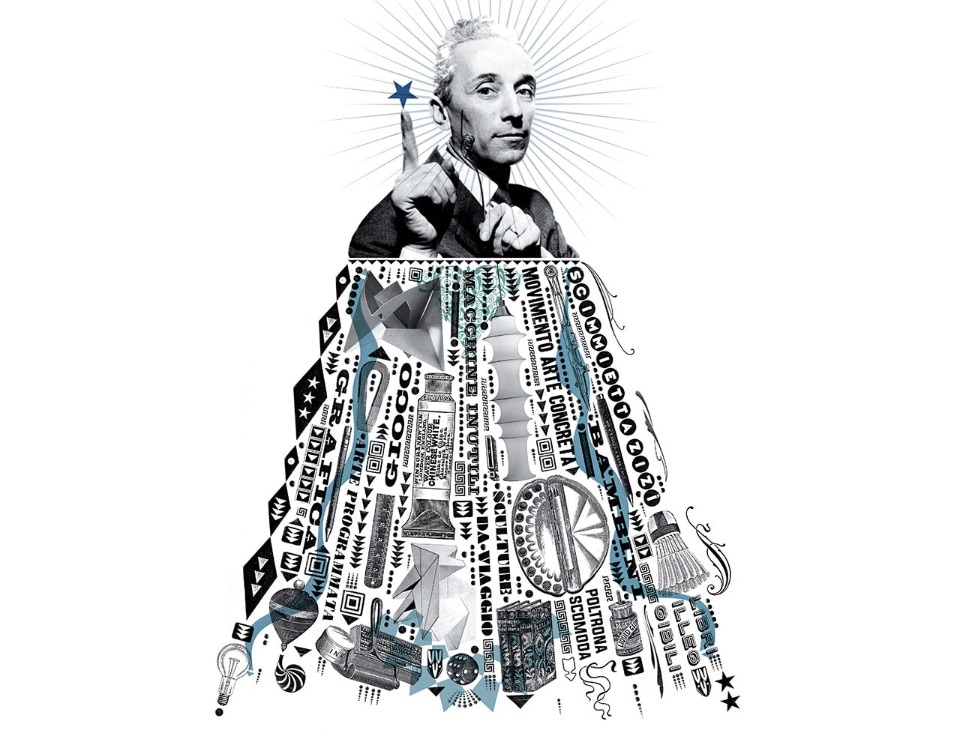 Ettore Sottsass (1917-2007)
He collaborated with Domus since the early fifties. Lisa Ponti wrote that he was very young, "brilliant and fearless", a talent that no one must stop. For more than twenty years, Sottsass travelled, wrote and took pictures for Domus. He designed furniture and interiors, but also jewellery, glass, vases, ceramics, for which he decided the pagination himself. The magazine recounted his collaborations with Olivetti for whom he designed machines and furniture, and his experiences of "radical" design. In the seventies, he offered Domus his travel stories, written in a unique and direct prose, which evoke images, scents, colors of distant places. From 1980 to 1985, he was the art director of Domus (which at the time was directed by Alessandro Mendini) and in 1983 he was the protagonist of the October cover. When the director asked him about his design path, Olivetti, Memhips and his many experiences, Sottsass replied "I like to think and believe that change is a permanent state".
I like to think and believe that change is a permanent state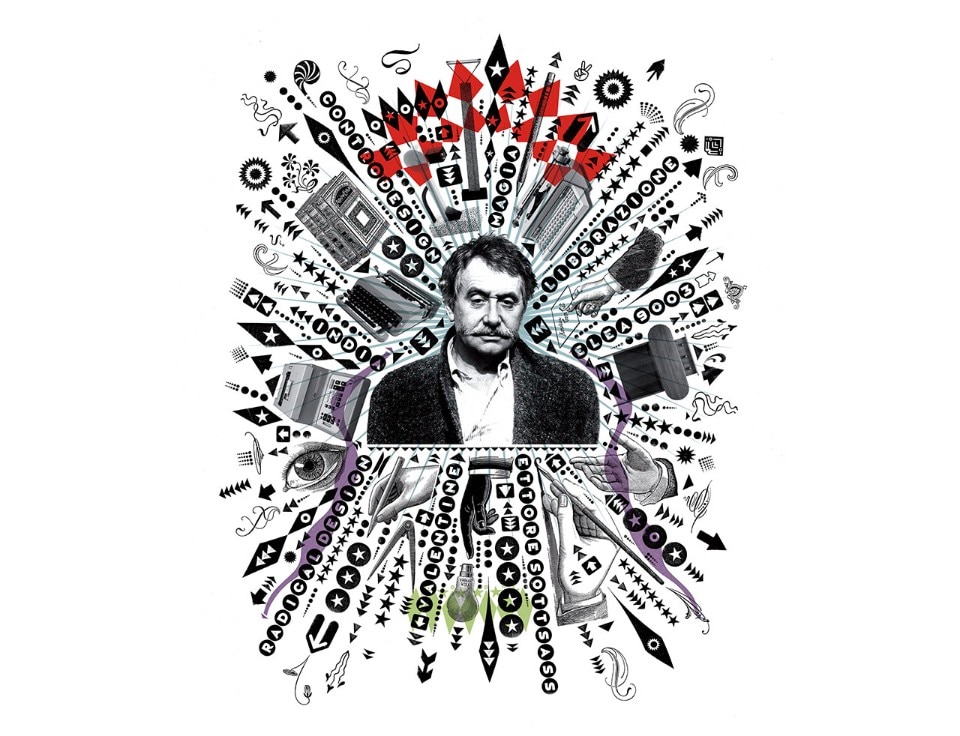 Gae Aulenti (1927-2012)
Domus documented her prolific activity in the field of design and interior design. In 1966, Gae Aulenti was responsible for the renovation of the Fly Centre, a unique shopping centre for modern furnishings, with "quality products both expensive and not", for which she designed the Black and White folding chair, a success that Zanotta repeated more than twenty years later, in 1988. At the end of the Sixties, Domus recounted her collaborations with Olivetti, for whom she designed the showrooms in Paris and Buones Aires. They are bold interiors, with strong and effective visual references, for which she designed some iconic objects such as the Pipistrello Lamp, designed for the shop in Faubourg Saint Honorè. In the 1980s, Gae Aulenti worked on important projects for the restoration of public spaces, such as the "calm and harmonious" renovation of Palazzo Grassi in Venice, the intervention at the Gare d'Orsay in Paris, and at the Milan Triennale.
Alessandro Mendini (1931-2019)
Mendini was a revolutionary and unsettling designer, as well as the two-times sharp critic and director of Domus, first from 1979 to 1986, and then from 2010 to 2011. Mendini is a hotbed of ideas. On the pages of Domus, he investigated the contemporary and the phenomena of costume with a tireless eye, and introduced pages dedicated to decoration and fashion. In his countless daily drawings, always made with the same pen, the Tratto Clip, he did gymnastics for the mind and reorganized his ideas: this is how he designed objects, architecture, magazines. He is a "sensitive Martian", as Michele De Lucchi defined him. For Mendini, "The possible design resolutions of the future lie in the undisciplined and uncontrollable vitality of those millions of individual experiences that escape any categorization," he once wrote in a Domus editorial in 1981.
The possible design resolutions of the future lie in the undisciplined and uncontrollable vitality of those millions of individual experiences that escape any categorization
Openin image: Alessandro Mendini by Lorenzo Petrantoni for Domus for Design