Al Manakh 2: Gulf Continued, published as special edition of Volume Magazine by Archis, OMA/AMO, Pink Tank and NAi


If the monolithic Al Manakh 1 was an exuberant, unintentional propaganda machine, Al Manakh 2: Gulf Continued shows a maturity derived from its propaganda in all directions. Rem Koolhaas' introduction admits the potentially embarrassing situation that all parties involved could have found themselves in if Al Manakh 2 embraced the same editorial manifesto as the first: an exuberant, progress-driven consortium of articles about development in the Middle East Gulf Region. Fortunately, through the heterogeneity of contributions and editorial positions, Al Manakh 2 is poignantly entertaining read, yet also seems destined to become a valuable anthropological resource in years, decades, and perhaps even centuries to come.

Gulf Continued is a compendium of over 140 articles, divided into six "chapters" of sorts: Crisis and Crises, Consultants, Vision, About (the Abu Dhabi Urban Planning Council), Cohabitation, and Export Gulf. Every perspective-from the powerful Emirati national to the lowly architecture journalist in New York-is included to prove a point, pass a value judgment, or project an ideal: with varying degrees of transparency. These various and sometimes contradictory perspectives transform the book into a kind of newspaper, as if each article had been picked from a different gazette around the globe and translated into English. Imagine a broad experiment in opinion-mining by asking experts in various cultural fields the question: "What do you find interesting about The Gulf?"
It is equally important to distinguish the all-encompassing and inclusionary scope of Al Manakh 2. Most western perceptions of the Gulf focus on Dubai, perhaps because it's architectural (sur)realities have become the subject of news headlines and sound bites, as perfectly parodied in Rory Hyde's Dubai Bashing Article Generator. But the tome addresses the entire Gulf Region, focusing on Dubai, Abu Dhabi, Doha, Manama, Kuwait City, and Riyadh, as well as touching on the Gulf's relationships with Lebanon, Northern Africa, and Southeast Asia.The book's multidimensional stance has its advantages and its shortcomings. Some articles enter incredibly unique or potentially prophetic territory, like Antonia Carver's history of the UAE's art and culture scene through it's bohemian beginnings as the collective Mis from 2001 to 2004, and Mishaal al Gergawi's Abu Dubai: A Forward Tale of Two Cities That Could Only Be One which predicts the conglomeration of Abu Dhabi and Dubai. Other standout articles are Kayoko Ota's brief story of Kenzo Tange's proposal for an urban system for the Hajj (tragically aborted upon King Faisal ibn Abdul Aziz Al Saud's assasination in 1975), and the multiple research-compilation articles by Sandra Bsat, Daniel Camara, and Mitra Khoubrou. Interspersed pages of news headlines and full-page powerful images provide both a snapshot of a period in time and a glimpse into the mindset that must have been fermenting in different regions of the Gulf. All this is importantly (and painstakingly) self-referential by means of green asterisks throughout, providing references to related articles, by which the book can almost become a choose-your-own-adventure novel, jumping from article to article, viewpoint to viewpoint, on the hinge of a related anecdote.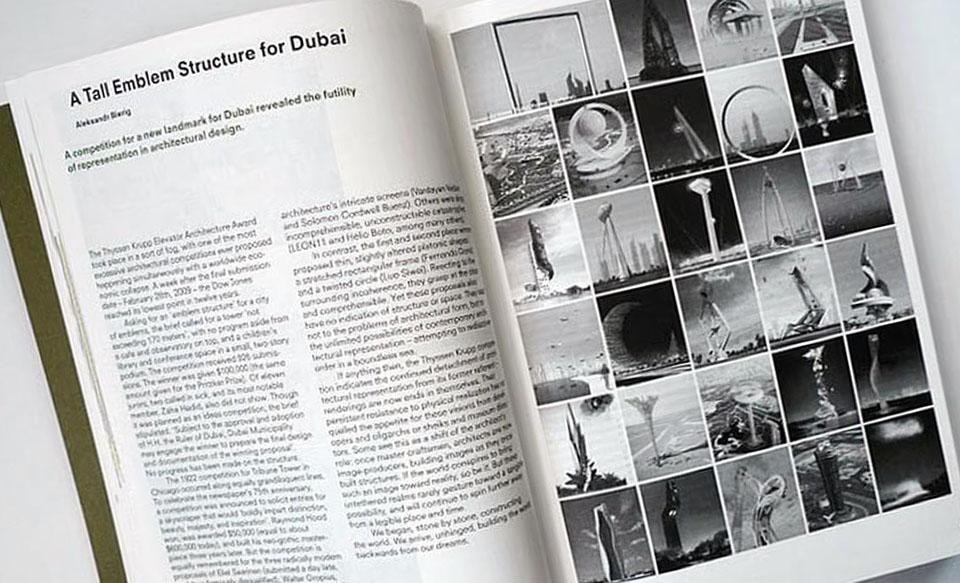 Specific shortcomings of the book include Rem Koolhaas and Todd Reisz's interview with Khalid Al Malik, which comes off almost as an (unintended?) sales pitch. A developer speaking in generalities about dedication to a vision, everything is always going well, unchecked proclamations of Dubai's destiny to attract 15 million visitors by 2015. Somehow one could imagine the statement being touted as true even if it weren't, as if it was simply not possible that the vision could not manifest itself. Additionally, the "About Abu Dhabi Urban Planning Authority (UPC)" chapter reads like a highway billboard compared to the rest of the book, which comes as no surprise: the UPC has exclusively sponsored the book. Filled with token images of urban plans, real-estate brochures and vague, redundant statements about community and wellness, it seems aimed at convincing the UPC itself of their mission just as much as any reader. It gives the impression that the group that has learned the least from the past decade are the ones bankrolling it.

As the complexities of The Gulf Region begin to reveal themselves, it becomes necessary to reflect, to look back to the distant year of 2007, when the first Al Manakh was published. The two publications can be viewed as a point/counterpoint or an if/then. Hopefully we can also imagine them as the first two installments of a Hollywood blockbuster-trilogy-to-be. What kind of "three-quel" would Al Manakh 3 be: Lord of the Rings: Return of the King, Indiana Jones: The Last Crusade, or The Good, the Bad and the Ugly?
As the complexities of The Gulf Region begin to reveal themselves, it becomes necessary to reflect, to look back to the distant year of 2007, when the first Al Manakh was published