Invited to take part in the collective exhibition "Anatomia del paesaggio" (Anatomy of the Landscape) during Anacapri's Landscape Festival, Giovanna Silva used a Polaroid camera to map out some of the most famous swimming pools on the island of Capri. Her photos animate a composition of fragmented visions poised between presence and absence, portraying a completely artificial landscape shaped by a long sequence of details of swimming pools – which are empty, abandoned or enlivened by figures who are frozen in the instantaneous pose of a snapshot. 
Giovanna Silva explains: "I've always had a passion for photographing water. I say passion because I like swimming. Actually it's more of an obsession than a pleasure. I've photographed coastlines during long swims in the sea. I emerge from the water and photograph the people sunbathing, some jagged coasts like a natural sculpture, and natural reflections. It's a way to pass the time and not feel the fatigue. When they asked me to photograph the swimming pools of Capri, I accepted because it sounded like the paradox I've been looking for – something artificial on a natural paradise island. Leaving behind the images of the Faraglioni sea stacks, I began the site inspections on land. This time it wasn't about plunging into the water, but about seeing the water from outside, describing these places as I've always done in my work, but finding a key. I used a Polaroid to try and compose abstract pictures but without letting myself play with the technique, which is very basic with this kind of camera. Forgetting about context, I concentrated on the details of these swimming pools, on the colours, shapes and materials. I collected about 100 polaroids. In the evening, I displayed them in the hotel and arranged them on the floor so they could dry out. During those days, I wondered what the maids must have thought when they came in to clean the room, which had been turned into a mosaic of pools. I matched them up and found the same shapes, forgetting about the origins of the pool, and instead creating abstract pictures by colour and type. For every picture, the result is a single swimming pool made of many different pools."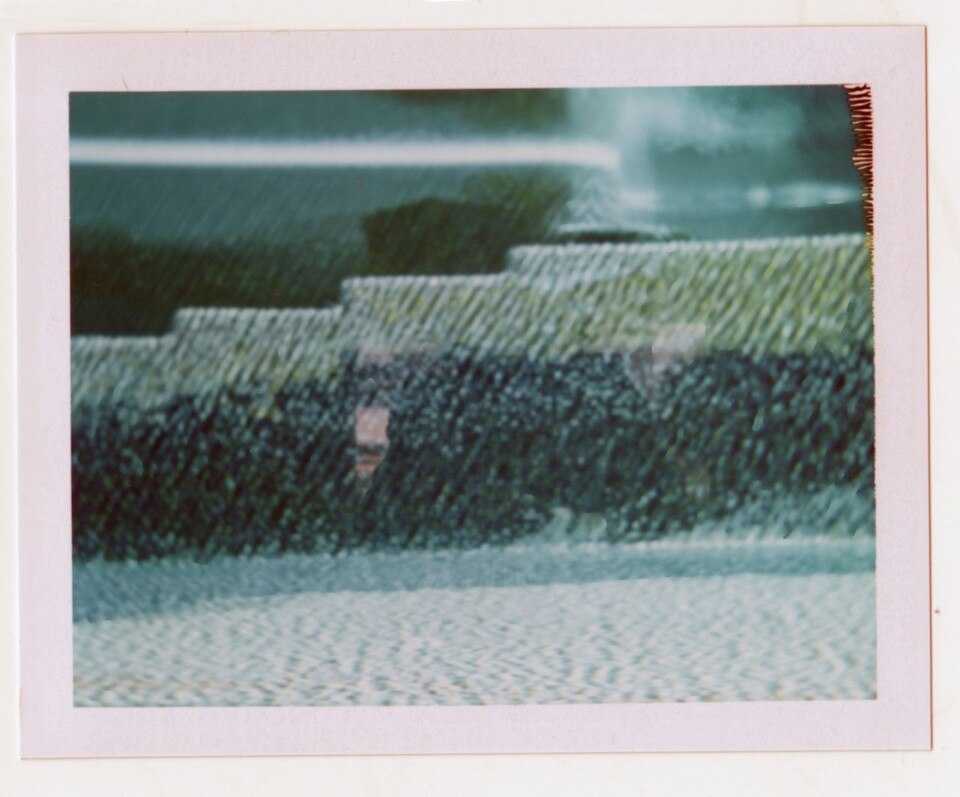 The photographs of Giovanna Silva are on show in the San Nicola Cloister, part of the monumental complex of San Michele in Anacapri, which has been specially restored and reopened to the public for the "Landscape Festival". Silva's work is displayed within the collective exhibition "Anatomia del paesaggio" (Landscape Anatomy), curated by Arianna Rosica and Gianluca Riccio. The show's theme is the swimming pool conceived as one of modernity's most outstandingly nostalgic and melancholic places.
Giovanna Silva is an Italian photographer, born in Milano in 1980, where she still lives and works. She holds a Master of Science in Architecture from Politecnico di Milano and a Master in Cultural Anthropology, Ethnology, Ethnolinguistics from Università Ca' Foscari, Venezia. She has always used photography for editorial purposes, first in magazines and later on in her publications, until she has decided to establish her own publishing house, Humboldt Books. She is founder of San Rocco magazine and she is part of the collectives Desertmed and 900 km Nile City. She teaches Photography at NABA Milano. She has published several books, among which Mousse Publishing and Bedford Press. Her work has been featured in numerous international exhibitions.