In the Summer of 2011, Polish photographer Alicja Dobrucka found herself in Albania amidst 750,000 abandoned pillbox bunkers, a remnant of 45 years of communist dictatorship. Built to protect the country from enemies that never came, these concrete structures are a truly ubiquitous presence in the country's landscape, which Dobrucka was compelled to document.

These mushroom shaped shelters are the physical manifestation of a paranoid past and stand as reminders of the folly of totalitarianism. Now, with a recent bill passed by the Albanian government which allows for the bunkers' full destruction, the country is actively erasing its past, and Dobrucka's survey might be the last record of many of these bunkers.

Vera Sacchetti: How did you find yourself in Albania, and how did this project begin?
Alicja Dobrucka: I first went to Albania for a completely different reason. I'd won the Sortiri Prize 2011 with my project "I like you, I like you a lot," and was there to exhibit my project at the Tirana Ekspres Independent Cultural Center.
At the time I was also looking to conduct research for my next project "The End of Grey", which looks at colourful resurfacing of socialist tower blocks in Eastern European countries. Albania struck me as a great place to start, from what I had seen of the colourful façades of the buildings in Tirana.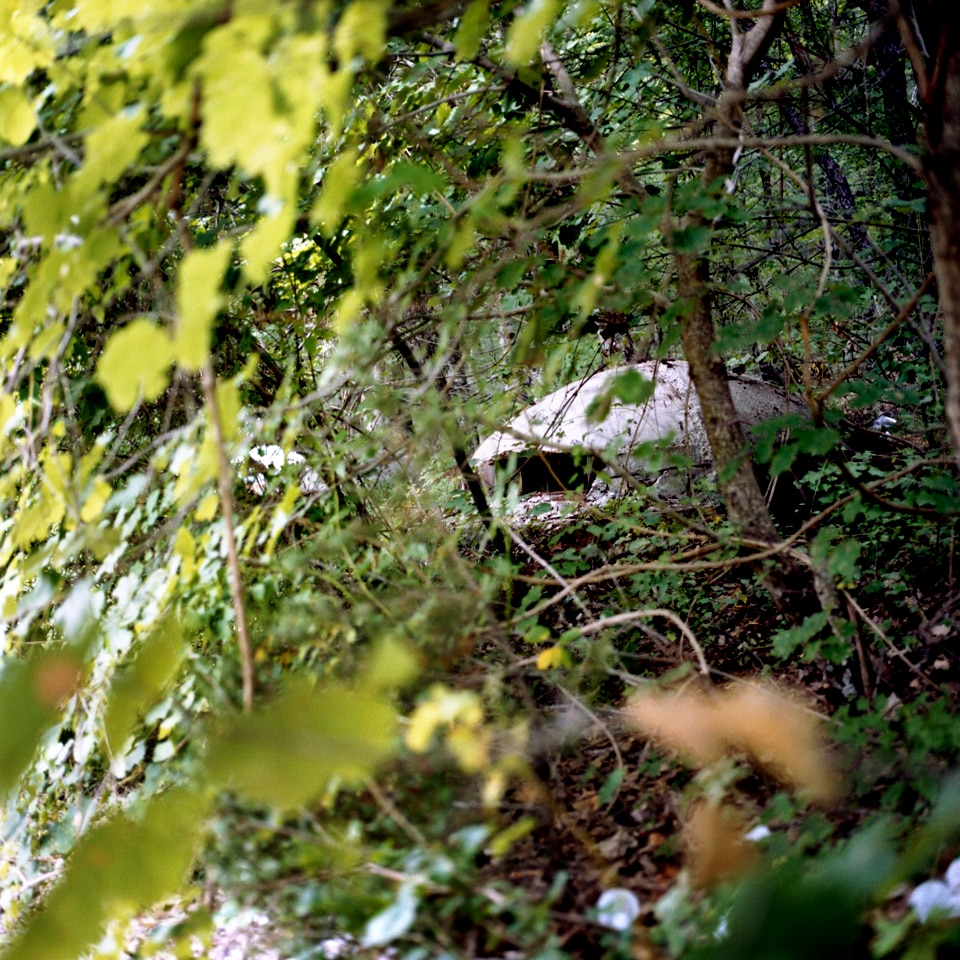 So, in the summer of 2011, I arrived at the South West coast of Albania on the beach in Drymades, where I met Elian Stefa, the co-founder of the Concrete Mushrooms project. We started a discussion on what I wanted to do in Albania, and I mentioned how I was completely taken aback by all the bunkers that I saw on the beach, because they are not something that is commonly known about in Western Europe. I was going to photograph them anyway, but it became a very serious project once I partnered with Concrete Mushrooms. I loved Albania so much that I stayed for about a month and travelled around, photographing the bunkers.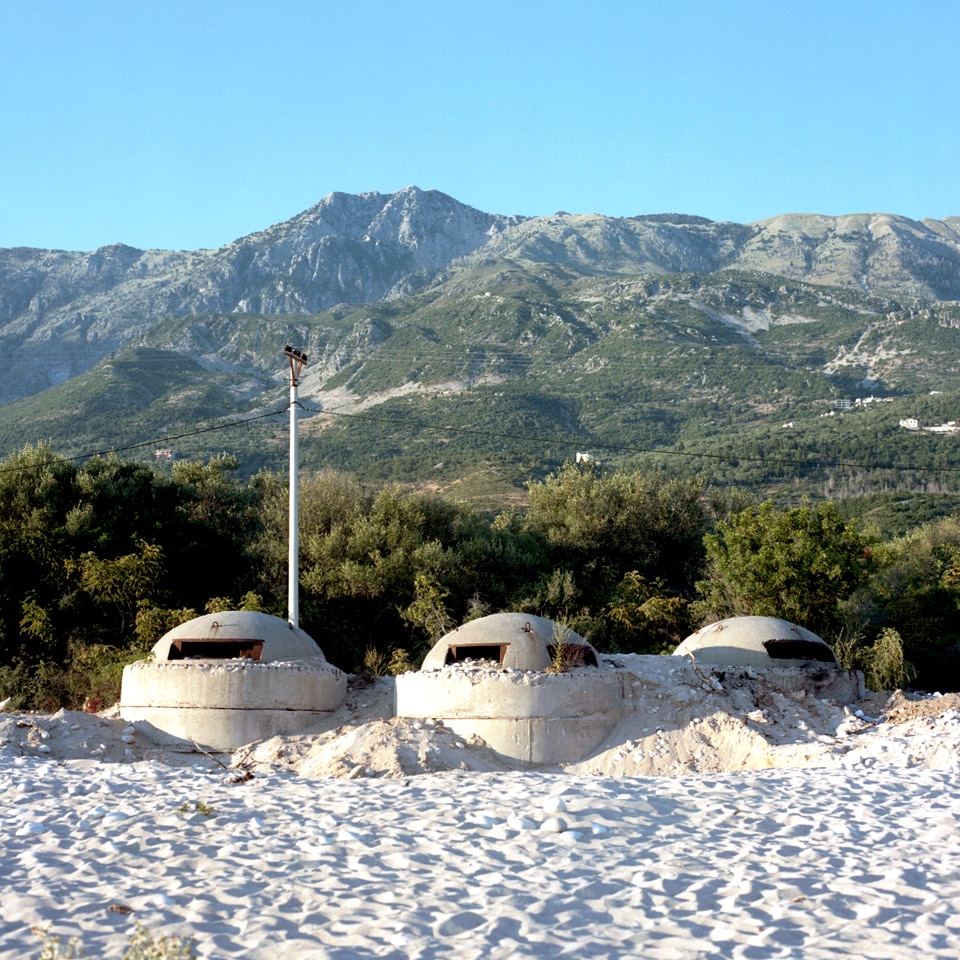 What exactly is the Concrete Mushrooms project?
The "Concrete Mushrooms" (CM) project looks at the approximately 750,000 unused bunkers in Albania which were built during the 45 years of dictatorship under Enver Hoxha. The project seeks to map and document the bunkers, and looks at transforming them, proposing new uses, such as turning them into tourist spaces.
But the bunkers are now disappearing on a mass scale. The government has recently approved a law that encourages their destruction. So as we set off, we tried to shoot the same bunkers that CM had already identified, but they are disappearing rapidly. Many were not there a year on from when CM first photographed them in 2010. It seems people are getting rid of the bunkers from the beach and coast towns first. There is no reliable way of tracking them down, rather, when you come across them you take a picture.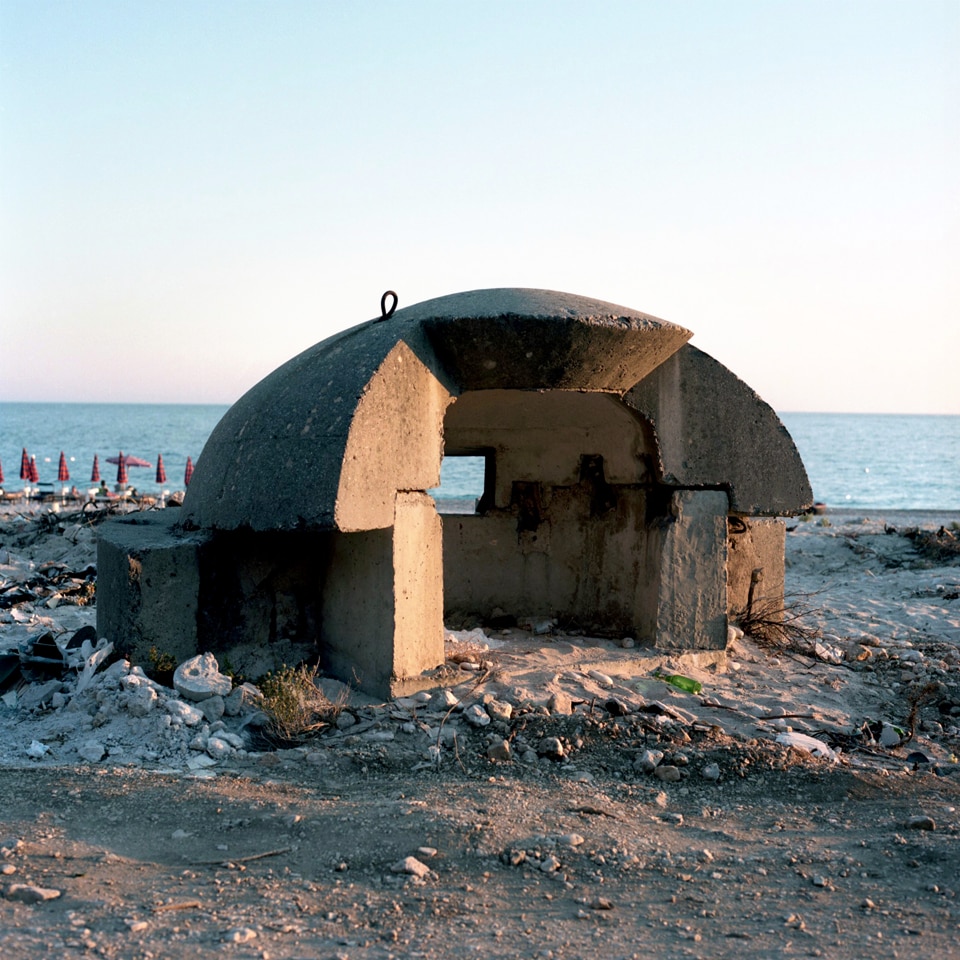 Did the lack of a guarantee that they will be there tomorrow make it all the more important to document them when you did find them?
Exactly.

What can you tell us about the route you took in order to track down the bunkers that feature in the final collection?
We started on the Drymades beach on the South West coast, part of the Albanian Riviera, before heading up to Vlora, and then inland to the capital, Tirana. These areas are where many of the bunkers already mapped by CM were located, but when we turned up at the sites most of them were destroyed. Sometimes, we spent all day looking for them, until we realised they were gone. Gradually, it became clear to me that it was often easier to find bunkers in unexpected locations. For example, there are many bunkers on Dajti Mountain, near Tirana. The trip there was one that led to a very productive shoot, as some were being re-used; one even had a restaurant on top of it.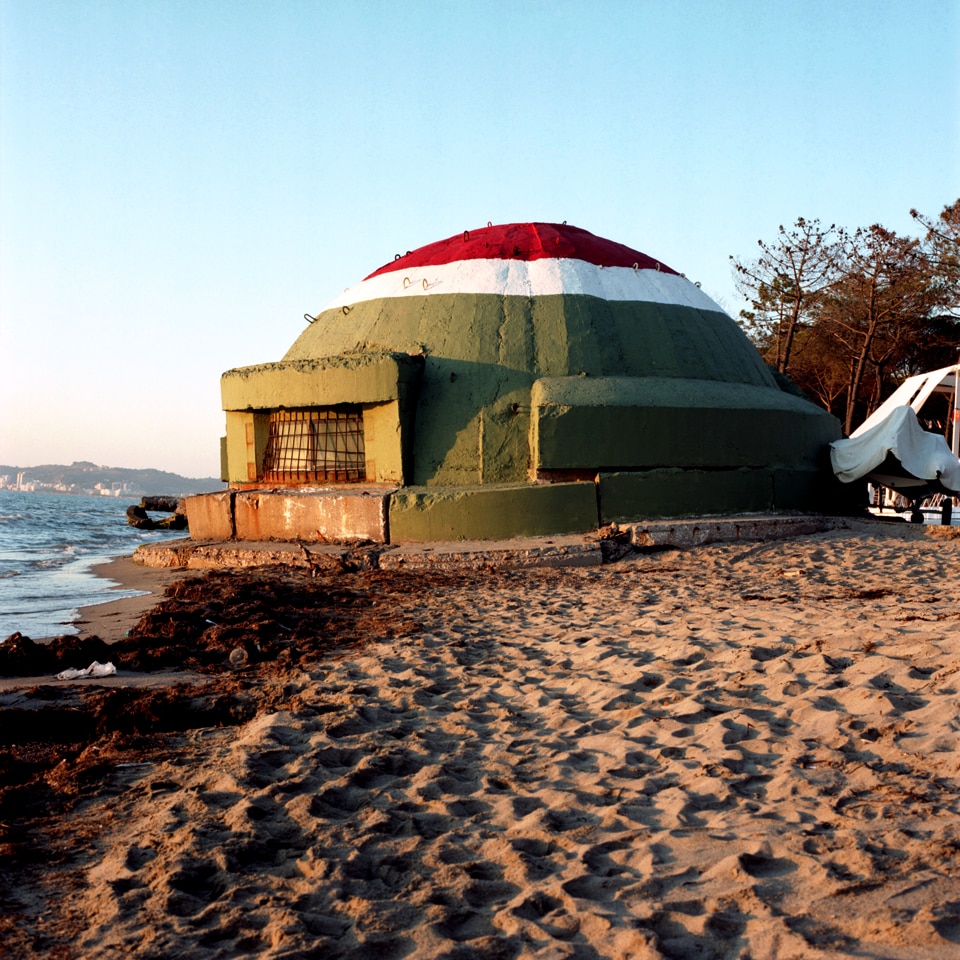 Albanians don't seem to really care about the bunkers, as they don't see them as being much of a big deal, due perhaps to their familiarity with them. You see the bunkers the most when you are driving around, especially in places where it isn't easy to stop the car and photograph them, as they are on hilltops. That is probably when they are most visible. In fact, I was taking a taxi from Tirana to Prishtina (Kosovo) and I got the driver to stop a few times on the road as I saw the bunkers. He got rather mad at me, but that was a very successful shoot as well as being a completely unplanned one.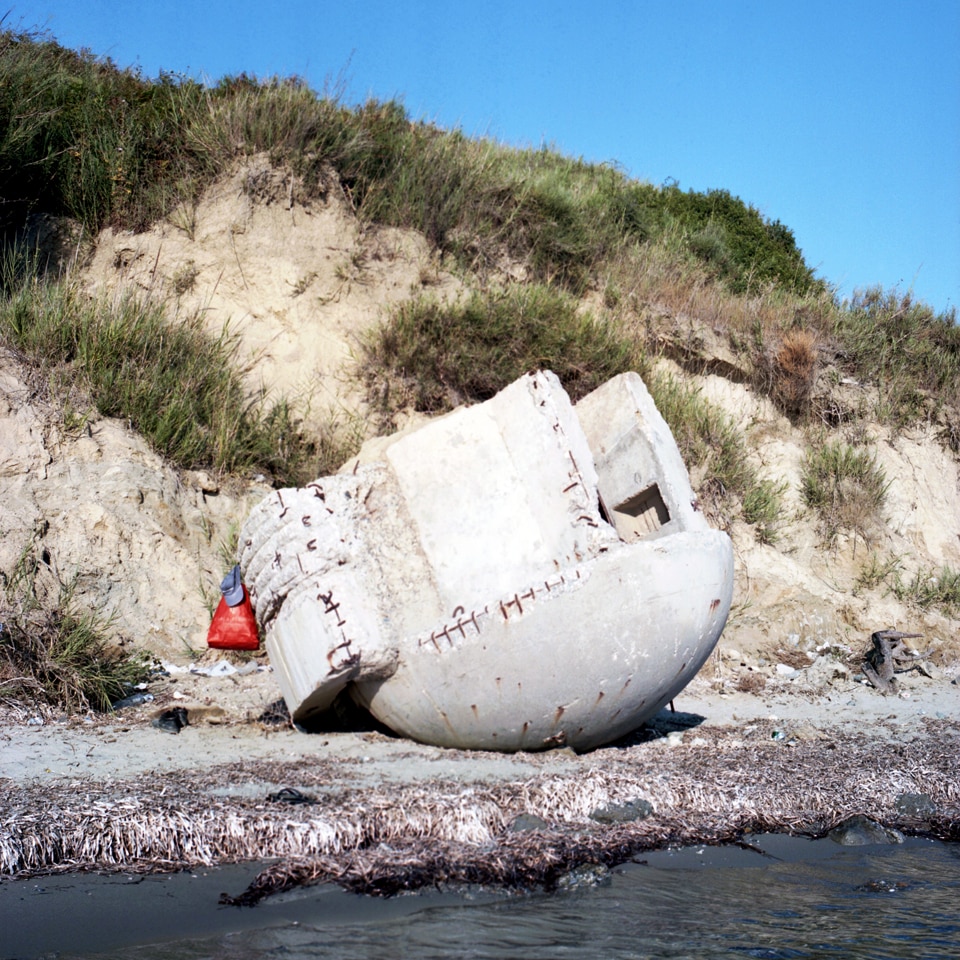 What were the more technical demands behind the project?
I had all the equipment with me because I had prepared to photograph Tirana, as I had done with all the Balkan capitals, focussing on the social housing for an upcoming project. When we set out I was using a Hasselblad 6x6 film camera, the negatives of which you can reprint quite large, and all the other necessary equipment to undergo the CM project.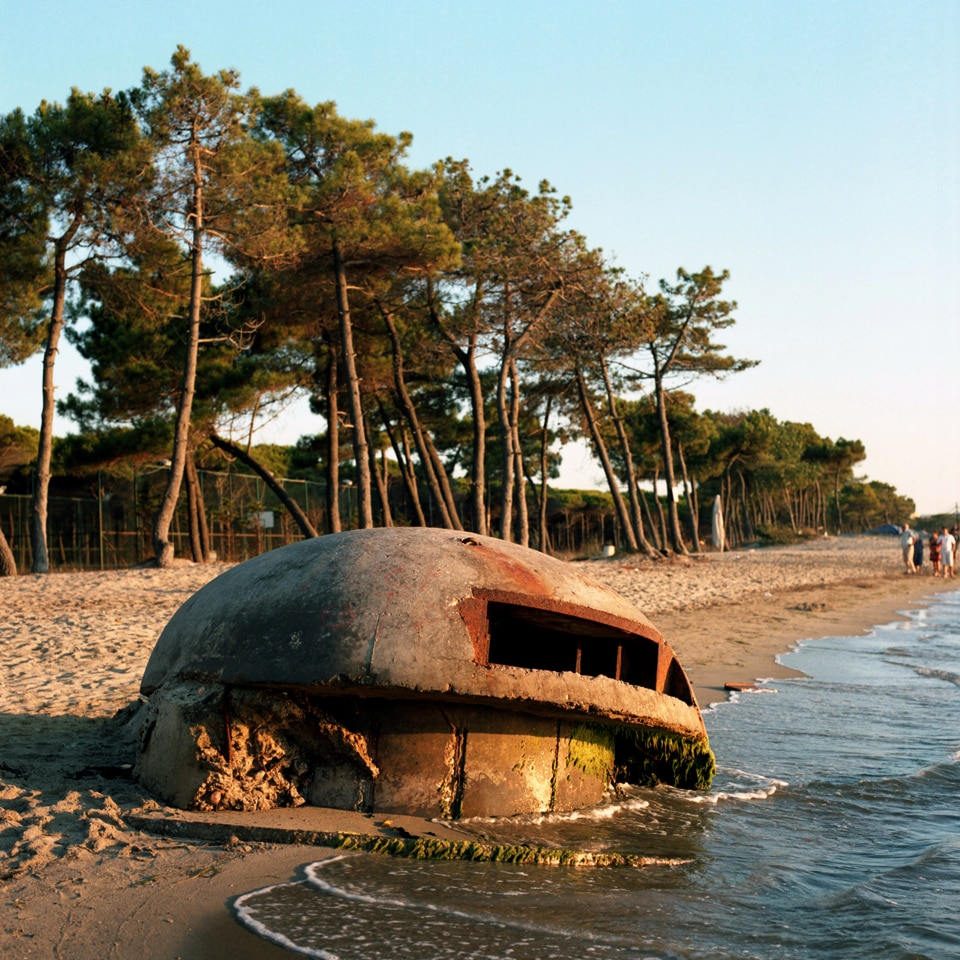 What struck you about the bunkers other than their quantity?
They are quite haunting and unusual looking as a design structure, their shape is different from the bunkers I know from Western Europe, they are not square and blocky, but instead look like mushrooms, with this eye that peeks at you. This, for me, creates a mystery about them, one that makes you wonder what are they used for, if they are not used for the reason they were created.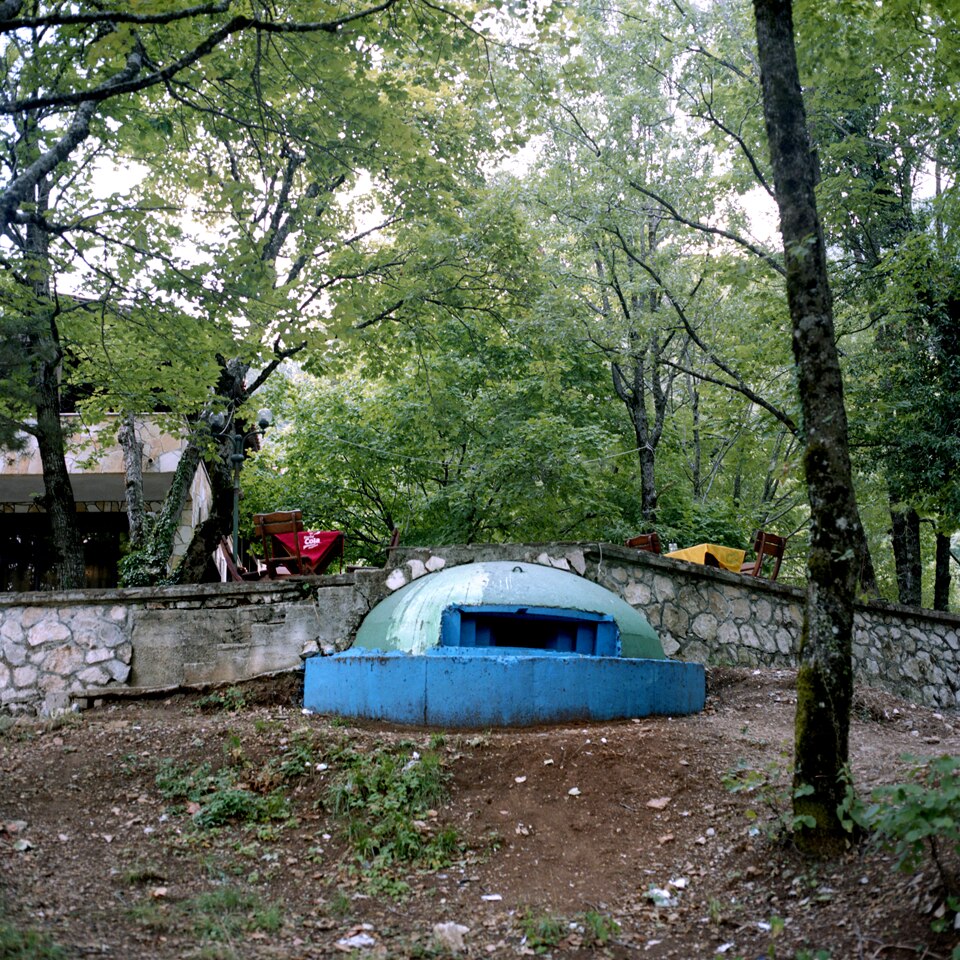 Many of your pictures are taken from a distance. Are you communicating this sense of mystery to the viewer?
I suppose so. But also, the structures are usually similar, it is the landscape that changes. I wanted to show them in a variety of landscapes, from say, the beach to the mountains, in order to propagate the sense that they are all around the Albanian landscape as I wasn't able to photograph all 750,000.
How does this spontaneous project fit in with the rest of your body of work?
I usually work in a spontaneous way, that's how it works with photography, you feel inspired at the moment and you go for it, or the moment is gone forever and you don't feel the same way about the things you are seeing.
When you come to a new place it is very important that you take photographs in the next few days or weeks because after that you stop "seeing" things. Therefore I'm not sure what it will be like when I come back to Albania, but there are some bunkers that I've got stuck in my head and I would like to go back and finish the shoot at some point.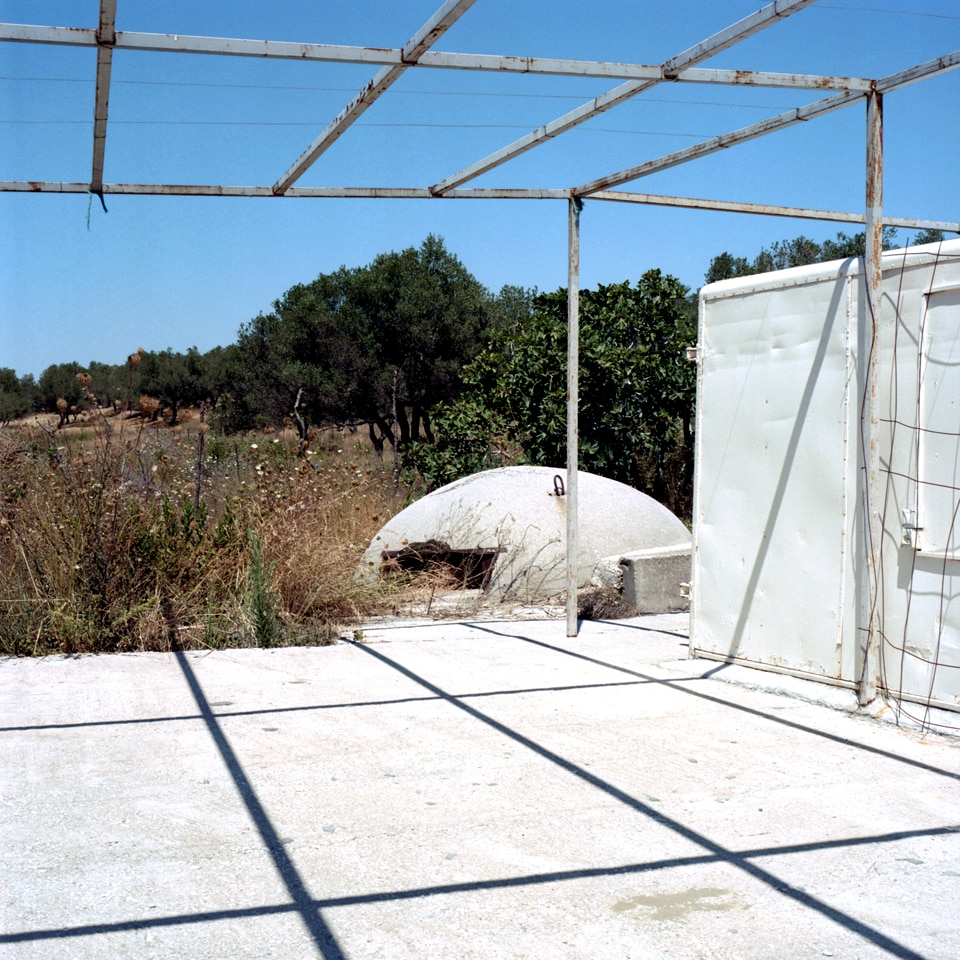 So you don't consider the project to be finished?
I think it is majorly finished, in spite of the photographer's feeling of a project never really being complete, never really being satisfied. In terms of how it fits in with my other work, I was showing "I like you, I like you a lot" in Tirana when I came to Albania. That was a project that came about because my brother drowned in May 2008. I went back home [to Poland] and photographed the "image of the aftermath." That is where that project started, before continuing for another three years or so, documenting his disappearing presence of him. As you see, that was another very spontaneous body of work that I kept coming back to.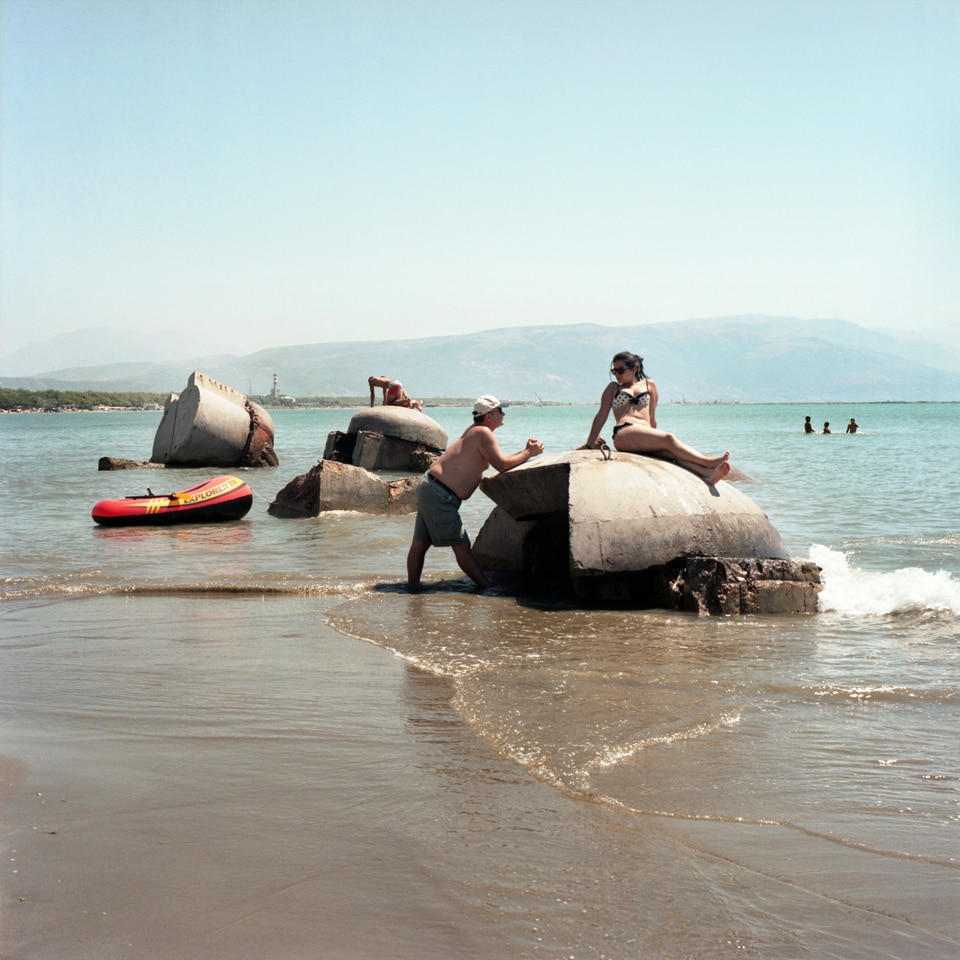 The photographs have been shown in Lisbon. How was that, and how do you envisage the project evolving in the future?
The project was shown in Lisbon as a part of the EXD'11/LISBOA Design biennale, in the city's Aqueduct, which begins in the Water Museum. The Aqueduct is really long, something like 40km from the mountains to the city centre, and that expanse of space helped people to understand how many more bunkers there are beyond the 22 photos on display. I would like to show the project again but perhaps not before coming back to Albania to consolidate it. It could also work in a book form, but we will have to see if that is a viable route.