Domus 1061 opens with an editorial by guest editor Tadao Ando, presenting the theme of the October issue: the frontiers of art and space. A reflection "on the history of artistic and architectural expression", from the most renowned artistic movements, such as Cubism and Futurism, to the student revolutions symbolic of their time. Ando includes some historical examples, including Thomas Heatherwick's UK Pavilion for Shanghai Expo 2010 and Frank Gehry's house designed for himself in Santa Monica.
Casey Reas and Ben Fry's essay entitled "A Synthesis of Art and Technology" tells the story of Processing, the software they created in 2001: a programming language created to promote the use of visual arts, a digital and graphic library for artists and designers. 

Tiffany Lambert's essay focuses on the works of artists and architects Shūsaku Arakawa and Madeline Gins, "extravagant or kitsch, not to say dysfunctional" but always coherent and ambitious.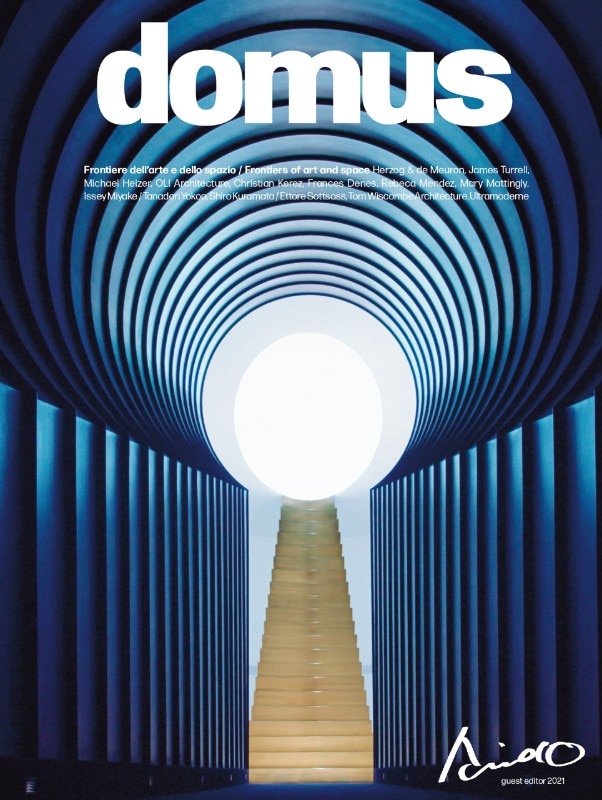 In the Architecture section we explore five projects: Herzog & de Meuron's Kramlich residence and collection, James Turrell's Roden Crater, Michael Heizer's City, OLI Architecture's London Cross Pavilion and Christian Kerez's Bahrain Pavilion. Projects with small and large spaces, artistic and architectural, natural and artificial. 
The Art section explores the work of artists and activists Agnes Denes, Mary Mattingly and Rebeca Méndez who, working with various resources and technologies, invoke new balances between the artificial and the natural, between man and nature.

The Design section presents Yoshiyuki Miyamae's new collection that draws on the art of Tadanori Yokoo and his historic collaboration with Issey Miyake. "Jackets and trousers, cut from a single piece of fabric, become canvases for the Japanese artist's paintings".
The Creators column poses the question "What is the frontier between art and space?" to renowned artists and designers: Steven Holl, Manuel Aires Mateus, Paul Smith, Balkrishna Doshi, Sou Fujimoto, Thom Mayne, Bijoy Jain, Bosco Sodi, Dominique Perrault and John Pawson, who elaborate on their ideas through drawings, photographs and words.
The Microstories column recounts the artistic partnership between Shiro Kuramata and Ettore Sottsass  "well illustrated by Kuramata's projects for the founder of Esprit Doug Tompkins". 
In Process we discover the construction of the Sunset Spectacular in West Hollywood, a multimedia billboard created in collaboration with Orange Barrel Media for a competition promoted by the City. 

In Studio visit we meet the founders of Ultramoderne, a small and dynamic architecture studio founded in 2013 in Rhode Island, by Yasmin Vobis and Aaron Forrest. 
The issue closes with Ando's wish to create an invisible architecture,  "perceived through fragments of light and wind". 
In this month's Diary: Round Table with Fabrizio Prati, Gideon Boiea, Ma Yansong and Kristian Koreman, with whom we discuss how  "the renegotiating and redistributing public space represents, during this dramatic pandemic, a great resource."
For the column House Like Me we enter the home of Italian artist Carlo Benvenuto. This is followed by pages on fashion, hospitality, sustainability and architecture for kids. And also: design, companies and new (and old) talents in the world of design. A  "baroque and organic church, in dialogue with the local community", carpets, landscapes and finally Aldo Rossi's iconic Conica coffee maker. 
The Diary closes with a dialogue somewhere between humanism and extistentialism between Domus' editorial director Walter Mariotti and Andrea Carandini,  "aristocrat, archaeologist, intellectual, politician, traveller and scholar".