The shutdown of Yahoo Answers is no longer news for sure. Nonetheless, should you have chosen the heights of Ararat as your last lockdown destination, we once more confirm: on May 4, the most relevant cultural diversion from your past years is going offline for good. Born naïve in the age of the Internet of Naivety, when Facebook was little more than a  bothersome disciplinary issue for the Dean's office at Harvard, when an MSN Messenger status the sole small stage for one's intellectual attitudes, when the internet was perceived as the promised land of a future democratic equality, Answers was the place wheere anyone could ask anything, and anyone else could answer with (almost) anything. And the thing has remained the same, for 16 years.
The lifetime of Yahoo Answers, by the way, has also covered the years when some alarming kind of evolution has affected the meaning of terms such as counterculture or counterinformation, mainly implicating a delegitimisation of established media. Could architecture and design, perceived as they were (and they are) as the Olympus of self-referential snobbery, escape the destructive wave of bottom-up anti-elitist narratives and actions?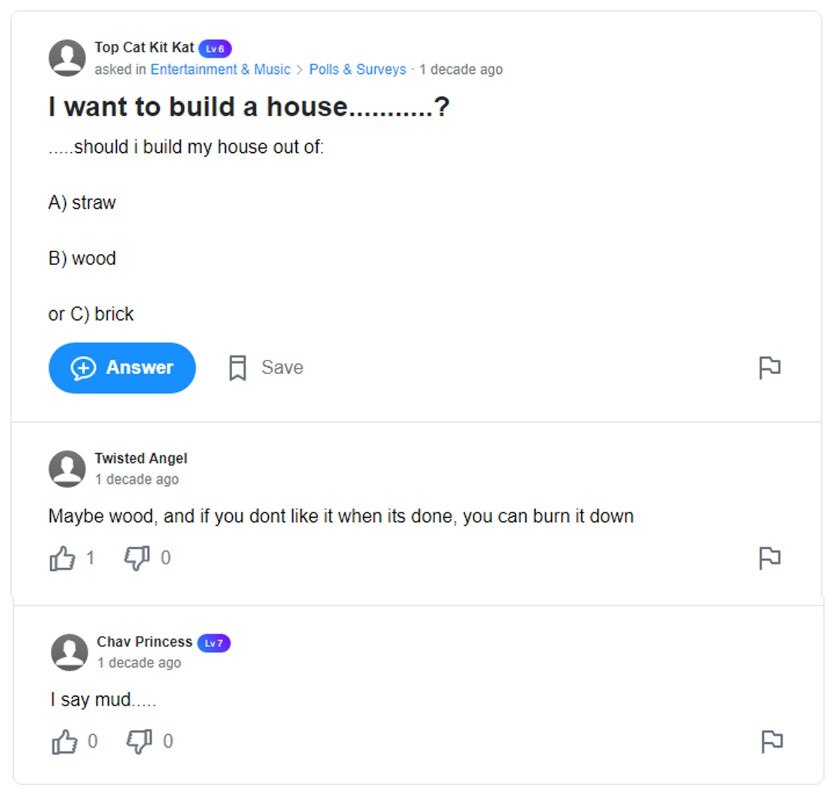 "Architectural History as we know it  is biased on the social plane.  amount to little more than a who's who of architects who commemorated Power and wealth; an anthology of building of by, and for the privileged  (...) with never a word about the houses of lesser people. (...) Architecture Without Architects attempts to break down our narrow concepts of the art of building by introducing the unfamiliar word of non-pedigreed architecture." 

This is what Bernard Rudofsky wrote in 1964, as a preface to his seminal book celebrating all "spontaneous", unbranded forms of built expression, after a long season of textbook historicism and in the full heat of late Modern debate. Yahoo Answers came along in the wake of some intense seasons as well,  in different fields. One of these was the starchitects' season. The Answers discourse has told us about a consequent delegitimisation of all figures connected to the ideation and production of space, to design, to anything reflection or qualified debate; the choice of interior decoration, of wall painting, of  building a house or not, could be no longer entrusted to a designer, but to the whole internet instead. The same happened to questions concerning sustainability, services, professional or slightly existential questions. And so it went for 16 years.
As it was clearly anticipated, the story is not so exciting, spoiled as it was since the beginning. Elites have basically remained the same, social classes still stand where they used to, the effort to make the design discourse more inclusive and comprehensible remains as engaging as it used to be. Still, little time is left to go and admire a __ ruin of the internet, the one to challenge for a while a not-refined-enough Google search, a not-yet-existing Shazam — it happened, evidences are still online — or whoever could be entitled to develop a design project.
So long, Yahoo Answers, Domus salutes your experience by sharing some of your best q&a, starting from this fundamental question: