The Supernote A5 X presents itself as a solid tablet featuring crisp, square edges and a plastic body. It has a slim, though not excessively so, frame surrounding a screen with sleeker proportions compared to a standard A4 sheet. The accompanying cover, which unfolds gracefully, incorporates a ring to securely hold the stylus, shaped like a very ordinary pen.
The Supernote comes in two variants: the A5 X (which we tested for this article, Editor's note) and the smaller A6, currently awaiting a return to the updated market. This device belongs to a family of products that has long been at the forefront but is now seeing a surge in competitors. It's a digital notepad with an electronic paper screen. While it falls under the tablet category, it distinguishes itself from devices like the iPad by focusing on specialized tasks such as note-taking, hand sketching, and annotating books and documents.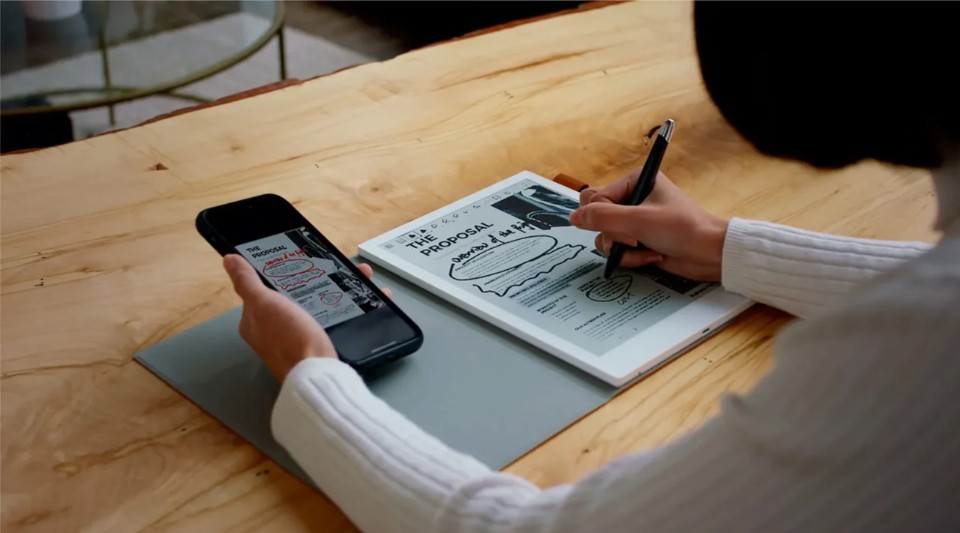 Compared to its rivals, it may not have the finesse and sophistication of the Remarkable 2 or the convenience of Amazon's Kindle Scribe's backlit screen. Unlike these options, it also lacks a magnetic pen attachment, and its screen has a slightly dark tint that can make reading difficult. However, the Supernote shines in terms of both its hardware and, more importantly, its software offerings, which underscore the evolving nature of pen-based writing in the digital age. These features could very well make it a compelling choice for many potential buyers.
How do you write on Supernote?
"We have discovered that individuals possess not only functional needs for writing, such as desiring a tactile experience akin to paper, but also sensual and emotional needs", the Supernote team explains in a detailed email correspondence with Domus. The pleasure of writing, they add, stems from aesthetic factors, including stationery and the feel of a traditional pen in one's hand. "All these elements are absent in tablets like the iPad", they note, highlighting that Supernote and its accessories are designed with these aspects in mind. This led to the decision to use plastic for the device's body, "granting the users a more intimate and familiar look and tactile experience, as opposed to the cold and impersonal metal often found in tablets".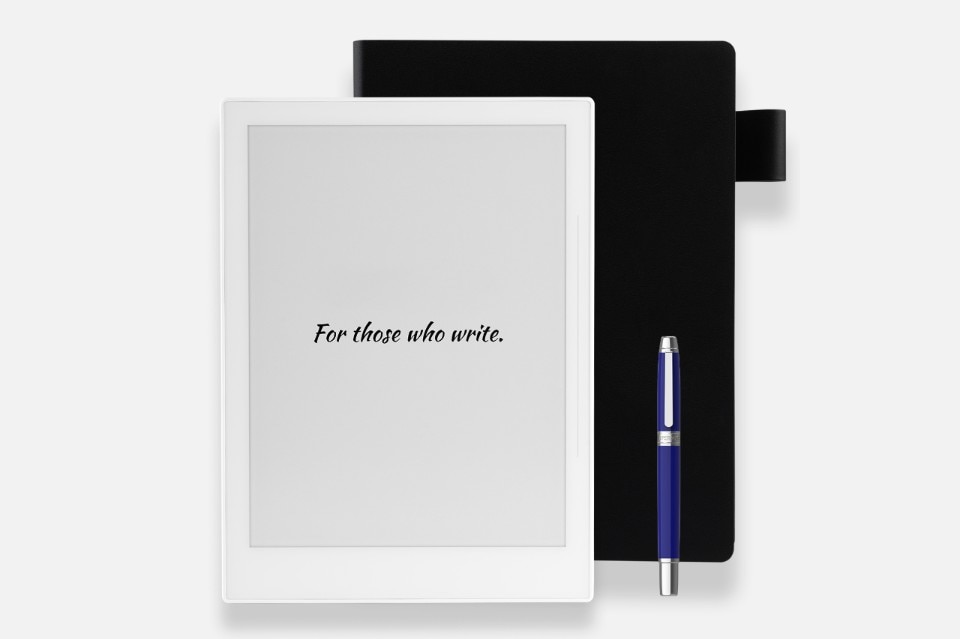 Unlike the Remarkable and other devices within its category, Supernote opts for a durable pen with a ceramic tip that never needs to be replaced. This choice, Supernote clarifies, is rooted in sustainability. Paired with the screen-covering film (FeelWrite), developed in collaboration with a Japanese automotive brand, it effectively solves "the dilemma of digital pens that require frequent nib replacement due to nib wear and tear, thereby increasing the longevity of our products".
For Supernote, this approach results in "a long-lasting, natural writing experience". In practice, using Supernote feels like writing with a smoother pen – just like when you pick a ballpoint pen instead of a pencil. Whether it is better or worse depends largely on individual tastes, preferences, and how the device is used. Considering the feedback from numerous commentators and reviewers, the Supernote excels in note-taking, but it's not as ideal for drawing. Additionally, the somewhat darker e-ink screen background does have an impact on the writing experience, which, while good, is not as great as Remarkable's. But even then, it varies from person to person.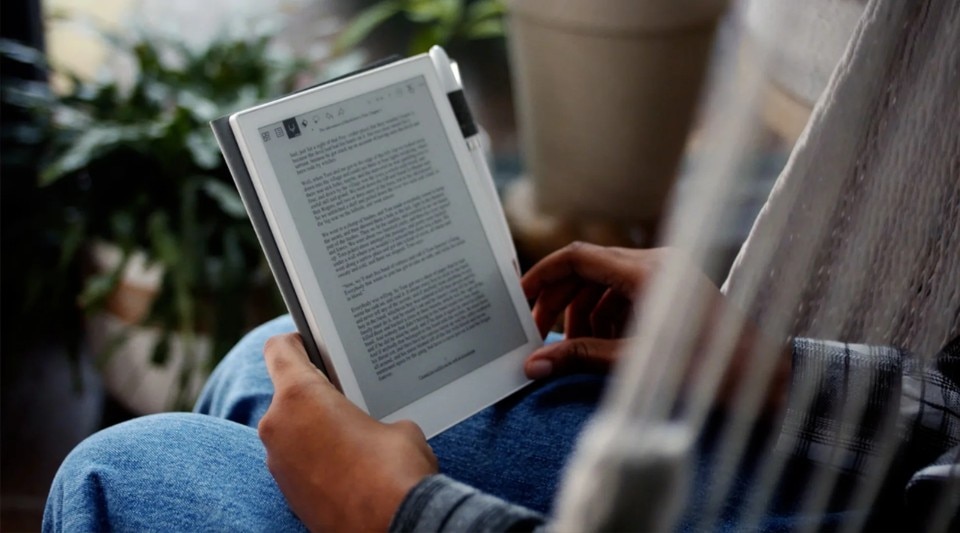 A smart experience
"In our initial planning, our goal was to emulate the writing experience, simplicity, and distraction-free nature of a paper notebook into Supernote, while also empowering it with more technology-enabled smarts". These smart features, thoughtfully integrated to enhance the note-taking experience in a way only achievable through digital tools, currently set Supernote and its software suite apart. With effortless gestures, like selecting a word with the stylus or sketching an asterisk next to it, you can highlight keywords and headings, insert hyperlinks, or schedule appointments. A simple swipe along the right edge reveals features and accessories, including calendar and email applications, a digest that organizes content in square brackets, and more. There are also handwriting recognition options and the ability to work directly in Word documents.
Supernote offers many options, and mastering them can be a bit of a journey. The interface tends toward complexity, with a command bar that offers different levels of customization that can take some getting used to. However, it avoids the problem of excessive complexity over functionality that often plagues digital interfaces coming out of China. "We believe this is the product in the market that hits the sweet spot of simplicity vs. functionality", Supernote explains. This belief is rooted in the significant involvement of the user community throughout the development of the Supernote project.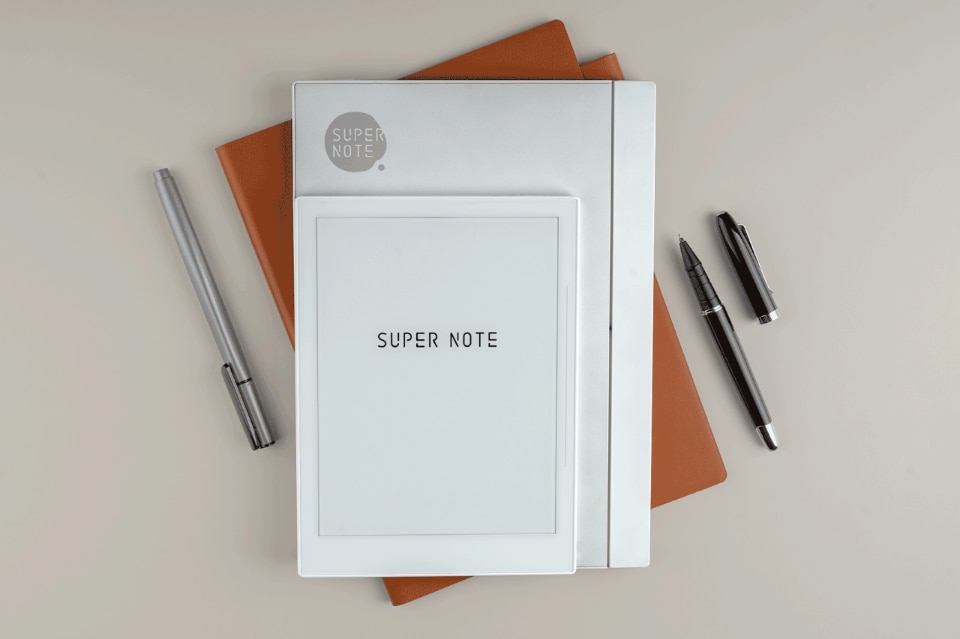 A device created hand-in-hand with the community
When the digital pad is turned on, an emblematic phrase appears. "For those who write". This does not only include "specialist groups" such as writers and artists, Supernote explains, "but aims to bring together the broad spectrum of those who create content". These people, they explain, "strive to organize their actions and knowledge in a structured way and to engage in thoughtful contemplation".
Supernote stands out as a rare example of a tech device that is truly co-created with its user community, fostering an exceptionally strong bond of trust. Going beyond the conventional top-down communication typical of both major and smaller tech brands, Supernote uses tools like Trello to open up its development roadmap for community discussion. In many ways, this project embodies true participatory collaboration. "The community provides a valuable platform for us to gather and transform ideas, which is why we proudly refer to our products as 'co-created' with the community", Supernote explains. The entire team, including the CEO, maintains an open dialogue with anyone who wishes to participate, actively gathering ideas for potential product developments and seeking feedback on existing features, creating a virtuous cycle. "It is this commitment to community that inspires our users to partner with us, ultimately driving the growth and success of our community".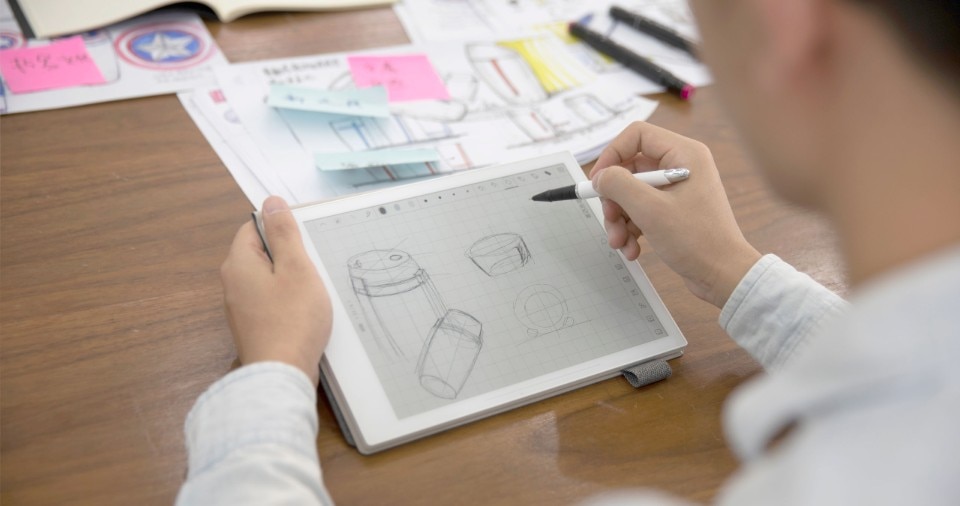 Future developments of the Supernote digital system are therefore easily accessible through the dedicated Trello platform. Undoubtedly, the annotation system will be refined with the arrival of a real app store. Currently, the available app store is quite useful, even though it still has room for improvement, and provides access to Amazon's Kindle library. Later this year, Ratta, the Shanghai, Tokyo and L.A.-based company behind Supernote, will release a new version of its smallest model, the A6 (probably called the A6 X2). This does not mean that the old versions will be forgotten. "Please be assured that Supernote is a brand that refuses planned obsolescence and even with the launch of new products, we will continue providing software updates and customer support for the A6 X and A5 X", the brand emphasizes in an email to Domus.
This article was written using a sample of the Supernote A5 X, complete with Folio cover and Head of Metal 2 stylus, courtesy of Supernote Europe.
All images courtesy Ratta - Supernote