Introduced to provide a focused environment, reMarkable establishes the rare case of a tablet that wasn't designed to bridge the gap between smartphone and personal computers or to pack a zillion functions and features into one single device. Playing music, running Word or Excel, browsing colorful media galleries, netflixing, surfing the web, plying games: these are all things that reMarkable can't do, while it focuses on doing, at its most beautiful, an essential human task, handwriting, and related activities, i.e. splashing notes, sketching, highlighting a book or a document, writing brief thoughts on the page margins. With no incoming notification, or other distractions.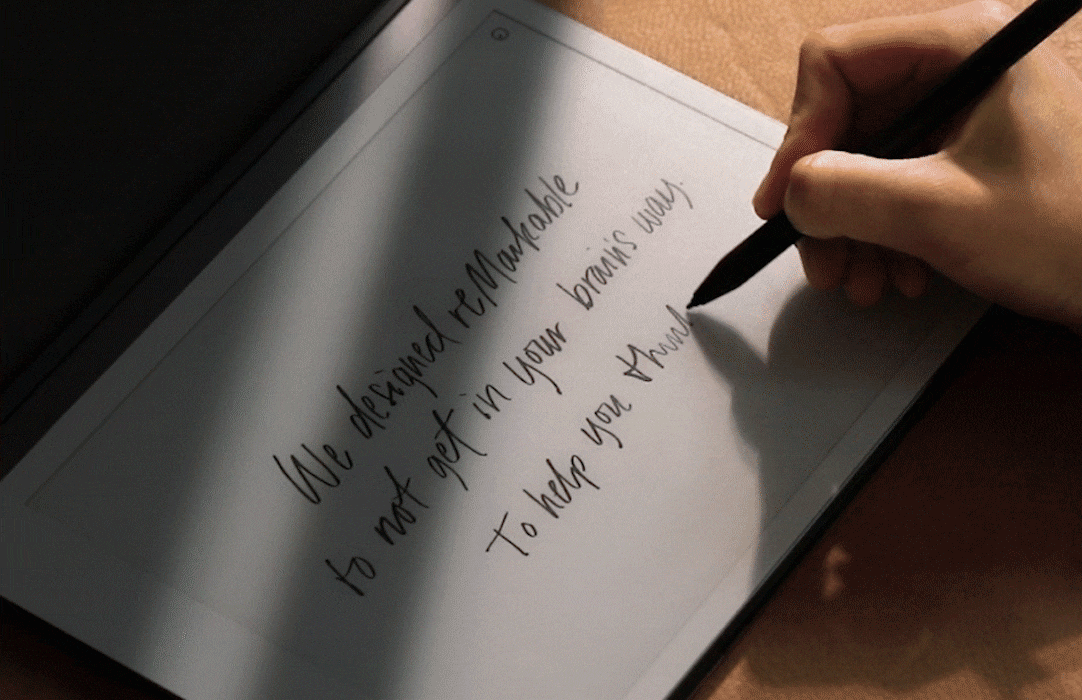 "Our message has been very clear from the very beginning: we set out to design a device that is disconnected from the digital world, to help you avoid digital distractions so that you could use the world's most powerful computer, your mind", reMarkable Chief Designer Officer, Mats Herding Solberg, tells Domus. So, the idea was that to make this device perfect for its purpose, it had to be stripped down of all other functions. Less is more, like somebody used to say. 
"It has long been proven that writing allows us to be more creative, to think more clearly, and to learn more efficiently", Solberg continues. The reMarkable team spent two years to understand the physics involved in writing. "We researched what a perfect experience would feel like". From talking with users to everyday people who like to writen by hand, to looking at the components and materials in great detail, there was a huge preparation work behind this device. "For example we had to do microscopic level scans of the surfaces to understand the topography and how it leads to certain feedback when writing". All that work brought to a tablet designed to be the best digital surrogate of paper, and maybe even better than a paper notebook can be. And less expensive, of course: reMarkable internal storage hosts up to 10,000 pages..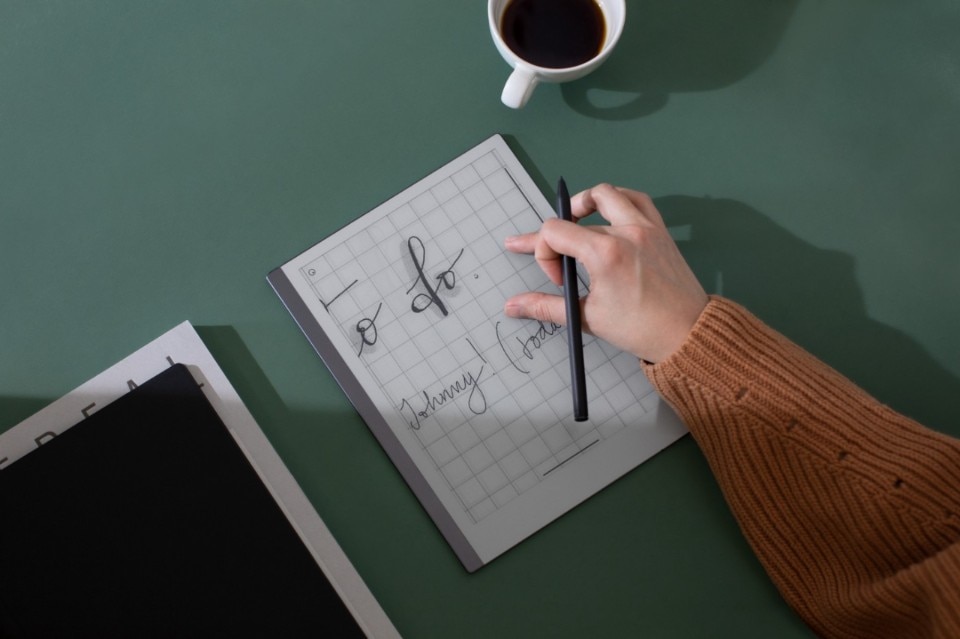 The story of reMarkable starts a few years ago, when a Norwegian college student named Magnus Wanberg, later to be CEO of the company, realized how difficult is to focus when working on a laptop. He was experiencing something we all do, how constant digital distractions, like email and message notifications, pull away from work. His solution was radical: "those distractions forced him to leave his laptop at home, print everything he needed for class and study, and bring a stack of notebooks with him to school".
In the middle of the digital era, Magnus Wangerg, future inventor of reMarkable, was back to paper, "which can be very heavy to carry around, and challenging to organize, but he also found that he could think better and more clearly with paper". Seeing the pros and cons of using analogue support, also in combination with digital tools, he started thinking about a better solution. "It was then that the idea for reMarkable started to develop. A better form of paper, technology that felt and acted like paper, that utilized paper's strengths as a tool for thinking".
The first reMarkable was launched in 2016. "The idea behind it was to create a distraction-free digital paper tablet for writing, editing, note-taking, and sketching, without notifications or pop-ups, so that your train of thought remains undisturbed while you work".
That whole concept has been utterly refined in the new reMarkable 2, that "builds on many features originally found the original one", says Mats Herding Solberg. There have been some relevant hardware improvements: this is thinnest tablet in the world at 4.7mm, "which required a several feats of engineering and design". Being the thinnest is not just relevant for marketing purposes; on the contrary, it makes a point when talking about the user experience, since reMarkable 2, being so thin and light, replicates the ease of carrying around a small amount of paper.
It must perform like and better than paper
reMarkable 2 uses an aluminum frame and an innovative approach to stacking components, and to assembly and manufacturing, says Solberg. "It must perform like and better than paper", the designer explains: "we wanted it to be thinner than a traditional paper notebook. We wanted it to be more comfortable to write on given the reduction in distance between the edge of the screen and where your arm rests". 
Since paper never runs out of battery, reMarkable 2 was optimized to have the longest-lasting battery possible, more or less "which is two weeks with regular use and up to three months of standby time". We can confirm that the device rarely needs to be charged, but also that a better notification system would save the user from founding out that his precious digital notebook is out of juice.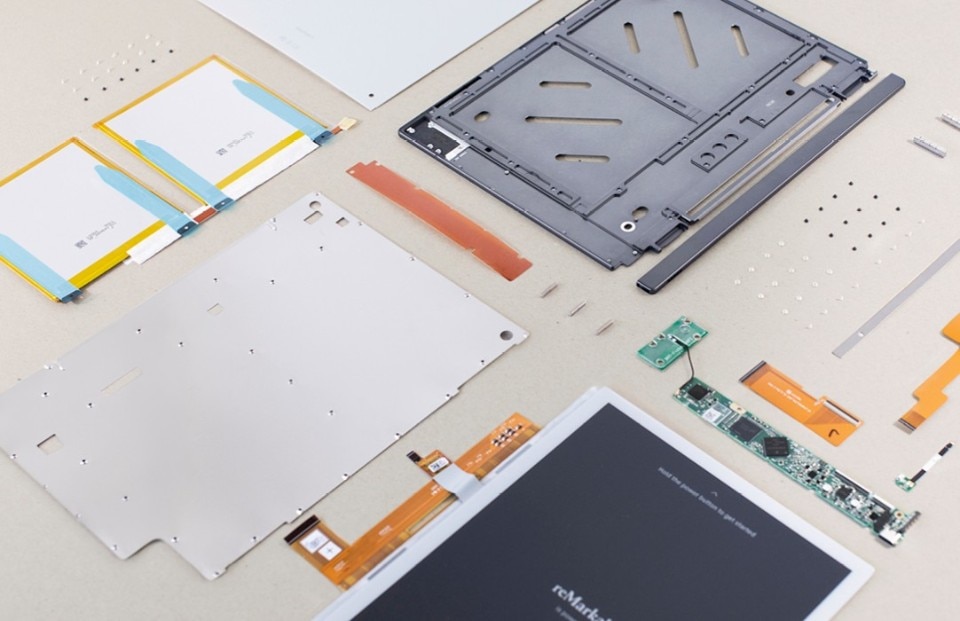 While Remarkable 2 is a technological step-up compared to the original one, the design philosophy at its core the same. Core function are the same. "We have never strayed from our core messages, and yes, our customers understood it", says Solberg. "The key point was first of all replicating the paper experience", the designer explains, because it's a device made "for people who love to user paper". 
And to best replicate paper, it was pretty obvious since the beginning to use electronic paper technology with an eInk display; unlike your most recent Kindle or Kobo reader, reMarkable sports no lighting system to illuminate the screen. That's not something missing, but a choice, about which Solberg provides this explanation: "if you want a true paper-like writing experience, you need to make a device that replicates that experience. One core issue is the distance between the top layer of the display, where the pen meets the surface, and to where the e-ink display technology exposes the ink. If this distance is to long between those two points you will see it. You won't be able to mimic that perfect writing experience because of the latency". And so, he continues, "not having a backlight is a very intentional design choice as it allowed us to decrease latency to an almost imperceivable amount". And it's true that Elipsa, the e-reader/digital notebook recently launched by Kobo, comes with ComfortLight technology, but latency is a lot more perceivable than on reMarkable 2.
ReMarkable 2 is one of the most satisfying devices that I've used the last few years, and one of the few able to digitally reinvent an experience that's inextricably connected to our memories and feelings, like handwriting. I could mention the iPod as another tool that did the same thing, and as in Apple's music player, all comes from the balance of body and mind, of hardware and software. All the reMarkable experience wouldn't be the same without its customized and extremely streamlined operating system Codex, based on Linux. Talking with Mats Herding Solberg, the effort the company is spending in improving the device UX emerges. "We are busy working on new features and updates that will increase user experience", says the designer. All these improvement, he explains, follow the "internal motto" of better thinking and human-friendly technology. Sooner or later, third-party apps could be integrated into the system, but only apps "that add to the writing experience and help people think better". For now, users enjoy a file explorer clear and easy to browse, have many page template options that they can pick from, ranging from lined paper to calendars to isometric sheets, and different writing instruments (fineliner, marker, calligraphy pen and more), and reMarkable's versatility is unique when it comes to annotate PDFs or ebooks. You can move entire pages and cut and paste portions of them, and review your documents with the companion mobile app and on your laptop.
We have never strayed from our core message, and customer understood it
In such a device, how to replicate paper notebooks' three-dimensionality is a crucial aspect. Leafing through a physical book is a radical diverse experience, compared to what happens on a digital screen. As a reMarkable user, I'd like to have more power in exploring the digital landscape of my notes, teleporting to some bookmarked pages, climbing over layers, and taking shortcuts to win over the dumb two-dimensionality experience that comes with a tablet; but as the user of a new technology, I also understand that I can't expect it to replicate every detail of the analogic experience, and that's up to me to find solutions to use it at its best.
On Reddit, the reMarkable page counts almost 20,000 members. Solberg tells me that the community is important at reMarkable to develop new features. "We interview people, we send out surveys, we're working with a beta community and more. We listen to our community". The recently launched Marker Plus stylus, that comes with a built-in eraser, in a way that reminds of some school pencils,  "was something we always wanted to do, our community was vocal in their desire for a more streamlined eraser solution".
"We created reMarkable as an improvement to paper", he concludes: "Everything we do now, and in the future, will be focused on creating products that helps our users to think better".