In Ritsona refugee camp, Boa Mistura has completed a new project in collaboration with Maidan Tent. The synergy of the two teams aims to provide the camp an infrastructure, a public space that could help the 800 refugees of the camp to rebuild their identity.
These camps are conceived as provisional structures to solve the housing emergencies of the refugees but, as the practice affirms, "wars don't understand time". As a consequence, most of the times these people end up being stuck in such spaces for years, ripped off of the possibility to find a sense of belonging.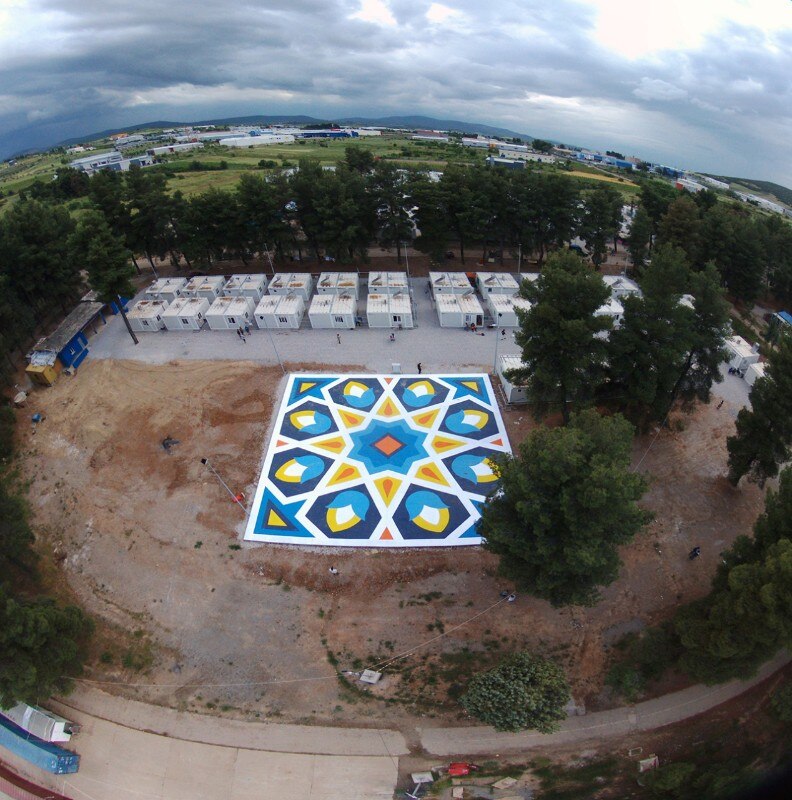 The contradictory nature of these structures is the reason why they are not properly equipped to host the life of a newly formed aggregation of individuals. This process is understood by Boa Mistura as a form of violation of the identity, and becomes the engine activating their efforts to engage the local community. The project has been carried out with the help of the inhabitants of the camp, who mainly come from Syria and Iraq. The colourful design of this public space has been inspired by the girihs, a traditional geometric motif of Islamic art. The action of Boa Mistura intends cast a light on such spaces, highlighting the need for rethinking refugee camps.
Project:

graffiti for the public space of Ritsona refugee camp

Location:

Ritsona, Greece

Artist:

Boa Mistura

In collaboration with :

Maidan Tent

With the support of:

PPG Industries, MPP marketing

Completion:

2018