Studio Wood designed a light weight temporary structure atop a 366 sqm apartment in New Delhi, India. The construction needed to be limited to a certain weight and was constrained by a tight timeline. After a few days of brainstorming the team opted for refurbished shipping container sheets.
The exoskeleton was made of metal girders and trusses, wrapped with mild steel panels. The building process began with a grid of 15 x 15 cm beams that were laid on the existing terrace floor to raise the floor height. This was done with the intention of giving the room a floating effect and to avoid rainwater percolation into the structure. The outer walls took support from the floor grid and a sloping roof grid clad. Since the structure was built on the terrace the ceiling plane was exploited as much as possible for daylight and natural ventilation with a provision for two skylights varying in width. The design was born keeping in mind orientation, climate and comfort. Apart from the built up area the terrace landscaping was also undertaken which involved designing a controlled microclimate using plants, water bodies and sunshades.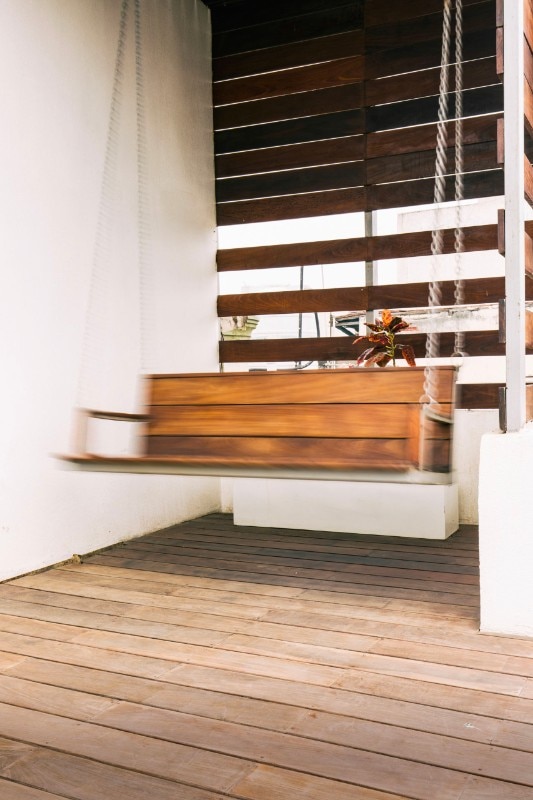 The clients were young entrepreneurs who wanted a multi-purpose space that functioned as a working studio by day and an entertainment hub by night. The space was divided in three zones, an open outdoor area, a semi-open portico characterized by wooden decking, and a closed cabin. A semi open cantilevered deck clad with wood gave the space a cabin-like feel and was conceived to enjoy a cup of tea in the morning. The landscape was riddled with several playful features including a swing and multipurpose movable cubic blocks installed at varying heights.
One of the most challenging features of the project was to design the sliding door for the outdoor bathroom. The three meters high door had to be designed to slide smoothly despite its heavy weight. This feature however was achieved by using ball bearing mechanisms predominantly used by automobile manufacturers to ensure a smooth transition from open to closed state. The interiors were designed to echo the concept of modularity. With a simple push the sofa could transform into a bed or continue as a comfy five seater.

Studio for two, New Delhi, India
Program: studio
Architects: Studio Wood
Team: Sahej Bhatia, Navya Aggarwal, Vrinda Mathur
Total area: 366 sqm
Built area: 121 sqm
Completion: 2016