When we reach the SaloneSatellite Award winner's stand, the inflatable table so popular with the jury is missing. What we do see are a number of very minimal tables and a modular wooden shelving system that seem not to spring from the same hand that developed the waterproof rubber design but we are mistaken and the young German on the stand sets off to retrieve the only specimen he brought to Milan.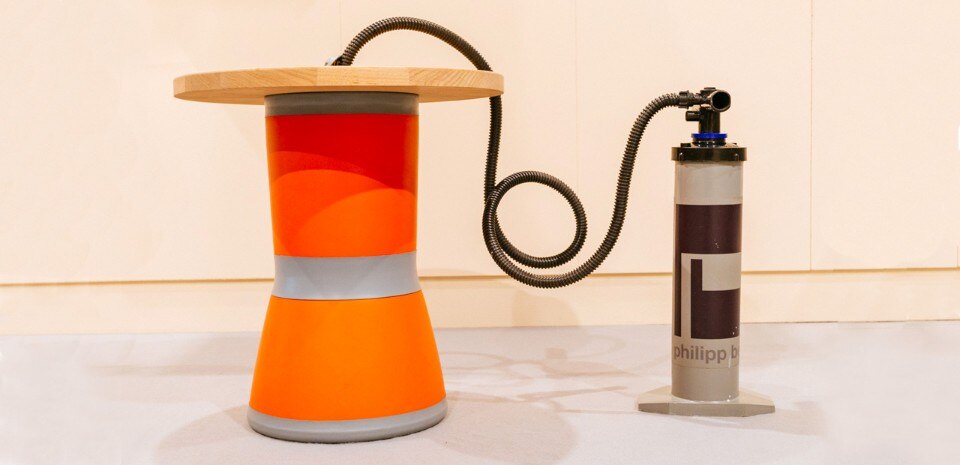 We discover that the winning design is not his latest product but a design that has been in the pipeline for three years, born out of a fascination for rubberised canvas developed by Philipp Beisheim, a 30-year-old German designer who lived in Johannesburg, South Africa, until the age of 11. He then moved to Würzburg where he subsequently attended a course on making wooden furniture, studied design at the Academy of Crafts and Design in Würzburg and then completed his education with a Master in product design at the Birmingham Institute of Art and Design, in England. After working for other designers in England, Belgium and Germany, he now lives and works in Frankfurt.
He illustrated the stability of his design and how it works as he explained its genesis. "This table was developed to combat our society's hyper-consumerism and out of a need not to waste our resources. It's easy to use and transport, and it's attractive along the lines of the inflatable furniture designs that first appeared in the 1960s. It is made out of a highly resistant polyester and neoprene fabric called Hypalon."
The same principle of easy use lies behind another fine design on the stand, the SF modular shelving system that slots together without the need for screws or pins. Its structure stems from the skills he developed as a woodworking designer with frames slotting vertically into a horizontal base; panels that lend formal and functional solidity to the whole are inserted using the same method.