Designed by local architect and beekeeper Frank Marcus, the Bijenpaviljoen – which translates as the Bee Pavilion – is a small structure assembled within the grounds of the picturesque Goffert Park in the Dutch city of Nijmegen.
Constructed for use by the Beekeepers Association, the building is a secure and tailored space which enables the group to manage their beehives and share their knowledge of the park's diverse wildlife with the local community.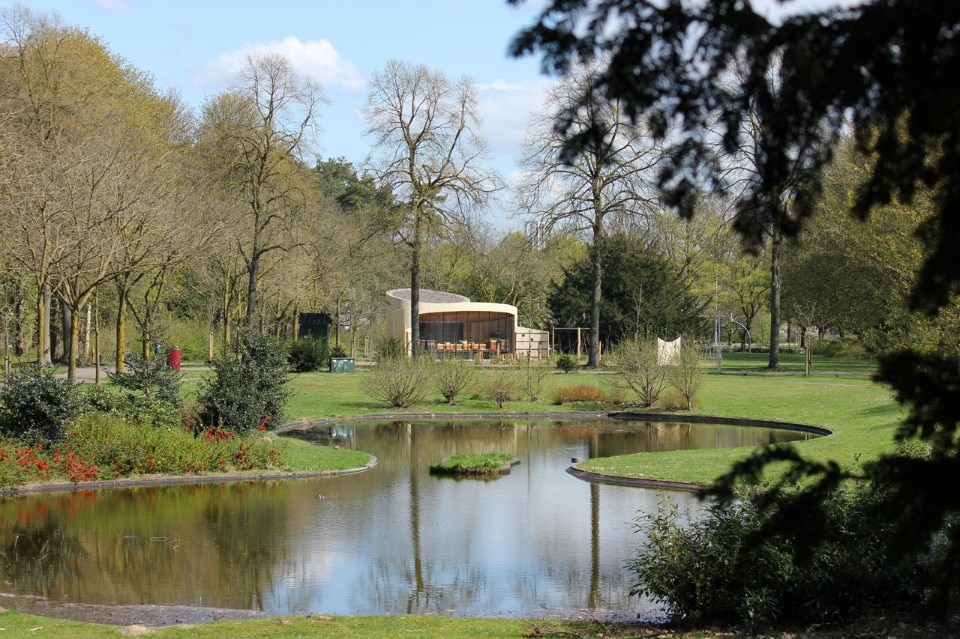 Inspired by the atomy of a body of an insect Marcus designed the functions, entrance, visitors space and apiary, as oval spaces behind each other on a center line, the North- South line. The sinuous structure follows predominantly from the park itself, Marcus blends the pavilion's rounded exterior into the park's landscape with its façade treatment, further integrating the -bio basedbuilding within the ecological surroundings.
Appearing to swell, the structure forms three separate spaces. Located at a pinnacle on the north façade, the entrance leads directly into the classroom. From there, the apiary – where the bees reside – can be accessed. An opening on the building's south façade bathes the hives in direct sunlight throughout the day. Adjacent to the southern façade, a sundial spreads across the ground to mark the time of day as well as the season – emphasizing the importance of the sun's movement on the life of bees.

Franc Marcus, Bee Pavilion, Nijmegen, the Netherlands
Franc Marcus, Bee Pavilion, Nijmegen, the Netherlands
Franc Marcus, Bee Pavilion, Nijmegen, the Netherlands
Franc Marcus, Bee Pavilion, Nijmegen, the Netherlands
Franc Marcus, Bee Pavilion, Nijmegen, the Netherlands
Franc Marcus, Bee Pavilion, Nijmegen, the Netherlands
Franc Marcus, Bee Pavilion, Nijmegen, the Netherlands
Bijenstal, park de Goffert
Franc Marcus, Bee Pavilion, Nijmegen, the Netherlands. Plan
Bijenstal, park de Goffert
Franc Marcus, Bee Pavilion, Nijmegen, the Netherlands. Section
Bijenstal, park de Goffert
Franc Marcus, Bee Pavilion, Nijmegen, the Netherlands. Section
Bijenstal, park de Goffert
Franc Marcus, Bee Pavilion, Nijmegen, the Netherlands. Elevations

Bee Pavilion, Nijmegen, the Netherlands
Program: pavilion
Architects: Frank Marcus
Completion: 2016