In Hong Kong, a city that undergoes rapid redevelopment, Sham Shui Po becomes one of the last districts where one can still see a number of historical housing models.

The building in which Studio Flat is located is a six-storey early 1980s tenement house in Sham Shui Po. Its architectural characteristics are specific as opposed to the new high-rise.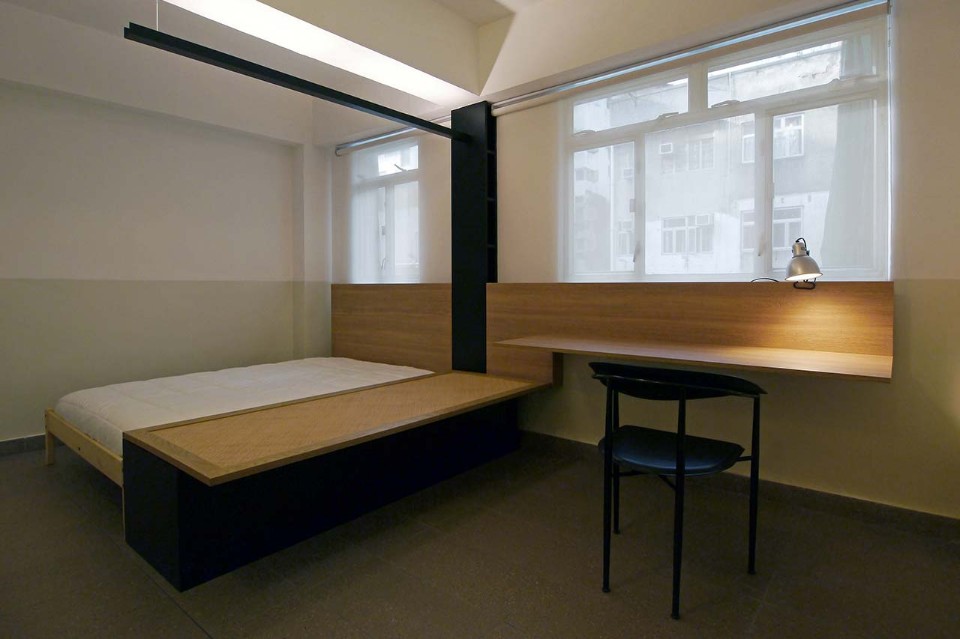 To strengthen its character, the original framework of the unit is taken as guides for the new spatial configuration of the studio flat. The dark aluminium fixture is arranged to project a visual partitioning that reinforces the orthogonal quality of the framework, and the built-in fluorescent lamp lights up the framework to further reveal this quality. Collectively, they define the different spaces in the unit. A new layer of fixtures, including a folded timber plane, a rattan plane and a stone counter, provides the required functional surfaces and hides all the required storage. With the hinged and sliding partitions, the whole space in its framework could be visible in its entirety.
Materials are explored, referencing those once popular among the community at the time, and incorporated in a way relevant to today's context. The daybed, with a framed rattan mat under a ceiling fan, reverts to the earlier way of living in response to the subtropical climate, where resting, working and living all happened on one surface. The textured glass, a common material in the past, brings filtered daylight through the diffused patterns into the bathroom. The toggle switches, that were commonly seen in the old tenement houses, are realigned on an oak plank that is crafted to finer standards. Most of these materials are sourced from old shops in the neighbourhood, in order to relate the past to the present, and to remind the present of the value from the past.
Plot Architecture Office, Studio Flat, Sham Shui Po, Hong Kong
Plot Architecture Office, Studio Flat, Sham Shui Po, Hong Kong
Plot Architecture Office, Studio Flat, Sham Shui Po, Hong Kong
\\NEWSERVER\Plotarc\Admin\Press\1416 Hoi On Court\source\Plan Model (1)
Plot Architecture Office, Studio Flat, Sham Shui Po, Hong Kong. Plan

Studio Flat, Sham Shui Po, Hong Kong
Program: apartment
Architects: Plot Architecture Office
Area: 22 sqm
Completion: 2015