Young architect Nozomi Nakabayashi has completed a small magical get away space called Hut on Stilts. 
Hidden amongst a small oak woodland, Hut on Stilts stands high above ground as a small magical get away space to spend the night, to ponder and to inspire ideas for the client, who is a writer.
Lower level provides an open deck area and the upper level is a comfortable small hut kitted with hidden bed below the floor and woodburning stove. Nakabayashi also wanted to create a space which felt comfortable, but different from everyday experience of being on the ground.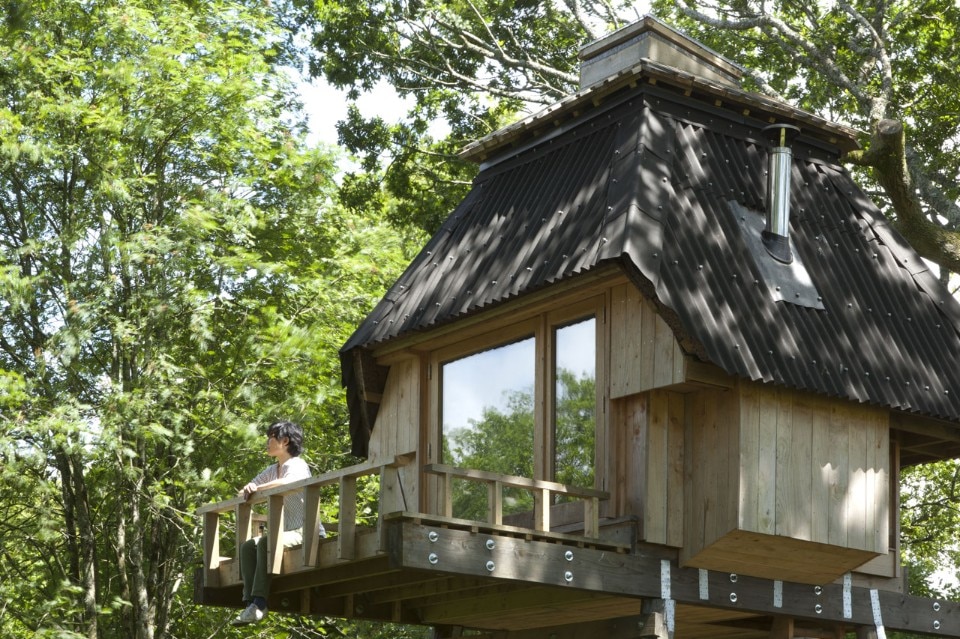 The construction of the project was carefully planned using prefabricated parts, separately raised on site, all the interior and exterior cladding were built in situ only with battery powered tools constructed with 1-2 person building team.
Maximizing a small 2.5m x 2.5m foot print, the floor is split into two levels, an entrance area with an alcove with woodburning stove and a raised main floor level which houses a bed under a removable plywood floor. The eave of the roof returns into the interior as a ledge of polycarbonate soffit and plywood table area.
The building materials include, cork as insulation and exposed wall cladding locally sourced Western Red Cedar cladding, Douglas fir primary structure and reclaimed glazing and telegraph poles as the base structure.


Hut On Stilts, Dorset, United Kingdom
Program : treehouse
Architects : Nozomi Nakabayashi
Design and Building team : Nozomi Nakabayashi, Mark Torrens, Marco Bencivenga, Elizabeth Cunningham, Manvir Hansra, Federico Forestiero
Area : 10 sqm
Completion : 2015