Whether that's drilling through a ten cent coin to make a gold ring, compressing leather scraps into table legs or moulding bubble wrap into vases – all the designers selected for the Aram Gallery's exhibition "Extra Ordinary" show incredible resourcefulness, imagination and daring.

They find new ways to look at the stuff that surrounds us.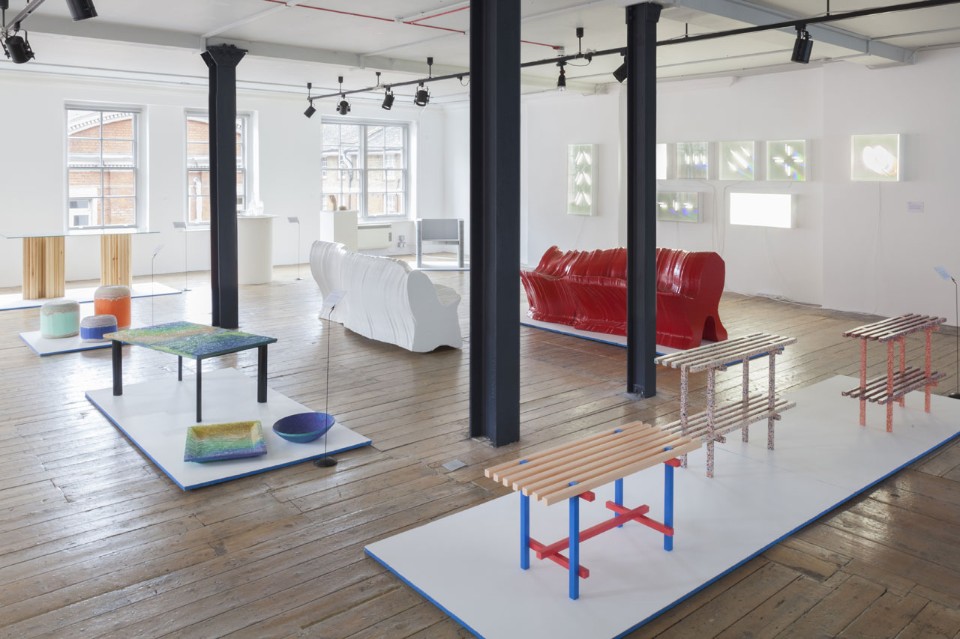 Out of the ordinary, these designers have discovered surprising aesthetics, created structure from surface materials, invented new and sophisticated methods for recycling and intervened in existing paths for manufacture.
Their work questions attitudes of value and beauty, and poses alternative directions for craft and industry.
"Extra Ordinary", view of the exhibition at the Aram Gallery. Photo © Amandine Alessandra
"Extra Ordinary", view of the exhibition at the Aram Gallery. Photo © Amandine Alessandra
Luisa Kahlfeldt, Cardboard stool. Three stools in corrugated cardboard
Lex Pott, Crown Jewels. 16mm and 18mm rings in Nordic gold
Martijn Rigters, Cutting Edge. Polystyrene sofas made with a specialised hot wire cutter
Odd Matter, deposit. Furniture recycling concept, pieces made in Jesmonite
David Steiner, Duct Work. Four stools in galvanised steel
Simin Qiu, End Grain. Desktop accessories in pine off-cuts
Paul Puskarich, Heatsink Chair. Armchair in aluminium heatsink panels
Soft Baroque, Mouldings. Table in glass and pine quadrant mouldings
Ying Chang, Neolastic. Vessels in bubble-wrap formed by heat shrinking
Silo Studio, PPPPP. Bowl, tray and table in a plastic and paper composite
Roisin Johns, Re-engineering Desire. Jewellery made from discarded materials
Krupka-Stieghan Studio, Recreate Textiles. Bowls and sheet materials in cotton yarn remnants
Jorge Penadés, Structural Skin. Two side tables in brass and leather scraps bound with bone glue
Rachel Harding, Wonderfluo. Eight wall lamps in laser cut aluminium with Spectrum Glass

until August 22, 2015
Extra Ordinary
The Aram Gallery
110 Drury Lane, Covent Garden, London