A new addition to the Dutch school's educational programme, the Food Non Food department directed by Marije Vogelzang with artist and designer Jan Konings has moved as one to Milan for the whole Fuorisalone week setting up its headquarters in Zona Ventura, where a large workshop gathers a faceted and ambitious exploration of food policies under the single provocative title "Eat Shit".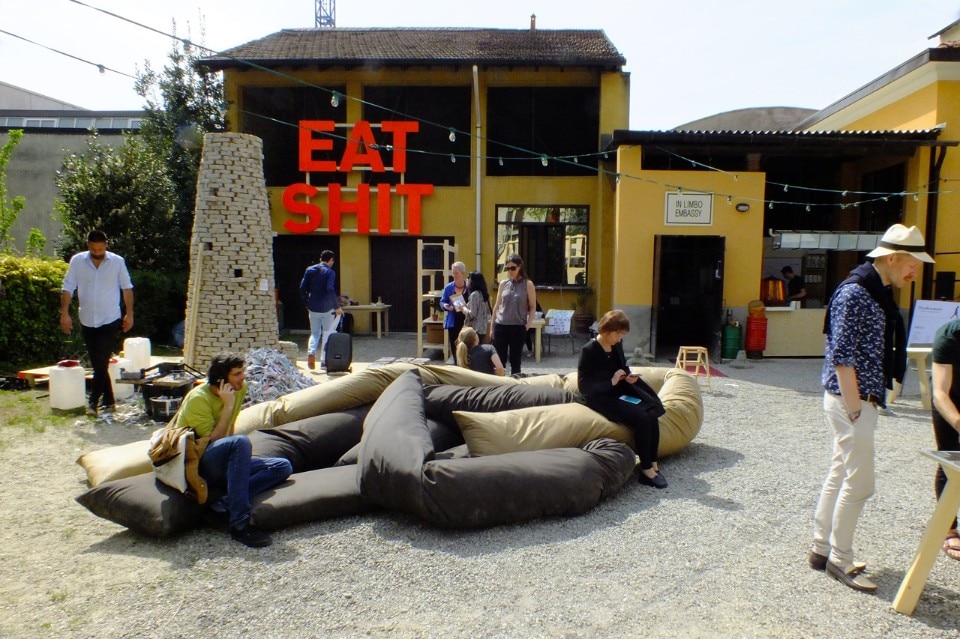 Eighteen students and their teachers asked, basically, how, where and why we eat, spawning a group of projects on the full cycle of the contemporary food culture: from production to consumption and the final phase: producing waste and excrement – which, suggest curators Thomas Widdershoven, Marije Vogelzang and Jan Konings, "is the great revealer of a person's health and culture".
The complex theme is addressed from all possible angles. With the In Limbo Embassy project, Manon van Hoeckel acts as a spokesman for the silent plight of all refugees refused asylum (extreme rejects of today's society). The designer proposes the blanket-symbol of refugee camps, worn with proudly and regally, the refugees' thoughts (which will be collected in a book) and a small mobile embassy as ways for people to regain their dignity. A more playful approach appears in Jolene Carlier's Popcorn Monsoon and a transparent-glass machine mixing three different smells. Meanwhile, Olivier van Herpt's 3D printer was developed to print ceramic objects, controlling such a delicate and natural material as clay, formed of biological sediments.


April 14–19, 2015
Design Academy Eindhoven
Eat Shit
via Crespi/via dei Canzi, Milano