The golf club designed by Gras Arquitectos in Santa Ponça consists in a series of rocks, stones that lay in the middle of the landscape, offering that presence and visibility disguised in a natural context: they are rocks in the landscape, and they are materialized according to that.
The organization of those elements makes the building: four volumes hosting different programs linked by a common plaza, the heart of the building, the bar. The plaza opens completely to the landscape, the niches, spaces in between the volumes are fully glazed: the surrounding landscape is framed and brought inside the building.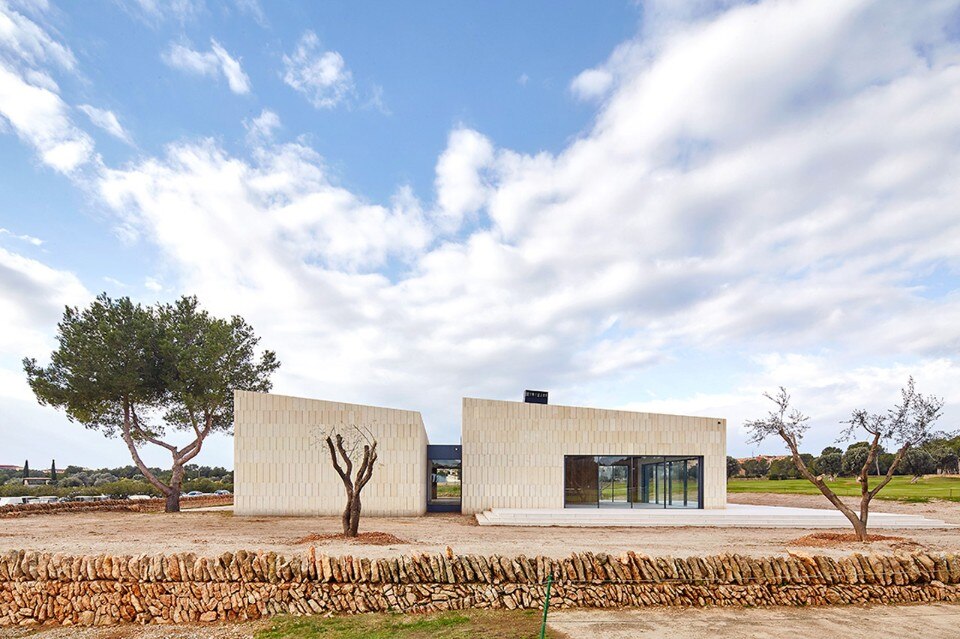 The rest of volumes are mostly opaque due to program (kitchen, changing rooms), with almost no openings or openings hidden behind the stone lattice, texture; according to privacy requirements the facade opens or closes up. The restaurant-lounge volume is an exception: big openings are carved in to offer an indoor-outdoor lounge, adequate to the Mediterranean climate. Planning requirement originally demanded sloping roofs based on the local vernacular. The project offers an alternative interpretation, creating irregular angled forms that give the building a contemporary character.
The regulation constrains gave the opportunity to explore different arrangements of the volumes and design the building in a way that it looked completely different from every angle: sometimes it looks small, or massive, or seems to extend into the landscape. It gives a very rich experience while playing the course as the building looks very different depending on the player's position.
Gras Arquitectos, Stone Clubhouse, Santa Ponça, Balearic Islands, Spain
Gras Arquitectos, Stone Clubhouse, Santa Ponça, Balearic Islands, Spain
Gras Arquitectos, Stone Clubhouse, Santa Ponça, Balearic Islands, Spain
Gras Arquitectos, Stone Clubhouse, Santa Ponça, Balearic Islands, Spain
Gras Arquitectos, Stone Clubhouse, Santa Ponça, Balearic Islands, Spain
Gras Arquitectos, Stone Clubhouse, Santa Ponça, Balearic Islands, Spain
Gras Arquitectos, Stone Clubhouse, Santa Ponça, Balearic Islands, Spain
Gras Arquitectos, Stone Clubhouse, Santa Ponça, Balearic Islands, Spain
Gras Arquitectos, Stone Clubhouse, Santa Ponça, Balearic Islands, Spain
Gras Arquitectos, Stone Clubhouse, Santa Ponça, Balearic Islands, Spain
Gras Arquitectos, Stone Clubhouse, Santa Ponça, Balearic Islands, Spain. Plan
Gras Arquitectos, Stone Clubhouse, Santa Ponça, Balearic Islands, Spain. Section

Stone Clubhouse, Santa Ponça, Balearic Islands, Spain
Program: golf club
Architects: GRAS arquitectos (Guillermo Reynés, Álvaro Pérez)
Engineer: Andreu Ortiz
Site Manager: Vicente Juan
Builder: COMAS S.L
Area: 540 sqm
Completion: 2014