Andrew Maynard Architects (AMA) have recently completed a residence in the northern suburbs of Melbourne. Its distinctive shape brings adventurous landscape into what was before a flat lot, and its ingenious design challenges the site's constraints to solar access.

The Hill House is the residence of a family of five, in a small lot with limited solar exposure. Erected in the southern boundary of the site, the Hill House adds to the original construction, facing the sun and emplying passive solar gain. The original construction to the north of the site becomes a secondary space, and the Hill House was transformed in the true center of the house.

Following the decision to build at the rear of the block a ubiquitous modern box was first imagined. Soon it seemed necessary to pursue the opportunity to activate this new, once shaded, now sunny façade, and the idea of the slope emerged. Andrew Maynard credits this decision to his Tasmanian origins, where built form is secondary and subservient to landscape. "Melbourne is predominantly flat," he says. "If one is to explore the possibility of cantilevering off a cliff — a desire of many architects — one is forced to manufacture that landscape." Here, the top cantilevered form acts pragmatically as the passive solar eave to the outdoor space below, cutting out summer sun, while letting winter sun flood in. "It works even better than we thought it would," says Maynard.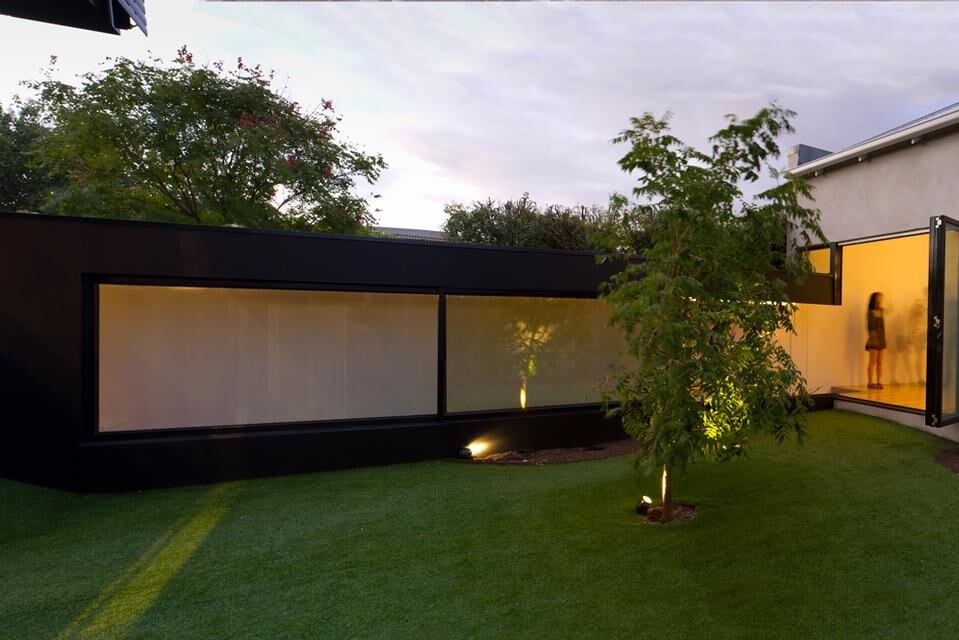 Building in the rear of the yard required a protected circulation path, thus generating a wall along the entire boundary. Building regulations dictate that a boundary cannot be completely walled, however it can be completely fenced. A 2 metre high fence was created, but unlike most houses, the Hill house has a one metre wide fence; a corridor lowered into the site to achieve head height. This in turn creates a lowered dining area, and one rises into the living space.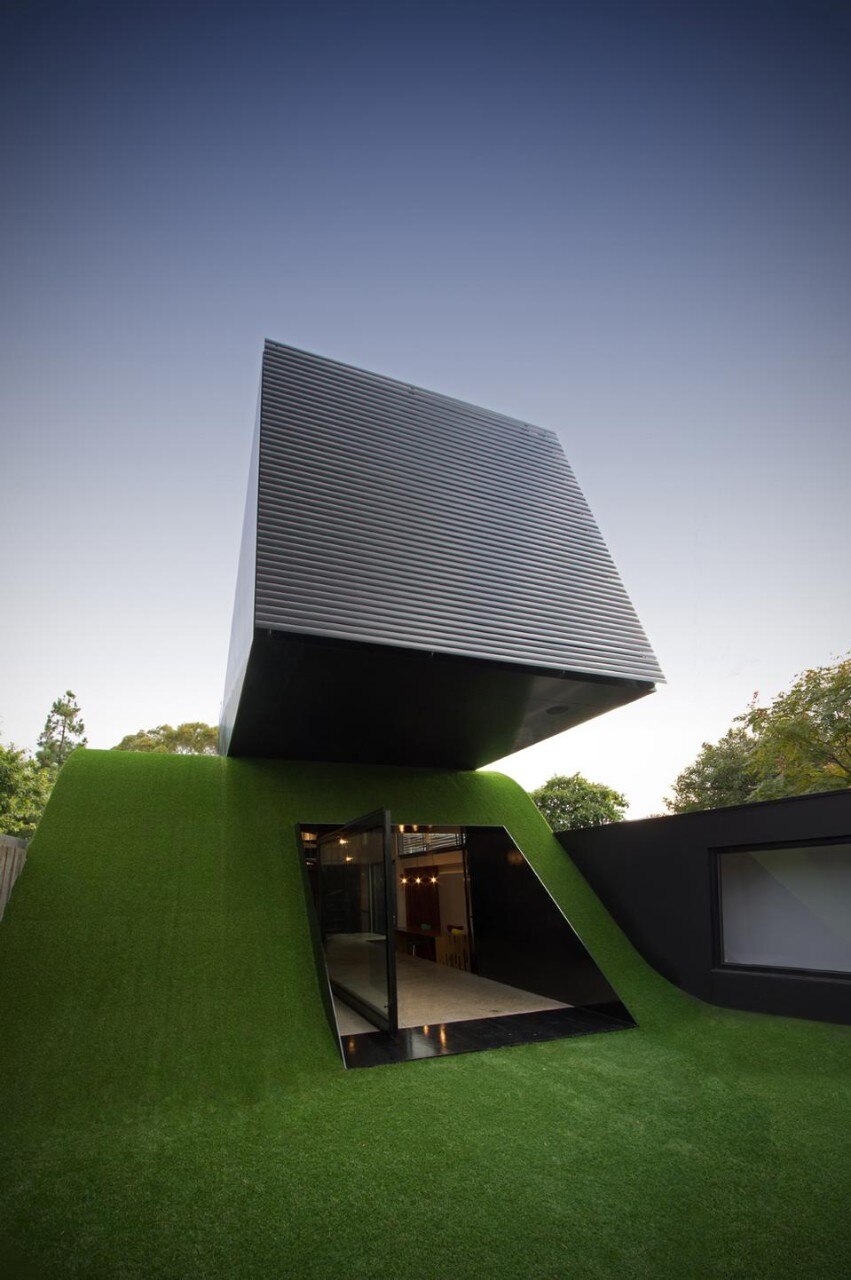 The yard is water efficient — the use of synthetic grass with strategically placed garden patches create dense areas of planting, resulting in very little demand for water. Long strips of windows to the East and West have been equipped with operable louvres. The north-facing façade consists of an entire wall of the same mechanically-operated louvres, providing the option of controlling cross-winds and sunlight. The grass on the hill envelops the ground floor in an additional layer of insulation; it is a thermal roof blanket, installed to supplement the existing insulation of the building structure beneath while also protecting the roof membrane. A white roof is used throughout to increase solar reflectance, sustainably reducing heat gain within the house.
Here, the top cantilevered form acts pragmatically as the passive solar eave to the outdoor space below, cutting out summer sun, while letting winter sun flood in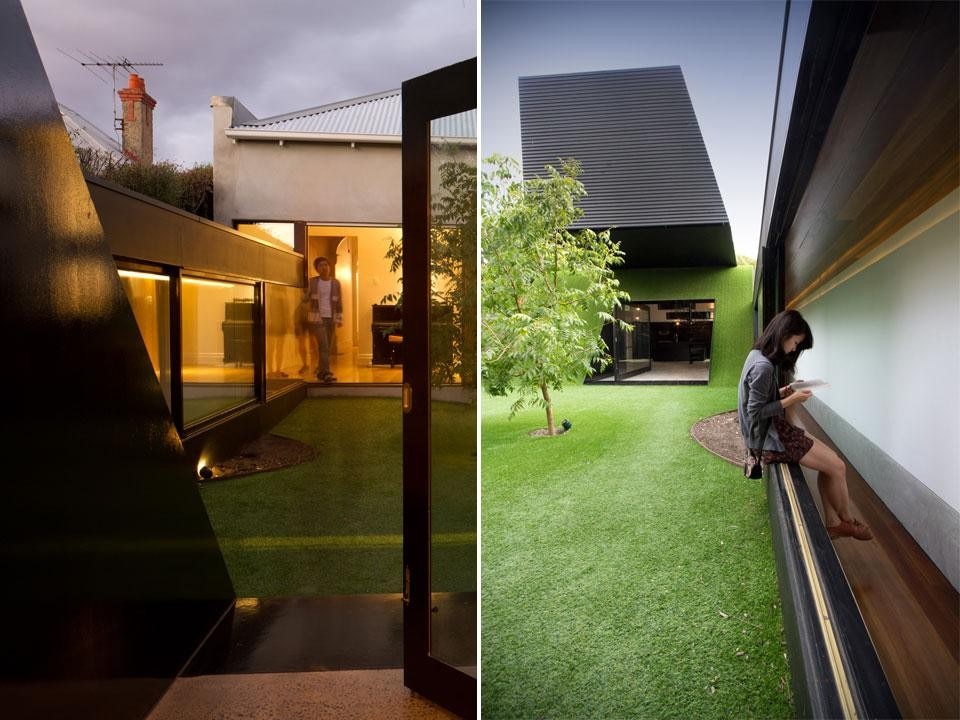 Andrew Maynard Architects: Hill House
AMA Team: Andrew Maynard, Mark Austin, Tommy Joo
Building surveyor: Metro Building Surveying
Engineer: Robin Bliem & Associates
Gross Floor Area: 192 square metres
Date of construction completed: December 2011