After the dreadful 3/11 Earthquake, some of Japan's most renowned architects came together creating the kisyn-no-kai, a group including Riken Yamamoto, Hiroshi Naito, Kengo Kuma, Kazuyo Sejima and Toyo Ito. The architects talked with the affected people from Sendai, trying to find a way to help with the reconstruction of the city and to improve the community's daily life. The result was the "Home-for-All" (Minna no Ie), a place where people could feel like at home, meet, relax and talk about the future of their city. The first "Home-for-All" was finished in Sendai last autumn: a small traditional timber structure that allows people to look to the future once again.

At the 13th Venice Architecture Biennale, the Japan Pavilion presented the exhibition Architecture. Possible here? Home-for-all, where the results of the first "Home-for-all" were on display, alongside the current research to develop the project's second iteration in Rikuzentakata, in the form of dozens of study models for the project. Commissioned by Toyo Ito, this research has been conducted by young architects Kumiko Inui, Sou Fujimoto and Akihisa Hirata. The exhibition also includes the work of photographer Naoya Hatakeyama — who lost his mother and childhood home in the tsunami —, with before and after images of the affected areas, alongside visual documentation of involved architects on site. The Japan Pavilion was awarded the Golden Lion for Best National Participation, and Toyo Ito shared the prize with all the people affected by the tsunami.

Gonzalo Herrero Delicado, María José Marcos: Seeing the result of the first "Home-for-All", we find an obvious second interpretation. The project is a reflection of a new social position of the architects nowadays, by going beyond form, and back to the streets, approaching the people.
Toyo Ito: Although the project firstly wanted to support the people, doing these activities was also a way to question what architects should do and how it should be done, what is architecture from now on and how are we supposed to make architecture. So this was a conceptual thing that we try to teach to the young generation of architects in order to rethink architecture, and this is something that we can do right now because of this is what is happening right now. This is a very important matter for all of us.
You always talk about "Home-for-All" as a public space where people can meet. But the concept of public space in Europe and Japan is very different, isn't it?
The "House-for-All" isn't just an indoor space, there is also a small outdoor porch. It is connected with the traditional Japanese idea of having indoor and outdoor spaces really connected by an element called engawa. So you will have gradients from outside to the inside, and this is a particularity of the Japanese person that lives in balance with nature. In Japan we rather have a good climate but although you can fully enjoy this part of the house, the Japanese enjoy the passing of the seasons, something in fact very important for old Japanese people. Although in Europe and in the United States tend to very clearly separate the outside and inside, indoor and outdoor, the architects involved in "House-for-All" sought to loosen this division. It was very important because by doing so, everybody is part of what is happening in the inside of the building.
It is difficult to discern in your projects what comes from specific circumstances of the context of the project and what refers to your own interests. In this project, but also in many others, you design the public space from a domestic scale. Does this situation arise from the conditions of the project or from the fact that now the limit between domestic and the public scale has actually disappeared — something that is particularly visible in "House-for-All"?
That is a nice question. Of course I have been doing in the last years a lot of work with a public scale. Every time I'm doing so I feel frustration and anger, and of course it also turns into energy to do the work properly but when you decide to make a public architecture you are not definitely working in the idea of environment, you are always restrained by constrictions and limits. With the "Home-for-All" project, we started by working with people affected by the disaster and then we created a common place for people. This time we were actually doing something for people. Certainly this is a very small attendance, but I didn't feel any frustration or anger this time, because it really works. It is a public space with a primitive form, and I really found the way to fill the existing gap between these two scales. By changing my position as an architect this time by doing this, I'm not going to do something different from what I've been doing until now; but this time I've had the opportunity to rethink how to make new things.
After the big earthquake in Japan we had to make a lot of sacrifices, many victims came out of that and so we went back to zero. We went back to the idea of architecture as a place to make people gather, a place that everybody can use
For the second project "Home-for-all" you requested the aid of some colleagues: Kumiko Inui, Sou Fujimoto and Akihisa Hirata. The research resulted in the exhibition we can visit at the Japan Pavillion in the Biennale. But your first proposal was to build up a "Home-for-all" here in Venice. Why did you decide against it?
In the beginning we wanted to build up a part of the second house in the garden in front of the Japanese Pavilion, and then bring it back to Japan for those affected by the disaster. But if we did so, we wouldn't be able to provide this structure to the people before next spring or even summer — and then it will be too late. In this case these people will have to spend autumn and winter in very cold houses, and we wanted to help them earlier; so I'm very happy to announce that in two months from now the project will be completed in Japan. And the other thing is about the economical support for making that happen. We had the support from the Japan Foundation, but for the project on the spot we would have not received any funds from the government. Actually, we are getting funds from people around the world.

Your works have been focused on creating public spaces for the neighbourhood, but people are living in shelters with a very low quality design. Don't you think it would have been more interesting to focus on improving these houses?
This is an interesting question as we think this is something we would like to do. However, it is very complicated because in Japan the situation with politics can become very tricky. From this point of view it is a very boring country, the principle of competition doesn't work, so if you have to make 50,000 temporary houses, then they all have to look alike, you can't do something with better quality or just something different, they have to be the very same house.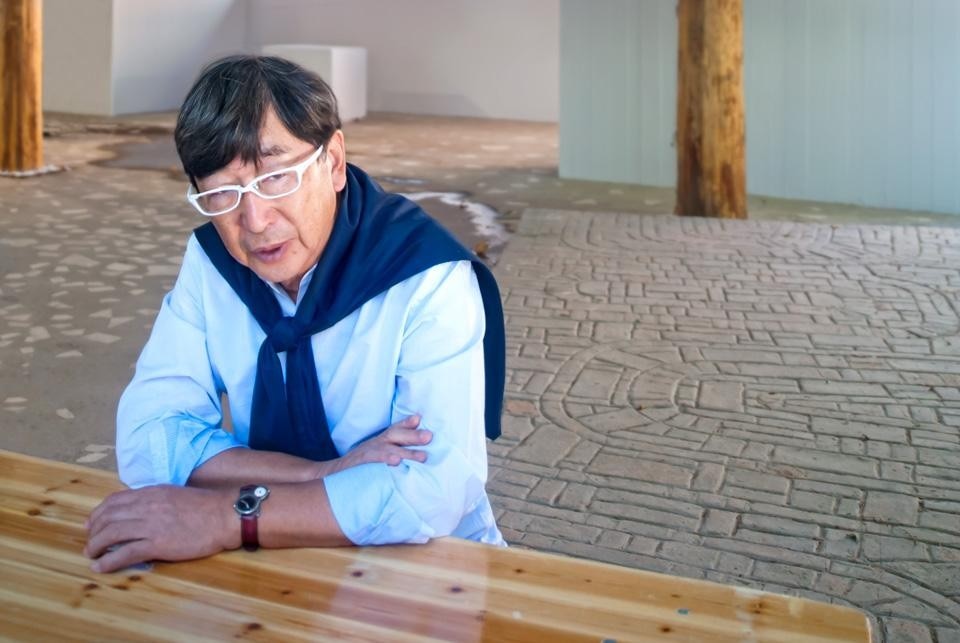 Commonly the Venice Biennale has been a think-tank for architecture, a window for most inspiring practices abroad, but this edition has focused on showing many star-architects without giving too much room to fresh and innovative proposals. What are your thoughts on this?
Traditionally every architect must be rooted to a particular land or country, and that is something that could be enjoyed by the people, as it was supposed to create a common space. But the problem is that all of this has been lost over the last years and the past Biennales, because now you can go to Tokyo, Beijing, Hong Kong or Venice and you will see that architecture is just used as an instrument of economics, completely losing its original meaning. After the big earthquake in Japan we had to make a lot of sacrifices, many victims came out of that and so we went back to zero, we went back to the idea of architecture as a place to make people gather, a place that everybody can use. This is what we have done, restarting the city once again as it has happened so many times in our history. It is a way to make architecture that can be applicable all over the world, thinking architecture as a social tool, as a way of creating spaces to make people stay together. From my point of view, Chipperfield thought the Common Ground like this, as a ground for everybody, a ground on common, and our project is a reflection of this.

With thanks to CIVA president Marie Vanhamme for her support; and to the Japan Foundation for their assistance.