In Kumamoto, on the island of Kyūshū, a public bathroom on the ground floor of a private residence has came to life. The owners, along with thousands of other people were displaced in 2016 when a strong earthquake shook the region, leaving the inhabitants without access to the sentō (public baths).
wAtelier's design fits into the Japanese tradition of public baths and interprets it with minimal elegance.
Both rooms, one for each gender, are enclosed in a structure made of Japanese cypress, a local wood with natural humidity control. The concrete walls, floors and tubs, enriched with fragments of limestone and black sand, ennoble its appearance, creating a uniform surface with rounded corners that offers a sensation of natural contiguity with the water. In this way the whole volume acquires a precise identity linked to the gestures of bathing.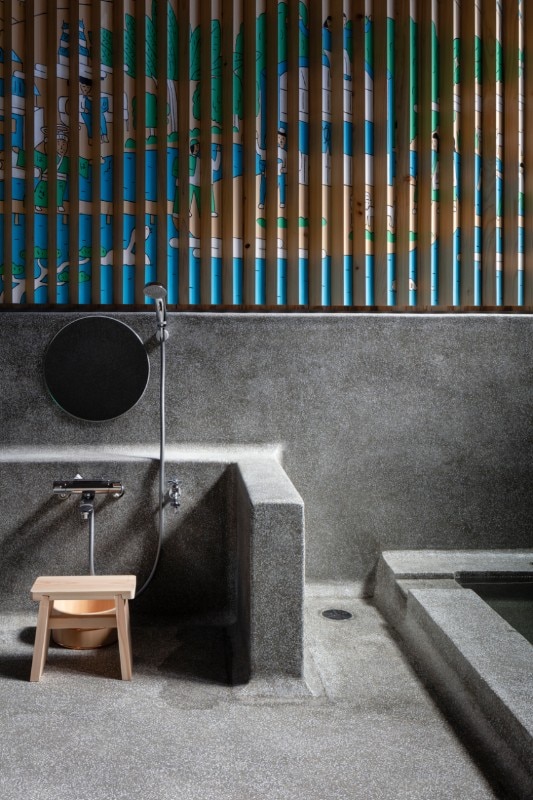 Also made of hinoki (Japanese cypress) are the "screens" on which the art is displayed: a canvas composed of triangles that segment the painting without any solution of continuity, which  appear and disappear from view according to the different positions of the observer. These interruptions change the perception of the painting as the bather moves through space, sitting or immersing himself in the water and steam.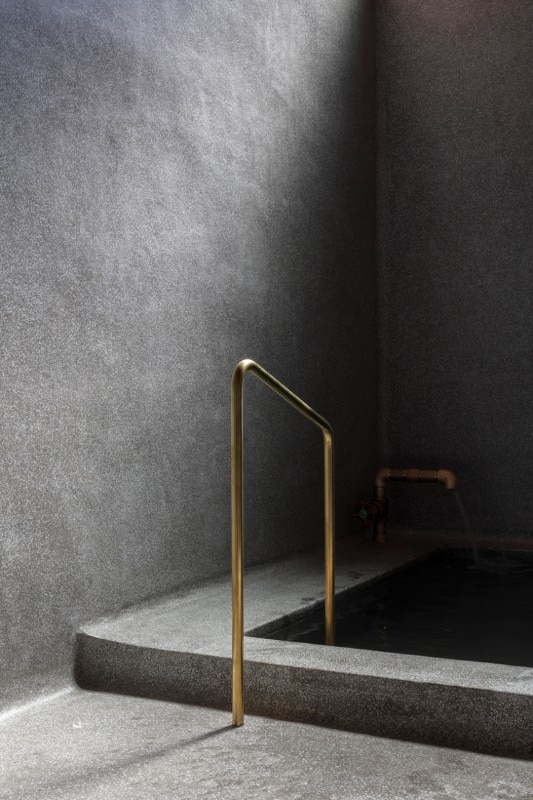 In a perfect tradition of Japanese interiors it is worth noting the sensation of inner peace that these spaces communicate, all the more so as they are public.
The warm tones of wood, together with the impeccable use of cement, give the environment a predisposition to meditation and contemplation of the artworks on display. The few perfect details, such as the handrails and taps, confirm the Japanese dedication to the cult of precision.
Project:

Kuwamizu Public Bath House

Designer:

wAtelier

Graphic Art:

Tomomichi Yonemura

Area:

40 sqm

Location:

Kumamoto, Japan