Celebrated and loved all across the world, the name of Issey Miyake, who died August 5 at the age of 84, is the one we associate with fashion milestones such as the pleated structure of  'Pleats Please' dress, or the multifaceted mesh surface of the Bao Bao Bag. Nonetheless, these icons are but the glistening mountain peaks of a deep research, born by breathing the desire for total liberation of May '68 in Paris and contaminating it with individual intuition, teamwork, recomprehension of cultural roots, and the impulse for continuous innovation of techniques, materials, uses and their effect on society, beyond the boundaries of the sole fashion realm.

Is certainly not a fashion designer or a couturier, though he is well known in the fashion world. "What he does has nothing to do with the seasons, the trends" Michele De Lucchi had said when meeting Miyake in Tokyo in 2018 "It is difficult to this cultivated Japanese man worrying about the evolution of taste and analysing trends in lifestyles month after month. For one simple reason: he already knows them and he is the one who points them out". In November 1997, the Japanese designer had spoken for Domus about the revolution that, a few years after the launch of Pleats Please, he was bringing to a design world facing profound changes. The talk had been published on issue 798.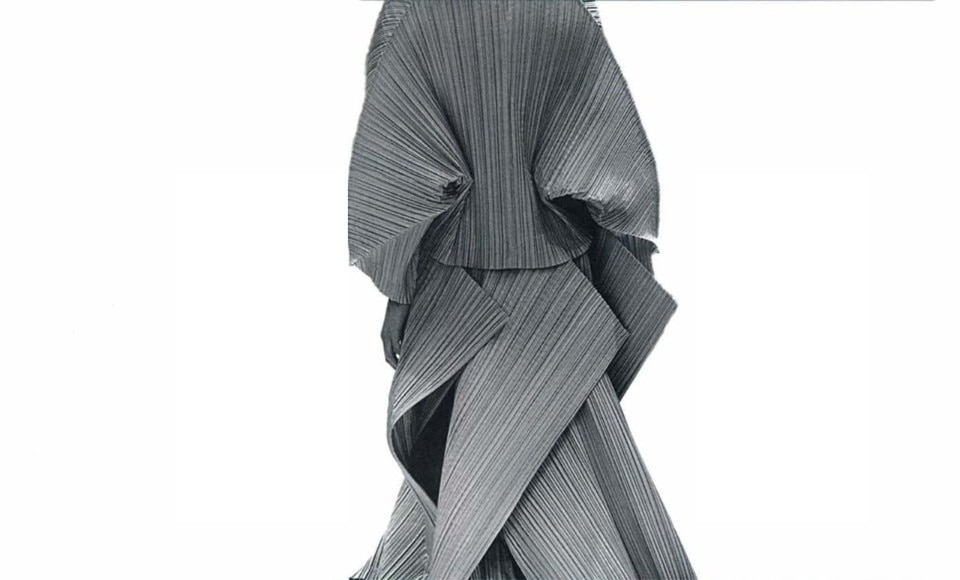 Clothes for freedom. Issey Miyake
Kazuko Sato
Photographs by Yasuaki Yoshinaga
The key word for understanding Issey Miyake's fashion design must surely be 'freedom'. Freedom from social impositions and conventions, but also physical constraints, from the impediments and rigidities of clothes out of tune with the bodies that wear them. But it is not just a negative freedom, a freedom from something. With "Pleats Please", Miyake achieves the dimension of positive liberty, true freedom of expression, to dress with elegance and aplomb, style and ease. Behind this turning-point also lies research into materials and technologies, a work that might almost be called engineering which then opened into the dimension of art.

The clothes designed by Issey Miyake hear the fragrance of a wind that seems to blow straight from Asia. They are extraordinarily elastic, swelling and dancing in the breeze. The air circulating lightly between skin and fabric liberates the wearer's body and soul. These clothes are the outcome of a long creative journey and exhaustive research. It was the encounter with the May '68 Paris revolution that first aroused in Miyake the desire to create clothes released from the constrictions and conventions of society. He wanted to design clothing that could simply offer people's bodies the greatest freedom of movement.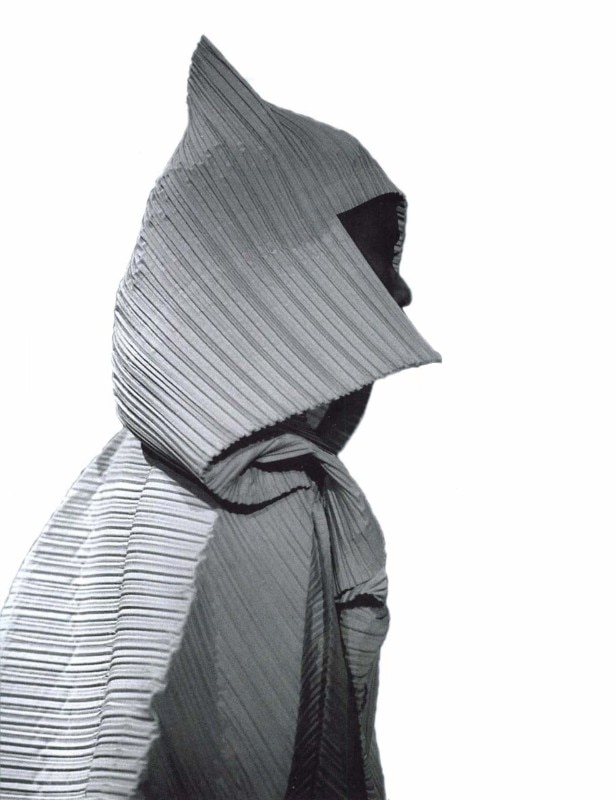 In '76 "Ichimai no nuno" (literally, "a single cloth'') was presented, its concept being that of an equal sharing of freedom between the person creating and the person wearing the clothes. In 1988, "Issey Pleats" came out. These were clothes of a remarkable grace and lightness, resulting from the juxtaposition of two lengths of pleated fabric. But it was not until '93 – at the climax of a prolonged survey of materials and processing techniques – that the absolute novelty of "Pleats Please" came into being: functional yet beautiful garments, at an accessible price, that can be worn by anyone anywhere, combined and overlapped in absolute freedom. And it was about "Pleats Please" that Issey Miyake spoke to us, in his Tokyo office last May.
The origins of "Pleats Please"
"In the first place, having for many years taken part in the Paris fashion shows, I have always thought that, parallel to fashions addressed to a select few, there ought also to be a design to attract the interest of wider circles. I was thinking of an 'easy' style, like that of the jeans and T-shirt, but one that could be worn in a wider milieu: of apparel that, regardless of age or profession, could possess a modern kind of beauty while still being functional: of a style that would stay trend-free. Then, secondly, came the evolution of a particular material, polyester. Our research focused on this inexpensive industrial material which no one had previously used for clothes. We improved it with 'soft' alterations and decided to adopt it as the material for Pleats Please'. Finally, a radical change occurred on the human panorama: the number of working women increased, and there are now also more women in society with the capacity to express their personality.
Series production and emotion
I have never wanted to start series manufacturing geared to any association with the idea of sameness. Clothes change expression according to the people who wear them, adapting to the shape of their bodies, inflating with the warmth of skin, shaped by the air around them... there has to be a reciprocation between the clothes and their wearer, a sort of remodelling to render the ensemble aesthetically agreeable. Of course, functionality is of primary importance. But I would like it always to go hand in hand with a pinch of humour and the unforeseeable. In this respect I feel very close to Swatch design: although it is a mass product, it never forgets brightness, surprise and fun".
Encounters
"If I had not met William Forsythe and the Ballet Frankfurt, 'Pleats Please' would probably never have taken off. And again, if I had not met Shiro Kuramata I would not have arrived, in 1983, at 'Body Works'. The privilege of having known Lucie Rie, Isamu Noguchi, the poet Shuntaro Tanigawa, Anselm Kiefer, Joe Colombo and Ettore Sottsass, has likewise given me precious opportunities to get closer to the 'man and woman 'behind their works. Working with Irving Penn, moreover, I was able to see the unexpected impact of my works through the camera lens. In that way I realised my limitations, but also the possible developments of my endeavour. This is a constant source of energy to me".
Traditional culture as a 'gymnasium'
"The codified forms and styles of traditional craftsman ship, along with works by traditional designers that have no practical utility, are of no interest to me. Nevertheless I observe that traditional culture, objectively, from the outside, and reflect on its meanings, its concept of space for example. The Japanese have a peculiar tradition of their own when it comes, for instance, to food, dress and houses, that sets them apart from other peoples and also influences their sense of environment, of equilibrium... and I am always conscious of the Japanese side in me. We have also conducted numerous surveys on how it might be possible to adapt traditional Japanese materials to the necessities of contemporary life, by rationalizing them. Also, in the case of 'Pleats Please', we spent a long time looking at the folding techniques (tatamu) of traditional clothes, to improve our awareness of how a cloth can change expression completely according to the way it is folded. Through this exercise, we formed our own, idiosyncratic tradition, later leading to the particular folding techniques of Pleats Please".

The anonymity of design
"I believe that fashion design, in catering to a special world, and because of its desire to make an immediate impact, felt it necessary to ally its products with the aura of a designer's name. And in the '80s the design-art line of thinking was further developed. But I personally think the designer ought to be more anonymous, that his or her real victory would consist in anonymity. If a given design is successful anonymously, the 'source' must in any case shoulder responsibility for explaining how those particular garments came to be what they are, why they cost a given price, and so on. I would be happy if people could wear 'Pleats Please' without realizing they are by Issey Miyake. And that goes especially for a place like Japan, where everyone belongs to the people and no real high society exists".
Fashion collections and series products
"As far as I am concerned, both are necessary, but the concept of design in the two cases differs deeply. Fundamental to the fashion collections are research and constant practice, and all of us put all our passion and feeling into this work. Series products, on the other hand, spring from the work of a small group of people who, in 'cold blood', put different elements together. For decorations and colour, we also use the services of other designers. Last year, moreover, we began presenting a 'Guests Artists series' every six months, which brings to 'Pleats Please' a freshness, discovery and renewal within continuity".

The age of the working group
"At the Miyake Design Studio a large staff of very mixed personalities, including Makiko Minagawa and Naoki Takizawa, work together. I believe that never before has team work become so important, which means combining the ingenuity of everybody to construct something in common. In group work it is important that everybody should make available to all the others the information in their possession and that they should each work together with pride. It is necessary to develop all research to the highest standard and to maintain that standard all the time. In this way some thing good will certainly come of it".
Industrial and craft work
"The mixed use of technology and manual work has the effect of restoring to industrial products the warmth of man's hands, of reviving the values of craftsmanship. Take the manual work done in India: it is not simply 'artisan', it is something very close to industrial work. It means that even man's hands are capable of producing on a large scale. In the Issey Miyake collection last March we presented a Prism Collage' series which is composed, in fact, of a collage of manual and high-tech work. I believe the challenge of the 21st century will be to create something which, by merging industry and craftsmanship, sparks a bit of humour, enjoyment and emotion".

The 21st century
"I foresee that in the world of the 21st century people will emerge with the capacity to create by completely new processes, different to everything done to date. In this sense Japan seems to me to be afertile land, amply usable in the future too. I see in fact that young people of this kind are gradually emerging".
Technical points of the "Pleats Please"
The items in "Pleats Please" line are polyester 100 percent, and very light, a tank top weighting only 80 grams, a cardigan 154, and a long dress 265. They are also easy to take care and can be washed like handkerchiefs with no worry of wrinkles. They don't need ironing and are convenient for travel since you can just roll them up in your suitcase. They come in thirteen basic styles and six colours, including black, grey, and beige, but special seasonal colours and bright prints are introduced to the line each season. Since last year, a series called "Guest Artists" is presented twice a year. Polytex Industry makes "Pleats Please" items, and the factory is located in the Northeastern section of Japan, some 350 kilometres North of Tokyo in Shiroishi Zaoh. The company employs 105 people, including those working at the second plant and produces 1500 articles of clothing per day. At present, they are fully occupied with the production of "Pleats Please" line and the pleats for Issey Miyake's collections. The factory also functions as an experimental laboratory for the engineers and the designers for Issey Miyake. They work together, researching and developing new pleating techniques, and trying out various treatments on polyester and other materials. The "Issey Pleats" introduced in 1988 reversed the traditional method of making pleats. Up till then, pleated clothing were cut from pleated fabrics. However, Miyake first cuts out and sews something 2-8 times its actual size, then compresses it to make pleats. This is the key to the sharp lines of "Pleats Please" items. The clothes are first cut-out, sewn, then folded, ironed and tacked. The garment is then placed in a pleating machine. It is pressed between two sheets of paper, and comes out pleated. As the last process, some are steamed in a vacuum dram for 45 minutes to secure the pleats permanently in place. When it has cooled, you tear away the paper, and out emerges a newly completed "Pleats Please" item. "Pleats" have various faces. Depending on the thickness of the fabric and the width of the folds, they look soft, rugged, lustrous, and sometimes velvety.