This article was originally published on Domus 769, march 1995.
They say the office is changing and it's already changed. The advertising agency Chiat/Day's headquarters on the thirty-eighth anonymous floor of an anonymous skyscraper at the tip of Manhattan, has been radically refurbished by Gaetano Pesce, the architect who chose a few years ago to live and work in New York. His client, Jay Chiat, belongs to that bright and enlightened breed that is every architect's dream. It was him, moreover, who in Los Angeles commissioned Frank Gehry, Clues Oldenburg and Cosjie van Bruggen to do the binocular-portaled, linear building. Contrary to what might be expected, the change introduced by Pesce's project in New York is not one of form, but of substance. In plain language, it is not a rehashed interior, a mere change of furniture. It is a veritable revolution, stubbornly pursued and desired by Jay Chiat in both the agency's offices. In its felicitous encounter with a luxuriantly figurative, fresh and uninhibited creativity (Pesce's), Jay Chiat's intuition and his dogged determination to realize a 'vision', have created a surprising atmosphere. It is clearly also animated by a desire to interpret and experiment, successfully translating into design what had previously been confined to reasoning or reverie. 
The idea is this: instead of being territorial, the office becomes virtual. In the traditionally organized office, work is intended as time purchased and is therefore supervised through the distribution of stuff in specially constructed, individually assigned spaces. Employees identify with those spaces and are hierarchically structured to them. Whereas this system is substituted here by a more individualistic and responsible approach to work. No longer forced to share one workspace and time, each staff member can choose their own way of going about a task, thanks to the mobility offered by technological innovation.
With the elimination of the physical hindrance of paper, to be collected, kept and filed, of electrical or telephone wiring, and of the fixed workstation cluttered with unmovable objects, one realizes that very few essentials remain: a chair, a worktop, a cellular phone, and a computer (laptop) for communicating with the rest of the world. This may sound like the usual phony futuristic scenario, which is hard to believe in because it is pictured as too remote from everyday reality. In Pesce's design, however, this has been translated into a fluid, articulate space, endowed with those eminently 'urban' qualities that characterize routes and waiting areas, perspective views and meeting points, with a sureness that depends more on daily use than on the application of abstract concepts.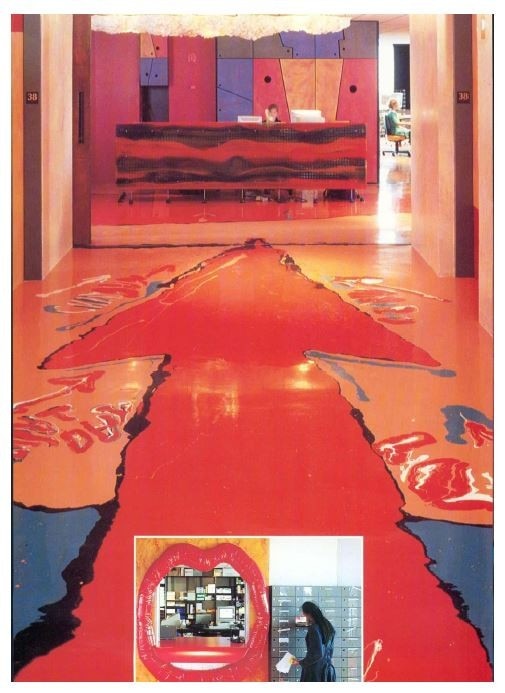 The first impression one gets, on stepping out of the elevator onto a colored floor full of indications, instead of onto the drab moquette or linoleum landings that mark the thirty-seven lower floor arrivals, is, unexpectedly, one of great order and diffused calm. With one or two people concentrating on trolley-borne computers, others pacing up and down and quietly telephoning, while clusters of others, silting on low sofas or leaning on the corners of constructions made from assorted materials (felt, plastic, wood, videocassette), discuss and gesticulate.
The extraordinary atmosphere is immediately felt. And certainly not by dint of any peculiar or loud 'decoration', whose novelty would soon wear thin. Decor is, on the contrary, perhaps the least important aspect of the scene. What matters is the place, the well-regulated tension between inside and outside: the successful creation of an inner core with sufficient impact to meet the challenge posed by the changeable, sweeping panorama that finks front the Manhattan skyline into the distance of New Jersey. The core is achieved by the density of certain functional areas. These are grouped by themes and detached front the outer walls of the office, which are left free and available to a peripatetic flow that transforms the perimeter rim into a fantastic round walk. 
Instead of being territorial, the office becomes virtual. The traditionally organized office (...) is substituted here by a more individualistic and responsible approach to work.
Rather like a succession of loggias, where people can cut out workspaces for themselves and orientate them each day toward opposite cardinal points. This circular route winds through all manner of surprises, at times visual (as in the personal locker zone, crowded with the faces depicted on the doors of the lockers), at others perceptive. And linked to constant experimentation: with a spatial complexity, expressed in continuous compressions and decompressions of spaces transversed: crowded with mobile workstations, punctuated by site upholstered doors of private 'cells', open to the informal aggregation of the cafeteria and decongested in the deliberate emptiness of the 'piazza', which is characterized only by a longitudinal, and again mobile, flight of steps.
Once the necessary material has been collected from the gaping hatch-mouth of a special 'store', any one of the mobile workstations can be selected. These are installed on appropriately designed trolleys and can be directed to the person's favorite workplace, or to occupy one of the more secluded private rooms. The available types are completed by audiovisual rooms (whose bricks consist of normal videocassettes or remote-control reliefs), conference, groupwork rooms or others reserved exclusively to the development of specific campaigns for a specific client and are ironically signed by the simple icons that have for years been a feature of Pesce's work.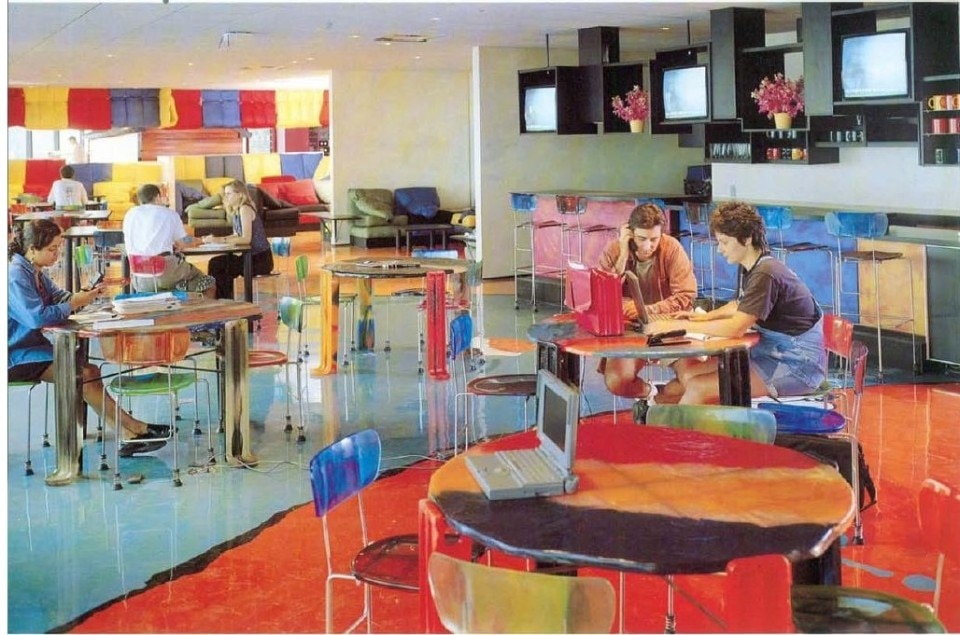 Thus, on the floor, composed of the drawing of a face deconstructed with splashes of rich color, appear letters, symbols, arrows, and anything else the imagination may suggest and the rapid technique of 'fresco' on resin may allow. Felt and cloth upholstering are used, and their appearance ideally helps to soften the effects of acoustic reverberation and to enhance a feeling of "domesticity". This makes everyone feel at ease, though still comfortably able to connect with the more urban dimension of the organization as a whole. If one of the goals of the project, in the minds of the architect and his client was to convey and to govern the demands and mood of their time, to give shape and form through what is known, to what had never yet been seen, this real place of the virtual office appears to have accomplished precisely that. With a freshness typical of the "New World", that even the Statue of Liberty, down there below, seems gracefully to accept its role as a definitive icon.