"You always need someone to spread panic if, that is, you want things constantly shown up for what they are". It was October 1967, the political and cultural system, of both Italy and the entire Western world, was fracturing irreparably between conservation and protest; even the protest  itself was already moving towards an irreconcilable separation between ethical militancy and utopian exploration, lysergic pop provocation ready to desecrate and destabilize everything to show the true meaning of the present: it was the radical design wave, the explosion that would take over the Italian cultural landscape and leave very deep marks in a very short time. Florence was one of the epicenters, young groups would emerge, such as Superstudio, 9999, UFO, and Archizoom, which Ettore Sottsass presented and introduced in a contribution to Domus issue 455. With this contribution we also want to remember  the recent passing of Gilberto Corretti, a member of Archizoom, portrayed here by Sottsass along with his group of "good fellas", "nice chaps" who had just come to spread panic.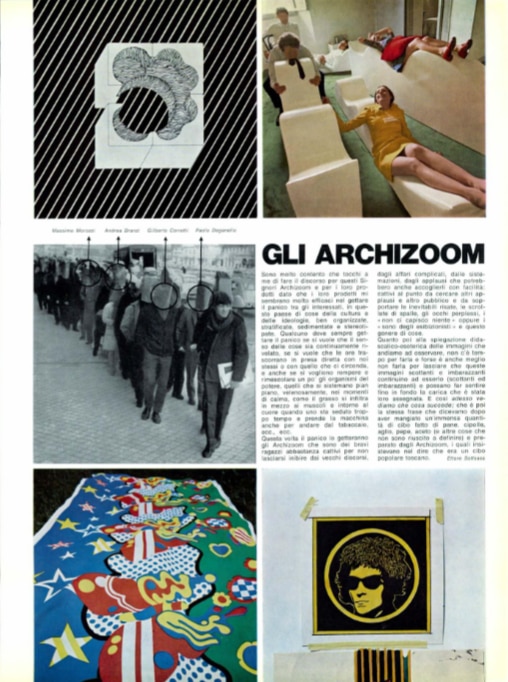 Archizoom
I am very pleased to have been picked to present these "Archizoom" gentlemen and their products to you because I find these products of theirs most conducive to the spreading of panic among those with vested interests in a country like ours, where things cultural and ideologicaI are so highly organized, stratified, stereotyped and sedimentary.
You always need someone to spread panic if, that is, you want things constantly shown up for what they are, and prefer to spend your time tuned in to yourselves and the things around you, and also if you wouldn't mind seeing the power cliques shaken up and mixed around a bit. I refer to the cliques that get themselves surreptitiously and insalubriously organized just when things seem nicely settled, like the fat that seeps between your muscles and clogs your heart when you lead too sedentary a life and take the car even to pop round the corner for cigarettes and so on.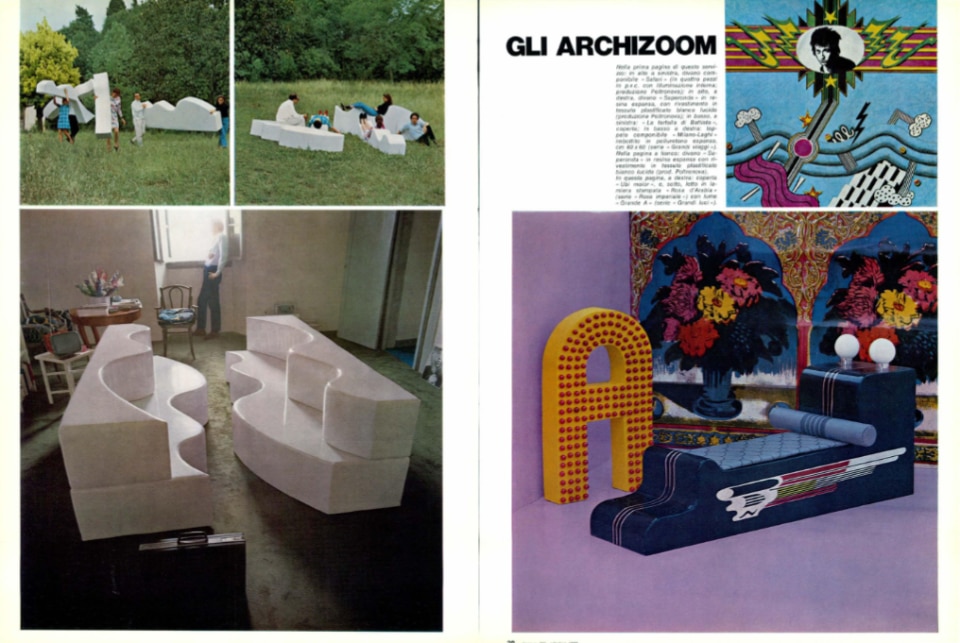 This time it is these "Archizoom" gents who are spreading all the panic, they're nice chaps, you know, but naughty enough not to get taken in by all the old chat about how complicated things are, by the need to settle down and by the easy approval: so naughty, in fact, that they are after other kinds of approval, a different audience, and are quite prepared to put up with the inevitable laughter, shrugging of shoulders, quizzical looks, "I fail to understand" or "making a show of themselves" and all that sort of thing.
Now, as for the esoteric-didactical explanation of what you are here seeing, you'll just have to do without it, and it may perhaps be just as well because, that way, these shocking and embarrassing exhibits can continue to be (shocking and embarrassing) thus giving us the full benefit of the voltage they've been charged with. So, now let's just wait and see — which, incidentally, is the identical phrase we used after eating immense portions of some dish of bread, onions, garlic, pepper, vinegar (and other unidentified ingredients) served up by the same "Archizoom" gents as good wholesome Tuscan home-cooking.
You always need someone to spread panic if, that is, you want things constantly shown up for what they are [...] and also if you wouldn't mind seeing the power cliques shaken up and mixed around a bit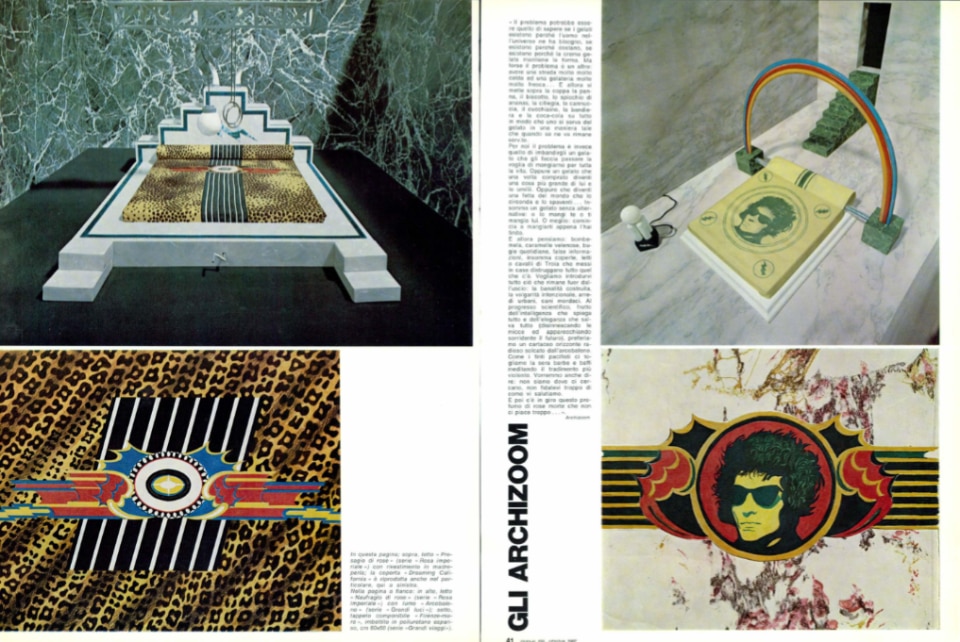 "The issue could be to know if ice cream exists because man in the universe needs it, if it exists because they cost money, if they exist because the iced cream keeps its shape. But perhaps the issue is a different one: to have a very, very hot street and a very, very cold ice cream shop… and so you dress the ice cream cup with cream, a biscotto, a piece of pineapple, a cherry, a straw, a spoon, a flag and coke, so that when you eat this ice cream you become full.

For us, the issue is instead to enlarge an ice cream in such a way that you never feel hungry again. Or perhaps an ice cream that, once bought, becomes something larger than you and humbles you. Or perhaps it becomes a piece of the world, which surrounds and scares it away… Ultimately, an ice cream that offers no alternative: either you eat it or it eats you. Better yet: it starts eating you as soon as you finish it.

And then we think: apple bombs, venomous caramels, daily lies, false information; ultimately, Trojan throws, beds or horses that when inside a house destroy everything that surrounds them. We want to introduce to you everything that remains out of the door: the fabricated banality, intentional vulgarity, urban furniture, voracious dogs. To scientific progress, born out of the intelligence that explains it all, and the elegance that saves it all (disabling the fuses and laying out a radiant future). We prefer a postcard-like horizon complete with rainbow. Like the fake pacifists, in the evenings we take away the beards and moustaches, meditating the most violent treason. We also want to say: we can't be found where you are looking for us, don't trust the way we greet you. And then, the air smells of dead roses, a smell which we don't like that much…".