Originally published in Domus 448/March 1967


The Minneapolis Package
Did Christo's 42390 cubic feet empaquetage ever reach its fulfillment? If it did, it was for a brief moment, never to be recaptured. This is consistent with the artist's view that his creations are transient and that inflexible values and properties are absurd. In terms of f1exibility of concept and execution 42390 cubic feet empaquetage has been a milestone in Christo's wrapping career. The Minneapolis School of Art invited Christo as a guest instructor in its Foundation Department and assigned him 147 first year students to assist on the execution of a gigantic packaging project.

The package looked Iike a captive dirigible, glistening in the sunlight. Christo and his students scurried around it, adjusting ropes, checking the air pressure and driving in stakes. One of the high altitude balloons burst and had to be replaced. Two hundred of the small balloons fell victim to over-inflation, trampling feet or burning cigarettes. The winds of the plains, coming in gusts up to 25 miles an hour, made the giant package roll and strain at its ropes. One of the most beautiful sights was the sun passing through the layers of transparent polyethylene and catching the colors of the bumptuous balloons, which, kept in motion by the steady air stream, acted as though they were having a feast inside.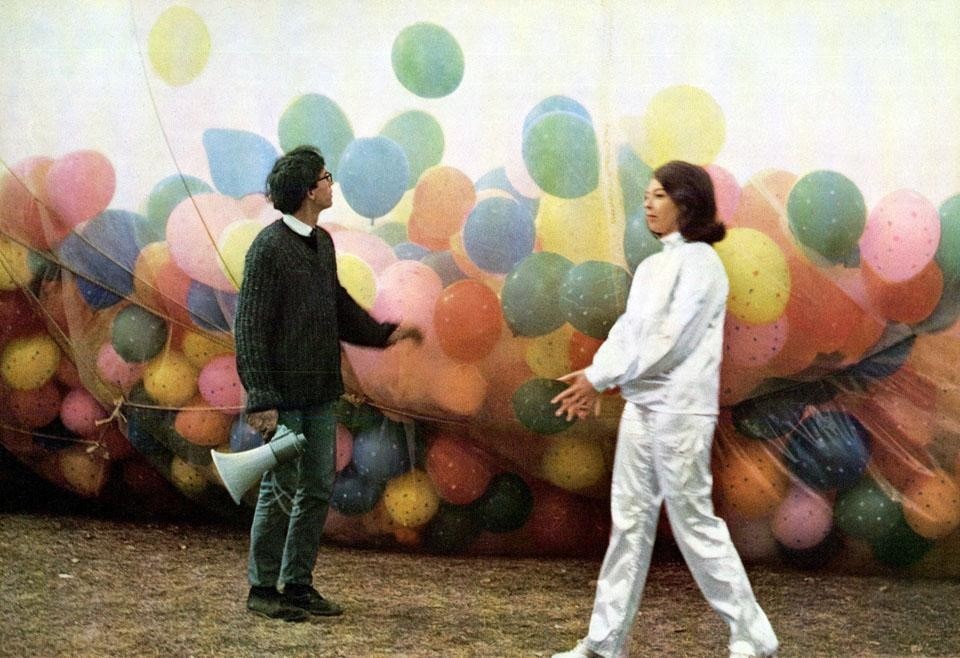 Christo's students stood guard in all-night shifts to prevent the pilfering of materials or pranks that might endanger the package. Those that were relieved from guard duty tucked themselves under the package in sleeping bags, drank beer or danced to the music of transistor radios at ali hours of the night. The school's faculty found itself becoming involved in spite of the faet that this project might have been a far cry from their own habitual concerns; and as an experiment in student-faculty cooperation it created a unique team spirito.

More than has ever been the case in Christo's wrapping projects the result attained distinguished itself primarily by its visual beauty. The artist went beyond the mere manifestation, the gesture of appropriation or the treatise on the absurd. This package could be appreciated on the level of a happening, but it was manifest to all who witnessed its ephemeral existence, that it was a colossal sculpture as well. Jan van der Marck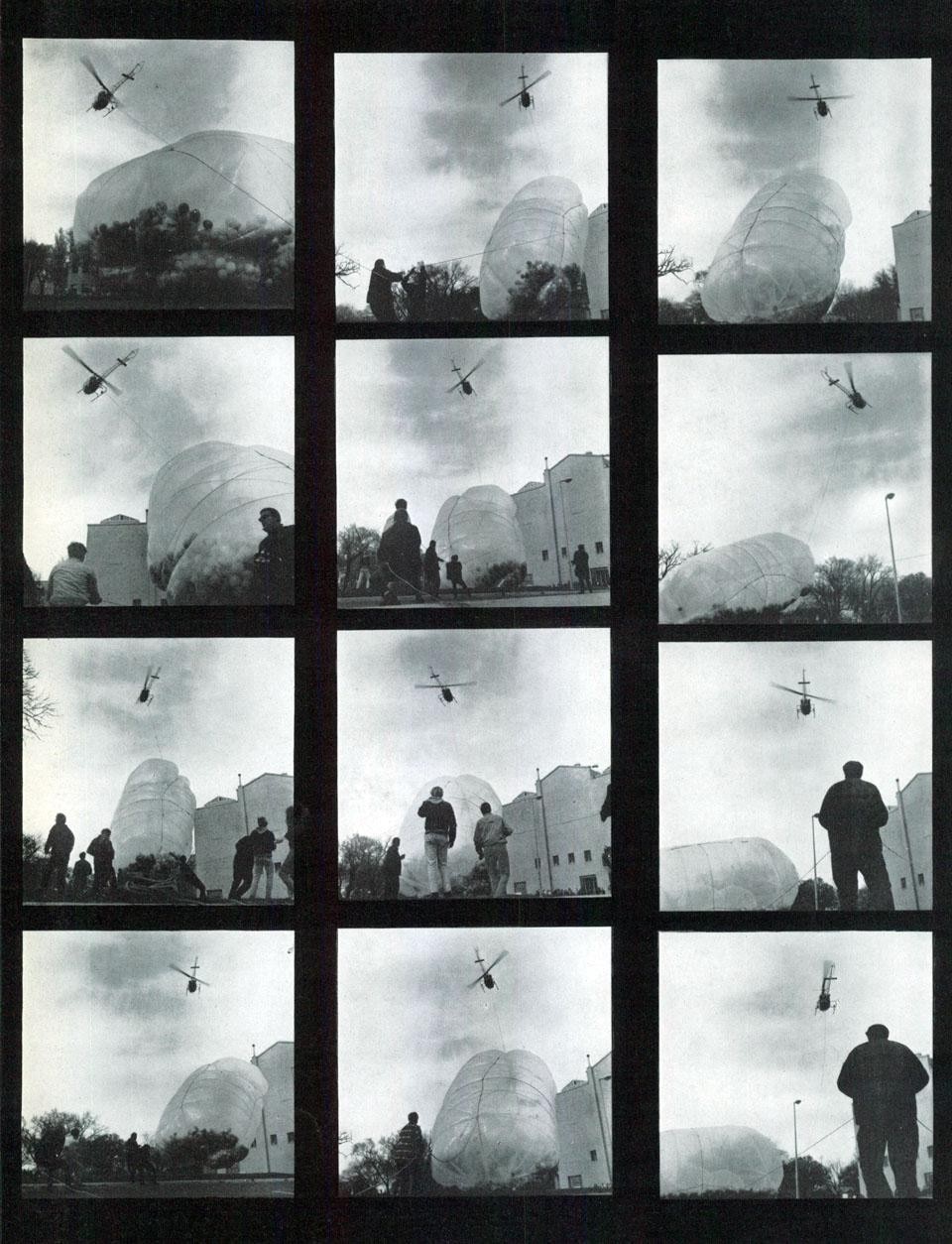 Domus (Domus 399, February 1963) published the first empaquetages by Christo – the young Parisian neo-realist who had moved to new York two years earlier – shown at the Sidney Janis Gallery in New York and then in Paris (published in an article by Pierre Restany, Domus 402, May 1963). In articles by Pierre Restany and by David Bourdon (Domus 435, February 1966), the magazine presented the store fronts made for the Leo Castelli Gallery in New York. The large suspended volume, a five-meter diameter ball shown at the Van Abbemuseum in Eindhoven, Holland was published in Domus 439, June 1966.