Originally published in Domus 462/May 1968


The exquisitely personal principles that Joe Colombo has been refining in recent years have been fully developed in this space. Inspired by the theme itself – maximum livability in a minimal space - his method of articulating the interior on different practicable levels while maintaining visual continuity and chromatic unity (on floor, walls and ceilings), enhancing the different levels (steps) with different functions and uses (seating, shelving, work surfaces, etc..), achieves an integrated design that is both concentrated and simple at the same time.

The task was to re-do the interior of a very small house: 45 square meters of floor space and a peaked roof that gave a height in the center of 4.20 meters and that descended at the extremities to 2 meters on one side and 3.50 meters on the other. Colombo has managed to turn this interior, which was originally no more than a living-dining room plus one bedroom, bathroom and kitchen, into prodigious living quarters far six people (five beds and a sofa-bed), with kitchen and two bathrooms.
He managed to do this by articulating the internal volume into various living levels and by using dimensions that are usually applied in interiors of yacht. […]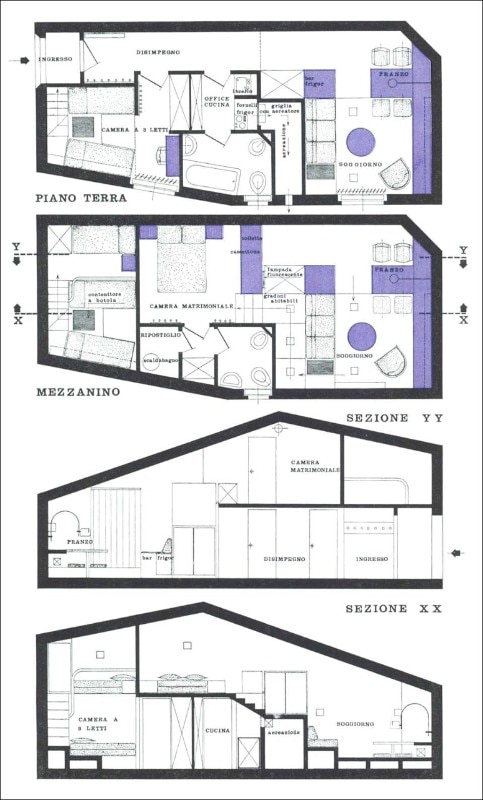 The space - so intensely conceived and handled - is visually amplified both through the continuity of the finishes, all in Tilane felt in a single color used for floors walls and ceilings, as well as through the paucity of any real furniture. In fact, the furniture is partly concentrated in the large central closet block, which develops in height and is accessible from the different levels and from all sides, and partly 'replaced' by the interior architecture itself - that is, by platforms and steps that serve as seats, shelves, containers. The beds themselves are simple Permaflex mattresses stacked on a raised portion of the floor.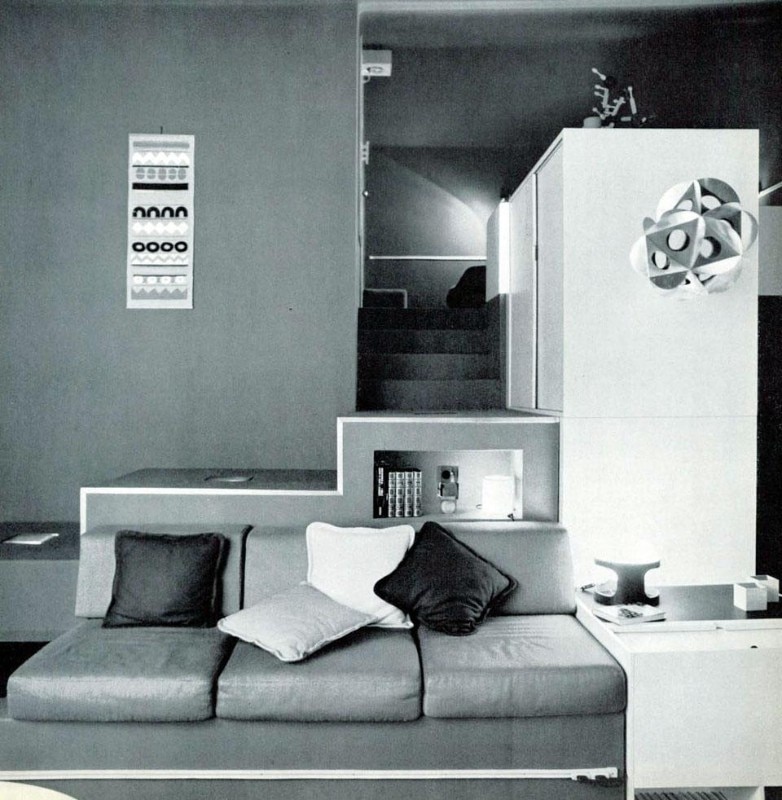 So even though the furnishings are almost all built-in, the space is remarkably free and continuously variable, with changeable uses of the different levels.

All furnishings are by Joe Colombo: some are standard products, others have been specially designed for this project. All were produced by Borgonuovo in Meda. The Luvar curtains are by Feal. The green recessed floor lights are protected by glass from Fidenza Vetraria. Objects and ceramics by Danese and Gabbianelli. [...]