This article was originally published on Domus 1068, May 2022.

In the 1920s, Le Corbusier (1887-1965) fine-tuned a number of sophisticated lighting solutions to satisfy the needs of his buildings, which ushered in a new language and paved the way for modernity. For the Swiss architect, light and shadow constituted an integral part of his designs. Thanks to the refined balance of both elements, he was able to highlight the pure forms that generated his spaces.
For the controversial Pavillon de l'Esprit Nouveau, presented at the Paris Expo in 1925, which with its modernity distanced itself from the reigning deco style, he designed a minimal wall light. This same solution was also used in the Parisian villa of his friend and collector Raoul La Roche, where the living areas included spaces dedicated to showcasing the works of Picasso, Léger and Corbu himself.
The architect personally oversaw the design of the lights, for installation in places with high ceilings, which also extend horizontally. As can be seen from the sketches on a piece of paper held in the Fondation Le Corbusier's archives – located inside La Roche's villa – the architect conceived a wall-mounted lamp with a streamlined silhouette: a slender, cylindrical glass bulb of light and iron. A pared-down solution made of industrial materials, it emitted diffused and discrete lighting. The attachment mechanism was also specified beside the sketch, detailing two squaresectioned rods and emphasising the verticality.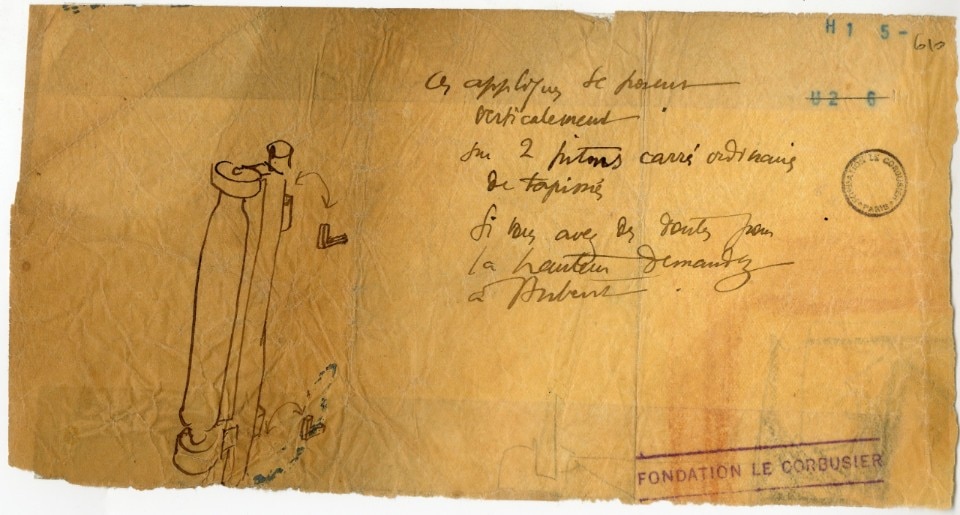 Devoid of ornamentation, the lamp helps to shape the interior harmoniously without overpowering it. Purity and essentiality are the features that prompted Nemo – a well-established brand specialised in lamp design and production – to reissue the light once used for La Roche's villa, which is how the new version got its name.
In collaboration with the Fondation Le Corbusier, Nemo has also updated the engineering without compromising the design and the balanced lighting effect. La Roche maintains the original frame in matt metal, and is today mounted on the wall via a single central peg. In the contoured opal glass diffuser, LEDs replace the original incandescent light source while keeping the feature of warm uniform light. The oblong glass bulb recalls an industrial object, made of a few "poor" elements that contribute to the desired effect: to create tension between light and shadow, in a changing dialogue that fills the space and becomes an essential part of the design.