In 1981, philosopher and curator Wolfgang Scheppe, at the time just a boy, visited New York for the first time. In the past, travelling was nothing like today, as people had neither the internet nor smartphones. So, when the boy arrived in the Big Apple, he had in his luggage the written addresses of a few family members who lived there, just in case. One in particular caught his eye, an uncle who lived on the prestigious Central Park West. He went to visit him at his house, and there he saw an eccentric collection - of paintings, but also objects. Among them, there also were a lot of models of bizarre, tapered cars. They were designed by a man called Paul Jaray, his uncle explained, adding that he had met him personally in Switzerland and had kept in touch with him until he died in 1974.
Wolfgang Scheppe wondered how it could be possible that he had never heard of him. This led to what the German philosopher describes as an "obsession" with the Austrian designer, which in forty years made him collect more than two tera of material on him and his work, only a small portion of which appears in the exhibition entitled "Architecture of Speed - Paul Jaray and the Shape of Necessity". An exhibition on car design, in a city without cars: Venice.
In the 1930s, Paul Jaray was a leading figure, Scheppe tells me, showing me the pictures and documents on display. In a display cabinet in front of the entrance I see a few model cars, some from the collection the philosopher inherited from his uncle in New York. And then there is a 1:1 replica of the Auto Union Type B, the Rennlimousine also nicknamed "Lucca-Wagen", because while speeding on the Firenze-Mare motorway it managed to reach 320 km/h. It was 1935, and no vehicle had ever gone that fast. In those years, Jaray became eponymous with car design, and his name was frequently found in magazines and newspapers that talked about the cars of the present and the future. He was at his peak. 
However, from then on, hardly anyone would remember him. This was due above all to Jaray's hyper-rationalist tenacity: he firmly believed that cars should always be fusiform, or spindle-shaped, explains Scheppe. This theory couldn't possibly please the motoring brands. There's a picture in the exhibition in which three cars designed by Jaray for three different brands of the time - Apollo, Dixi and Audi - parked one next to the other, are virtually identical. After all, if that was the perfect shape, why have different cars, Jaray argued. He also wanted a model that was psychologically counterintuitive to what we all take for granted, with the front of the car being thinner. 'The psychology of speed is different from its science,' comments Scheppe.
So, we can assume that Jaray's stubbornness did not really help him. But the real reason, Scheppe explains, is that they canceled Jaray because he was Jewish. A Jewish revolutionary car designer had no place in Nazi Germany.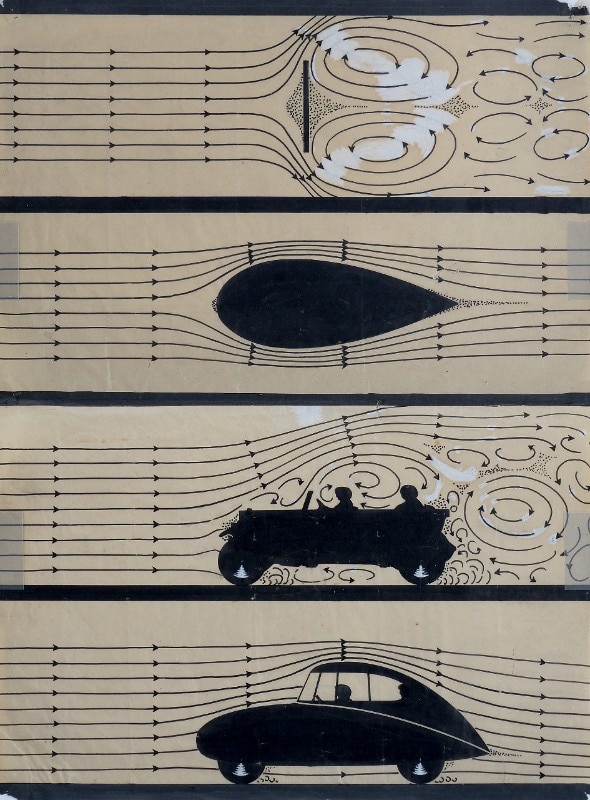 One of the display cases in the exhibition contains a page from the NKZ, The New Drivers Newspaper, which dates back to 1939 and labels Jaray's discoveries as a perfect example of "Jewish science". Although it sounds paradoxical today, they were being compared with Einstein's theories. Paul Jaray, Scheppe explains, came from one of the oldest Jewish families of artists and scholars in Bohemia and (more in particular) Prague, the Jeittele (or Geidels, or Geitler); moving through southern Germany during the Austro-Hungarian Empire, they had changed their name because of the anti-Semitism that at the time was already pretty strong. Born in the late 19th century, Paul Jaray had a brother who was an architect; his mother was related to Arnold Schoenberg. Among his best friends were names from the intellectual elite of the time such as Karl Kraus and Adolf Loos. Among his acquaintances were Wittgenstein and Brecht.
As a young man, Paul Jaray wrote verses, made drawings and composed music. He became an engineer, following the avant-garde spirit of the time, which promoted a kind of universalism in which arts and science should collaborate in the name of progress. In that past, he was the New Man. He proved to be a great inventor, and it is baffling to think that we have forgotten him. Wolfgang Scheppe points to a picture pinned to the wall, showing the face of a woman; he explains to me that it was one of the most sensational discoveries in his research, because that picture was sent by Paul Jaray at a distance. In 1923, he had invented the fax machine.
Psychology of speed is different from speed science
After a first experience designing aeroplanes in his early twenties, in 1914, Jaray started working on the Zeppelins, the fusiform airships that at the time were a major part of aeronautics. On that occasion, he had the opportunity to apply the fusiform model that had been mathematically verified by Georg Furhmann two years earlier. The idea he patented in 1921, which made him the first and most important pioneer of aerodynamics in the world of car design, took place a century ago. In 1927 he moved to Switzerland. The transition to car design, explains Scheppe, should be seen in the light of what the car represented at the time for a progressive intellectual like Scheppe: the driving force behind a 20th-century social utopia, a means of emancipation. Through the technical means of individual motorisation, the masses could be liberated. "That's the opposite of today, where the car as a personal property is almost reactionary", adds the philosopher. 
The Nazis seized that utopia with the Volkswagen, the people's car, and Ferdinand Porsche was certainly a more marketable figure for their propaganda. Yet, Scheppe points out, Adolf Hitler sent his photographer to take a picture of the Rennlimousine. That was a huge contradiction: most of the products Paul Jaray designed were war machines, or at least designed to increase the desire for power of a hostile and anti-Semite country. There is no trace of this, Scheppe explains to me, in the writings of Paul Jaray, who "never felt the need to write about the nationalism behind Hitler's institutionalised anti-Semitism" in Hitler's Germany, not even when he had to face the consequences. He almost welcomed them with a kind of fatalism. One also has to wonder whether he ever felt a little guilty for having been in some way an accomplice of the Third Reich.
Paul Jaray died in 1974. Poor. "It was too early for his innovations, and when the patents started to make sense, they were expiring," explains Bastiaan D. van der Velden, the Dutch scholar who supported Scheppe in his research for the Venice exhibition. He adds that Jaray got the better of Chrysler during a trial after the war, but it was small potatoes. The man who in the 1930s "was in every newspaper and magazine", van der Velden points out, practically disappeared after the war. Just as his intuition disappeared from the automotive industry, where the idea of a single, aerodynamically perfect model was swept away by obvious market needs. The car as we know it, the definitive consumer product of the second half of the twentieth century, had to take on an infinite number of purposes and forms, as a utility car or status symbol. It had to embody a commercial desire, not be the perfect product that no one would ever want or need to replace.  
At the same time, the aerodynamically perfect shape supported by Jaray was used where it was unnecessary, in an endless series of everyday products, from flat irons to Art Deco lamps. A small showcase in Venice collects some of them. There is even an object by Gio Ponti.
Before I leave, Scheppe pulls out a stack of papers. There are pictures of some innovative and experimental cars created by universities currently working on the future of the automotive industry. The trend is very clear: they all are spindle-shaped, just like Paul Jaray would have wanted. A century later, his dream is more alive than ever. 
Mostra:

Architecture of Speed, Paul Jaray and the shape of necessity

A cura di :

Wolfgang Scheppe

Dove:

Istituto Arsenale per le politiche della rappresentazione, Venezia

Quando :

Fino al 30 gennaio 2022
Tutte le immagini sono state gentilmente messe a disposizione dall'Archivio dell'Arsenale Institute for Politics of Representation