Valentine Schlegel (1925-2021) was not one to seek the spotlight. Which might seem surprising now, given the somewhat uncontrollable popularity and aura that surrounds her mystifying oeuvre. In many ways, Schlegel was her art and led a life of constant artistic exploration, travelling back and forth between Paris and her native Sète, a small fisherman's town in the South of France. One could say that she wore many hats — ceramist, mason, interior architect, costume and set designer, woodworker, craftsman, and even an artistic director for Agnès Varda, a childhood friend that she will keep for life. "I never tried to create an oeuvre," she once declared. "I had to live and survive with what I had—a solid body. Work that pertained to the body and the utilitarian. I love the exceptional day-to-day. Everything begins with the movement."
Through recent seminal exhibitions and publications, and following her passing in May 2021, the public has rediscovered her extensive body of work, much of which was commission-based and is now held in private collections. That includes her celebrated series of fireplaces made of staff — a type of plaster— for which she is best known. For decades, Schlegel designed and built approximately one hundred of them for the residential homes of friends and close clients.
This extraordinary endeavor, somewhat unusual for an artist who had thus far devoted her talents to the creation of more conventional ceramic forms, started in 1959 after she had completed a ceramic vase for friends who simply could not get it to fit anywhere in their home. The solution that Schlegel came up with was both innovative and extravagant: the creation of a monumental, custom-made plaster fireplace that functioned both as physical support for the vase and as the artistic frame surrounding it.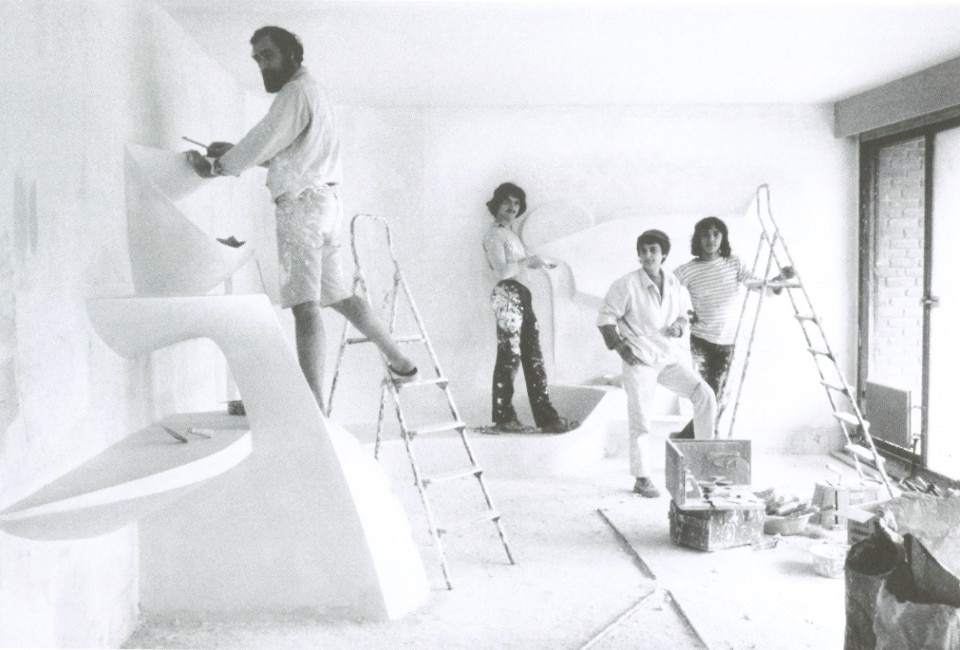 Soon after, with help from her main assistant Frédéric Sichel-Dulong, she started to produce numerous of these monumental fireplaces, each bearing unique artistic personalities and harmoniously complementing the original architectural structure of their given home. Each fireplace took great time and effort to build, as much as an entire month, as well as a firm grasp on the material. After realizing a maquette for the form –approved by the client—, Schlegel first built a concrete iron and wire netting framework affixed onto the wall to create the original outline of the piece. She then used ordinary plaster to build its core before working on the outside layers with modeling plaster, which she skillfully applied with a trowel for definition.
The result is a remarkable body of work in and of itself, a gesamtkunstwerk in its purest form. Schegel's fireplaces encourage reverie and contemplation from their audience, whose eyes are encouraged to wander around their sinuous curves and seemingly endless compositions. She explained it herself in 1980, their sensual traits symbolize the majestic quality of swelling sails that have fascinated her since her childhood by the Mediterranean. Drawing upon this symbolic motif, she pushed the boundaries of the traditional fireplace form, not only blending traditional fireboxes and flues into the wall but also expanding the outer edges to create vide-poches, shelves, benches, log storage cases and abstract relief sculptures.
One of her most successful designs was created for the living room of actress Jeanne Moreau, where shelves and relief decorations blend and rise from floor to ceiling, from wall to wall, to form an ethereal composition evoking clouds, maritime winds, and turbulent seas all at once. When light and shadows come into play, as she intended them to, their three-dimensionality is further activated—making them spectacularly organic and performative despite their static state. 
Schlegel's fireplaces received little attention at the time—being realized in situ kept them away from the public eye and few were published in art and design publications. They went against all artistic trends that dominated the cultural landscape of the 1960s and 1970s, where space age aesthetics, the "utopie du tout plastique" and mass-produced materials took the design world by storm. We can largely attribute the re-introduction of Valentine Schlegel's work to artist and researcher Hélène Bertin, who started a serious dive into her practice and specifically sought to inventory all the fireplaces that she produced across France since the 1950s.
The task quickly proved arduous since many are either undocumented, destroyed or simply forgotten. Bertin's research led her to organize two comprehensive exhibitions devoted to the artist's œuvre: the first at the Centre d'Art Contemporain in Brétigny-sur-Orge in 2017, and the second in 2019 at the Centre Régional d'Art Contemporain in Sète. Bertin decidedly put Schlegel back on the map and, with the distance of the art historian, emphasized the uniqueness of her experimental approach in the very exclusive and male-dominated world of mid-century French ceramics— where Jouve, Chambost and Capron continue to dominate the discourse to this day.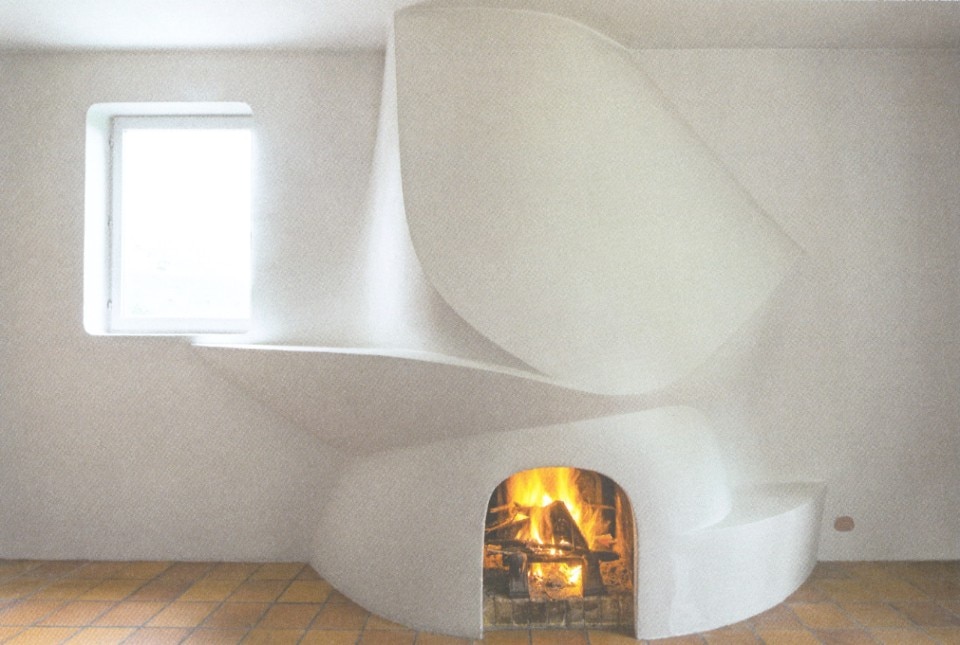 "Contemporary pottery was not to my liking. The most beautiful pots were painted on canvases, by Braque for instance, with a newly found freedom. I thought that sculptors should create pots."[1] Somewhere between sculpture, architecture, and ceramics, Valentine Schlegel worked off the beaten path and stayed true to her Mediterranean roots. Her artistic contributions do not solely lie in the handsome fireplaces that now proliferate across design magazines and on Instagram—she constantly experimented with new techniques and materials such as wood, creating a diverse production of numerous everyday objects from bowls, pitchers, bottles and utensils to accessories, clothing and even set designs.
That said, her fireplaces embody perhaps the truest testament to her hybrid and exploratory practice focused on utilitarian objects, somewhat removed from the traditional cannons of mid-century ceramic arts. More importantly, they reflect the artist that she was—a self-sufficient woman from the South of France, a visual poet, and a free thinker committed to a unique vision.
I love the exceptional day-to-day. Everything begins with the movement.
Opening image :

Jeanne Moreau and Valentine Schlegel in front of her recently completed wall and fireplace, Paris, 1968. Photo courtesy Suzanne Fournier.