Italians lack a truly nomadic travel culture, the one where you're always on the road, living mostly outdoors. With its 7,500 kilometers of coastline and countless options between mountains and hills, Italy has preferred to cement, build, and tame the natural elements by creating beach resorts and holiday villages, thus leaving a very narrow margin of action to those who, on the other hand, conceive travel as a way of discovering sublime places in the absence of any architectural, infrastructural, and urban intervention.
Excluding the sharpest peaks of the Alps, some Southern Italian inland areas (i.e. Lucania) and the large protected parks in Central Italy, like the Gran Sasso National Park, the last untouched marine and terrestrial landscapes can be found in Sardinia – ancient land of stones, angry shepherds and blue waters, where the Mediterranean scrub isn't just a scrub, but a truly dominant texture. And it is right here that I decided to spend the summer months while practicing social distancing, which now is not only fully accepted, but also has become mainstream. And I didn't even feel forced to hide my misanthropy behind a vague sense of civic responsibility.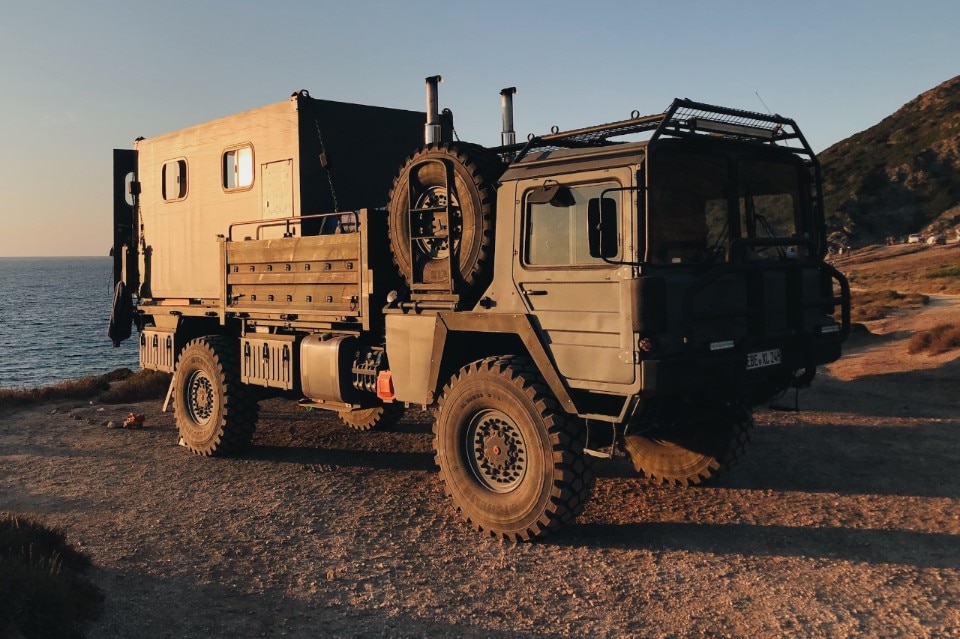 However, what I had not taken into account was the fact that there was going to be lots of other people like me, sure less Italian but often better equipped. This is the paradoxical circumstance of being a loner surrounded by other loners. Perhaps a group of loners makes its members feel less lonely? Who knows? Anyway, it doesn't matter: the universal values of the Camperist community are discretion, respect, the only apparently contradictory sociability from a distance (we greet each other like bikers do, by crossing each other on the road) and the almost naive love for Nature, and for canned food with a long shelf life.
Camperists, that's right: for years now, I have been the proud owner of a German and highly functional Volkswagen T3 Westphalia – 1700cc, diesel, year 1991 – the ideal companion of bucolic adventures and temporary residences without neighbors, taxes and all the other fun stuff of modern civil cohabitation. This specific type of vehicles, officially classified as camper vans, are nothing but hybrids between a normal family car and a real camper: the aerodynamicity of an ice cream truck, the dry weight of a small Wehrmacht tank, the noise you hear in the cockpit while going at maximum speed (100km/h downhill) of a Luftwaffe single-seater. Power steering? I don't know what you're talking about. When it comes to the equipment, there are hundreds of possible combinations. Specifically, mine includes an extremely comfortable French-size bed, various lockers, camping-style stoves, as well as an infinite number of interstices that I can't even remember, from where sometimes – if I'm lucky – a snack comes out. In short, it is not the perfect vehicle for everyone. But it is certainly the perfect vehicle for all those who are not in a hurry, and who measure their own happiness in miles: only a small portion of camper van owners are heirs of the hippie generation. The current owners of camper vans rather apply a pragmatic/nerd/functional approach to the life on four wheels.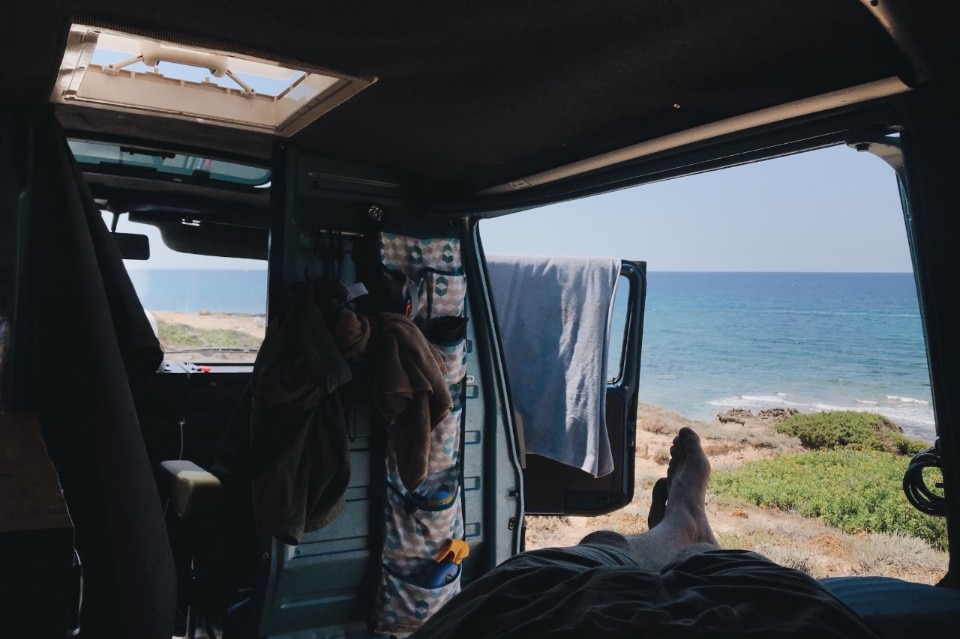 Finally, the greatest advantage: these vehicles live almost as long as the pines of the Black Forest and are as reliable as Ruhr's steel mills. Certain Westphalia camper vans can boast a million kilometers on the tachymeter.  
Camper vans probably are the ultimate COVID-free vehicles, perfect for going everywhere and sleeping anywhere. With the only drawback of sometimes having to go potty behind the bushes. And my camper van accompanied me along my Sardinian route: 1900km, 28 days, and about twenty stops in all. Along the road I crossed the most varied types of trucks, vans and campers, customized to the very last detail, raised, readapted: former ambulances, former fire trucks, former armoured army trucks, strange and beautiful people, extensions of their vehicles, lovers of sun and slowness. The kilometers start adding up, being bored is really hard, you're constantly out of your comfort zone, the freedom is endless, and you don't want to come back. But in the end, you never come back, isn't this what they say? For sure, if we cross each other, I'll greet you by flashing the headlights – I'll be happy to know that I am not the only one lost on the road, without AC.