Tom Ford's guide for success has always consisted of minimalist fashion, maximum sex drive. He thrives in this sanctified sensual opposition; only Ford can be seen as creating minimalist design with the same ferocity as a maximalist. The Texan born designer has recently announced his final collection following almost thirty years working in fashion, amassing an extraordinary cultural output from his influential years at Gucci, Yves Saint Laurent and eponymous brand – a label which he has just sold to Estée Lauder for $2.8 Billion.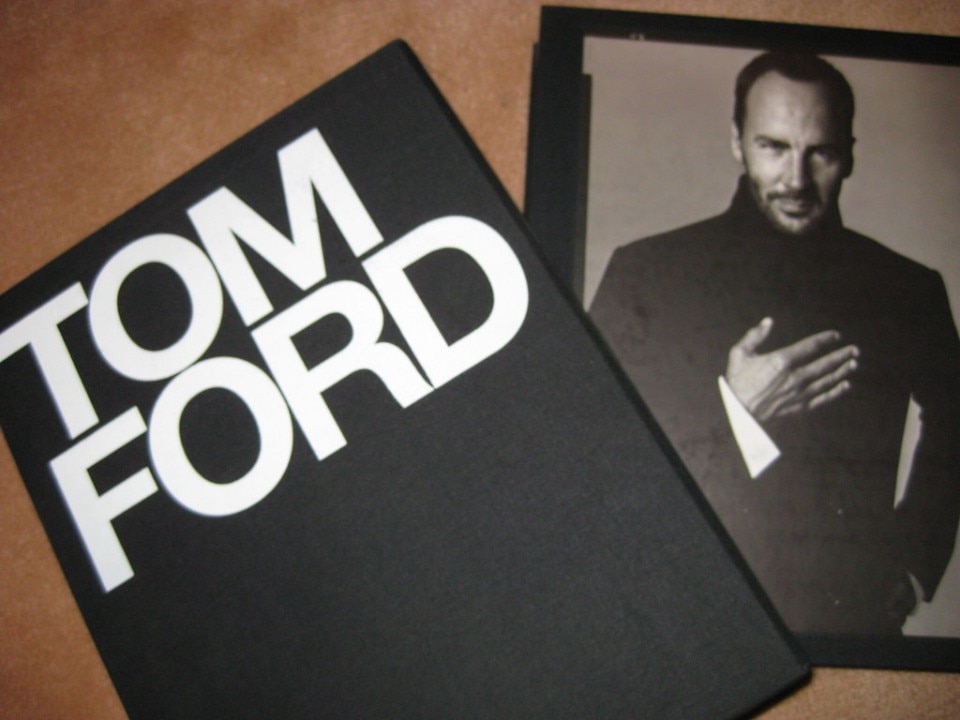 In a 2005 editorial for W Magazine shot by Steven Klein entitled "Valley Of The Dolls," Ford is seen with an industrial-sized sander, sanding down the bronzed behind of a bleach blonde. It's symptomatic of how Tom Ford rose to success by polishing what appeared to be jagged to reveal the shiny, sleek and glam.
1979 B.G. (Before Gucci)
For an individual with such a pronounced identity, it's hard to imagine a time when that identity pronounced nothing at all. In 1979 a young Tom Ford moved to NYC to study Art History. He dropped out after just a year to focus on acting in television commercials. Still, whilst at NYU, he was introduced to what would turn into one of the cornerstones of his design influences, Studio 54. A signifier of all American excess, exaggerated glamour and sexual expression in equal parts. Ford even said that the period "became so visually part of what [his] tastes are."
After earning some money through his acting roles, Ford enrolled at Parson's The New School for Design, where he studied architecture for some time (something which he would choose to conceal when attempting to break into fashion) before changing to fashion. Following his degree, Ford became a Design Assistant for sportswear designer Cathy Hardwick, whose attention he gained by calling every day for a month. Two years later, in 1998, he moved on to work for Perry Ellis as Design Director, a brand headed by Marc Jacobs at that time.
1990 D.G. (Gucci)
The famed turning point in Ford's career was his appointment to Gucci, where he became the brand's chief women's ready-to-wear designer. The Gucci that Tom Ford entered was not as it is today. In case you haven't seen the recently dramatized re-telling of the Gucci tale, in 1990, the brand faced financial turmoil and possible bankruptcy. Then, Gucci was criticized for being solely logo laden; it didn't have a tangible form of creative direction, as is formulaic of the current luxury system. Now, often, individuals occupy creative directorial roles at heritage brands, as Daniel Lee did at Bottega and now Burberry, or when Raf Simons famously became artistic director at Christian Dior. These designers fused their distinctive individuality with brand heritage codes and this is precisely what Ford did at Gucci during his tenure.
In this era, he cultivated and commodified the Tom Ford aesthetic. Central to this aesthetic and design mentality that is hyper-consciousness of its existence on the body. An example of this is epitomized in a Vogue interview, in which, when reminiscing on a bikini shown in a 1997 Gucci ad, Ford claimed that the bikini left a double G tan line, almost as if hyper-sensually branding the wearer with the Gucci logo. Similarly, for a 2003 advertising campaign, the model depicted had a Gucci G shaved into her pubic hair, a campaign image so iconic Supreme even referenced it on a. t-shirt for their Spring 2022 collection. The design's relation to the body was so intrinsic that, at points, it is usurped by it. This mentality tapped directly into the veins of the 90s zeitgeist, a decade punctuated by sleekness, minimalism and a more subversive sexuality which placed body at its centre as a reactionary statement to the ferocious flashy nature of 80s design and culture, where the body was often hidden under layers of excessive fabric and shoulder pads.
Following Ford's promotion to creative director in 1994, according to Forbes, by 2004, he had been pivotal in growing sales by 1.200 per cent to nearly $3 billion. Alongside his innovative and sensationalized designs, the highly provocative ad campaigns also contributed to the Gucci turnaround. As mentioned, aside from commercializing a model's pubic hair, other ad campaigns, such as one for Fall winter 97, depicted a scene of a threesome, or spring summer 98, where a model appears to be about to perform an oral sex act. In these moments, it is hard to imagine a version of the Tom Ford story where sex isn't the active selling agent.
1998 YSL acquisition
In 1998, thanks to Ford's success, the Gucci Group also acquired Saint Laurent, then still known as Yves Saint Laurent, where the eponymous designer was still present. This move saw Ford become the creative director of YSL and Gucci simultaneously. It's no secret that Saint Laurent was not Ford's biggest supporter. Despite at first being in favour of the buyout and Ford's work, the relationship soon soured to the extent which, as written in the late André Leon Talley's memoir The Chiffon Trenches (2020), led Saint Laurent to write a note to Ford following a show that stated, "In 13 minutes, you have managed to destroy 40 years of my work." Similarly, Heidi Slimane, who was appointed director of Yves Saint Laurent's menswear in 1996 and then their creative director from 2012 to 2016, told The New Yorker that "Reporting to Tom was not going to happen […] he is not a designer. He is a marketing man."
I don't pop molly, I rock Tom Ford/ International bring back the Concorde/ Numbers don't lie, check the scoreboard/ Tom Ford/ Tom Ford/ Tom Ford
Despite Ford's tumultuous relationship with the brand, his time there was by no means a flop and in fact often praised by the press. Ford himself expressed that "I don't even remember much about my time at Yves Saint Laurent," adding, "though I do think some of my best collections were [there]."
2006 The Birth of the Tom Ford label
In 2004, following a power struggle with Kering, Ford left the Gucci Group and a year later founded his eponymous label. There he injected his established sensual design codes and employed the marketing recipe for success that had been seen in his previous appointments, creating RTW, footwear, cosmetics, perfume, accessories, and handbags.
The brand experienced its shower of accolades and cultural impacts, from designing James Bond suits for Daniel Craig's last four films, to becoming known as a suit of choice for stars, and inspiring the Jay Z song Tom Ford where he raps "I don't pop molly I rock Tom Ford, International bring back the Concorde." It's acknowledged here that the Tom Ford brand stand for a symptomatically all-American timeless glamour; as GQ wrote in 2021, "Tom Ford is the consummate American: ambitious, idealistic, and brash. His combination of sex and celebrity helped reshape fashion from a European subculture into a global force of popular culture."
Ford is back in the news today following the announcement of him selling the brand to Estée Lauder for $2.8 Billion, a sale which has made him a billionaire.
Present day: Tom Ford, the auteur?
Aside from his overture as a designer, Ford also launched a production company, 'Fade to Black', in 2005. There created A Single Man (2006) starring Colin Firth, Julianne Moore and Nicholas Hoult, which earned a BAFTA, and Nocturnal Animals (2015), starring Amy Adams, Jake Gyllenhaal, Michael Shannon and Aaron Taylor-Johnson and premiering at the 73rd Venice International Film Festival.
Following the sale of his label and announcement of his final collection, which features reissues of his favourite looks from the past thirteen years, Ford has confirmed that he will now focus on developing film projects at his production company.
Whether this comes to fruition or not, the cultural impact of Tom Ford is undeniable. He occupies a solid place in fashion history, only reinforced by his inclusion in the 2018 Metropolitan Museum of Art's exhibition America: A Lexicon of Fashion. 
All of that said, it is uncertain whether or not we will ever see a designer who balances maximum sex, glamour and American tenacity with a Euro-centric minimalism and not-so-quiet luxury sleekness, quite like Tom Ford.
Opening image: courtesy Tom Ford