Ariane Prin, currently based in London, grew up in a small village in the North-East of France. She explains that her parents were always very much focused on the theme of recycling and reusing. For her, design is the determining factor for the values of sustainability, efficiency and aesthetics. The world of design, developed thanks to exchange and communication, also, and above all, in the small community where she grew up, is always focused on the circular economy as the final and most important objective. In order to explain the word "design" to a curious child, she would say that it consists in managing to create something - anything - in the best possible way. From the method, attentive and respectful of the universe that surrounds us, which she has inherited from her parents, she has taken the aspect of attention, a desire to investigate, to examine the community in which she lives in order to better understand its dynamics and habits, as well as its refuse and its waste. Hers is an anthropological attitude, based on a healthy interest for people and their actions. One of the things she is most fascinated by is the treatment of waste matter and materials, as is the case with the project Rust, for which Ariane scoured London far and wide, searching through iron-mongers and junk shops looking to gather rust, scraps and waste powder from the production of keys and other items, to then transform these treasures into a special patina with a uneven tone (which seems almost alive, shifting colours in continuous evolution, a process of oxidisation which seems almost natural, yet induced through her intervention), creating a very particular homeware collection, consisting of one-off pieces with a life of their own. Items which beg to be touched.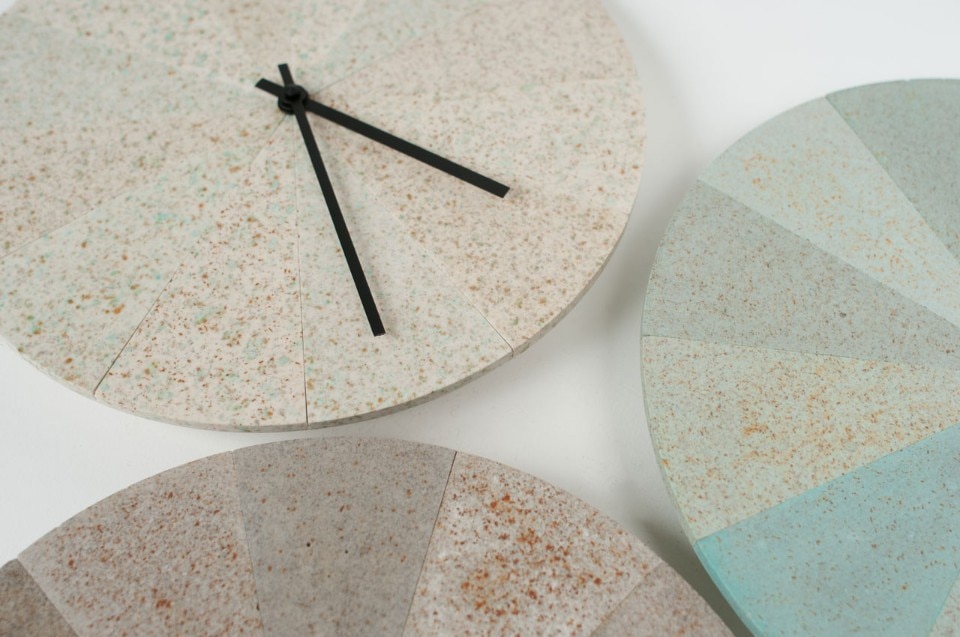 How happened that you became a designer?
I used to live in a small village. My parents, they both shared a passion to collect objects, from old hand painted wooden carousel horses, vintage metal enameled advertising signs, to Middle Ages tools. I went to a boarding school from age twelve and never went back to live at my parents' village. Thanks to this experience I think I learned quite quickly to be independent. I loved my art teacher at school and I think she loved me back, she was always giving me very good marks. I guess the mix of growing up in the countryside, in a house full of objects with stories and history, from a family with an ecological awareness and a teacher giving me confidence to pursue a creative career, made who I am today: an independent designer and maker.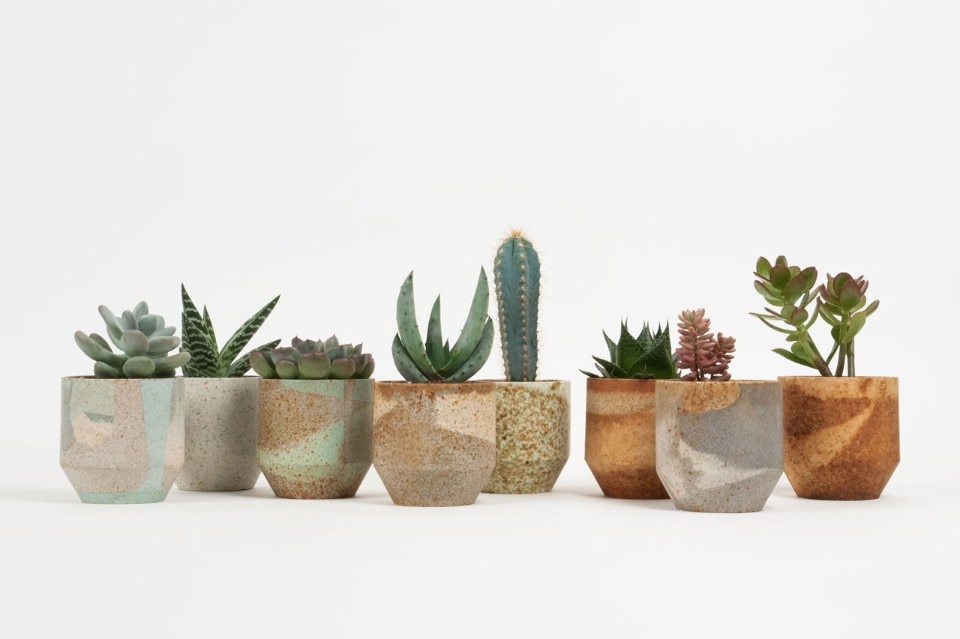 Could you tell me how the development of your Rust Collection started?
A continuation of my line of work Rust, Homeware Collection is inspired by the desire to create new form and utility out of commonly disregarded waste materials. The collection's varied surface patterns are obtained by the oxidation of metal particles originating from metalworking workshops, based in the UK. No two items in Rust are the same: each is made by hand and the metal dust oxidation gives each product a unique texture, varying in colour and intensity. More recently I expanded my original concept, I wanted to see the material applied at a larger scale, the idea of tiles with Rustiles was a natural thing to do. I am also interested in working with interior designers and architects as I have always been curious about their field. Rust is essentially a material: homeware is one output, tiles is another, but so many other things can be done with it.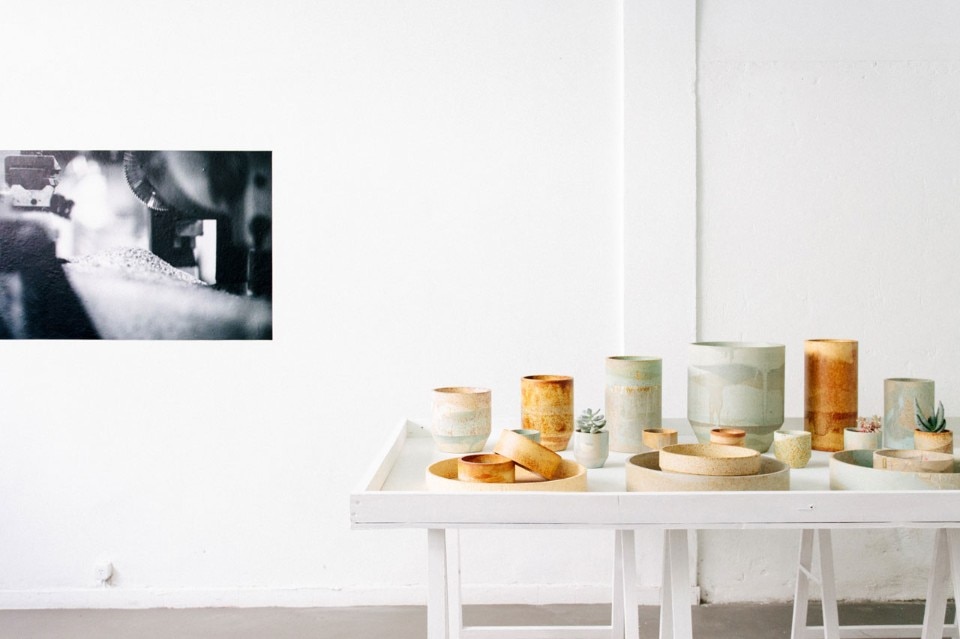 It seems you are fascinated by surfaces and manipulate surfaces, and that you like to challenge materials. Do you work hands on?
Indeed, my studio is home to a wide variety of joyously messy material experiments. This is how RUST Collection came about: thanks to a bag of key dust a locksmith gave me one day, and the experiments that followed. 
Yes, you went around the city to collect wasted materials. How did this start?
It happened by accident, I was not planning to set up a business when I played with this metal dust at first. I love how a material which is useless for someone, can be the starting point of a project and something much bigger in value for someone else. I think we need to make more of these connections and try to close the loop of the systems we are part of.
Any secret or receipt to face a new project?
A secret ritual or recipe would make things much easier, but perhaps not as good. Every project is different so I must adapt, listen and ask as many questions as possible. I try to be very thorough in everything I do, although it is inevitable that mistakes will come on the way. A life-long learning curve…
Mistakes are not always negative, so which is the project you would like to do next?
After all these years I am still learning from Rust and Rustiles Collections everyday on many levels, so the enthusiasm is still here and there is still room for improvement and some new applications, this is actually what I like about this project: it seems endless. I look forward to collaborations that could help reveal the diversity and potential of the material.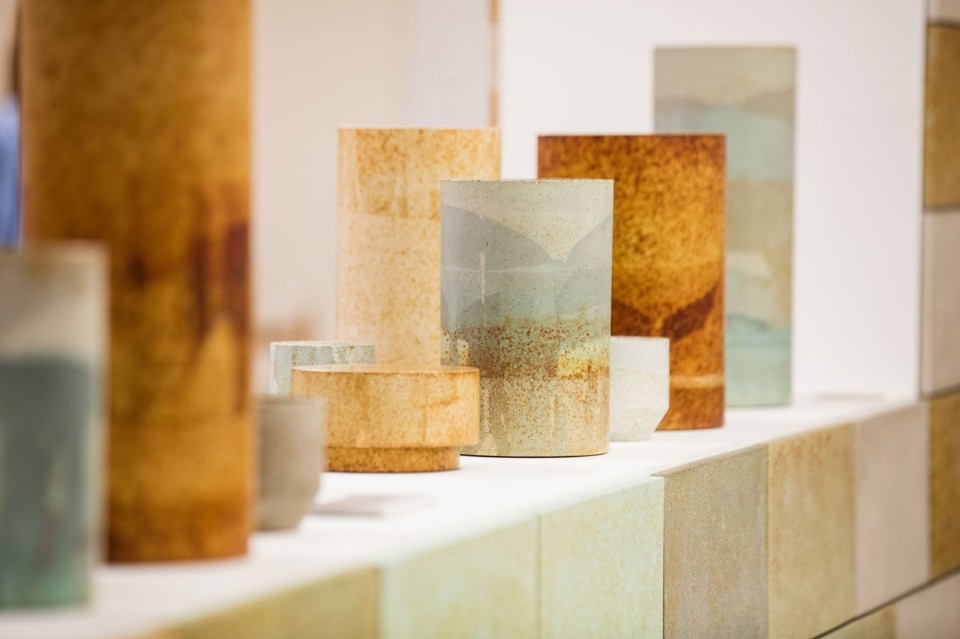 Is there a golden age of design according to your opinion?
Design today is answering very different needs and questions which go beyond simple physical artefacts. We are learning to apply design processes and ideas to entirely new domains: socio-political, environmental, scientific, etc. This means that design is now directly – or indirectly – affecting many more people than before. Does this make today a golden age? Not more so than it did 10, 20 or 50 years ago. It is simply trying to solve different problems.
A thought about the current scene of design, today.
Stylistically exciting. Perhaps because there is a newfound honesty in the way we approach materials and processes.
Who and what contributed to your current way of working?
My tutors from the Royal College of Art, Daniel Charny and Roberto Feo. They made my two years at the RCA incredibly rich and life changing. They helped me formulate in a design form the principles I was believing in. One of the many things they thought me was to think and learn through the process of making.
Could you explain, in your our words, the difference between serial design and limited edition?
They differ in scale, reach and constraints, and they respond to very different needs.