Charlotte Perriand is undoubtedly a fundamental figure in the history of Modern design, the hand behind iconic pieces still present in production and in mass design culture. Despite the long time spent in the shade of the critical light of Le Corbusier, being too often associated in narrations to him and Pierre Jeanneret, having her authorial designs attributed to the sole Swiss architect, Perriand has had a long and articulated career, awarded in its last years with a general recognition of her as an independent author. Her work has encompassed a multiplicity of fields, including product design, furniture design, interior design and interior architecture, consequently influencing the final shape of several buildings.
When I was 10, I had to go to an hospital (…) I liked the place, it was white, the plain room overlooked a courtyard with trees (…) As I got back home, the mishmash of furniture and objects hit my eyes, and I cried. The plain style of the hospital suited me, for the first time I was unconsciously discovering emptiness, ' omnipotent as it can hold everything inside'.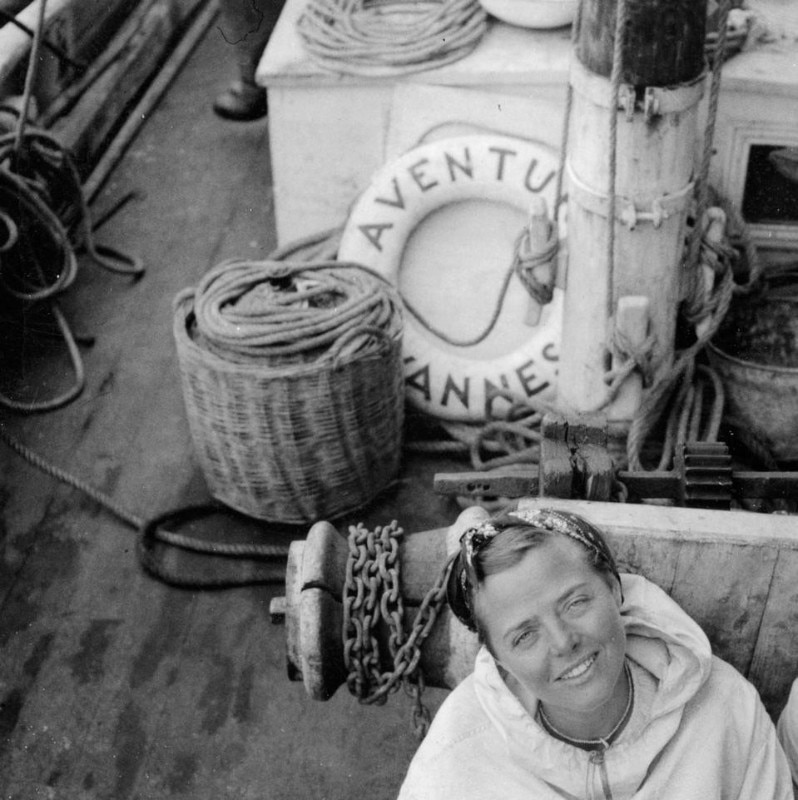 Born in 1903 in Paris, where her parents worked as tailors, Perriand started her career very soon: she graduated at the École de l'Union Centrale des Arts Décoratifs, and that same year she presented a collection of objects and furniture at the Parisian Decorative Arts Exhibition. From 1927 she was in Le Corbusier's office, where she became the responsible for interior research and development. The connection between the two and Pierre Jeanneret was based on a shared vision of furniture as part of a system exploiting the great potential of new materials, transformation techniques and mass production; in other words, furniture as équipement rather than mobilier. This collaboration is embodied at its best by the pieces produced in 1929 for the Salon d'Automne, including the celebrated tilting chaise-longue, the reclining back armchair and the grand comfort armchair (known with their current production codes LC4, LC1, LC2), all of them based on a tubular stainless steel structure. The closer cooperation between Perriand and Jeanneret lasted until 1937.
Destined to mark a revolutionary point in the different aspects of being  a designer and a woman in 20th century, Charlotte Perriand owed much of this formation to several trips she took since the early years of her career: the expeditions in USSR in 1930 and 1933 to visit the Centrosojuz construction site in Moscow, but most of all the experiences in Asia. In 1941 Perriand was invited to Japan, where she rediscovered traditional techniques, materials such as straw, bamboo and reed, consequently reformulating some of its  designs — as it went for the Tokyo chaise-longue made of bamboo — or creating new ones such as the Tabouret berger inspired by farmers' work. Between 1942 and 1946 she lived in Vietnam, to then come back to Europe: that marked the beginning of an intense phase made of a multitude of projects, high-profile collaborations (including Fernand Léger), teaching activity in France and new journeys (back to Japan for projects and exhibitions in the 50s; Brasil between the 50s and 60s). During those years, Perriand joined Le Corbusier again to work at the interiors for the Unité d'Habitation in Marseilles (1942-52; the kitchen conceived for this project remains remarkable), then she worked at the  interiors for the Cité Universitaire in Paris: at the Maison du Brésil with Lucio Costa, and the Maison de la Tunisie (1947) with Jean Prouvé.  The typologies of clients would diversify relevantly including Air France with its offices to be built worldwide, the French-Japanese diplomats with their residences (1961-), or the United Nations requiring a re-design of  the interiors for the Palais des Nations Unies in Geneva (1961).
As a legacy of her origins — the family of her father came from Savoye — and in reason of the different challenges and stimulations given to an art of living, the mountains always remained another very important place for Charlotte Perriand, both personally and professionally. She realized several projects for high-altitude housing, sports and tourism, from single furniture pieces to modular interior spaces that afterwards would set the matrix for the development of entire buildings of settlements, like in the case of La Cascade complex, (Les Arcs 1600, Savoye, France, 1968-69).
Still, in the historical landscape Perriand embodies a female figure emancipating and establishing both as a professional and an individual in a male-dominated environment: she widely narrated such personal story in her autobiography Une vie de création (1998). Her choices and her lifestyle always combined with her design practice spanning from provocations such as her shaved-off hair, or her jewelry made of steel ball bearing, to her personal investment in sports, in travelling, in active life: the studio-attic she designed for herself in Montparnasse in 1937, with gym rings hanging in the middle of a multifunctional living space, was an expression of such firm positioning. As Jean-Louis Cohen wrote on Domus in 1988: "Within the contrast between the working woman and the home-maker who structures daily life, Perriand occupied the exceptional position of a woman who works in the home, making it the site of her production."
I think my design method is the same that everybody who studies a problem conscientiously has: it's the same as Le Corbusier's, Aalto's, Breuer's. If they commission me to do a project, I analyze this object and think of all the possible gestures which concern it. then I take into account the place, the possible arrangements and the materials; they depend on the climate and sometimes on personal preference. And this procedure, which can all be mastered, leads to forms.