One of the greatest designers of our time, Konstantin Grcic (Munich, 1965) can be described as a designer of synthesis. His objects and furnishings, exercises in innovation played out on the ground of control and awareness, balance a sense of opportunity – in the choice of materials, spatial relations, evoked gestures – with new forms far from any nostalgic or citationist temptation. Pure without being chaste, geometrically clean-cut but without sculptural pretensions, contemporary and timeless at the same time, his projects speak to a heterogeneous public who recognises his ability to understand the demands of everyday life. 
A prolific designer yet resistant to bulimia, Grcic has expressed his best potential by working at the service of industry, without, however, shying away from shifts of scale or referents. In a career spanning more than thirty years, he has worked several times with the world of limited editions, and with international cultural institutions on exhibitions and curatorships that have stimulated his speculative attitude.
I always come from an idea about a project and then very quickly I am thinking about the how, the material, the technology.
His design apprenticeship, which began with an experience in a workshop, is a key to understanding his approach to design. While still a boy, Grcic discovered the world of furniture by working in the atelier of an antique furniture restorer. After this time, his close encounter with the matter and technique continued in England.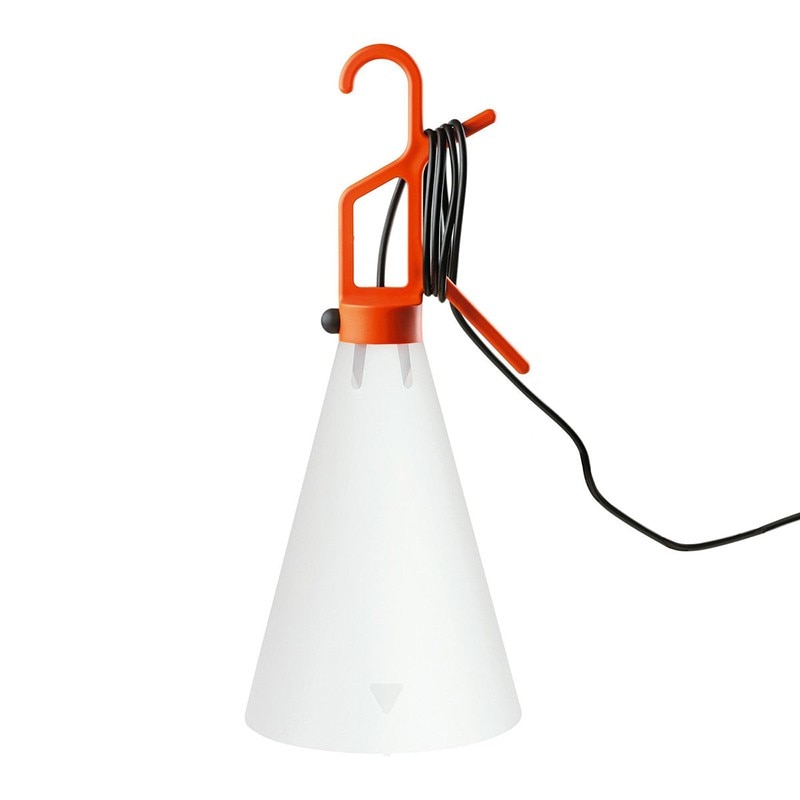 As an apprentice at The John Makepeace School, he discovered through manual work the intellectual dimension that defines the field of design – such as the planning of time, tasks and steps necessary to complete a piece of furniture and the relationship with tools. Grcic retains a valuable imprint of this experience, which translated not only into a solid technical background, but also into the profound conviction that the nature and identity of an object are inextricably linked to the way it is made.
There's an infinite, ever-changing potential within those most common, mundane things.
Still in England, it was at the Royal College of Art that Grcic resumed his design studies, coming into contact with great masters such as Vico Magistretti and Jasper Morrison – for whom he would also work as an assistant in his studio – and who would remain important reference points for his intellectual growth. Alongside the university, it is the cultural vitality of London in the 1980s that Grcic fed on: the creative freedom of the metropolis, and the Anglo-Saxon taste for eccentricity, gave Grcic a sense of legitimacy for individualism as the expression of a singular vision, as an exercise devoted to the uncompromising expression of one's own personality.
Returning to the continent after his British experience, it was in Munich, his home town, that Konstantin Grcic chose to stay and set up his studio in 1991. After his first works with the English company SCP – the Prado desk, which combines open volumes and adaptability to small spaces in an original way, dates back to those years – the season of major collaborations with Italian industries, privileged interlocutors of many of his projects throughout his career, progressively opened up. At the turn of 2000, his first lamp for Flos, MayDay, had an unexpected critical and commercial success: lamp-tool with a hook, inspired by the lamps employed by auto-mechanics, made entirely of polypropylene and democratically priced, MayDay is an open work capable of combining practicality and versatility, and as such, became popular for both ephemeral architecture and bourgeois interior spaces.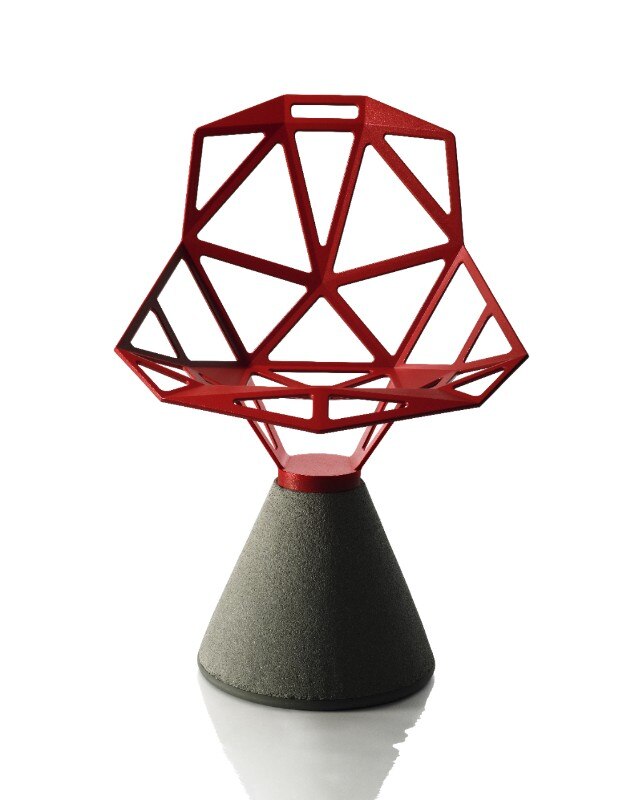 A few years later, Grcic's consecration came with one of his most emblematic designs to date, Chair_One (Magis 2004). The chair, distinguished by a die-cast aluminium shell-frame, builds a light and airy three-dimensional form through the juxtaposition of angled slats, while the cone of the version with a concrete base – the model that most embodies the spirit of those years – anchors itself to the ground, balancing the voids with its pronounced materiality.
Konstantin is a genius. He's one of the great minds of our times.
The next two decades would prove to be extremely prolific. The technological skills the industries provided him with encouraged Grcic to renew the form, without ever making it an end in itself, whilst maintaining an ideal of work capable of combining authorial vision and good design. The structural tension exhibited through the interplay of counterweights – examples include Miura (Plank, 2005), Myto (Plank, 2008), Medici (Mattiazzi, 2012), Traffic (Magis, 2013) – transforms his objects into small-scale architecture to be contemplated in the light of a constructive intelligence imbued with research, but never virtuosity.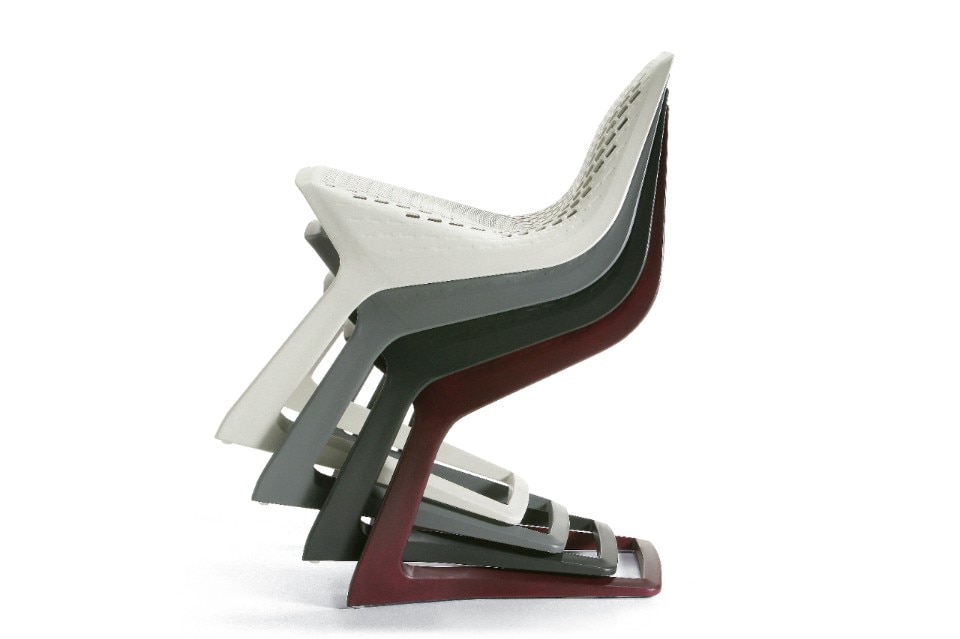 The typology of chairs will remain one of his favourite fields of exploration, as recounted in the interview book How to Design a Chair, where he explains his interest in this typology also for the physical proximity and psychological intimacy that binds the chair to its users.
I am designer who builds and constructs instead of a sculptor who shapes things away. I like to understand materials and technologies to understand their essence. I am against forcing things into something that they don't want to be. I feel that technology and material production give me a lot of clues that are helpful and not limitations.
Besides the world of industry, he also developed a rich dialogue with galleries, a ground for exploring more ambiguous and undefined objects. Emblematic in this sense was the collection Volumes, exhibited in 2004 by Galerie Kreo, a series of rough-hewn volumes resembling furniture archetypes, forms to be inhabited, ready to welcome and establish both physical and imaginary relationships. 
Marked by a hole running through them, the furniture pieces are a reference to Achille and Pier Giacomo Castiglioni's Arco lamp, a tribute to the masters of design who, like Ettore Sottsass, Philippe Starck and the aforementioned Magistretti and Morrison, were a source of study and inspiration for him.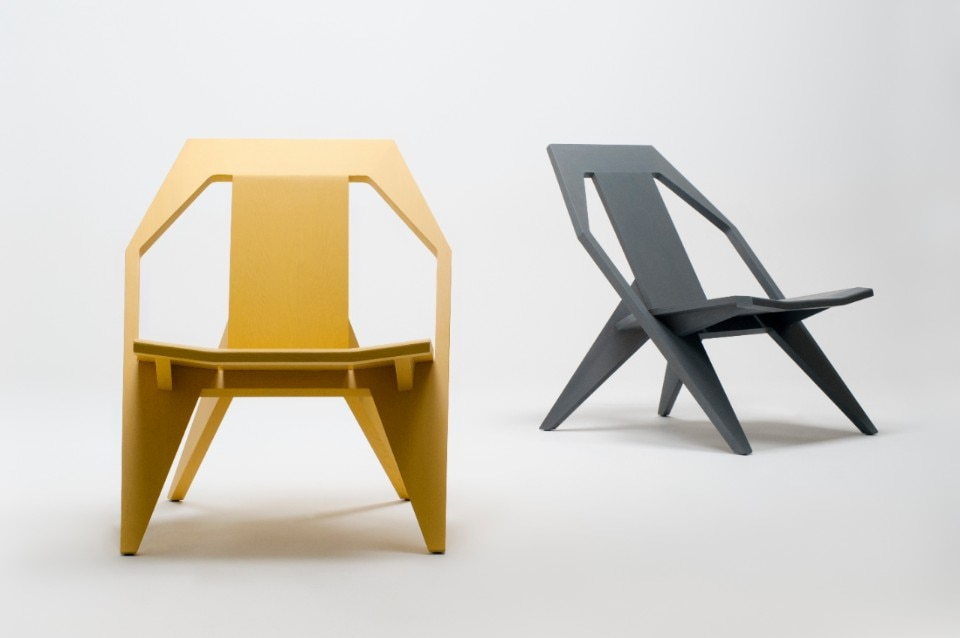 In addition to limited editions is the curatorial work, to which Grcic dedicates himself by rejecting any didactic implication, but rather using the platforms as an opportunity to highlight exemplary objects, or to project new applications towards scenarios of a possible near future. Design Real, at the Serpentine Gallery, was the first design exhibition to be staged at the British gallery: Grcic will showcase a number of cutting-edge projects by both established and lesser-known designers, providing his own vision of design in the first decade of the millennium. Going back to his own projects, with "New Normals" (Haus am Waldsee, 2022) he overcomes the utilitarianism of his pieces by juxtaposing them with anonymous design objects in order to create conflicting sceneries, hints of a possible future.
We should look at things differently and question them all the time.
Konstantin Grcic's designs have been acquired by the collections of major international museums, including MoMA/New York and Centre Georges Pompidou. His work has been featured in numerous exhibitions (WKonstantin Grcic: Decisive DesignW, Chicago Art Institute, 2009; Design Panorama, Vitra Design Museum, 2014; New Normals, 2022). Honoured with three Compasso d'Oro awards (May Day, Flos 2001, Myto, Plank 2011, and Ok, Flos 2016), he was also named Designer of the Year at Design Miami in 2010. Grcic's work has been extensively researched in monographic works (including Konstantin Grcic, Phaidon; Panorama, Vitra Design Museum) and the catalogues of the numerous exhibitions curated by him.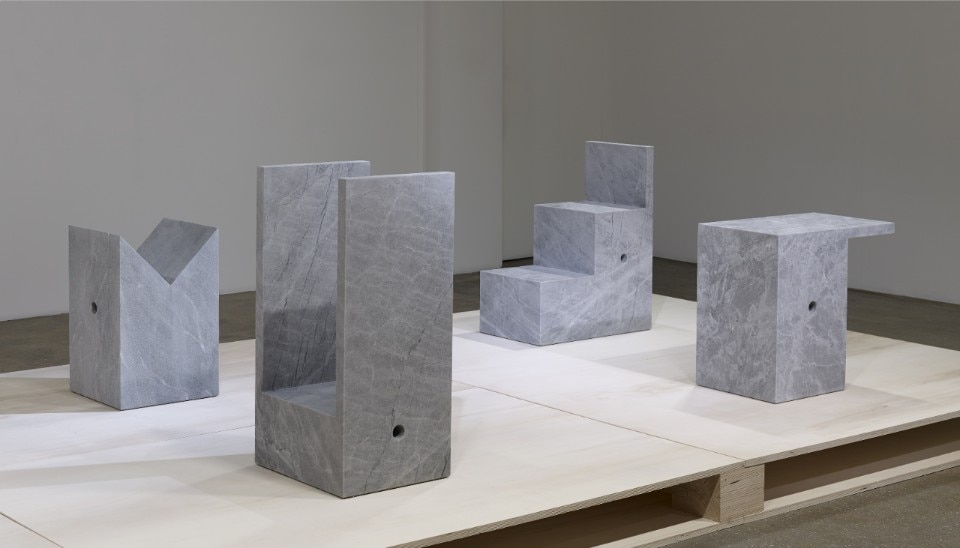 Opening image: Konstantin Grcic. Photo Markus Jans