Born in Paris's wealthy outskirts, Philippe Starck (1949) studies at the French capital's Ecole Nissim de Camondo. He comes under the spotlight starting from the 1980s, as the first actual star-designer in the history of his profession. While the leading exponents of post-war Italian design democratize the discipline, their objects spreading to populate "modern" houses, Starck contributes in mediatizing the designer's very own persona, projecting his personality (the one of an enfant terrible, according to many), as well as his products, in the imagery of the postmodern man.
Love and desire are two fundamental notions of Philippe Starck's approach to design, an activity which he charges with the ambitious task to "improve the lives of as many people as possible". This inclusive and optimistic vision stands in an ideal continuity with such Italian established masters as Achille Castiglioni (to whom Starck is admittedly largely indebted). On this regard, on the occasion of a conversation with Elizabeth Laville in 1998, Starck reflects on the relation between the designed object's form and function (meant in a broader sense, as role): "We have to replace beauty, which is a cultural concept, with goodness, which is a humanist concept".
A few years ago I invented the concept of 'non-design': the designer would disappear behind a sort of collective memory. The Miss Sissi lamp is an example of that. It cannot be said that I designed it, everybody designed it. (...) It is undoubtedly the most copied and imitated lamp in the world
Product design is certainly one of the focuses of Philippe Starck's activity. Coming on the scene in France in the 1980s, he translates in his objects also that decade's exuberance and restlessness. Therefore, for Starck the process of "reduction", leading to the final configuration, never results in any pauperism; similarly, shape is doubtlessly the necessary one, but poetry and surprise are also considered as such.
Philippe Starck provides countless interpretations of the quintessential piece of furniture, the chair: many are produced by Kartell (from the Dr. No in 1996 to the Miss Trip in 1997, from the Marie Ghost and Louis Ghost in 2002 to the more recent A.I. in 2019), as well as by Vitra and Magis, among the others. He signs traditionally fatherless objects such as toothbrushes (starting from the Fluocaril in 1989), world-famous squeezer Juicy Salif (1990), for Alessi, and a doorstop (Dédé, in the Magis catalogue since 1994). Through his lamps he recalls archetypical shapes (the Miss Sissi, in 1991, for Flos), pais a tribute to his sources of inspiration (in the first place Castiglioni, with the Rosy Angelis in 1994, also for Flos), and comes closer to surrealism with the Marie-Coquine chandelier (2011), for Baccarat.
Juicy Salif - Alessi - 1988
Design by Philippe Starck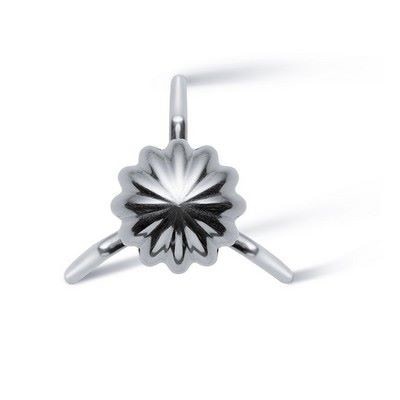 Juicy Salif - Alessi - 1988
Design by Philippe Starck
Dédé doorstop - Alessi - 1996
Thermoplastic resin doorstop.
Design by Philippe Starck
Bedside Gun (lamp) - Flos - 2005
Design by Philippe Starck
Lounge Gun (lamp) - Flos - 2005
Design by Philippe Starck
Louis Ghost - Kartell - 2002
Design by Philippe Starck
Louis Ghost special edition 10th - Kartell - 2012
Design by Philippe Starck
La Marie - Kartell - 1999
Awarded the "Golden Compass"
Design by Philippe Starck
Masters - Kartell - 2010
Design by Philippe Starck with Eugeni Quitllet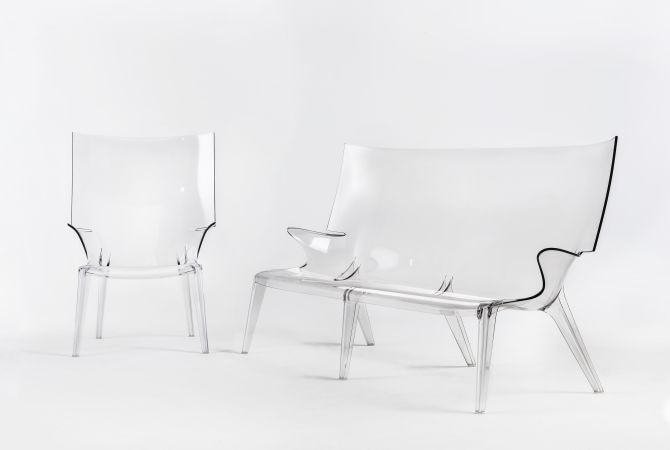 Uncle jack (sofa) & uncle jim (armchair) - 2014 - Kartell
Design by Philippe Starck
Miss Sissi - Flos - 1991
Design by Philippe Starck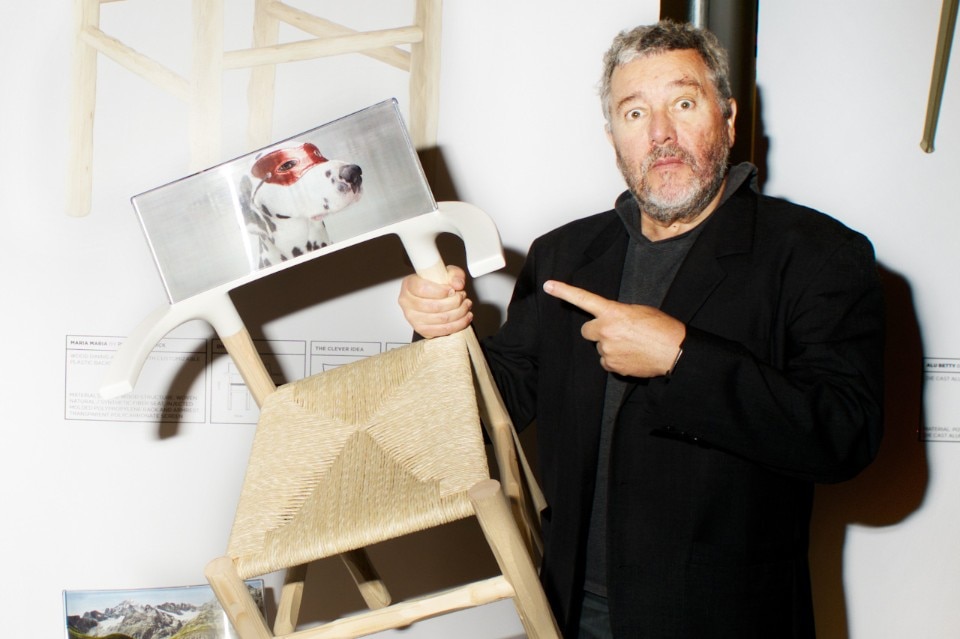 Philippe Starck, Maria Maria, TOG
Pip-e - Driade - 2007
Design by Philippe Starck
Lord yo - Driade - 1993
Design by Philippe Starck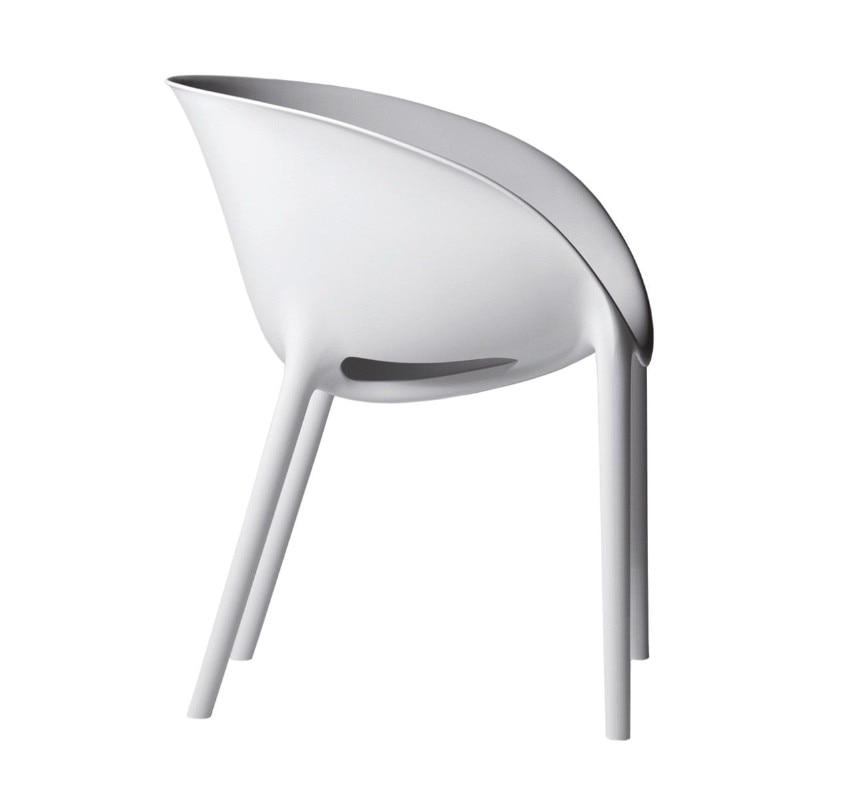 Soft egg - Driade - 2001
Design by Philippe Starck
Miss Lacy - Driade - 2007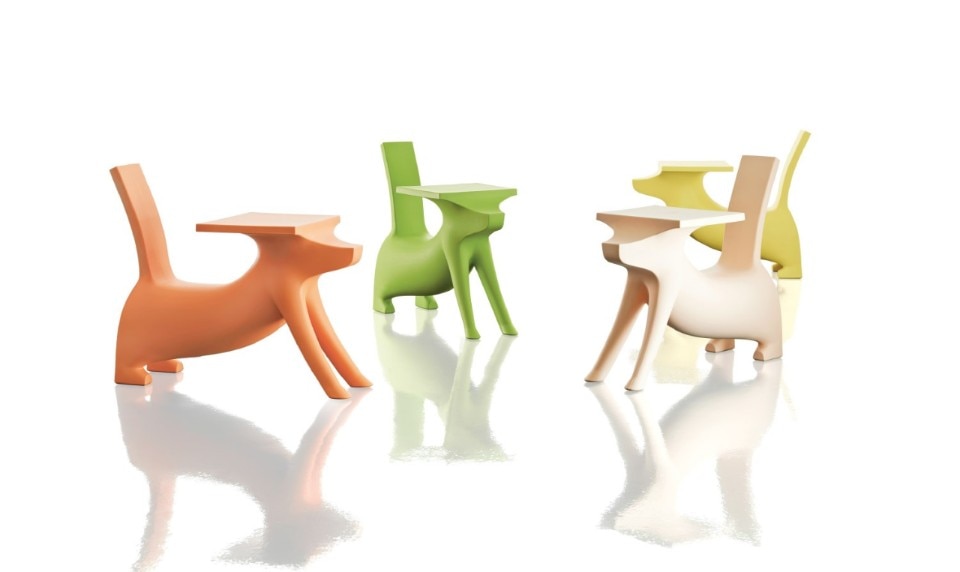 Le Chien Savant (chair with writing desk) - Magis - 2013
Design by Philippe Starck, based on an idea by C. Bavaud
Magic Hole - Kartell - 2010
Design by Philippe Starck & Eugeni Quitllet
Bubble Club - Kartell - 1999
Design by Philippe Starck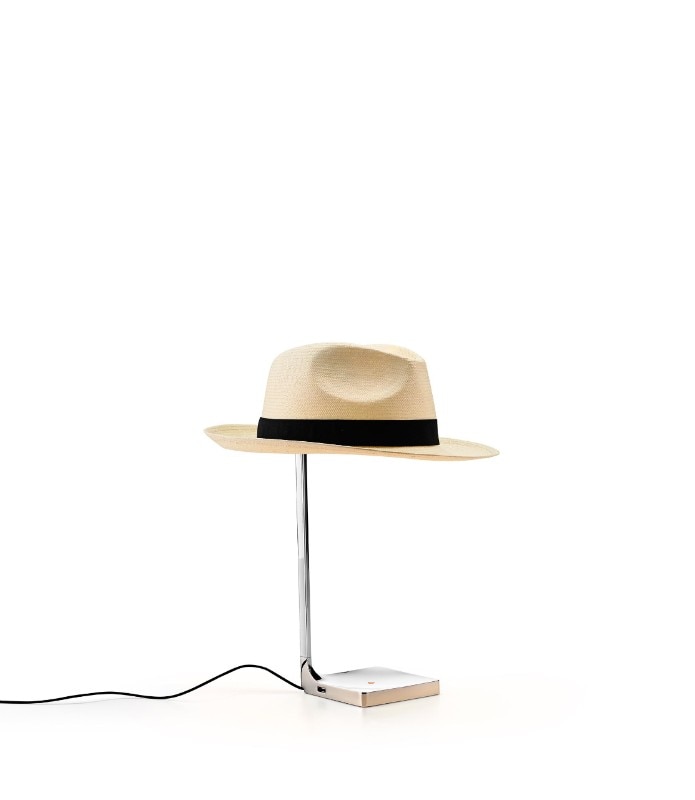 Chapo (lampa) - Flos - 2014
Design by Philippe Starck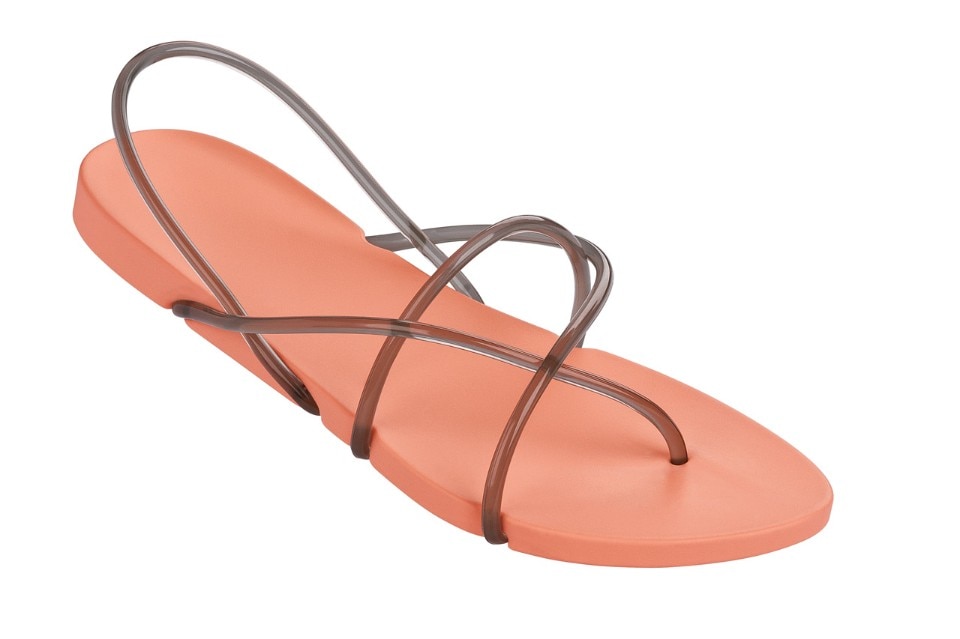 Sandas for Ipanema, 2016
Design by Philippe Starck
Working with Thompson in the 1990s, he moves towards the field of technological products (voice-activated phone Alo dates from 1996). He furthermore designs virtually all existing types of means of transport: this spans from the retro lines of Aprilia Motó (1995) to the futuristic curves of Sailing Yacht A (2015), a giant sail boat whose masts reach a height of more than 100 meters, and more recently to the interiors of Axiom's first commercial space station (2019). Starck Eyes (founded in 1996), Starck Naked (1998) and Starck Paris (2016) are just a few of the brands and collections that Philippe Starck has launched to present, to commercialize his creations (glasses, underwear and perfumes respectively). As part of the same logic, he creates the Good Goods line (1998), for La Redoute, which he defines as a selection of "non-products for the non-consumers of the future moral market", and the OAO Food Company (1998).
Philippe Starck is also prolific in the field of interior design. According to his biography by Jonathan Wingfield, Starck aims at "creating spaces that will generate powerful emotions, ensuring that on entering these buildings, everyone discovers what they are looking for and more; 'a place to go because it's too cold outside, because they're hungry, because they're thirsty, because they want to have fun'". A similar stage-like atmosphere is shared by three of his signature projects from the 1980s: the Les Bains Douches club (1981), where according to Conway Lloyd Morgan "social realism and punk meet on the dance floor", Danielle Mitterand's private bedroom at the Élysée Palace (1983) and the Café Costes (1984), all in Paris. And while the latter tries to reinvent and update the traditional Parisian café's spaces and forms of sociability, the recent restoration of Venice historic Quadri restaurant (2018) embarks on a similar enterprise in the lagoon city. 
All that's popular is elegant, all that's rare is vulgar
The original press folder for the Motó 6.5
Aprilia Motó 6.5
Photo by Massimiliano Serra
Aprilia Motó 6.5
Photo by Massimiliano Serra
The original press folder for the Motó 6.5
The original press folder for the Motó 6.5
Still, Philippe Starck's name remains strongly connected to a specific typology of interiors, notably hotels, which he first starts to design in the second half of the 1980s, alongside entrepreneur Ian Schrager. From the Royalton in New York (1988) to the Delano in Miami (1995), from the collaborations with the SLS and Mama Shelter chains to Venice's Palazzina G (2009), and again in the interiors of Jean Nouvel's Rosewood Tower in Sao Paolo (2016), Starck is openly critical towards the impersonal and generic functionalism of hospitality venues, committing himself to their systematic over-customization.
Philippe Starck never studies architecture, but he is officially awarded the title by the French Ordre des Architectes as an acknowledgement of the highly experimental qualities of his early realizations. Starck starts to build in Japan (the Nani Nani in 1989 and the Asahi Beer Hall in 1990, both in Tokyo, and the Baron Vert in 1992, in Osaka) and later in France, where he completes, among the others, the control tower at Bordeaux's airport (1997), the extension of the École Supérieure des Arts Décoratifs in Paris (1998), and Le Nuage in Montpellier (2014), conceived as Europe's very first inflatable private building. Besides these specific commissions, he carries on original research on prefabrication methods, seen as a much-needed precondition for a democratic and sustainable architecture. The P.A.T.H. – Prefabricated Accessible Technological Homes project (2014, in collaboration with Riko) follows the early experiment of the Maison Starck (1994), for the 3 Suisses catalogue.
Philippe Starck is extremely prolific, and it is estimated that he has worked on more than 10 thousand projects in his career's first four decades. At the same time, he has spoken out repeatedly against the over-production of objects, showing growing interest towards the philosophy of de-growth, as well as for the progressive dematerialization and digitalization of human experiences in the contemporary age. A virtuoso of plastic materials, initially intended as an opportunity to reduce the quantity of matter, in the last few decades Starck has come into line with the general zeitgeist, diversifying his experimentations with recycled or naturally-sourced materials.
In the words of Jonathan Wingfield:
Inventor, creator, architect, designer, artistic director, Philippe Starck is certainly all of the above, but more than anything he is an honest man directly descended from the Renaissance artists