Meeting Daan Roosegaarde, born in Holland in 1979, gives you a boost of positive energy. His urgent desire to improve the world we live in makes it seem as if it is still possible to believe in a better future. "We can never, ever, give up, for no reason; we cannot give up on finding the solution to our problems. I'm tired of opinions and I'm tired of being told it's too complicated, so I'm committed to finding concrete solutions to concrete issues".
Tall, blonde-haired, with a huge smile and two big eyes, Roosegarde is wearing all white in the courtyard of Via Palestro, at the Galleria di Arte Moderna where he exhibited his work during the Salone del Mobile 2021. The biography we were given reads: "Dutch artist and innovator Daan Roosegaarde and his team connect people and technology in installations that improve daily life in urban environments, spark imagination and fight the climate crisis. Internationally acclaimed works include Waterlicht (a virtual flood showing the power of water), Smog Free Project (the world's first largest outdoor air purifier which turns smog into jewellery), Smart Highway (roads that charge throughout the day and glow at night), Space Waste Lab (visualising and up-cycling space waste) and now world's first Urbam Sun (which cleans public spaces of the coronavirus)".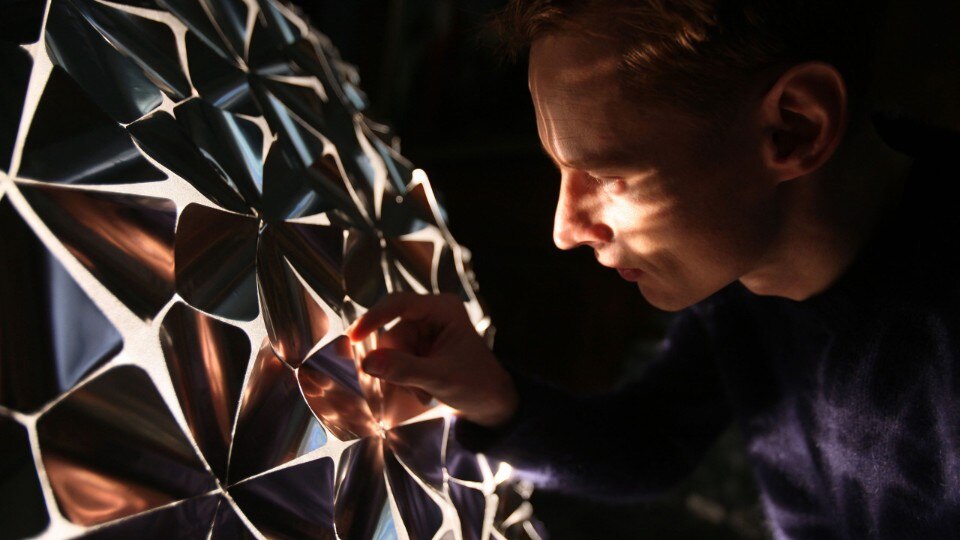 I notice that every single project listed above (in a list that is actually just a small selection of the many projects) addresses crucial, vital issues that we cannot ignore, and it makes me think of a Renaissance study of the future. Roosegaarde can create extraordinary intellectual adventures that try to bring us closer to the environment in a smart way, in the hope of finding a better way to live in this world. 
Future is a word that is very dear to Roosegaarde: "If we don't imagine the future, how can we create it? I think that today, the only way to move forward and in the right direction is to be seriously socially engaged," says the author, who made it a personal mission to research and improve our planet, and considers it one of the main goals of his work to stimulate curiosity in people to push boundaries. "Being curious is crucial in life. I founded my studio in Rotterdam, 12 years ago, because I had so many ideas, I was talking about them, sharing them, and I kept being told 'it is not possible, it is not feasible'. That's why I wanted to go my own way, precisely to make all those ideas, which for others didn't stand a chance, possible". 
If we don't imagine the future, how can we create it?
Specifically in Milan, in September: Lotus Oculus is the name of the latest work created for the "Metamorfosi" exhibition, commissioned by the luxury brand Bulgari and presented in the spaces of the Galleria d'Arte Moderna in Via Palestro, during the last Design Week. It is a kind of research on transformation, on metamorphosis; "My greatest inspiration is always nature. But for this project, I looked at the Pantheon in Rome and a diamond necklace by the prestigious luxury brand in the shape of a snake. It is right at the entrance to the exhibition". The idea for Lotus Oculus was to work on movement and the use of matter and its different potentials. It consists of hundreds of intelligent flowers made of thin foils, which open and close according to the light and heat they receive, creating a dance of shadows with the paintings hanging on the walls of the gallery. Techno-poetry is the author's definition of the dynamic dialogue the work manages to activate with its surroundings.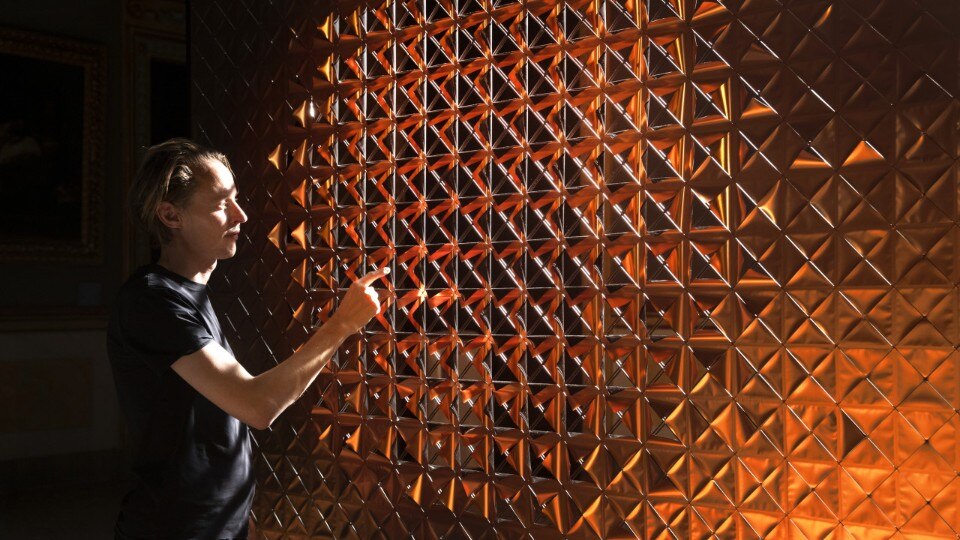 "I am interested in the concept of movement from the perspective of real change; I am interested in the way things develop and evolve, change shape, become something else". The link between material and light is conceived here as natural change and evolution of technology, in search of projects that contribute to the common good, in search of perfect harmony between people and the world they live in. As part of a series started in 2010 as Roosegaarde's investigation into intelligent surfaces, movement and the infinite applications of light, Lotus Oculus was previously presented in France, in the 17th-century church of Sainte Marie Madeleine in Lille during Lille3000, and won the Design Gold Award and Media Architecture Award Denmark.
Daan Roosegaarde is a big fan of Italy. He considers Dutch people to be creative and Italian people to be optimistic, a very important attitude when facing the challenges of tomorrow: "this is the century that links beauty and science", he says, "and we must make the most of it. I understand this when they ask me questions about this work; let me make an example," he smiles, "an Italian immediately feels the emotional connection of beauty and technology, while a German would ask me how the machine works". The dichotomy between the level of amazement and sophisticated technological development that his research manages to generate, as well as the relative and real functional load is truly remarkable; in his hands, even a piece of metal can become romantic.
 "I believe that designers today must be able to really engage people and focus more on the future. I often think about what will happen tomorrow. And that's why I keep working in the hope that I can do more and better". Technology at the service of the well-being of the world, of the human being, of our planet: Daan Roosegaarde's work pushes the boundaries beyond the present and stimulates passionate thoughts - which have never been more pertinent than in this historical period.