Danh Vo's sculpture-structures at Massimo De Carlo gallery in Milan's Casa Corbellini-Wassermann building on Viale Lombardia are formally unexceptionable. They act as perfect "furnishings" in relation to the spaces created by Piero Portaluppi. Danh Vo is an artist born in Vietnam in 1975. He grew up in Denmark (the country he also represented at the Venice Biennale, in 2015) and, despite his young age, has a global career that counts solo exhibitions ranging from the Museo Jumex in Mexico City (2014) to the MAM in Paris, from Villa Medici in Rome to the Guggenheim in New York (2013).
Even in his first exhibition at Massimo De Carlo gallery, Vo keeps creating in the wake of a practice and poetics that aims at highlighting the relationship between objects and materials, mixing history, the present and look into the future, carefully avoiding the technical amalgamation of his artefacts. In fact, all the exhibits are assembled objects and live only by remaining in balance.
«Working at Casa Corbellini-Wasserman was an exciting challenge. I created the works directly in the gallery spaces after gathering a combination of materials: old stones, marble scraps and basic construction plywood, all balanced without glue or nails. In fact, these sculptures are meant to be functional (a bench, a plinth, a floor) and were humbly created in opposition to the size of the gallery building. I am interested in investigating the passing of time in order to dialogue with such a unique piece of architecture», Vo tells me, who worked without making preparatory sketches, but only by searching for tensions and oppositions through continuous assembly tests. The "public" history, also understood as imaginary, is, as always, mixed with the personal history of the artist, and with the traditional collaboration with his father. In this case, the latter is called upon for having written in "beautiful calligraphy" the scientific name of a series of wild flowers that Danh Vo photographed last year around his home-studio on the outskirts of Berlin.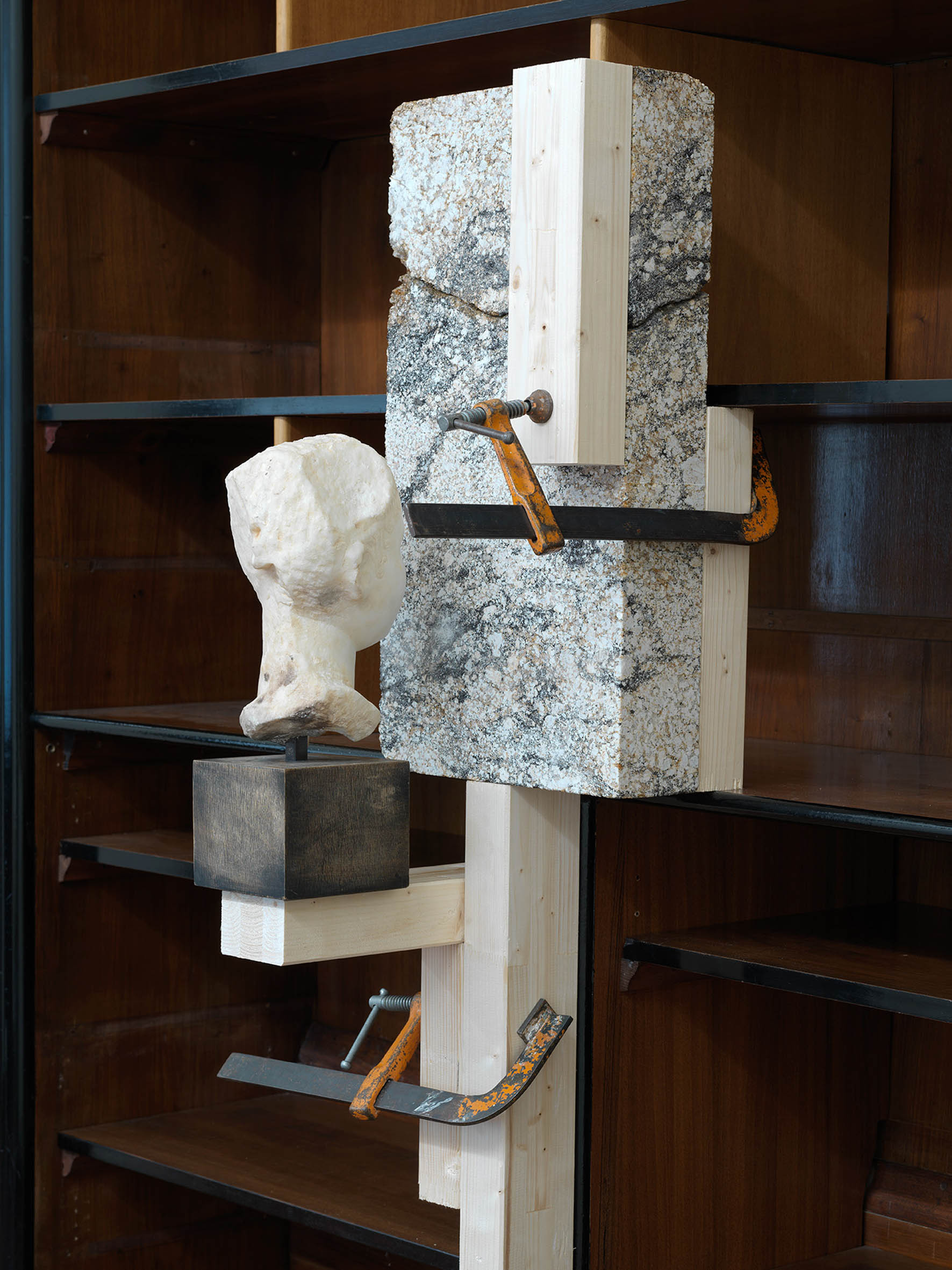 And yet, by the artist's own will, there is no text at Massimo De Carlo gallery that could shed any light on the deep meaning of these simple but certainly hermetic structures. All Untitled. An attitude that might suggest that, for the umpteenth time, contemporary art stands as a sort of "superior model" of culture, far from the idea of "explaining" itself to an audience. An attitude that, these days, might seem rather counterproductive, still mindful of the slogan "Nothing will be the same as before", while nothing seems to have changed in today's art, which, to less experienced eyes, remains exclusive and repelling.
A problem on a global scale that goes hand in hand with another issue that seems – now more than ever – to have enveloped contemporary art in a sort of bubble: the almost total absence of a truly critical thought on the present as much as, at most, limiting itself to tracing with variations in style the issues raised by public opinion, or rather by the hysteria of the themes offered by the media. 
«It is impossible to avoid being contaminated by global problems, because we are surrounded by political and social issues such as national identity, colonialism and the power of history – the artist explains, who adds – We must also think about the creative process, on the rules of the art system, the nature of being an artist, as well as rethink about the creation and dispersion of new objects in the world». A subtle paradox creeps into perception: hermeticism is all well and good, but are we sure that this is still the era dedicated to shadow, or that it is necessary to drop the masks?