This article was originally published in Domus 10523, January 2020.
Street Light, painted by Giacomo Balla between 1910 and 1911, is displayed in a room on the third floor of New York's MoMA. It depicts the light emanating from a street lamp which almost entirely fills the painted surface, even seeming to break through its boundaries to illuminate the surrounding space. Behind this luminous aura is a faded crescent moon, a symbol of nature and of Romanticism – the metaphorical extermination of which Futurists such as Balla were calling for. This picture is without doubt a manifesto of the technological fervour of Futurism but it is also the first electrical-light landscape and to some degree prefigured the different types of environmental light installations created by artists throughout the 20th century, starting with Lucio Fontana's pioneering ones which came about 40 years later. Born in Argentina to Italian parents in 1899, Fontana is famous for his Spatial Concepts, slashed and holed canvases so explosive that they became a cliché for the presumed cerebralism of "modern" art.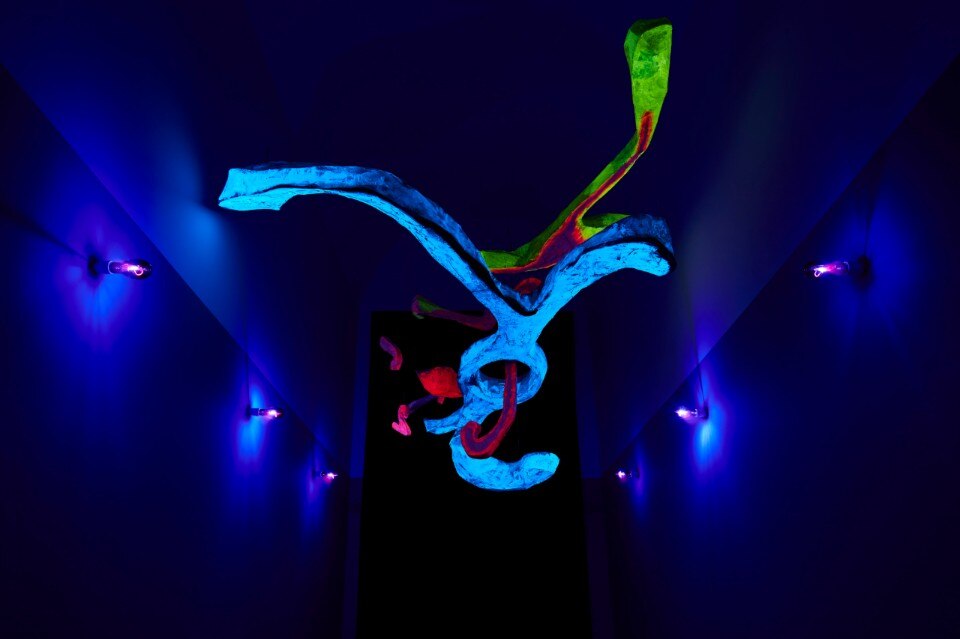 Yet, drawing on the teachings of the Futurists – not only Balla but also Umberto Boccioni who wrote "the Futurist today can at last model the atmosphere which surrounds things" in his Technical Manifesto of Futurist Sculpture dated 1912 – he in turn was behind a great artistic revolution shared with the public from the late 1940s to the late 1960s but which remained confined to the circles of scholars for decades. It all started on 5 February 1949 when Fontana transformed the Galleria del Naviglio in Milan with an environmental installation entitled Spatial Environment. It was illuminated with black light in a form of light/art. Those invited that evening found themselves immersed in a darkened (and dematerialised) space with Wood lighting illuminating sculptural elements hanging from the ceiling and on the walls: an all-consuming and disorientating experience intended more to stimulate a new awareness of the self than of the space .
"[...] Upon entering, you were absolutely alone, each visitor engaged with their own immediate reaction [...] man was faced with himself, with his own conscience, his own ignorance, his own physical being." This is how Fontana remembered this initial and initiatory experience. These words seem to resonate today in the work of Olafur Eliasson, a Danish artist of Icelandic origin and global renown, for "the self-reflexive potential in art: our ability to evaluate ourselves in our surroundings [1]."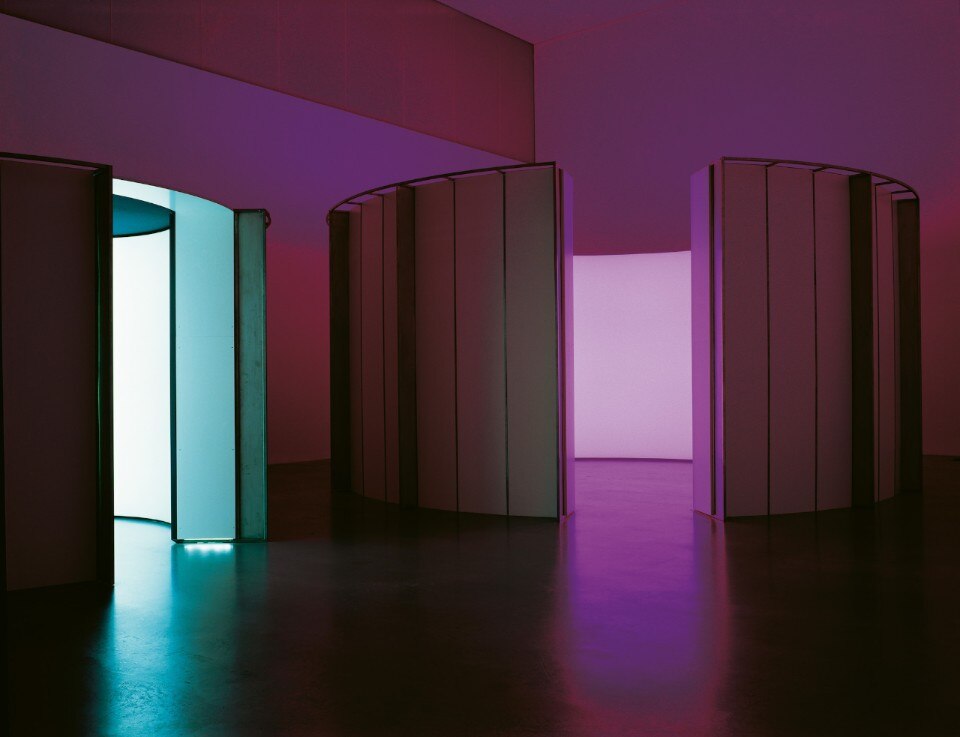 Similarly to Fontana – approximately half a century later and from a Scandinavian perspective – Eliasson has created environments in which the destabilising action of luminous colour effects on the perceptive conventions seeks to stimulate those experiencing them, giving them greater awareness of their self and consequently of their actions towards others and the environment. He became a star in 2003 when he transformed the huge foyer of London's Tate Modern into an atmospheric landscape dominated by a disc of yellow light, midway between the oculus of the Pantheon and an incandescent sun. Eliasson began working with light and space in the late 1990s, creating abstract forms of nature. The first was Room for one colour, reproposed by several museums since 1997, in which the onlookers, illuminated by yellow light, can only perceive themselves and others in shades of grey, as if the whole world had suddenly turned black and white. He then continued with interventions such as 360° room for all colours (2002) and Your colour memory (2004), curved environments that envelop visitors with surfaces that change colour and momentarily alter their perceptions, calling into question the perceptive status quo of internal and external landscapes.
Accustomed as we are today to multi-sensory and misperceptive environmental works, we perhaps fail to grasp the radically innovative significance of Black Environment, which at the time featured on the cover of a Domus issue centred on the links between art and architecture. "it will be possible to make a new art with light", declared Fontana who before his death in 1969 produced another dozen environments in which he deconstructed the classical formats of painting and sculpture, focusing on a total art that recreated an ideal unity of space and time using light. An example is one of the two Utopias – created in 1964 with the collaboration of Nanda Vigo for the 13th Milan Triennale curated by Vittorio Gregotti with Umberto Eco – immersed in red light that reverberated on walls lined with metallic wallpaper while an undulating floor was covered with thick carpet in the same vermilion colour.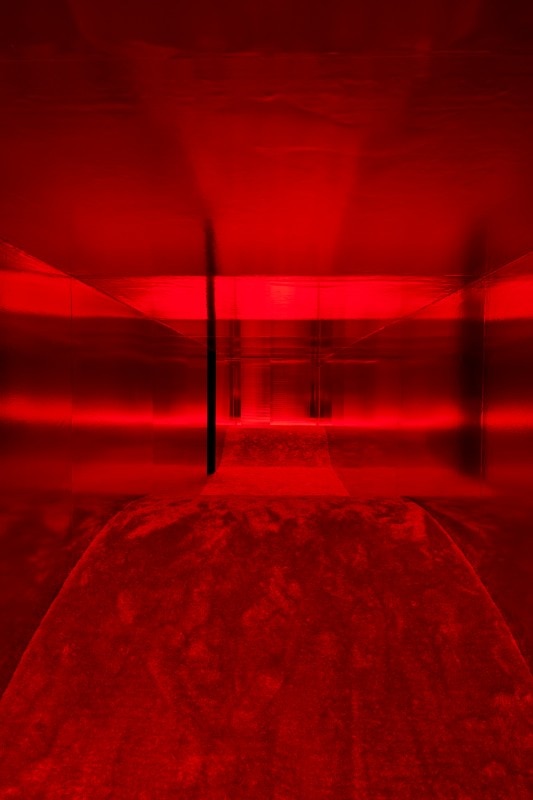 In the Spatial Environment created for the Walker Art Center in Minneapolis in 1966, all in darkness and reconfigured by a large rectangle traced with dots of green neon light, the visitors' disorientation was further heightened by a soft rubber floor; and Spatial Environment in Red Light developed the following year for the Stedelijk Museum in Amsterdam featured a room divided into parallel corridors flooded with scarlet red light. While the work of Fontana, who after WWII acted with a propensity for renewal that was widespread in the post-war years, exuded the sense that it was possible to reconstruct the universe and renegotiate the human position within it, in today's climatic emergency, Eliasson seems to favour an approach of safeguarding the planet by reactivating a self-consciousness which functions within a collective system that includes the environment.

Whatever the gap between them in terms of time and intentions, the two artists seem to share a faith in the capacity of art, intended as a unicum mixing play and scientific experiment, to trigger changes in an individual that reverberate in society and, more specifically, a faith in light as an unparalleled means of constructing environments in which to test a shared and possible future. In a present radically changed by the pandemic and momentarily redesigned by social distancing, these achievable utopias are needed more urgently than ever.
[1]:

Olafur Eliasson, in conversation with Doug Aitken, in Broken Screen: Expanding the Image, Breaking the Narrative; 26 Conversations with Doug Aitken, ed. Noel Daniel (New York 2006), page 110