1895. In Paris, an astonished audience attends the first screening of the Lumière Brothers' Cinématographe, featuring ten short films of about one minute each. In the same year, the philosophical science-fiction novella "The Time Machine: An Invention" by H.G. Wells is published in New York; the protagonist of the story is a scientist who, thanks to a machine that he invented, manages to travel back and forth in time. Suddenly he finds himself in a distant and bleak future: humans are now extinct, and the world is on the brink of collapse.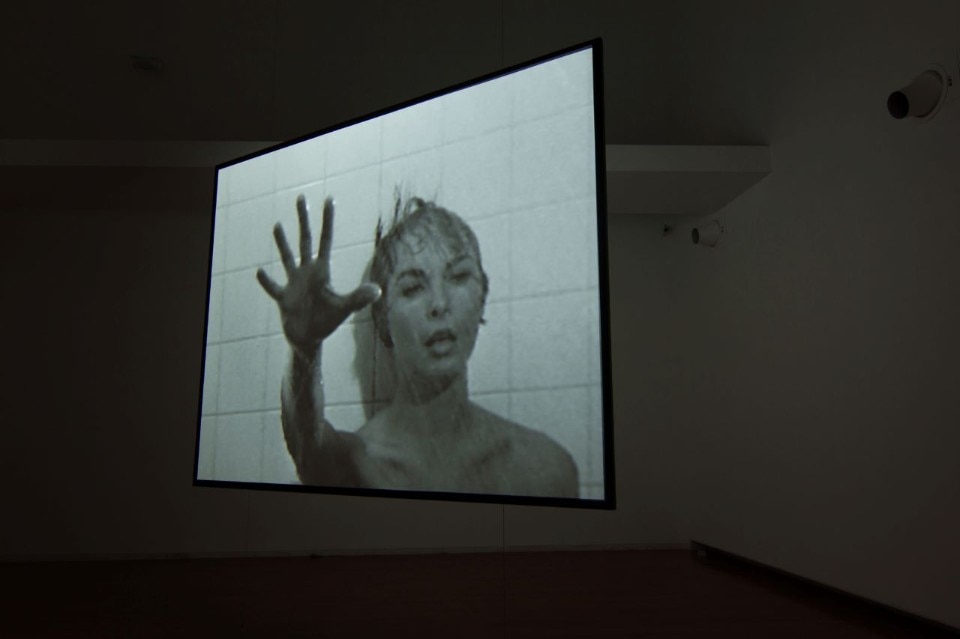 The year 1895 is the starting point of the exhibition. The exhibition "Time machine", curated by Antonio Somaini, professor in film, media, and visual culture theory at the Université Sorbonne Nouvelle, together with Eline Grignard and Marie Rebecchi, was presented during the institutional ceremony of inauguration of Parma Italian Capital of culture 2020.
The main topic of the exhibition is the passing of time and its visual representation in the New Media Age, with a special focus on cinema and on the relationship with art — and more specifically with video art. In this exhibition, the flow of time is anything but linear. When in the hands of moving image creators, time is elastic, malleable, plastic, and it can be reversed, accelerated, slowed down.
With today's post-production and editing techniques everything is now possible: we can juxtapose actions occurring in two different locations, split a scene into single images in alternation, invert the order in which actions occur, and apply a great variety of effects like loops and so on. We can freeze single frames or add rewind effects. Thanks to the time lapse we get to see ten hours of footage in just a few seconds, and vice versa, being capable to bend and expand time at will, we can now capture details that would otherwise happen too fast to be noticed.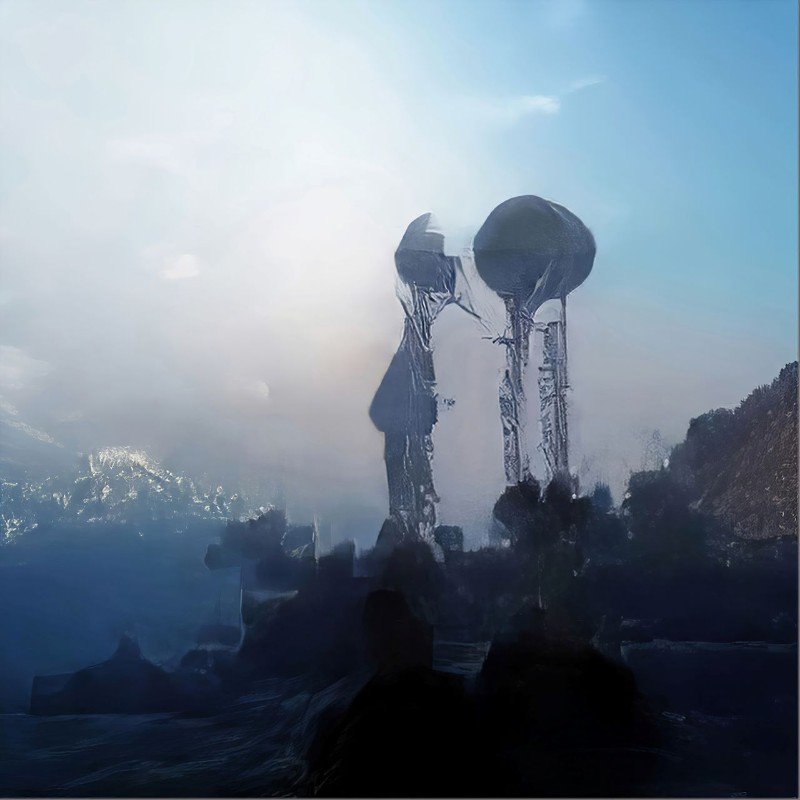 The exhibition is the result of a reconstruction of a period of time that goes from those fateful moments in 1895 to our days, and consists of eleven sections that focus, thanks to the collaboration with the Cinémathèque Française, on the pioneers of cinema and their experiments — the Lumière brothers who captured the movements of natural elements such as smoke, wind and clouds, Ralph Steiner who followed in their footsteps and, in 1929, shot his short silent film H2O, then Marey, with his studies on the movements of animals and humans.
The show also focuses on more contemporary experiments: images characterized by a non-human sense of time shot by artificial intelligence, machine learning and neural networks based on mathematical algorithms. This is the case of the two video installations, Le Tempestaire by Jacques Perconte and Terre Seconde by Grégory Chatonsky, which were commissioned specifically for this exhibition. In Perconte's work, we see countless waves chasing each other without ever repeating themselves. The pictorial dimension of the images is reminiscent of Romantic and Impressionist traditions. But the video is actually being fed by a software, which manages to never repeat the same images; in the past, since they all had a finite life, no optical media had ever been able to achieve this result.
In Chatonsky's case, we discover a new temporality: the images we see do not represent the existing reality but are generated by machine learning systems capable accumulating millions of man-made images and using them to create something new. These images evolve over time and are achieved through different and more modern editing techniques. Chatonsky calls it "realism without reality": a kind of realism that resembles a reality that does not exist, and that leads us to a possible future. His is therefore a way to imagine new possible ways of living.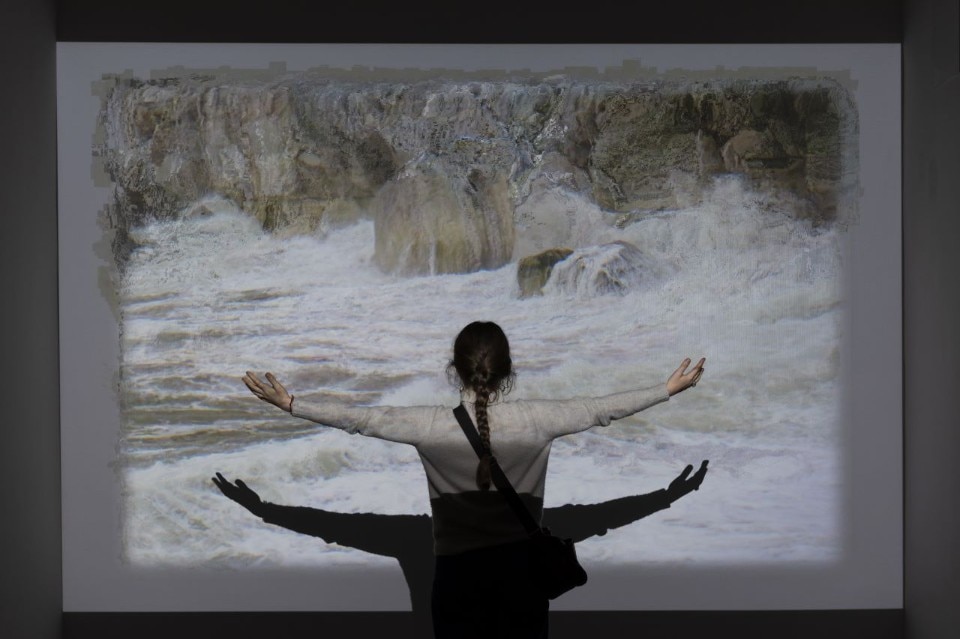 "Time Machine" also focuses on the fact that moving images are no longer confined to the cinema, they have also reached the field of visual arts. In this part of exhibition, photography and video are being used for specific aesthetic purposes by artists such as Harun Farocki, Douglas Gordon, Rosa Barba, Tacita Dean, Ange Leccia, Robert Smithson. For example, placing himself at the intersection between cinema and photography, Belgian artist David Claerbout questions the relationship between moving images and reality with his video "The Algiers' Sections of a Happy Moment" — here the artist focuses on a single, momentary event, in order to create a countless possible versions of it.
The project is in fact carried out by putting together hundreds of images of a single scene, captured from different perspectives: on a roof of the casbah of Algier a group of boys pause their soccer game to feed some seagulls. Claerbout took more than 50,000 photographs of that moment, but only selected 600 of them. The multiplication of points of view and scale variations generate a very powerful effect: this is a great example of the expressive potential and effectiveness that a research on the passage of time can have, from both a cognitive and emotional point of view.
Exhibition:

Time Machine. Vedere e sperimentare il tempo

Location :

Parma

Venue:

Palazzo del Governatore

Curators:

Antonio Somaini, Eline Grignard, Marie Rebecchi

Opening dates:

13 January 2020-3 May 2020