Cai Guo-Qiang is an artist whose medium is gunpowder instead of paint. His canvas is space, and paper is only the intermediary that records the traces of material. His process of making is meticulous and collaborative, but it often results in ephemeral phenomena. His artwork is produced at the exact moment of the dematerialisation of gunpowder by detonation, accompanied by a loud sound and thick smoke. He is an artist who explores the limits of materiality. Cai is attracted to the unpredictability that causes uncontrollable and accidental results.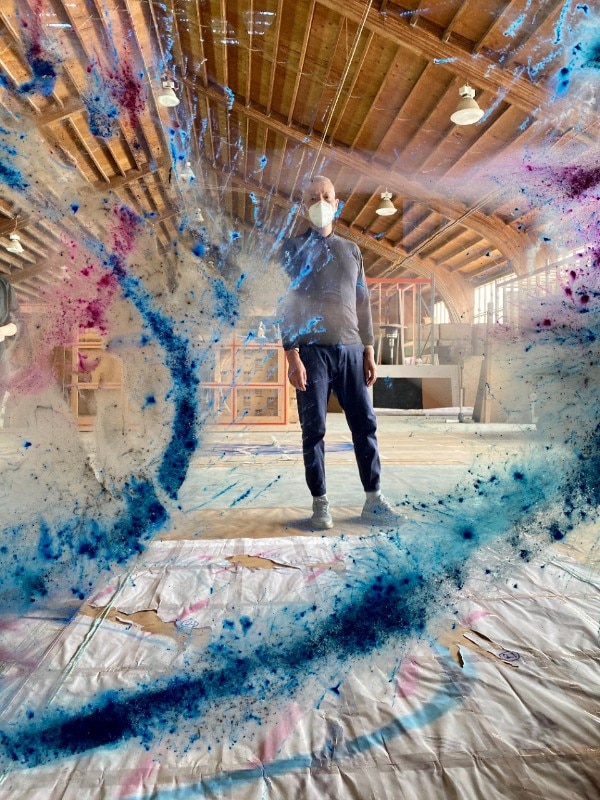 His interest in gunpowder is manifold. For him, gunpowder is one of the four great inventions from China, the others being the compass, papermaking and printing. "He takes pride that gunpowder was invented in China and that the ancient Chinese did not create it to abet violence – it was their search for elixirs of immortality that led to its discovery. At the same time, he is also fascinated by the destructive force of dynamite", writes Wu Hung in the catalogue of the exibition at the National Art Center in Tokyo (29.6-21.8.2023).
When Cai was a child, his father used to draw intricate small landscapes on matchboxes, opening up a vast universe upon its tiny surface. He was inspired by the power of an artist's imagination to unlock such infinite and boundless spaces. In the process of unleashing his creativity, Cai dived into the contents of the matchbox instead of resorting to a traditional career in landscape painting. 
He takes pride that gunpowder was invented in China and that the ancient Chinese did not create it to abet violence.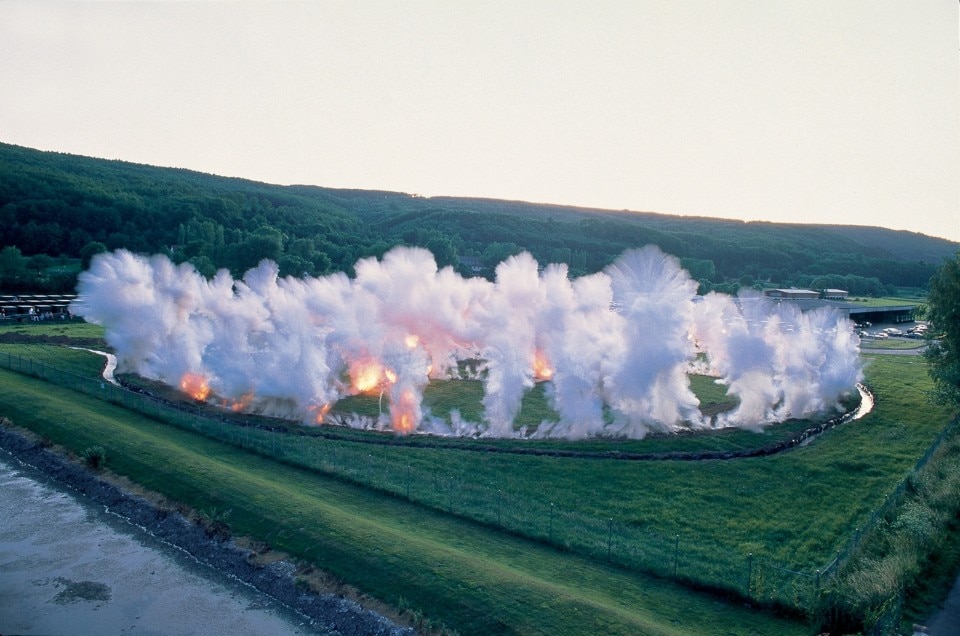 The box itself is evidence of the control of fire by humans and our ability to enable ignition at will. Harnessing the use of a volatile material requires meticulous preparation, the training of a dedicated team, and accepting failures while assuring safety as he literally plays with fire.
His childhood experiences with fireworks gave him both a familiarity and a sense of fear. The origin of his fascination with explosions stems also from his interest in outer space and the Big Bang; that moment when stars were born out of an astronomical explosion. In Chinese it is called the Primeval Fireball. His seminal 1991 exhibition, "Primeval Fireball: The Project for Projects" at P3 Art and Environment, an experimental art space in Tokyo, consists of a set of seven gunpowder drawings and detailed plans for his projects done at a monumental scale.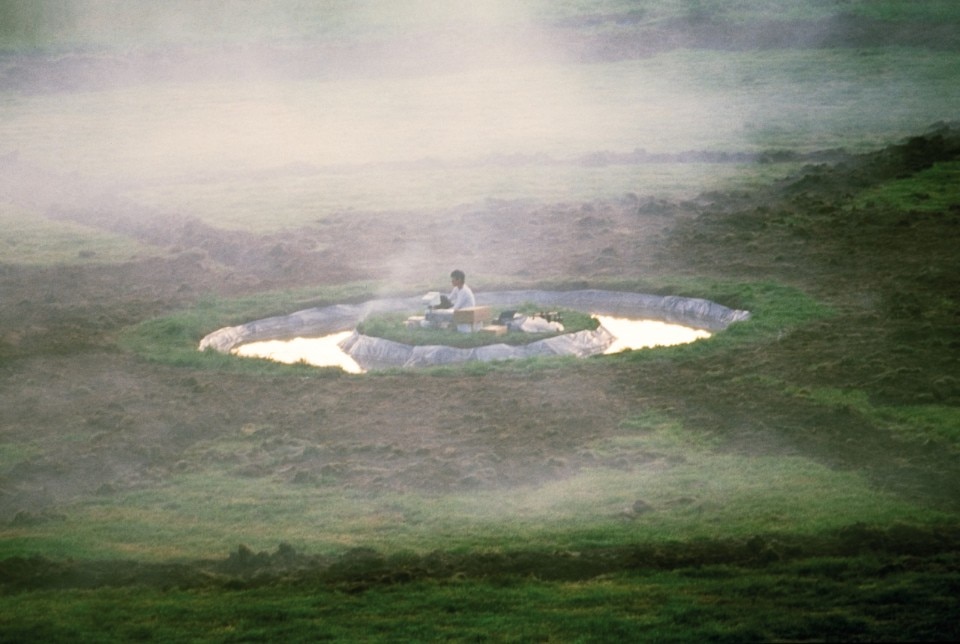 Cai's work makes a statement by challenging the potential of an otherwise destructive material, now used to produce beauty and promote civic unity and a hope for peace. It is an ambitious goal. Beyond its use in paintings, Cai uses gunpowder for large-scale installations and site-specific firework demonstrations. These consist of a few seconds of massive explosions and reflect his desire to break the boundaries between terrestrials and extraterrestrials. The firework explosions are cosmic events, and he hopes that his performances communicate to those on Earth as well as those in outer space.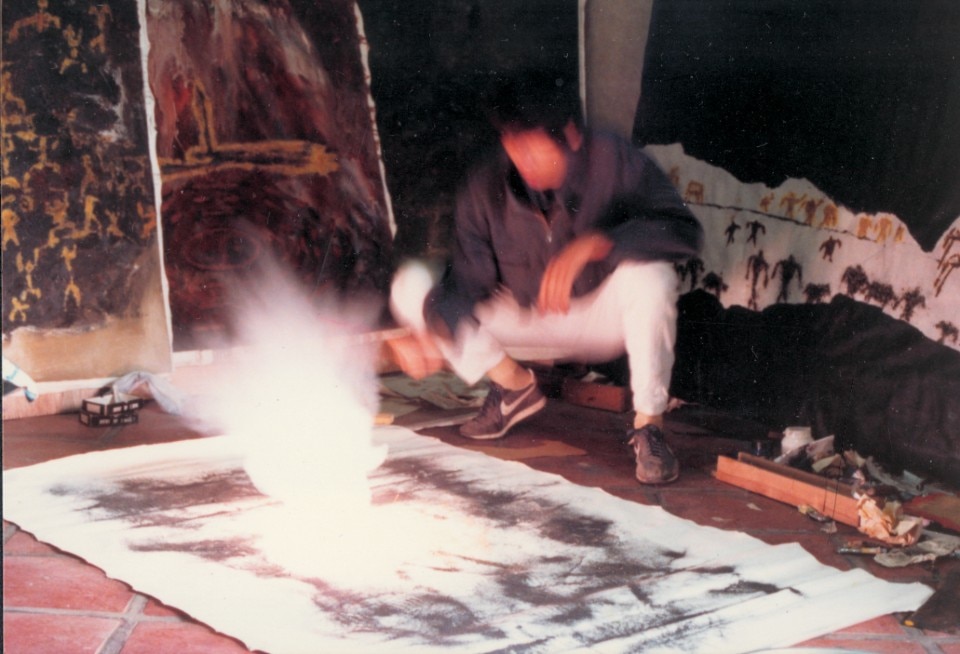 In his Fetus Movement II: Project for Extraterrestrials No. 9, performed at the 1992 Kassel International Art Exhibition, an explosion demonstration was coordinated with its biological and geological impacts. "During the performance, he sat on the island with an encephalograph and a cardiograph connected to his head and chest. After he detonated the gunpowder fuse, the instruments recorded the earth motions as well as his heartbeats and brain waves… this performance gave Cai a double position as both the initiator of the cosmological explosion and the recipient of its impact," writes Wu Hung.
The explosions are even used to calm the spirits of the dead. He used gunpowder in this way most recently with the colourful daytime fireworks When the Sky Blooms with Sakura, which took place on 26 June 2023 on Yotsukura Beach in Iwaki, Japan, to commemorate the victims of the 2011 Tōhoku Earthquake and Tsunami.

In the most contradictory manner, Cai's performances and installations use detonation to promote human unity, rather than to destroy or divide. Cai has also collaborated with the citizens of Iwaki on a series of other projects. He has worked with this group continuously throughout his career, as they represent his point of origin as an artist (see Ario Kawauchi, Sora O Iku Kyojin, Shueisha, Tokyo 2018). His relationship with the people there began through some of Cai's earliest exhibitions and they were among the first people to purchase his work.
The beach-side fireworks helped to attract people and attention to the area, which has been long suffering from an arduous recovery from the earthquake and the subsequent meltdown at the nearby nuclear energy plant in Fukushima. Cai has gone back to Iwaki constantly, not only to work with the people there, but also to propose an ambitious outdoor museum in 2014. An ongoing linear outdoor gallery would be integrated with the citizen-led project of planting 10,000 cherry trees (sakura) to make a new landmark set within a landscape that has been deeply affected by natural and manmade catastrophes.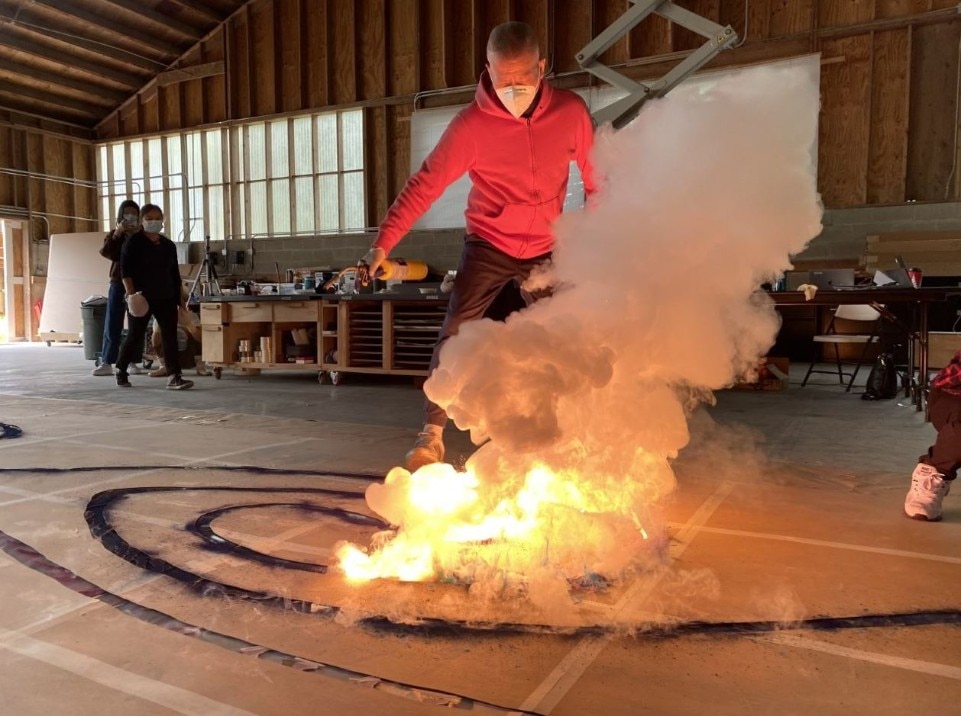 During these conversations, the collaboration team wondered aloud how an artist could not make his own art, but have it made by others. This method is in fact consistent with his artistic tendency to work with the unpredictable and the unknown: negotiating with collaborative volunteer teams that together with the artist weave an immense human drama.
His recent fascination with AI is also consistent with his method of working with unknown and unpredictable elements. He intuitively suspects that AI could be as significant a step for humanity and the transformation of civilisation as gunpowder was. His other mediums and materials are varied, ranging from ancient Chinese trading boats at the Venice Biennale, to the fabrication of wolves and other animals, to the display of actual artisans making sculpture as a performance. Each of his object-driven artworks makes specific political and social commentary through a more figurative and narrative mode.

In Cai's work, the material of gunpowder transforms into energy and disappears, leaving only a burn behind. His firework performances leave only a deep and visceral memory. In making his artwork, he elaborately and carefully prepares with a team of many people, calculating all possible risks. Still, Cai needs to work with unpredictability. The art becomes energy, heat and light, and disappears into the ether. Experiences are shared which break the visible and invisible boundaries of humanity. As he pushes the limits of materiality and making, Cai opens up vast potentials and speculations for our existence.