Time has succeeded in giving an aesthetic even to those buildings built for a very different purpose from serving as sets for photo shoots. Thus rationalist, brutalist buildings, especially in post-Soviet areas, have become ideal sets for those who want to create a specific visual narrative, and photographers as Maria Svarbova have understood the power, and the contradictions, of this phenomenon. 

The Swimming Pool series of the Slovak photographer originates precisely among those swimming pools full of aesthetics but at the same time very far from the glamour of David Hockney-style California private swimming pools. "Mine are photographs taken in the typical public swimming pools I hung out in when I was a child" Maria Svarbova explains "where children were taken more for social duty than for sport. They are sterile, rigid spaces immersed in lines and white tiles. I also remember the "No Diving" signs, places conceived for sport but with very restrictive rules. It was amazing to rediscover them and build scenes with them today, 30 years later."
Maria Svarbova, Swimming Pool
Maria Svarbova, Swimming Pool
Maria Svarbova, Swimming Pool
Maria Svarbova, Swimming Pool
Maria Svarbova, Swimming Pool
Maria Svarbova, Swimming Pool
Maria Svarbova, Swimming Pool
Maria Svarbova, Swimming Pool
Maria Svarbova, Swimming Pool
Maria Svarbova, Swimming Pool
Maria Svarbova, Swimming Pool
Maria Svarbova, Swimming Pool
Maria Svarbova, Swimming Pool
Maria Svarbova, Swimming Pool
Today, Maria Svarbova is one of the most interesting photographers in the art photography system, that for galleries. In Italy, Adelphi – a prestigious publisher boasting a history of rigorous covers – has chosen one of her photos for the latest novel by the great British writer Lawrence Osborne, The Glass Kingdom. Her signature on her photos is always recognizable: rigorous geometries, symmetry, play of reflections, nostalgic models. "I try to find a harmony between humans and the artificial environment they themselves have imagined and realized. The models seem emotionless, lost in their thoughts and far from reality, I think this is a useful means for viewers to stop and actually listen to their own feelings."
Moreover, there is a lot of utopia in her Swimming Pool series. "My models, frozen in the timelessness of their poses and emotionless, create a picture that recalls the imaginary worlds of cinema, worlds that certainly belong to the past but that, in our imagination, could also belong to the future. There are my utopias, I like to think I can build something so perfect as to be unattainable." As with that design of the Back to the Future period, hovering between nostalgia for a time of imagination and wonder, and the hope that this time can somehow return, even though we know it is impossible.
"Time goes by very fast and I am trying to freeze it" Maria Svarbova continues "I often take inspiration from my childhood; I like combining factors from the past and the future together, and this is why my photos may seem timeless. In reality, I think we should enjoy our time and be aware of it." During our interview, we discover a peculiarity of Maria Svarbova's education: she did not study architecture, art, or photography. "I am an archaeologist, and I must say that this inspired me a lot. For example, when I work with materials or analyze the layers of buildings, I look at the meanings of the symbols I trace in the architecture. This all stems from an interest in the history of places, in my own way I dig beyond what is obvious, what we see."
There is another special swimming pool – not included in the Swimming Pool series – in Maria Svarbova's projects. It is the iconic one on the roof of the Cité Radieuse in Marseille, designed by Le Corbusier for the sports activities of the building's inhabitants. Here, in 2019, just before the lockdowns and the interest in life inside the apartment building, Maria Svarbova realized the project Fragile Concrete in collaboration with Galerie Kolektiv Cité Radieuse, a work in which modern architecture, materials (concrete, of course), and the nature of Marseille made of sky, sea, and white mountains in the background entered.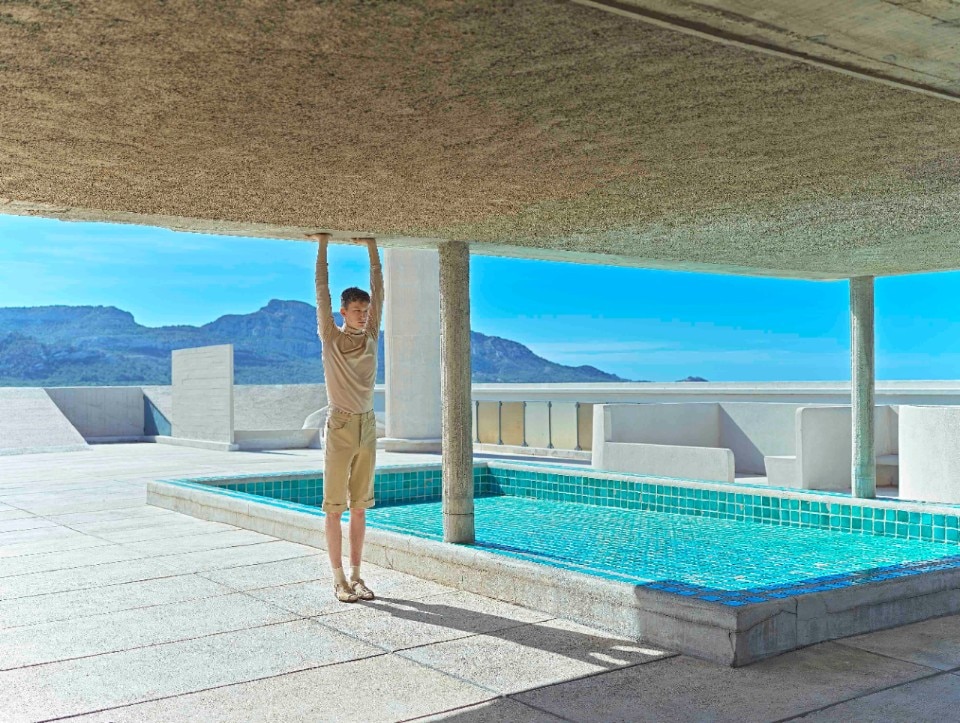 "I have always been a big fan of modern architecture, of functionalism, of brutalism. Perhaps because this is the aesthetic I grew up with, which surrounded me in my childhood," Maria Svarbova explains, "I am attracted to minimalism and its clean, perfect lines. It is a type of architecture that allows me to create cinematic scenes, as if in addition to the scene frozen in the photo you can always imagine a before and after."

Finally, there is water, a recurring element when the subject is swimming pools, often taken for granted. In reality, this is where much of the work takes place. "Water and its reflection are very interesting, you can do great work with the reflections generated by water, especially on symmetries. Water is a mirror for people and their souls. And I am always struck by the calmness of this element."