Vincent Fournier is the photographer who, more than many others, has dedicated his projects to researching and documenting the utopias of the past. He has done so with a certain nostalgia because these utopias were rarely achieved but they however had an enormous impact on the social structure of many areas of the planet.
Among his photographic projects, there is "Brasilia", with the great dream of building the capital model of the future in record time. Then there is the "Space Project" – a work that is still in progress – dedicated to the Nasa projects to conquer the Moon and Mars. Finally, there's the "Kosmic Memories" project, for which the photographer travelled through the former USSR countries in search of the architecture with which, between 1950 and 1980, the regime wanted to convey to society a certain idea of the future through the utopia of conquest of space.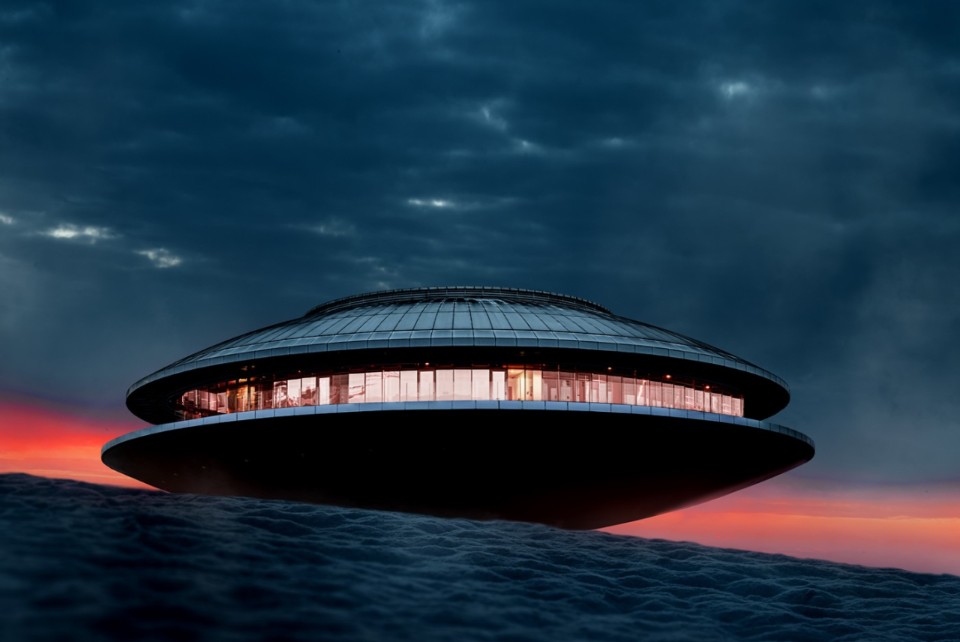 Buildings, monuments, sculptures, memorials - everything served as a way to show that the future could be elsewhere and that the empire would get there. It is precisely this dimension of possibility that made it a political and social utopia.  
"My fascination with utopias is linked to childhood memories," says Vincent Fournier, "I used to watch films with flying cars, I used to live with the idea of exploring other possible places, in other possible ways. Certainly, as far as Kosmic Memories is concerned, my dreams got intertwined with what I lived at home, as my parents were communists and I grew up with a certain idea of that social utopia".  
In the last twenty years – between fashion and real interest – buildings in former USSR countries have been a destination for many photographers – brutalism, exposed concrete, obsessive repetition of forms and volumes. But in Vincent Fournier's pictures, there is more than just the pursuit of this aesthetic power. "It is something more conceptual," explains the photographer, "I like the idea of projecting into the future, it is something necessary, building with a future time in mind and reaching a different place. This idea gave rise to all those buildings, sculptures and monuments with such singular shapes. All of them were created by different artists or architects, which is the reason why no two buildings are the same. Artists and architects were given carte blanche, and they expressed themselves".
To make Kosmic Memories, Vincent Fournier visited the countries of the Soviet Empire that were not entirely aligned – he did not go to Russia, but he instead went to Bulgaria, Georgia, Armenia, Serbia, Croatia, and of course Ukraine. "It was not difficult to track down these buildings. In some cases, for example in Bulgaria, I stayed only two days, while I returned several times in former Yugoslavia, each time for about ten days, so that I could have enough time even to find the right light".
It comes naturally to wonder whether these images appeal to those who have lived that part of history, or to those who have known it through family stories. "Today, the younger generations are really proud of these buildings. They haven't experienced communism and they don't have traumatic memories, so they are fascinated by the aesthetic power and this idea of the future that was intended to be transmitted to the society of their parents and grandparents. But when I spoke to some older people in Armenia, they told me that they wanted to forget that period, that world, that model of life. This architecture often commemorates violent battles, these are places laden with a rather painful memory".
And on the other hand, why are we fascinated by them? Why are there Western, French, American collectors who ask the market and the galleries for these works? What emotions does this kind of photography provoke? 
"It is the idea of a promise of a better, brighter future," says Fournier, "from these photographs emerges a confidence in the future that at this moment, in the West, almost does not exist. We feel a projection toward the future that can fill the present. The paradox is that our future is linked to technology, which certainly can make us stronger, more beautiful and could make us live forever, but we find nothing fascinating in it".
Other people find in this series of photographs a somewhat damaged image of modernity that was obsolete at the time it was created, and even naively propagated through these kinds of buildings and sculptures. "With these photographs, I wanted to accentuate a sense of melancholy. During the shooting, I tried to use very low light, and snow is often present. I wanted something pictorial, something related to the sublime of nature. This is the most touching aspect, the moving side of this story".
Kosmic Memories also includes many monuments and sculptures, commemorative elements of an era. "On the other hand, when it comes to the vision of the future, the line between building, monument, and memorial sculpture can become really thin. Everything ends up revolving around the same imagery, which is why I photographed these elements and kept them together in the story".
Space Project and Kosmic Memories tell of two different, perhaps complementary utopias – the first is scientific, the second is political and social. "Kosmic Memories is the utopia of a society project," explains the photographer. "Space Project tells the story of the desire to leave the Earth to reach space. But these utopias have one thing in common because all of us have always had the desire to look at the stars and perhaps to reach them. It is our collective dream".
Opening image: Vincent Fournier, Kosmic Memories, Tbilissi, Georgia 2022