London, Jubilee Line, North Greenwich stop. 
Just outside the underground station, one only has to take a few steps on the main square to notice, in the distance, a splash of colour standing out among the metallic grey of the surrounding ultra-modern buildings.

A contemporary, walkable artificial rainbow. As you approach an abstract, digital geometry emerges, a pattern articulated in flashes of white light and primary colours.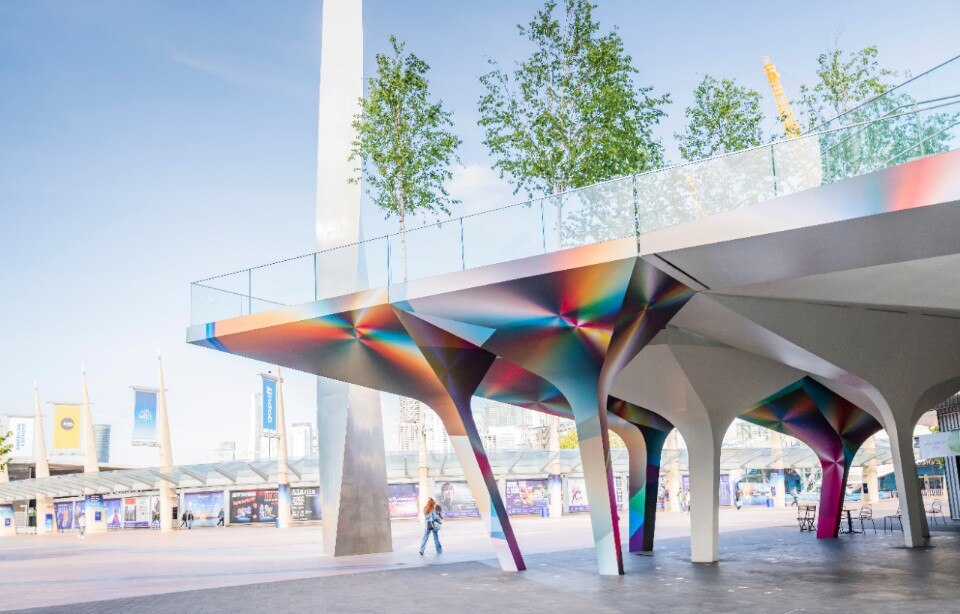 Quick Tide is the first UK based commission by Argentinian-Spanish artist Felipe Pantone. Unveiled last 6 May, it is free to visit at the Greenwich Peninsula: 48 acres of public open space still in development close to the brand new Design District. The Penisola is also home to the NOW art gallery, a free, public exhibition space for contemporary art, fashion, photography and design. 
The installation, a mix of transparent and opaque vinyl playing with the changing perceptions of colour and light, entirely covers the elevated facades of The Tide walkway which, once completed, will connect the seven boroughs of the Greenwich Peninsula.
Designed by Diller Scofidio + Renfro in collaboration with Neiheiser Agyros, The Tide consists of a network of public spaces and incorporated gardens. Through regular commissions to international visual artists, including Yinka Ilori and Liz West, its outdoor space is constantly being transformed and reimagined. 
"People taking pictures and drinking iced latte on the steps of the Tide don't know they are sitting on a work of art", I thought. And perhaps that is precisely the point of public art and street art.
Not surprisingly, the first memory Pantone shares with me dates back to the years he spent on the street, in Spain, when his parents had a stand on the seaside. From Argentina he flew to Spain with his family at the age of 6. Four years later, he moved there permanently. "I was hanging out on the streets all day, immersing myself in the hip hop culture, dancing breakdance, meeting graffiti artists", he recalls. And without even realising it, "like a game", he started doing graffiti, for fun and because that was already his world, without ever considering or calling himself a street artist, just following his interests.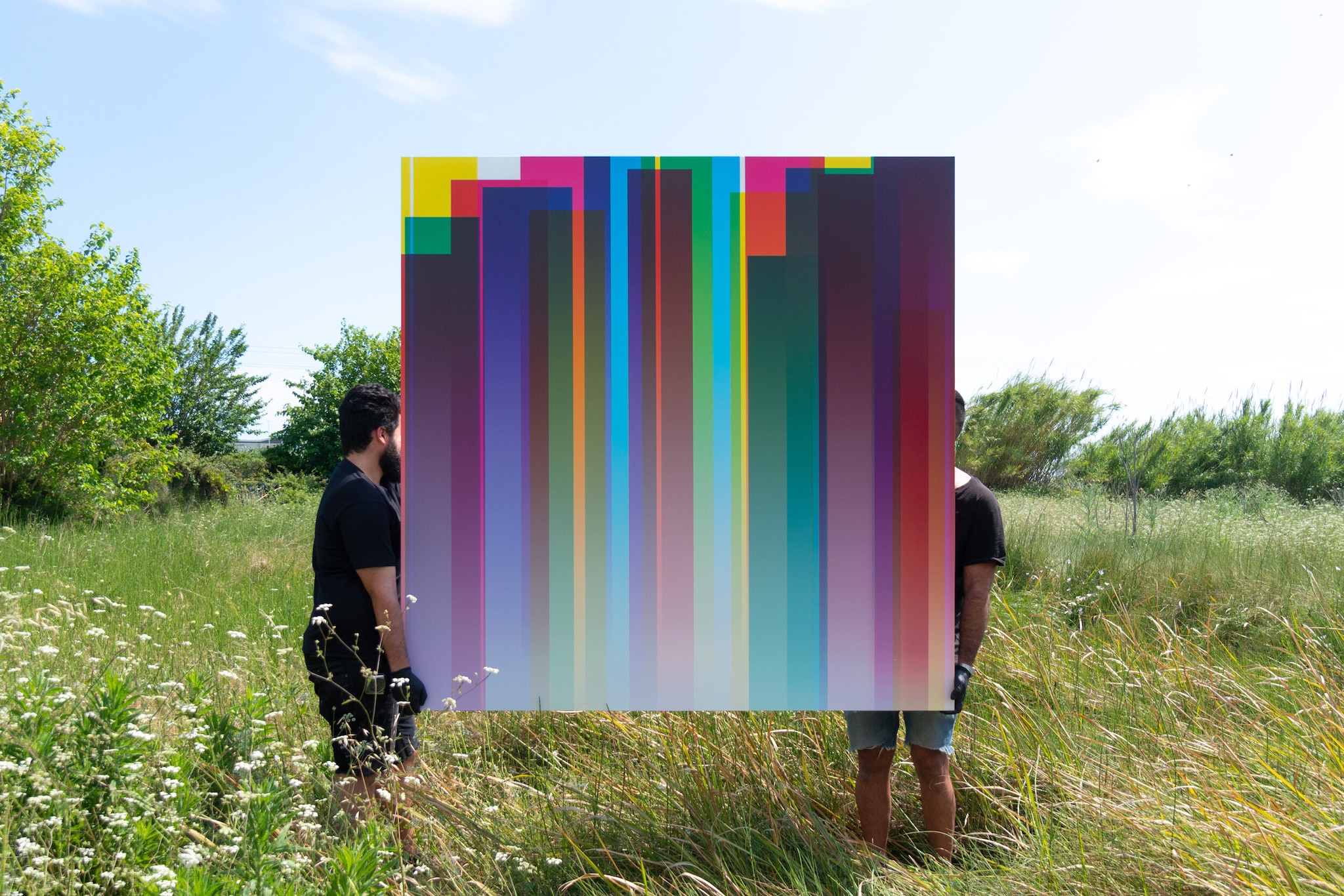 Years later, he trained as a painter and graduated in Fine Art in Valencia. When I ask him whether he calls himself an academically trained street artist or vice versa, he replies that he considers himself simply an artist who has followed his passion for years, and can finally "do his own things freely". Today his studio is in Spain, but he makes works all over the world.

From his words it is clear how grateful he is to art for giving him the chance to travel. "The works I make on the street are not as much about one specific place as they are about a generation, globally. It is a temporal connection rather than a local one. I want to convey a sense of the present and its main characteristics, related to transformation, speed, connection, digitisation". Its very name, Quick Tide, refers to the speed and hectic nature of the contemporary world.
Laughing, Pantone recalls that only twenty years ago people were still using walkmans, "whereas today we carry information about all the things around us into mobile phones in our pockets, always at one's fingertips".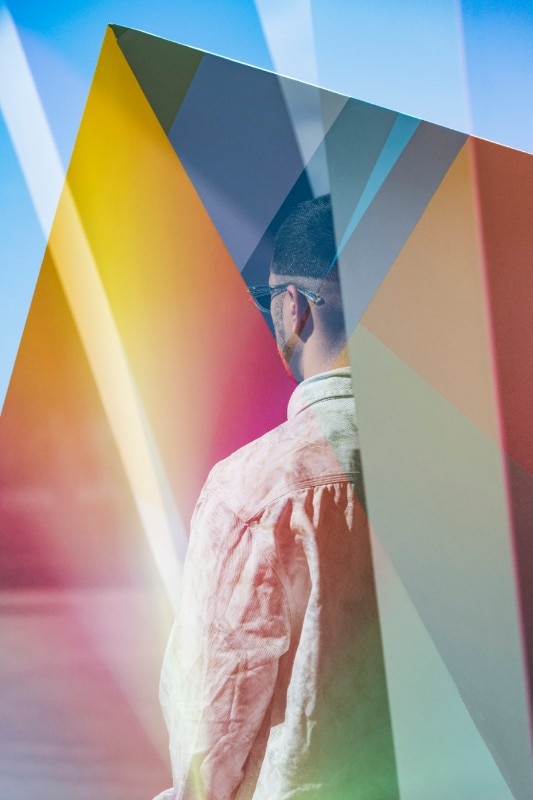 What he loves about London, capital of architecture and technology, is its cosmopolitanism and the ability to attract and connect people and creatives from all over the world. "What I make in Bali is similar to what I would realise in London. At the same time, I feel that it's able to speak to people precisely because today's mentality is calibrated on a global scale". 
Playing with optical illusions is a way to both dissimulate and respond to information technology hyperstimulation and the speed of contemporary society. Concepts that relate to the notion of Kinetic Art. Quick Tide is inspired by two previous works, Chromadynamica and Subtractive Variability, which explore how the shift in the light spectrum affects colour and repetition through the use of neon geometric shapes, optical patterns and jagged grids.
The installation offers new perspectives and experiences depending on the time of day and the position of the viewer. After all, as Pantone says, "Without viewers there is no art". Indeed, they play a key role in his installations: "You have to look inside yourself to find an individual vision, but it is important to connect universally with the world outside. In this way, the circle closes and everything makes sense".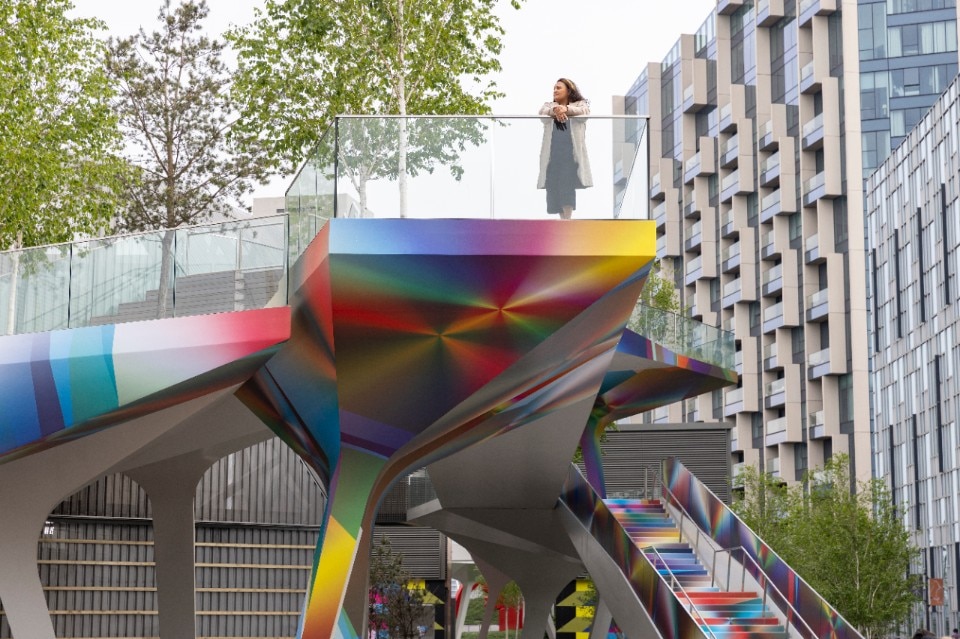 He wants to move away from the notions of static space and dynamic time, to encourage a vision in which "everything that is individual flows together anyway". New perspectives always emerge from the interaction between individuals and the space they inhabit.   
Interviews usually end with a couple of standard questions about works in progress and aspirations for the future. The answers often consist of a more or less detailed list of dates, project titles and pending collaborations. A pile of deadlines from over-productivity anxiety that would make anyone feel behind on their schedule. Fortunately, sometimes the answer surprises. 
I asked Pantone about his dreams for the future, for his practice, for himself. He pondered for a second. Perhaps in his head he has quickly run through what the coming months have in store for him. But he didn't mention that.
"I want to keep evolving, without set goals, or crazy aspirations, just happy to create and discover new things along the way, as I have done so far", he says. And he bids farewell with one last thought: "My dream is to keep growing, in a natural way, like a plant would."
Opening image: Felipe Pantone, Quick Tide, photo Matt Alexander