Let the holidays, the trips, the desired destinations begin! Especially after an almost claustrophobic year and a half full of great difficulties. An extremely luxurious and sought-after destination, Capri is a happy island that stimulates the imagination of every man and woman from East to West. Even the painting world has been fascinated by it. John Singer Sargent, an American artist who studied in Rome, Florence and Paris, conquered his style and his pictorial evolution thanks to the trip between Naples and Capri on which he went in 1878.
There, he met a group of artists from whom he learned a new, bolder and truer style, with brighter colour solutions: Mariano Fortuny, Antonio Mancini, and Francesco Paolo Michetti. It was a very fruitful trip, and the island was the main subject of his work. However, he did not paint the usual landscapes nor the classical views, as he focused on glimpses, details, moments of life and above all people – especially women.
The female figure had been a source of great inspiration for his entire career. He devoted numerous portraits to noblewomen in fine evening dress, but during his stay, he got tired of this idea. He met different women, which made him move from the idea of a mundane and worldly to an even simpler one. Head of a Capri girl is in this sense his most emblematic and perhaps most complete work. A careful and interested study from which an unusual story unfolds. A girl with a dark, olive complexion, her hair gathered up in a red headband in stark contrast with her very light white blouse. Large oriental-looking earrings decorate her face, which is painted by the island sun. The girl is portrayed almost as if it was by surprise: she looks annoyed by the curious gaze of a foreigner trying to capture her face, her image, her arrogance and freedom. 
The sea seemed to be of little interest to him as well as the numerous fishing boats he saw every morning. His focus was on Rosina Ferrara. The young woman became his favourite model. He dedicated a series of twelve paintings to her in which she was portrayed in different moments. The girl's grace, unconventionality and above all her oriental charm caught the attention of many painters, but most of all that of Sargent. In the painting Rosina, Capri, Rosina is portrayed dancing the tarantella, a traditional Neapolitan dance, on the terrace of a characteristic house on Capri, while a friend of hers is playing a small tambourine. The scene is full of seduction. Charm, lightness, gaiety and an almost voyeuristic point of view make the scene exciting.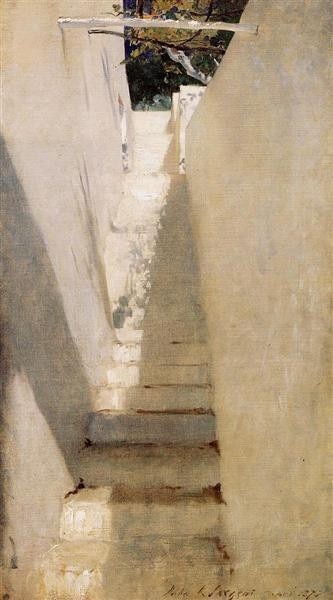 The island constantly amazes the painter, every corner is a source of enchantment. For his canvases, he chooses corners where light and shadow recreate the same architecture, as in the painting Staircase in Capri. The lines are simple, clean, almost poor, but the colour white, typical of Capri, embellishes every place and the sun plays in its favour by enhancing an almost absent chromatic form. Curzio Malaparte, an Italian writer from the first half of the 20th century, described the island as follows: "Ischia is Virgil, Capri is Homer". An island out of time and, by nature, out of space.
Opening image: View of Capri, John Singer Sargent. Oil on Canvas, 1878.