This article was originally published on Domus 1057, May 2021. 
"I first met Walter in downtown New York. We had lunch on a cold winter afternoon." With these words, Doug Aitken – an artworld star anointed with a Golden Lion at the 1999 Venice Biennale – describes his first encounter with Walter De Maria, the 20th-century art legend who died in 2013. Aitken's simple but eloquent recollection conveys the sense of closeness between the two Californian artists born more than 30 years apart. Although different and diachronic, their artistic paths are similarly bound to a concept of frontier, of land to be conquered and explored, which almost certainly originated from that outlying stretch of the Western world known as the epic Wild West. "I'd always been aware of his connection to music, as in his 1964 percussion piece Cricket Music," continues the now 53-year-old Aitken, passing from his personal memories to an analysis of De Maria's work. 
 "To me there is a complete connection between Walter's interest in minimalist music and the land art and minimalist visual art he created. I always thought Walter's work was very rhythmic and pattern-based. To me it was visual music. It was as if some of his sculptures, like The 2000 Sculpture or The Lightning Field, were a series of musical notes transformed into physical objects and placed so that their repetition would open up time." The Lightning Field, De Maria's most important and best-known creation, is intricately connected to concepts of time and space. 
Completed in 1977 after several years' work, it is still in place thanks to the Dia Art Foundation, which commissioned it, and the backing of sponsors such as Gagosian and Prada. Consisting of 400 stainless steel poles between 8 and 4.5 metres high, which are stuck into the ground at regular intervals of about 67 metres, the work forms a grid array covering 3 square kilometres in the remote New Mexico desert. Embracing a much-practiced desire of the 1960s and 1970s to free art from the confines of commercial galleries, this land sculpture has acquired legendary status, partly because relatively few people have actually seen it. The Field is nearly three hours' drive from the state's most densely populated city of Albuquerque, and is open to only six visitors at a time for just a few months of the year. Visits must last 24 hours, with visitors spending the night in a nearby cabin; no photographs or filming are allowed.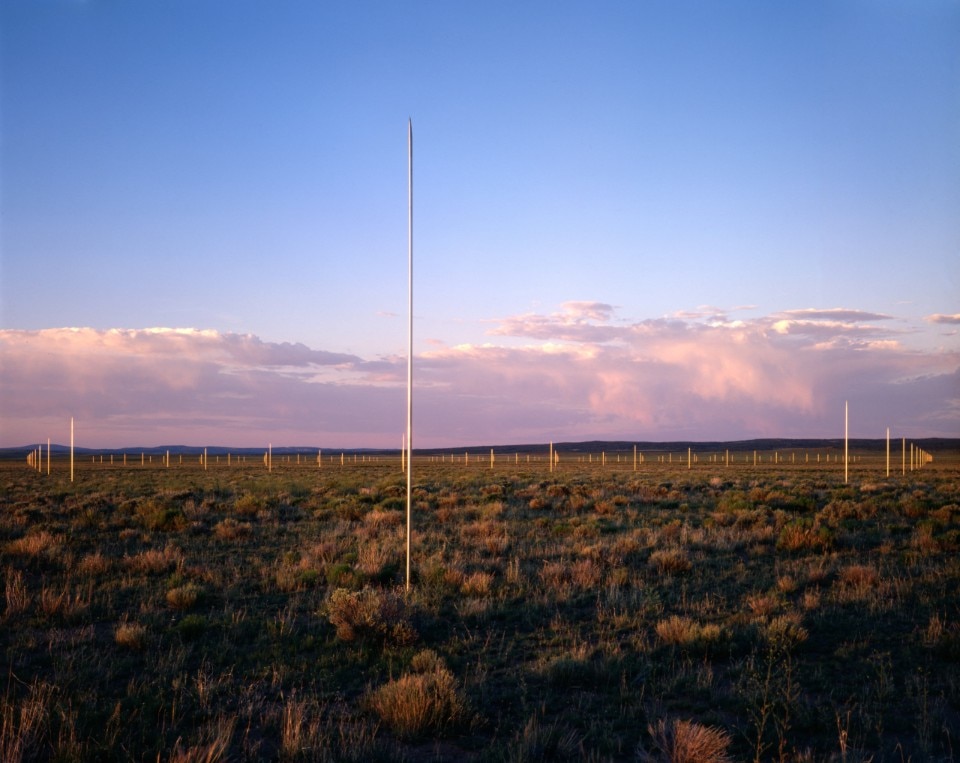 Any art lover, whether professional or simply impassioned, will be familiar with it as one of the prime examples of Land Art mentioned in art history manuals, and because oral and written accounts by those who have seen it often adopt the tone of an epic undertaking. Its aura has also been fuelled by the most published of the few official pictures in existence: those taken during a thunderstorm, reinforcing the work's name and nature as an amplifier of lightning (not actually a frequent local occurrence). 
...De Maria sought ever larger canvases, and after the publication of the first photo of Earth taken from space, he developed the idea that our planet is an object on which to work and draw.
The distinguished visitor Germano Celant reconstructed his first visit in issue 606 of Domus in 1980, saying that the work manifests its temporal dimension in the extended period of its creation and permanence. In his view, this dilation of time highlights the analogy in land art between amount of space and amount of time. Space and time are the cornerstones of this "primary experience", as De Maria described the action of walking around and inside the grid of poles over the span of a day, and seeing them appear or disappear from view depending on the perspective and incidence of the sun on their metal surfaces. Looking and walking is the rhythmic procedure that visitors can still adopt to experience the artist's attempt to structure the passing of time within a geometric grid, which in Aitken's words is basically a pentagram. 
The installation is a compelling attempt to superimpose a pattern of delimited spaces on the uninterrupted flow of nature, which, according to the American sociologist Camille Paglia, is the modus operandi of all Western art. Managing vastness, if not the immeasurable, was certainly the ambition of pioneering "earthworkers" such as De Maria. Capturing the mindset of an era when there was no stigma attached to the desire to dominate nature, Celant observed how De Maria "sought ever larger canvases, and after the publication of the first photo of Earth taken from space, he developed the idea that our planet is an object on which to work and draw".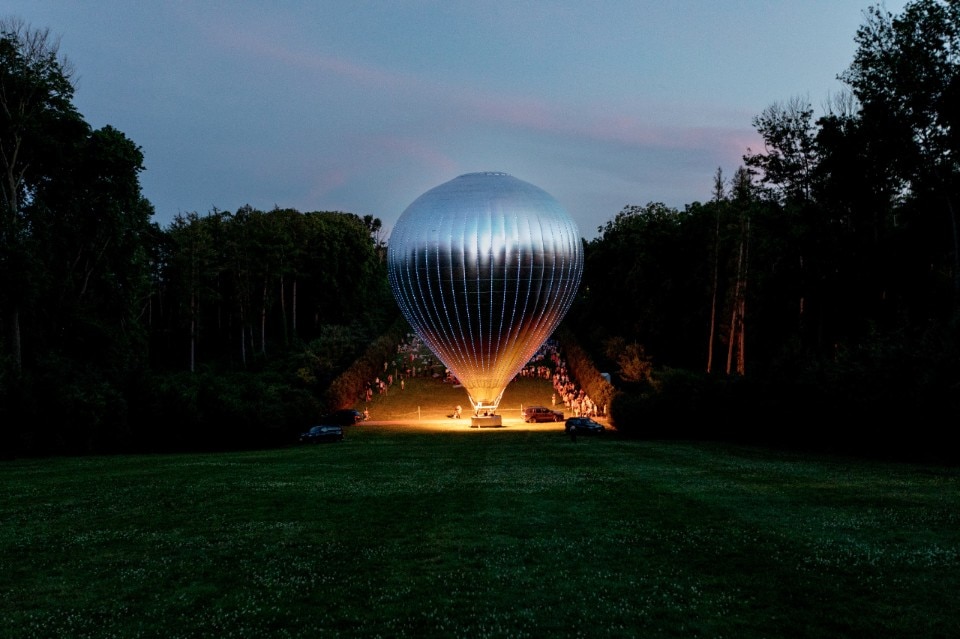 For his part, Doug Aitken has long been formulating what could be described as an update of land art apace with changes in culture and awareness since the 1970s, passing from an anthropocentric to a more eco-centric approach. His intentions resonate with a collective attempt to strike new balances in the human-nature relationship, expressed through an artistic production aimed at creating living systems that transform over time. Regarding his (dis)continuity with the originators of land art, the artist says: "From Nancy Holt to Robert Smithson or Michael Heizer, these were individuals with specific and mythic visions.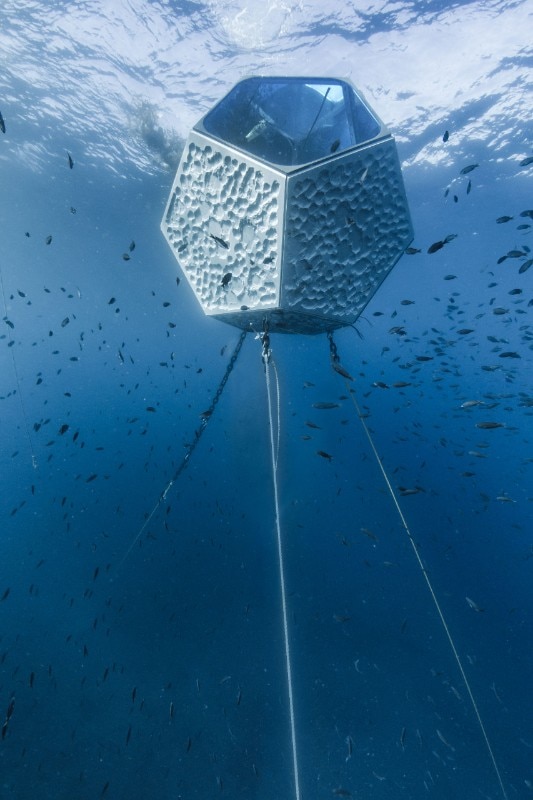 I've always been interested in this work, but at times it also feels monumental and imposing (…) I wanted lightness and transformation. I was interested in art that could create living systems, that could change over time. Art that could become pulses and beacons of experience, that would burn hot for a short period of time, or works that were physical encounters that were inserted into the landscape." He achieved this objective with works such as New Horizon (2019), a wonderful reflecting balloon that multiplies views of the landscapes over which it flies; Underwater Pavilions (2016), a series of sculptures that Aitken moored to the ocean floor to raise awareness of the beauty and fragility of the marine ecosystem, and temporarily becoming an integral part of it, unlike De Maria's imperturbable, rustproof poles.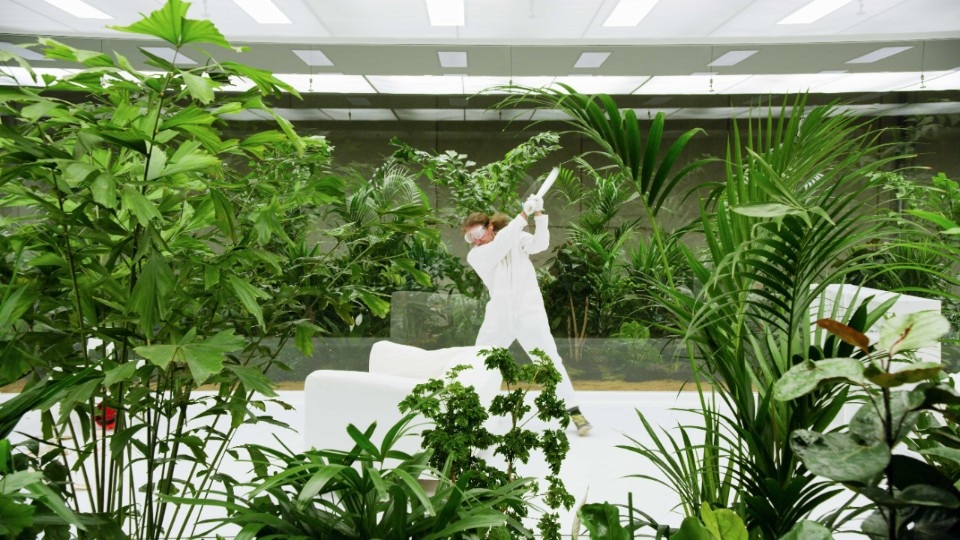 And The Garden (2017), a tropical indoor oasis containing a large, transparent, sterile solid that houses archetypal furnishings. Onlookers can decide whether to contemplate the installation from outside or activate it by entering one at a time, where they are free to destroy everything inside, without tarnishing the surrounding nature. It is a mise en scene of human alienation when communication with nature is erased or interrupted. 
The paradigm shift between land art past and present clearly emerges in the comparison between two particular works by De Maria and Aitken. At Documenta in 1977, De Maria sunk a 1,000-metre-long brass rod into the ground of Friedrichsplatz in Kassel, Germany, where it will remain forever.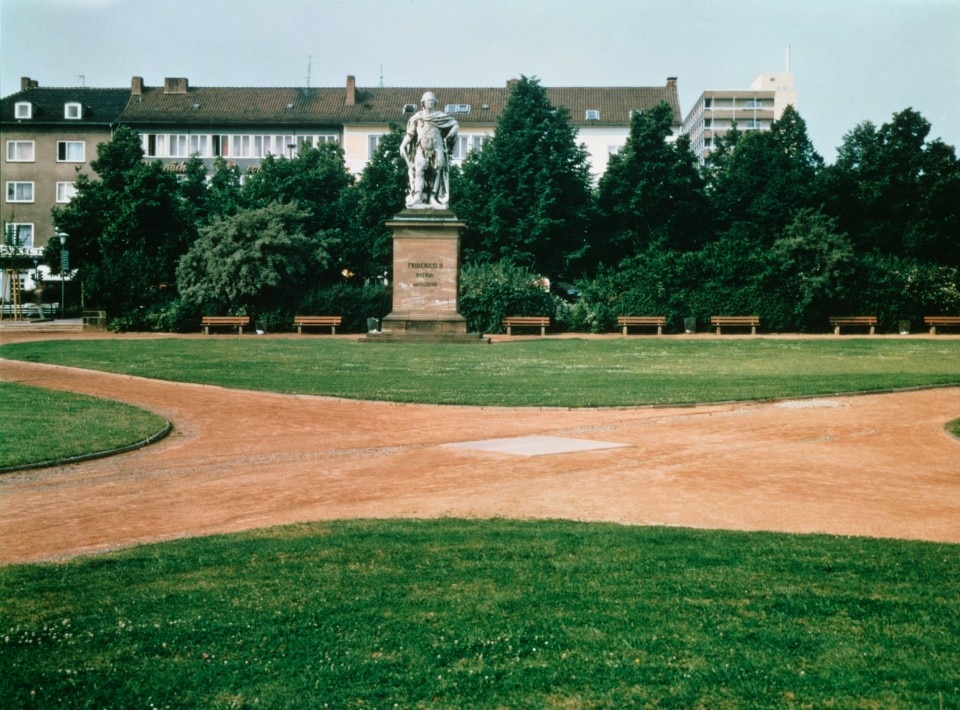 The Vertical Earth Kilometer is a symbolic penetration of Mother Earth which saw its evolution in the far less testosterone-fuelled (including in the elimination of the definite article) Sonic Pavilion, created by Aitken in the Brazilian forest 30 years later. In it, visitors can listen to the sounds of the Earth, captured by a probe inserted to a depth of 200 metres. The elderly De Maria was fascinated with this empathy machine that puts humans in communication with the planet, as Aitken recalls: "Later on, after our first meeting, when his health was failing, he said to me, 'Doug, if I could travel anywhere right now I would travel to Inhotim in Brazil to see your Sonic Pavilion. That is the one work that I really want to experience in person.' Without having seen it, he talked about the idea of how the Sonic Pavilion taps into the Earth and creates a living soundscape that is continuously changed by the movement of the planet and its geological plates. I think we shared an attraction to activating art and bringing the viewer into the visceral present."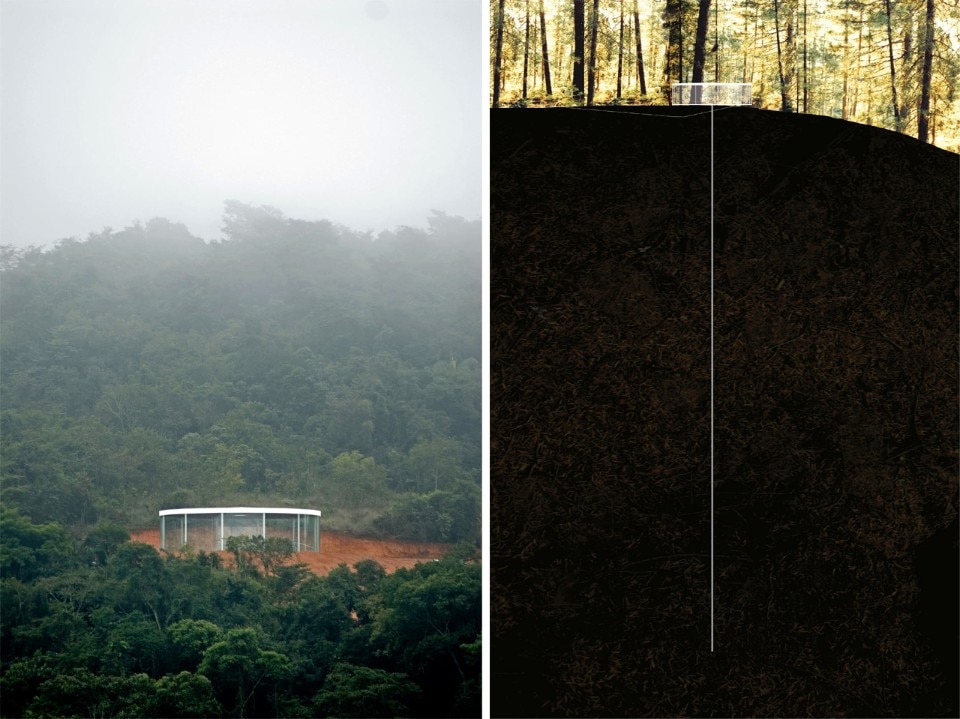 Like all artists with talent and vision, Walter De Maria and Doug Aitken both convey an acute awareness of passing time, reacting in the two ways possible: by trying to lend a circumscribed, often monumental, form to the temporal flow; or by seeking to resonate harmoniously with it, as for centuries in Asian culture and recounted, for example, in Junichiro Tanizaki's In Praise of Shadows (1933). That book marked the symbolic passing of the baton from De Maria to Aitken, which occurred at the end of that first meeting in New York: "After lunch I gave Walter a copy of this amazing essay on life reduced to the essence of small daily patterns and the quiet magic in everyday life."
Caroline Corbetta (Milan, 1972) is a contemporary art curator, author and cultural journalist. She is founding director of Il Crepaccio, an art showcase opened in 2012 which became a digital kunsthalle in 2017. She has contributed to Domus, Vogue Italia, L'Uomo Vogue, Ventiquattro (Il Sole 24 Ore), Rolling Stone and Mousse.
Opening image: Walter De Maria, The Lightning Field, 1977. Photo John Cliet - The Estate of Walter De Maria. Courtesy of the Dia Art Foundation, New York.