Michael Heizer's large-scale sculptures, once located indoor recall a mediated reunification with a distant terrain, increasingly primordial. The American pioneer, who was born in California in 1944, eschewing the commercial art market in the Sixties, took the art experience out of the apodictic gallery spaces and placed it in the landscape, using the earth as his expressive channel and canvass. Actually, inside Gagosian Le Bourget, of about 1,650 square meters on two levels, Heizer just introduced monumental artworks such as those that had inaugurated the gallery, for instance the Morgenthau Plan by Anselm Kiefer. This exhibition space is probably one of the most befitting throughout France: monumental enough to be transformed by Heizer.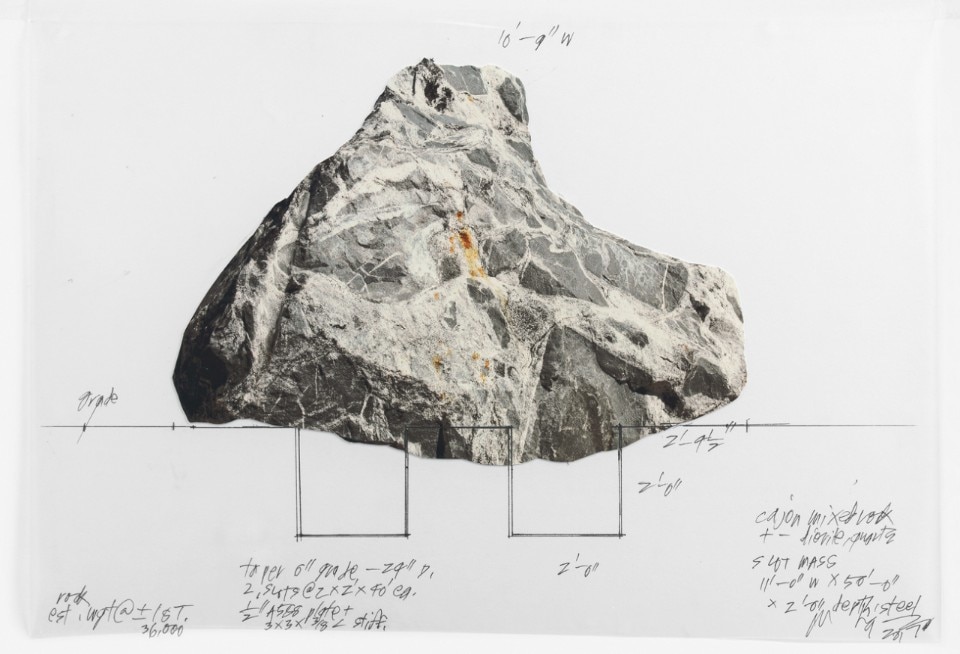 Michael Heizer, Slot Mass (section drawing), 1968–2017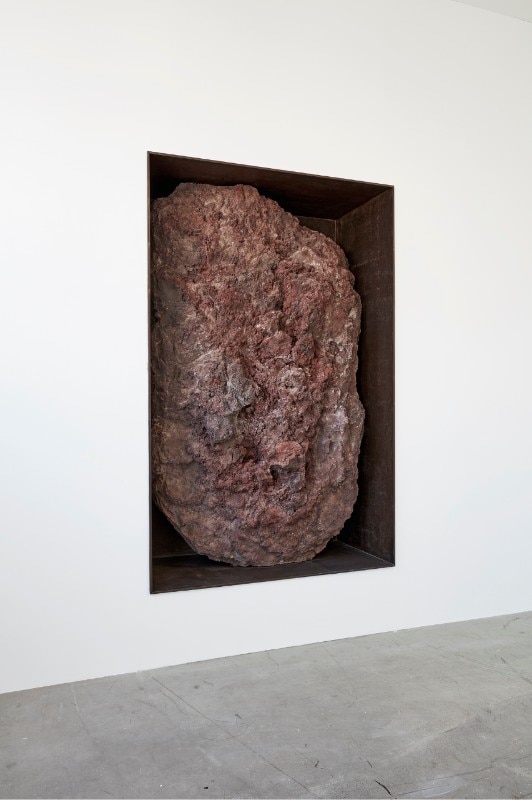 Michael Heizer, Scoria Negative Wall Sculpture, 2016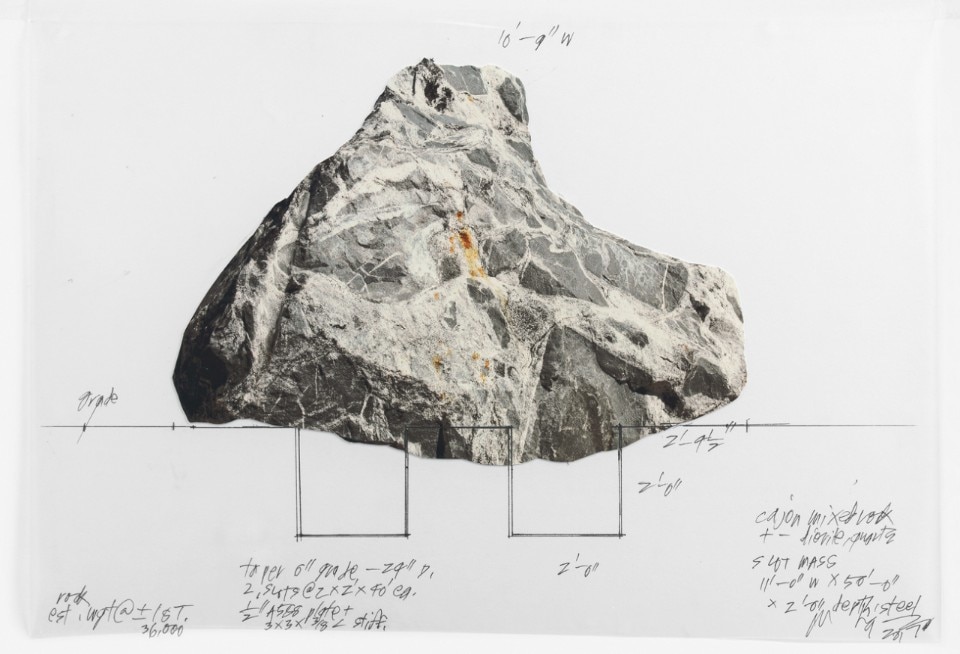 Michael Heizer, Slot Mass (section drawing), 1968–2017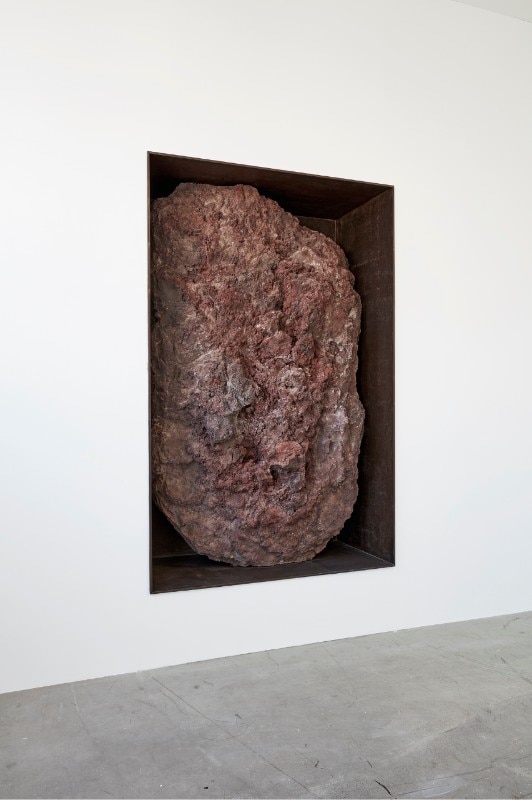 Michael Heizer, Scoria Negative Wall Sculpture, 2016
The gallery is located near Paris Le Bourget Business International Airport and was designed by Jean Nouvel, with the collaboration of HW architecture. It features a 340 square meter loft to exhibit large scale works including sculptures, paintings and many other artworks. This industrial building, dating from the 1950s, offers a space unprecedented in its history. The natural light from the sheds, properly sloping glass roof panels, is complemented by the architect's lighting-system-design which, like the rest of his contribution, was created in a minimalist style.
Albeit he always worked largely outside the borders of galleries and museums, Michael Heizer at Gagosian Le Bourget installed a massive sculptural installation and paintings emerging in terms of size, mass, gesture and process. Artworks are dating from 1968 to the present, precisely to 2016. During those years, in the late 1960s, he relocated to New York, while continuing to travel and live in the open terrain of the American West, where he has since created mighty artworks hinged on skimming and getting through the status quo of impermanence.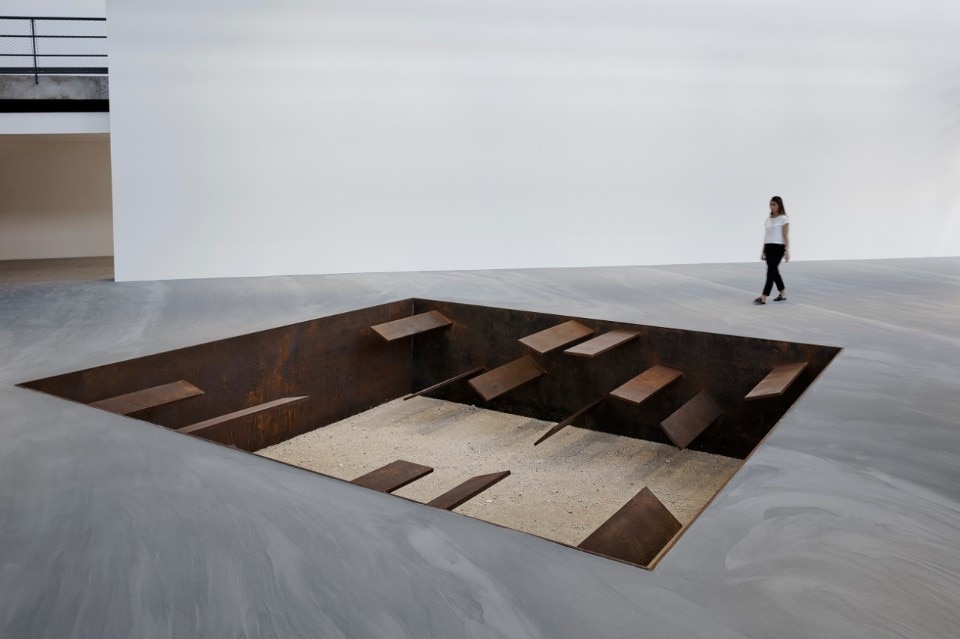 Heizer draws on both ancient and contemporary architecture and art, cultivating tons of materials, including dirt, rock, and steel, in his quest to create a permanent American art. These influences are, necessarily, present in City, the vast land sculpture in Nevada that he has been building continuously since 1972.
At Gagosian Le Bourget, Michael Heizer installs and amplifies one of his historical intervention realized at Stateline, Nevada, in 1968, and then dismantled. Ciliata (literally meaning with eyelashes, from Latin) evokes once more the potential impact of the negative space created by the displaced gravel. Exactly like in 1967, in the essence of this work, Heizer was experimenting with a new kind of sculpture made also of air, where the artist is merely a conveyor or framer of what is already there in nature. Archaic and somewhat metaphysical, this three-dimensional detection represented a pivotal turn in his early career, though this particular work remained unfinished. Today Cilia appears immense, monumental compared to the original installation photos, outlining a squared hypogeous sharped quasi-snare, containing jutting wooden protuberances like the cilia of a cell.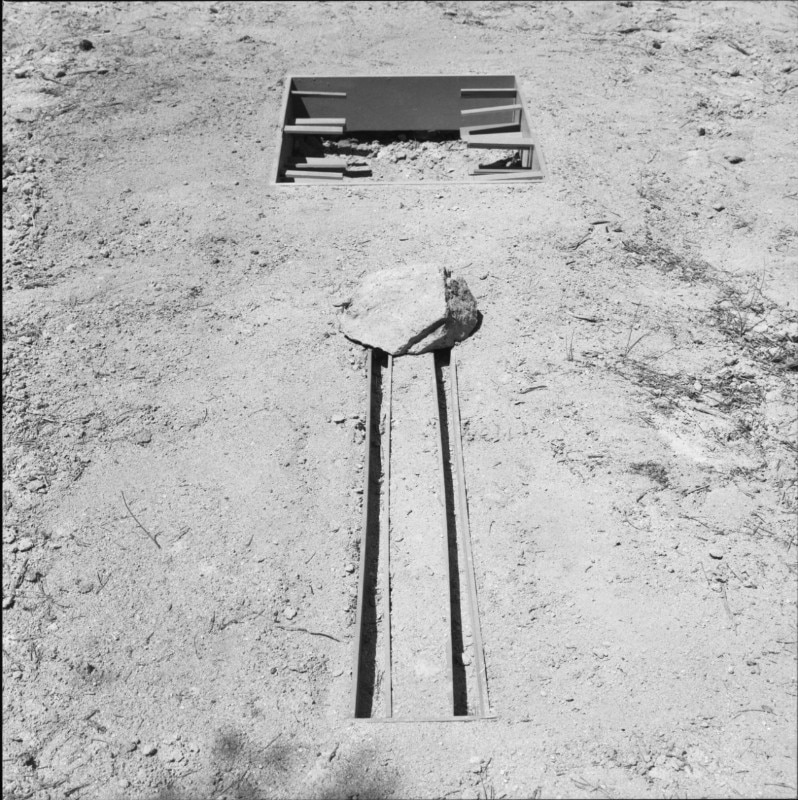 The adjacent Slot Mass comprised parallel descending tracks cut into the ground. The negative forms undergirded a rock that rested on their deepest end. Slot Mass was the precursor of Levitated Mass, a sculpture Heizer originally attempted to make in 1969; a larger version of Levitated Mass was permanently installed in 2012 at the Los Angeles County Museum of Art. Both Ciliata and Slot Mass were built with wood and earth, and intended to degrade. While today immanent steel versions of both are on public view for the first time at Gagosian Paris, in the identical configuration to 1968, but enlarging their scales. Another of the most ambitious and grand in scale artwork of the exhibition is Scoria Negative Wall Sculpture (2016), a mass of dark vesicular rock tightly encased in a deep steel frame,  set into an adjoining gallery wall, reproducing its positive/negative conformation.
A sculptural mounting  accompanied by three paintings from the 1970s, in geometric shapes and dark and light tones, introduced by archival materials from Heizer's files, including original, rare photo collages, displace inside long vitrines. These documents shapes the speculative aspects, coupled with the artist's secluded, modest life: through them Heizer offers approachable proportions of perceptual disorientation, disequilibrium and even an optical illusion, digging our forma mentis out in order to transcend our idea of transience.
Exhibition Title:

Michael Heizer

Opening dates:

From October 16, 2018 to February 2, 2019

Venue:

Gagosian Le Bourget (Paris)

Address:

26 Avenue de l'Europe, 93350 Le Bourget, France