Castello di Rivoli holds and hosts the first survey exhibition in Europe featuring Iraqi-American artist Michael Rakowitz (Great Neck, NY, 1973), winner of the prestigious Nasher Prize 2020. We had a long conversation with him about practices and approaches voted to enhance pure liaisons.
Your idea of a Modernist Utopia (Dull Roar, 2005) and contemporary indigenous life in Australia (White Man Got No Dreaming, 2008) your obsession for Beatles (The Break-up, 2010 – ongoing) how do they influence your culinary intervention?
Dealing with architecture, it is all about living in a city and thinking about the social connections and the networks of people that really defines cities. In a way, projects about buildings, became even a lot more complicated than searching for new answers to me, when I started to develop a project called ParaSITE (1998-ongoing. Plastic bags, polyethylene tubing, hooks, tape. Different urban sites in New York City, Boston and Cambridge MA, and Baltimore MD). In this case I was creating shelter for each individual responding not only for their needs but also to their desires. It's the person inside a building that is more important than the building itself. And a project about architecture is always a project about portraiture. An extension of the space it's even an annex to the body of a person.
Thus, I started to think more precisely about cities and inspired by Michael Pollan's The Omnivore's Dilemma (2006) I began to cultivate an idea of being together slowing time down, creating a holding-space where people are gathered. That's the kind of way I'd aim connecting all of this works. A sort of a lens, zooming closer and closer and closer to a primal scene, in terms of our collecting history.
The Beatles and The Break-up (2010 - ongoing) have allowed me to work in a non-orthodox way. So, the fact that I could talk about culinary processes and architecture is to find non-expected and experimental parcours. And each of The Beatles album represents a step further away from the previous ones. I admire such a progressing very much.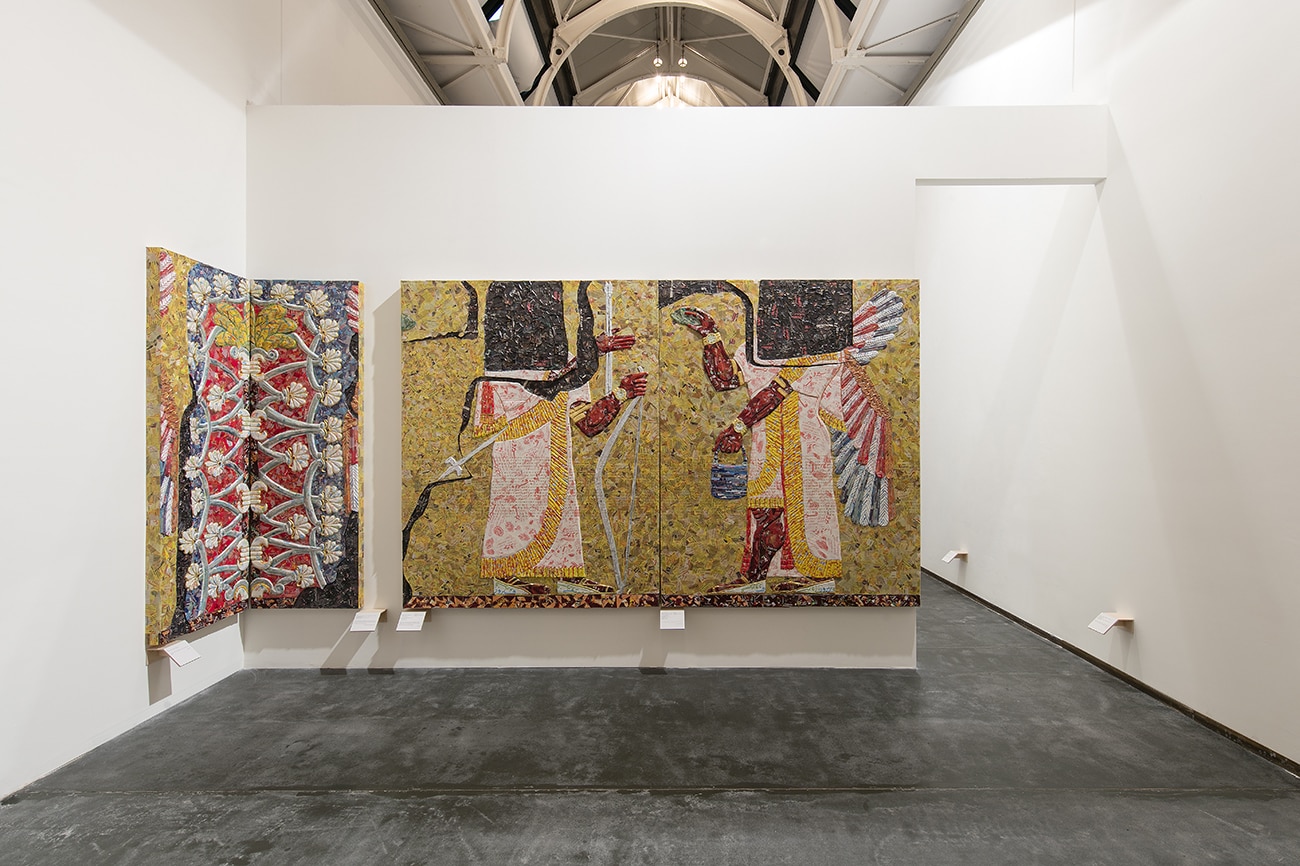 The Flesh is Yours, the Bones are Ours (2015), through a sensitive and empathetic configuration, which kind of conditions or admonishment it enhanced towards human rights, suffering and pain?
That project it was really interesting because it entangled my practice with architecture once again. Moreover, it underlined the relationship I undertake with Carolyn Christov-Bakargiev: I've been working with her for almost 20 years from now. She invited me joining Istanbul Biennale in 2015. At that time, we were both very concerned with what happened 100 years before and the Armenian Genocide anniversary. A fact non acknowledged by the Turkish government.
Carolyn knew that I'm profoundly keen on cities and their crafts, artisans. So, she identified a former French Orphanage, in the Istanbul neighbourhood of Tophane, where there was an atelier run by an Armenian artisan, Garabet Cezayirliyan; a place still operating today thanks to his Turkish apprentice. Having access to that world was a beautiful way, for me, to be able to engage with materials and history through the deployment of fingers and hands. Late memories related to this universe helped me to think about how also Kurdish and Greek artisans represented the manufacturing class of an Empire and they were considered minorities.
The flourishing of Art Nouveau occurred in Istanbul (1870), evolved in the same years here in Chicago (1871), where I live. Such a coincidence let emerge sharing aesthetics intertwined across the globe, in a global pre-industrial era. So, I started to think: if all of the people from Armenian community disappeared in 1915, due to the genocide, how would the city have looked like, if the elements that they made would had disappeared with them? I realized that pieces made by ornamentation plasters where silent witnesses, traces and parts of the Armenian people as citizens of the city, participants of Istanbul beauty. But this work, eventually, it is not simply an admonishment.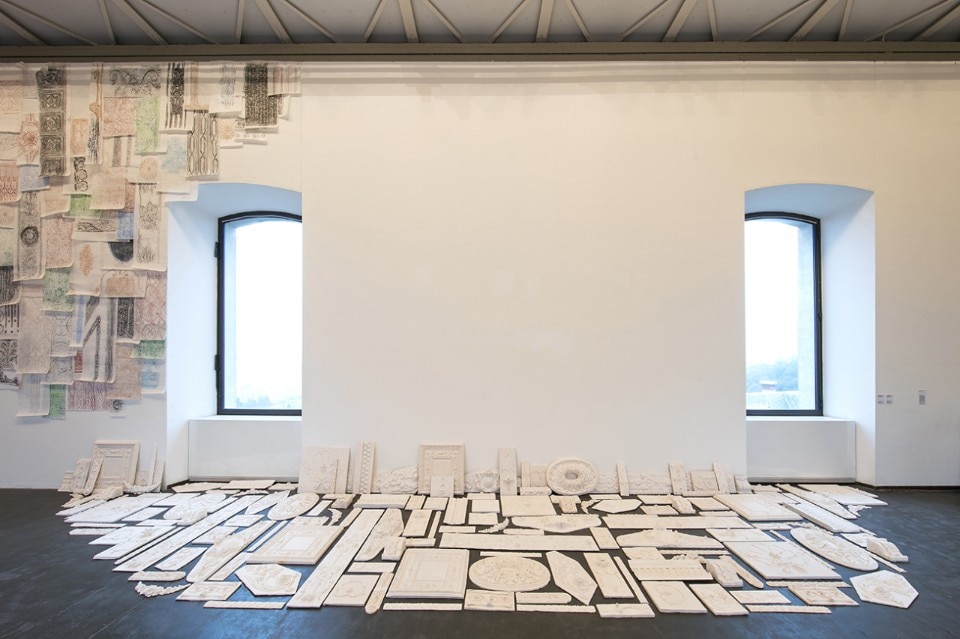 How and when a non-perfect binding does occur?
When Carolyn invited me to have a show at the Castello di Rivoli, what came up to me was how imperfect a retrospective of a living artist could be. When you take one artist's history and pull it together, trying to represent him or her, it's always as if there's something missing. Moreover, I'm an artist always working site-specifically and the works that I make happens in the city where I exhibit.
Even the term 'imperfect binding' became site-specific in Turin, when why Carolyn invited me to develop a project for the Cerruti collection. I was very amazed on how Francesco Federico Cerruti introduced the 'perfect binding' to Italy, he was responsible for making the phone books. I commissioned Luciano Fagnola, a master crafts bookbinder and friend of Cerruti's, to rebind a Hebrew and Arabic-Jewish prayer book printed in 1935, belonging to the dispersed Iraqi Jewish community, from which my maternal family comes from. Indeed, I have a personal archive about Iraq Jewish Community, which is now disappeared, an archive which has been growing during the past 20 years.
So according to Jewish tradition, even though damaged volumes should be buried. That's why I brought my own book to Turin to repair both their words and generate a new artwork from memories and collaboration with a binder. I had to rescue that books, and the idea of perfect binding is an attempt to be perfect, but once you realize it you will automatically fail. So, there's no perfection, exactly as the wounds, the scars on that book reveal.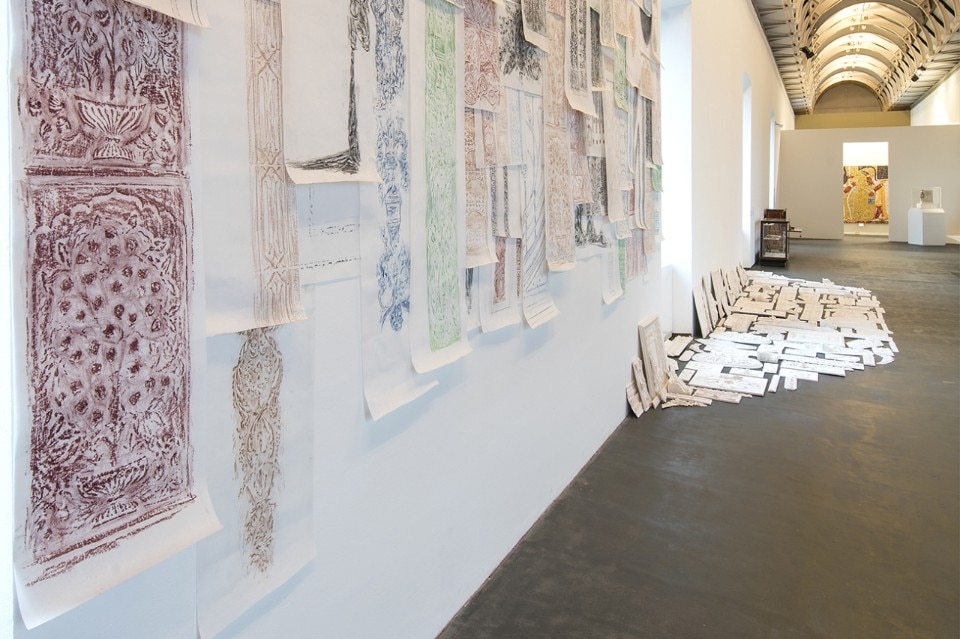 Between Whitechapel and Castello di Rivoli spaces, which kind of invisible bridge does "Imperfect Binding" is drawing into your career and why?
In London, I loved the way the exhibition related to the neighbourhood's history. There are so different immigrant groups today. While once it was a Jewish community area, now there's a large Muslim community living and working. It shows an evolution of the population. When my gran parent fled away from Iraq he established in London. And for me, showing there represented a return, a bridge with my past: I may say that I found Iraq outside of Iraq.
Moreover, Whitechapel spaces are ground level and tube station runs through the building, interrupting the exhibition. Also the Manica Lunga could seem like a bridge, like a train, perfectly subdivided by paper curtains. This could represent in parallel another physical bridge.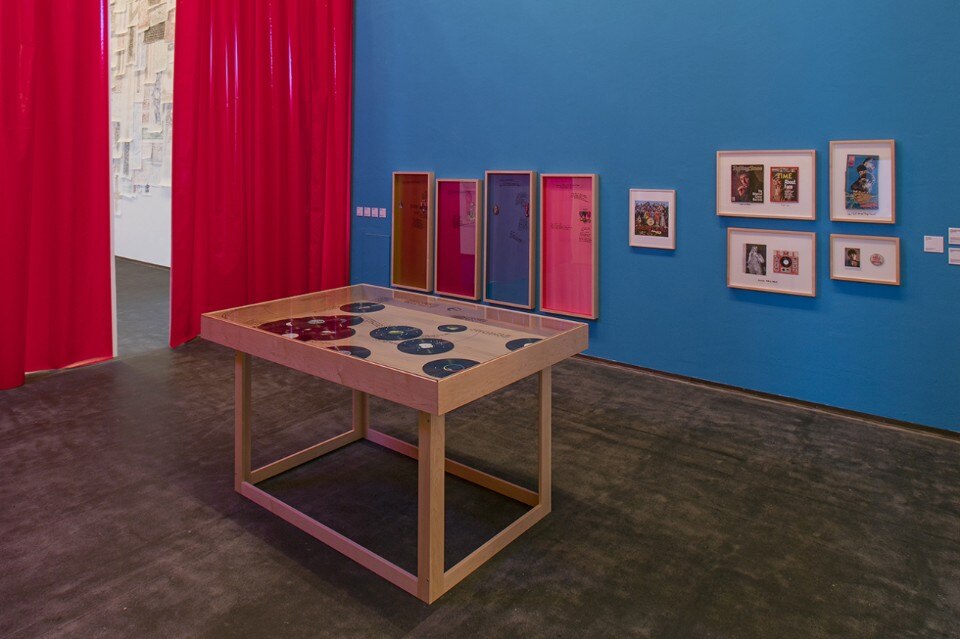 There are bridges also among people I work with: Iwona Blazwic paid a lot of attention to coincidences, broken up while we were realizing the exhibition, very connected to the city of London. In Turin, instead, I had the chance to work with a person who knows my work better than anyone else, from the very beginning. Carolyn made me the possibility, also thanks to Cerruti's collection, to get connected with a project we previously realized in Afghanistan, and of course to my Iraq origins, building bridges between Middle East and Italy. In Livorno, for instance, they were printing and binding similar prayer books sold in Baghdad. It's all about creating double resonances, revealing a promise land of a promise land.
Which kind of definition of time and history will be channelled, conveyed by "Imperfect Binding"? Could you please make some examples, introducing some exhibited works?
Carolyn told me, when we were driving back home, after the night of the opening, a fact about one of my hero: Michelangelo Pistoletto. He came to visit the exhibition and he told her that there were so much time in my works. This made me thinking about my oeuvre in a different way. I started feeling the wefts of time in objects and landscapes, as well as into the non-linearity and the non-chronological way the exhibition takes place at Castello di Rivoli. It's not about an academic research on time, it's an allegory, a process offering me the chance not to be politically predictable. I would always, for instance, to be free to tell the history of Jerusalem in a way that nobody however thought of telling it. I present time as a way for the visitor to construct bridges, going through a weird tour, where people are more allowed to think of it in terms of proximity.
Title:

Michael Rakowitz. Imperfect Binding

Opening Dates:

From October 8, 2019 to January 19, 2020

A show drafted by:

Carolyn Christov-Bakargiev, Iwona Blazwic, Marianna Vecellio

Venue:

Castello di Rivoli, Contemporary Art Museum

Address:

Piazza Mafalda di Savoia 10098 Rivoli - Torino