Today, Montpellier Contemporain (MoCo) is an art ecosystem, ranging from arts training related activities to art collections.The model is unique to Montpellier and encompasses an arts school and two exhibition centres: Montpellier Art School (ESBA), La Panacée, Contemporary Art Centre and, June 29 onwards, MoCo Hôtel des collections, an exhibition centre dedicated to public and private international collections.
Nicolas Bourriaud, co-founder of the Palais de Tokyo and former director of the Paris Ecole Nationale Superieure des Beaux-Arts (Paris School of Fine Arts), suggested combining a school, an art centre and a museum dedicated to international collections. A sustainable model, placing Montpellier firmly within the sphere of contemporary creation, as an international capital of culture. Domus interviewed him to discover such an innovative visual arts ecosystem.
Montpellier turns into MOCO
A Pascale Marthine Tayou's artwork placed in a boutique windowshop, downtown Montpellier
Montpellier turns into MOCO
A collective performance by Enzo Mianès at a little public garden in Montpellier

Montpellier turns into MOCO
Preparation process about a Fabrice Hyber's sculpture
Montpellier turns into MOCO
A sculptural assemblage by Gabriel Desplanque
Montpellier turns into MOCO
An installation by Laetitia Delafontaine et Grégory Niel
Montpellier turns into MOCO
Melik Ohanian exhibited from a Thai Restaurant windowshopping
Montpellier turns into MOCO
Melik Ohanian's work exhibited from a Thai Restaurant windowshopping
Montpellier turns into MOCO
The long installative wall by Mona Hatoum
Montpellier turns into MOCO
The functional intervention by OPAVIVARA'
Montpellier turns into MOCO
the wall applications by Pierre Joseph
Montpellier turns into MOCO
Sabrina Issa's artworks installed in a downtown boutique

Montpellier turns into MOCO
Zsófia Keresztes's sculptural group
Montpellier turns into MOCO
Zsófia Keresztes's sculptural group, a detail
Montpellier turns into MOCO
A sound installation by Collectif Sommes
How the educational, the academic compartment (la Panacée and l'Ecole Supérieure des Beaux-Arts de Montpellier Méditerranée Métropole) will get in dialogue with the collectionism world? How the cultural mediation and cooperation will be enhanced in a single place?
Nicolas Bourriaud: Thinking in terms of ecosystems appears as the only possible way, today, to implement new energies. When I was asked by the Metropole of Montpellier to conceive a new art institution at Hotel Montcalm, I could have stuck to this simple task, and opened a new venue. But when I settled down in Montpellier, I started thinking that this territory needed more than that, and I imagined a chain crossing the city, a multi-functions chain, capable of dynamizing the whole scene through collaborations and invitations. That is how the idea came out. The art school team was ripe to cooperate, and the first step was the creation of a public establishment joining it to the art centre La Panacée, in 2018. Then, to complete this chain, the notion of collection and the structure of a museum was obvious, but it would have been crazy to start a collection from scratch. So, hosting existing ones came as the best option: the Hotel des Collections has a museum structure and spaces, but its storage is the whole collecting world. So, Montpellier Contemporain (MO.CO) is a three-venue art institution. Concretely, the art students from second to fifth year intervene into the activities of MO.CO, from participating to the installation of the exhibitions to curatorial internships, they also follow the lectures and talks programs at La Panacee, and the invited artists always interact with them, for studio visits or workshops.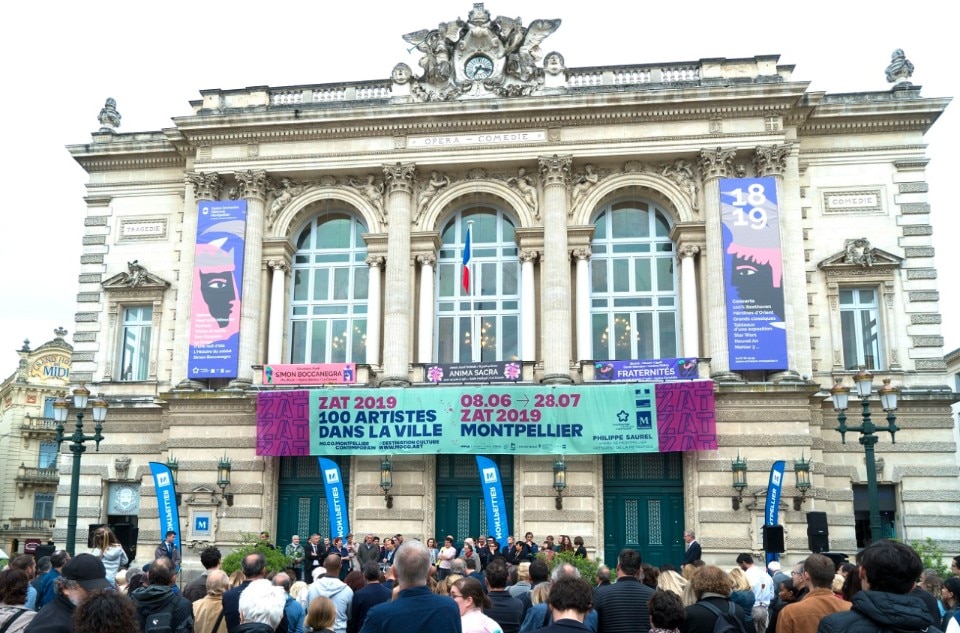 How the territory of Montpellier will be connected with MoCo and how, on your opinion, it could become a complementary institution, a new-generational laboratory creating a net with other entities and organizations voted to art?
NB: MoCo has been conceived as an art block chain, a generator of cooperation at different levels : exhibitions, pedagogy, collections, publishing, media, or connecting local producers or corporations with artists. We already collaborate with other cultural institutions, and we are creating a research centre with Paul-Valéry University in Montpellier, but it can also be shops from the city centre (for the outdoor exhibition "100 artists in the city"), or a partnership with an organic fruit juice producer. But the process is only starting, and MoCo will develop through encounters and 'civil unions'…
Could you please talk about the marvellous MoCo venue, an 2,300 square meters hôtel (etymologically hôte, to host) and how artworks will be displaced or storaged or restored amidst indoor spaces and outdoor surfaces?
NB: MoCo is a deconstructed entity, whose documentation centre resides at the school, its auditorium at La Panacée, its storage here and there. The Hotel des Collections was restored and transformed by PCA-Stream agency in order to fully serve the artists — it is flexible, and the architecture is not too present, as opposed to many other art venues. But, first of all, it is a work in progress, and it will go on generating structuring interventions from artists: as for today, Bertrand Lavier designed the park, he realized this amazing botanical atlas, dividing the plantations in oblique stripes representing the vegetation of each continent. Loris Gréaud also installed a light piece at the ceilings of the bar, and the large glass surface of the entrance will be used as a project space — we started with the young French artist Mimosa Echard.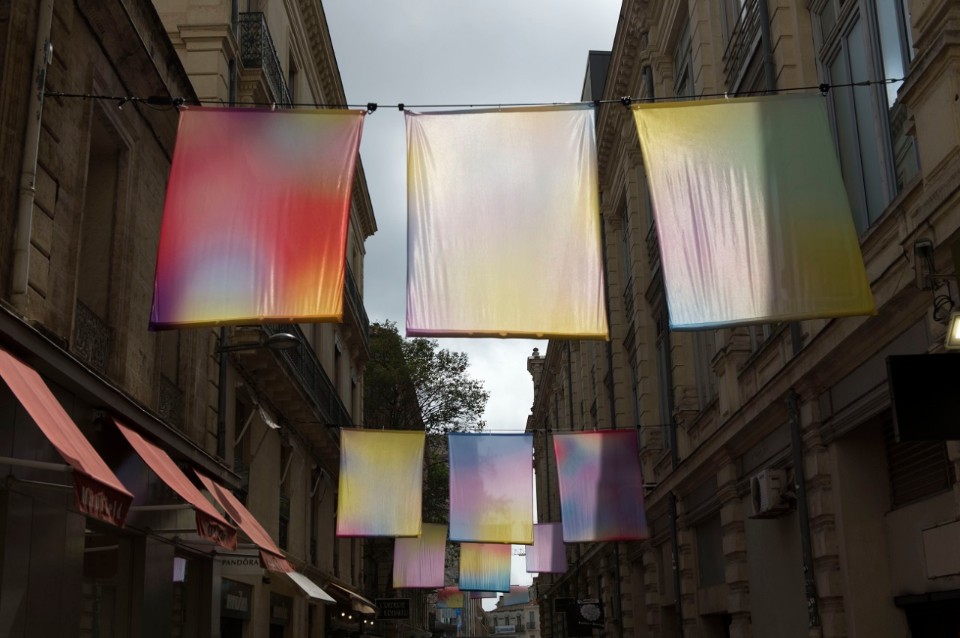 In Switzerland, in Basel Shaulager's mission sounds very similar to MoCo, but which kind of evolution, which kind of 'freeport for freeports' will Montpellier Museum represent?
NB: In a way, our Collections Hostel will be the opposite of a free port: it brings into the public sphere artworks which are generally hidden in the private sphere, or stored by a public institution.
Could you please list three features, three characteristics belonging to private collections adhering to MoCo programs?
NB: Any collection should be a point of view upon today's art, and we are interested either in public or private collectors who develop an idea, or an obsession, or a problematics. Duplicating the list of blue-chip artists is not enough, and we privilege singularity over money, personal or collective adventures. The art market is not our problem.
Which is the first benefit, the first relief, for private collectors joining MoCo spaces and publics? Which is the main argumentation and then the relationship that this museum, as a public institution has to establish with private collectors?
NB: Maybe the first interest for private collectors consists in having their collection scanned, analysed and put into perspective. We only produce curated shows, with a point of view upon the collector's point of view. Yuko Hasegawa curated our inaugural exhibition, Intimate distance, and she stressed upon the Japanese gaze that is really present in the Ishikawa collection. As every collection is also a story, we invite a writer, a novelist, to contribute in each catalogue.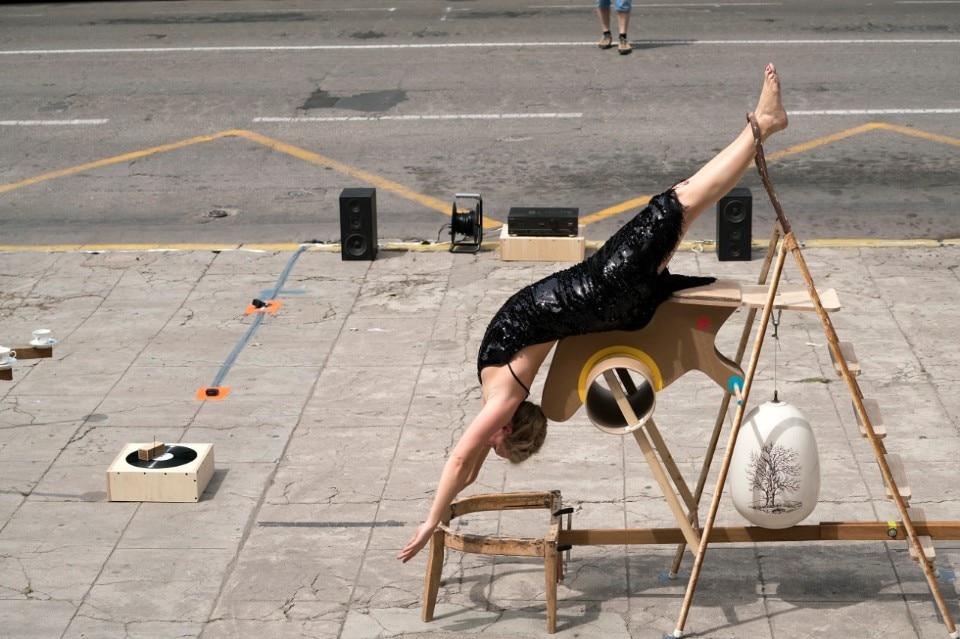 In numbers: 22.5 million euros engaged in MoCo creation which kind of funds, or budgets should entail in the future for its annual maintenance? In percentages, how the private and the public donations/supports will be subdivided?
NB: For the moment, we did not solicit private money for MoCo, and we live on the six-million euros budget provided by the Metropole of Montpellier. We will only need it for development projects: outdoor projects, new buildings in the piece of land owned by the school that could shelter residencies, etc.
For the autumn seasonal re-start, which kind of exhibitions will be opened?
NB: There will be totally different exhibitions: first of all, it is a public collection, but never seen, which has a long story. From the Eighties, the Russian curator Andrei Erofeev gathered an amazing amount of artworks from soviet and post-soviet era, in order to constitute a museum of contemporary art that never saw the light… At some point, Erofeev brought the collection to the Tretiakov Gallery in Moscow, where he worked, but he ended up being fired. Years after, we offer him the opportunity to review his own acquisitions, with an exhibition that will cover this fascinating moment for the Russian art scene, this period of transition with capitalism.
Exhibitions Titles:

MOCO (three venues)

Opening dates:

until September 29, 2019

Directed by:

Nicolas Bourriaud

Venue:

Montpellier

Address:

13 rue de la République