The Museum of African Contemporary Art Al Maaden (MACAAL) in Marrakech is an independent, not-for-profit contemporary art museum. One of the first of its kind on the continent, MACAAL is dedicated to the promotion of African art through its diverse exhibition and education programmes, cultivating the interest of a wide audience base. The museum nurtures an understanding of contemporary art from Africa through collecting and exhibiting established and emerging artists, highlighting the creative energy and cultural diversity found across the continent.
MACAAL first opened in 2016, in time for the Marrakech Climate Change Conference, but in late February this year, the museum underwent something of a relaunch. This was all mostly thanks to the largesse of 30-year-old Othman Lazraq (the son of hotel developer Alami Lazraq, of Groupe Alliances), who serves as MACAAL's president and upon whose family art collection the museum is based. It was a well-deserved moment of celebration: after Zeitz Mocaa (which opened in Cape Town in September 2017), MACAAL is only the second museum on the continent devoted solely to contemporary African art.
Lazraq intends for his museum to function as not just a property investment activity for the golf resort and gated community that it borders but a cultural touchstone for the larger population, who will be bused, for free, from the city centre to the museum for the first month after the opening. MACAAL is their latest philanthropic endeavour, forming part of their charitable association Fondation Alliances.
Material Insanity in Morocco
Cyrus Kabiru (Kenya), Macho Nne: Amboseli Mask, 2017
Material Insanity in Morocco
Cyrus Kabiru (Kenya), Macho Nne: Amboseli Mask, 2017
Material Insanity in Morocco
Cyrus Kabiru (Kenya), Macho Nne: Another Mask, 2017
Material Insanity in Morocco
Cyrus Kabiru (Kenya), Macho Nne: Mount Kenyan Music, 2017


Material Insanity in Morocco
Amina Agueznay, Noises, 2018
Material Insanity in Morocco
Hassan Bourkia (Morocco), Minuit de l'Histoire, I, 2018
Material Insanity in Morocco
Owanto (France - Gabon), Pardonne-moi, 2018


Material Insanity in Morocco
Frances Goodman (South Africa), Roiling Red (detail), 2018
Under the directorship of Othman, MACAAL brings the Lazraq family's private collection of contemporary African art – amassed over the past 40 years – to a broader audience. Founded in 2009, Fondation Alliances is backed by Moroccan real estate group Alliances Group. Beyond MACAAL, Fondation Alliances oversees three other not-for-profit initiatives including the Al Maaden Sculpture Park (inaugurated 2013); bi-annual photography award La Chambre Claire; and the Passerelles ('Bridges') programme, connecting young locals with contemporary art and design through workshops, classes and museum visits.
MACAAL in 2016 was inaugurated by "Africa Is No Island", a group photography show comprising some forty artists working on the continent, as well as in the wider context of African culture. Curators Baptiste de Ville d'Avray, Jeanne Mercier and Madeleine de Colnet, co-founders of African art platform Afrique in Visu, explained that Africa is not an island but rather a connected territory, full of possibilities. The curators pull it off with remarkable conviction: Namsa Leuba, based between Switzerland and Guinea, examined African identity through the Western imagination, while Italian/Senegal artist Maïmouna Guerresi's taps into Islamic art with her regal portraits. More extraordinary still, are Ivory Coast photographer Joana Choumali's images of the last generation of scarified African people, still performing superficial incisions on skin to create permanent identifying marks.
Upstairs, the permanent collection includes Billie Zangewa's embroidered silk tapestry Sun Worshiper in Central Park, 2009; Eric van Hove's industrial joints and Citroën parts carved from cow bone and copper and teak (one cog cover looking like nothing so much as a human heart); Mounir Fatmi's tangle of coaxial cables bolted to wood, called Ceux Qui Savent et Ceux Qui ne Savent pas (2008), and Abdoulaye Konaté's woven West African textiles for Composition en blue ABBA 1, creating an evocative, politically resonant panorama of sunlight glistening on the ocean.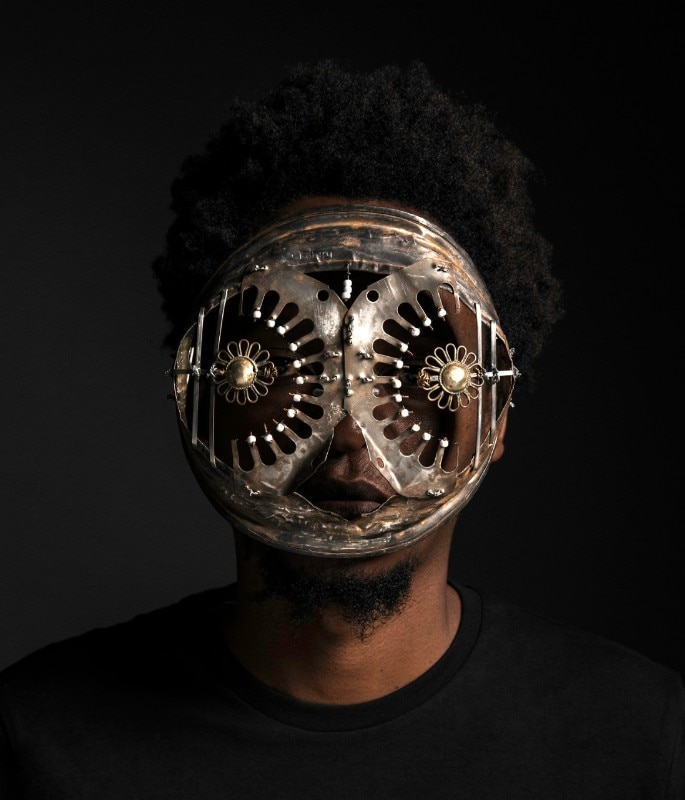 In a closer future, 26 February 2019, the exhibition "Material Insanity" will represent a MACAAL grand-opening back, containing works by over thirty artists including Hassan Hajjaj (Morocco), Ibrahim Mahama (Ghana), Frances Goodman (South Africa) and Nari Ward (Jamaica) which explore varying media as a theme. The resulting works include new site specific pieces commissioned by MACAAL. Through installations made from everyday objects, the exhibition combines various aesthetics that result in discourse.
The group show is curated by Meriem Berrada, Artistic Director at MACAAL & Head of Cultural Projects at Fondation Alliances & Janine Gaëlle Dieudji, Exhibitions Director at MACAAL. Meriem Berrada affirmed: "The works that form Material Insanity go far beyond the renaissance of waste plastics or agro-food industry scraps as artistic objects; they become powerful visual metaphors which tackle topics such as social domination in M'barek Bouhchichi conceptual research, migratory movements of Mahama's and reinterpreting ancestral craft in visual artwork like Amina Agueznay."
Through immersive scenography created by architect and artist Zineb Andress, the exhibition questions the relationship between form and meaning across diverse countries and cultures today, confronting the spectator with the reality of social responsibility as an urgent necessity.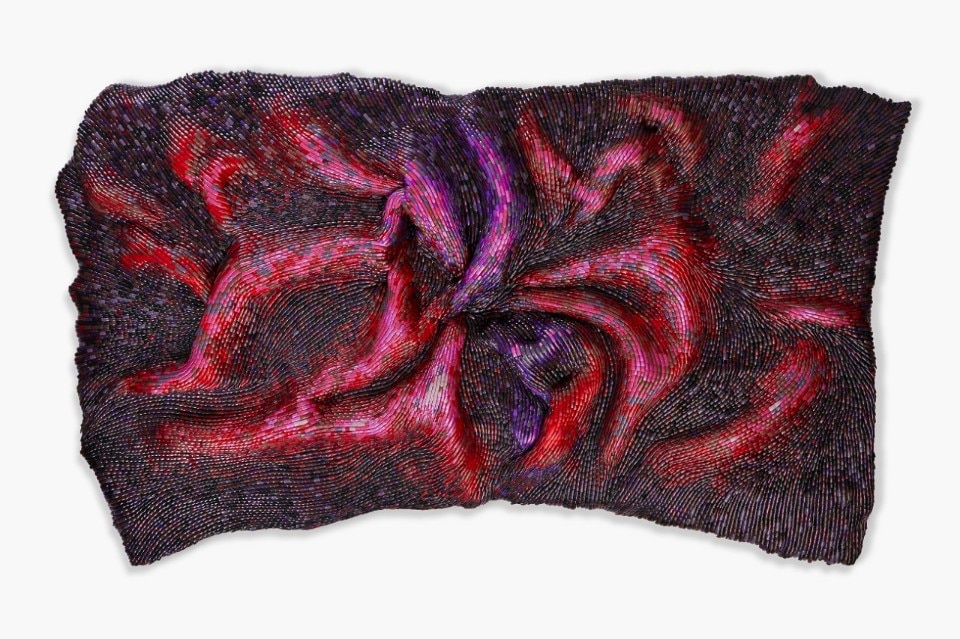 Material Insanity reacts to a growing interest in contemporary art directed towards a focus on transient or intangible artworks, often seen as a reaction against globalization and consumerism. This can be seen in works such as Clay Apenouvon's (Togo and  France) stretched black plastic film, Owanto's (Gabon) embroideries exhumed from the collective memory and Cyrus Kabiru's (Kenya) material reinvention of electronic waste in the form of sculptural eyewear.
Re-assembling materials often associated with trade and waste as artworks, artists including Nari Ward (Jamaica), Beya Gille Gacha (Cameroon and France), Fatiha Zemmouri (Morocco), M'barek Bouhchichi (Morocco), Hassan Bourkia (Morocco) and Malek Gnaoui (Tunisia), use materialism as representations of memory, migration, societal expectations and tradition. Through their selected media they expose traces of many individual journeys and histories, illuminating the multiplicity of stories within the contemporary climate.
Souleymane Bachir Diagne, a Senegalese philosopher, whose work is focused on the history of logic and mathematics, on the tradition of philosophy in the Islamic world, identity formation, and African literatures and philosophies, thus introduces the exhibition:
"The artists brought together by Material Insanity share the same dissent and the same affirmation. They refuse that matter exists only in service to form, as a bearer of message, or meaning. Let it be simply what is used to give form to the work in which it will then disappear. Through their installations and creations, these artists breathe new life into found objects, debris, and materials continually rejected by the waste machine that is our commodified world, refusing to let us ignore matter as a mere medium to be used. And so – as the art of Clay Apenouvon shows us – the packaging is itself the work"
"The artists converge in affirmation of that which Omar Berrada, when he read the work of M'Barek Bouhchichi, named "faith in matter". By choosing to direct attention toward the eyeglass frames and other recovered materials from which these "masks" are reinvented, the works of Kenyan artist Cyrus Kabiru do indeed play with the venerable tradition of African masks, whose open or closed eyes are riveted in eternity. By way of their re-creation by Kabiru from recycled, unlikely mad matter, these masks are reintegrated into the future. From now on they live in time. Our time."
Exhibition Title:

Material Insanity

Opening dates:

From 26 February to 22 September 2019

Curated by:

Meriem Berrada and Janine Gaëlle Dieudji

Venue:

MACAAL

Address:

Al Maaden, Sidi Youssef Ben Ali, 40000 Morrakech, Marocco