In Berlin, "Expand Extract Repent Repeat" is actually the most inclusive exhibition voted to enhance Nida Sinnonkrot sculpture, photographs and in­stallation in Europe. Conceived as an anthological synthesis, carlier | gebaurer welcomes to Sinnokrot's practices in order not to underline a specific originating context of contemporary Palestine. The exhibition, indeed, does not focus on identity, but instead examines how social, environmental, eco­nomic, and political structures play out across national categories.
The monumental dissected shipping container, titled Jonah's Whale (2014), appears almost unexpectedly as a metallic thoracic cage, sliced  into eleven cross-sections, showing ready-made layers of steel, gypsum, insula­tion, wires, carpets, and a mattress. In relation to the wandering tribes this altered structure raises questions about permanence, nomadic traditions and borders. A shipping container that becomes a settlement engages in becoming permanent but slicing it implies re-entry into circulation. This landlocked, modified shipping container, opened like a set of Venetian blinds, sheds light on itself and on the Palestinian landscape it is instrumental in shaping, in unexpected ways. Here tired distinctions of interior and exterior collapse.
Referring to the divine origins of debt and marking a daring contribution to the history of the ready-made, Jonah's Whale, a shipping container once used as an Israeli settler caravan and later repurposed as a Palestinian construction site office, stands in eleven cross sections, carefully hand-sliced, formulates a complex palimpsest of power and commerce. The structure is striking with a subdued horror in its beauty. These are not the cuts of an enraged man though they do betray a degree of unrestrained violence, but rather the work of an obsessed surgeon searching for the cause of a disease, or that of an archaeologist carefully examining the petrified corpse of a creature yet to be catalogued.
With Jonah's Whale and the photo series Caravan, named for both ancient Middle Eastern trad­ing practices and contemporary pre-fab mobile home units, Sinnokrot shows how this trans-na­tional symbol of global trade functions as a cultural metaphor within a regional context. Layered with history and patina, the structure is inscribed with traces of its journey from container to caravan to construction site office.
Since Sinnokrot began his practice nearly two decades ago, his researches on gaze's ghosts (Untitled Shutter, 1999) have been characterized by the artist's refined sense for aesthetic distinctions. Such sensibility is in fact what these works are about: the intuitive judgment that makes things look and feel right together. How objects speak to one another (and to their beholders) across time and space is a question that bridges domains both profane (politics, economy, art direction, product styling) and sacred (traditions, rituals, predictions and transcendences). While Sinnokrot borrows codes from both of these worlds, this latest exhibition finds his more confident than ever in his command of the language of absence and analogy.
In front of Jonah's Whale, holding a sort of rank, Rubber-Coated Rock, All-Stars 02 (2015) series evokes rubber-coated bullets, these sardonically named objects belie a tragic imbalance of power. Their weight reminds a formal dialogue between nature found at-hand and nature transformed by technology. Made from rubble, stone, discarded balls and lashings collected in Jerusalem, a threshold of possibility emerges as these potential projectiles curiously take on anthropomorphic features in the moment before impact. Balanced on hand-made metal stands atop a series of tall pedestals the tension in their suspension is all too real while their highly stylized portraits serve as a poignant reference to the production of martyrdom.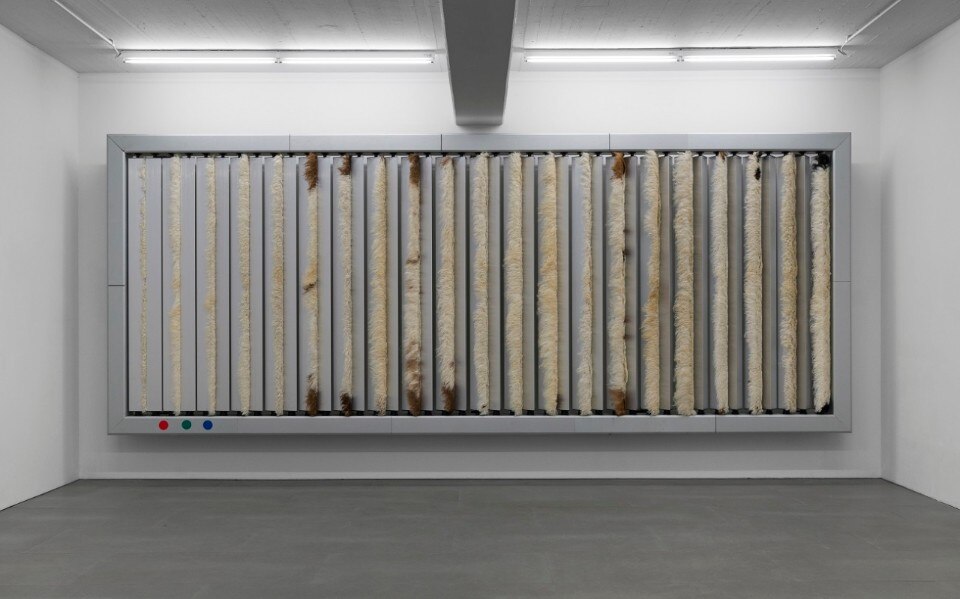 Another huge-proportions work, is Ya Ghanamati (Billboard no. 02), a full-sized 6- meter long mechanical tri-louver billboard, realized in 2014 and partially surfaced with sheepskins pulled and squeezed between its rotating, reflective aluminium surfaces. It represents an emblem to the mechanisms of commercial debt. Billboards are tools for projecting dreams or for promising satisfaction through consumption. However Sinnokrot takes advantage of this tool to re-invoke a very basic desire, that of return. The perpetually rotating surfaces of polished aluminium and sheepskin are constantly disappearing and returning in a cycle that provokes us to consider our most important national dream within the current landscape of consumer culture.
Hearing the blank sounds of turning pages, activated by Exquisite Rotation (2015, 2016), the golden reflections of Rawabi (2013, 2014) accompany an abstraction of a bulldozer with golden diggers, standing in stark contrast to the landscape of the imagination, a perversion of a promised future, and with that, the promise of debt, concealed behind a perfect smile.
The superimposition of one history over another one is at the heart of Sinnokrot's fascination with material objects. It's a mode of survival, in which forms persist through displacement, copying, replication, and translation. It also explains how his documentation of artifacts, outdoors or in private spaces, fits within his expanded conception of still life. Sinnokrot uses trans-medial constructions not only to materialize visions, but as a slow method of collecting. Analogue slowness rhymes with the thematic dwelling on complex sedimentations of time: both are pitched against the disposable immediacy of digital playback and the logic of nervous gratification inherent to the internet's vertical feeds. All the same, Sinnokrot is not necessarily working against the grain of our contemporary condition so much as he is, like everyone else, immersed within it.
Exhibition Title:

Nida Sinnokrot. Expand Extract Repent Repeat

Opening dates:

From November 24, 2018 to January, 19 2019

Venue:

carlier | gebauer

Address:

Markgrafenstraße 67, D-10969 Berlin