Luca Massaro is striking for his lively, active intelligence, one ever on the lookout for connections that could spark new projects. Born in 1991, versatile and rooted in his time, he is careful to underline the self-taught aspects of his work, which perhaps underlie the originality of this outsider's photographs and ideas. His new book, Vietnik, is to be launched in November with an event "to rethink architecture without walls, which is photography in the expanded field of the installation". In the meantime, we asked him to tell us about his solo show at the Marsèlleria Permanent Exhibition and about Gluqbar, his "house and workshop" set up only a year ago but which already has a place in the panorama of Milanese creativity.
"Pieve Emanuele". "La Tendenza" by Luca Massaro at Marsèlleria
"Dittico". "La Tendenza" by Luca Massaro at Marsèlleria
""Gallaratese. "La Tendenza" by Luca Massaro at Marsèlleria
"Segrate". "La Tendenza" by Luca Massaro at Marsèlleria
"Poesia". "La Tendenza" by Luca Massaro at Marsèlleria
"Montenapoleone". "La Tendenza" by Luca Massaro at Marsèlleria
"La Tendenza" by Luca Massaro at Marsèlleria
"La Tendenza" by Luca Massaro at Marsèlleria, installation view
Tell us about your project "La Tendenza". Where did the idea come from?
It started as a commission on the work of Aldo Rossi – the title is a reference to the group "La Tendenza" (covered in a 2012 exhibition at the Pompidou Centre on Italian architecture between 1965 and 1985). Some of the photos were published in a magazine and other out-takes got stuck in my head like the chorus in a song. My photographic life – as with many other photographers – is divided between personal projects and commissions. When I got the chance to exhibit at the Marsèlleria, a place that has supported the arts for ten years through work in fashion, I wanted to highlight this biographic, exhibitory and semantic duality. The words "La Tendenza" at the entrance to the exhibition dialogue with the images, playing with the title of the show and the name of the architectural group and creating ambiguity, the different nuances of which are left up to the visitor to interpret.
I liked it at the opening that some read the sequence as personal architectural photography, while others saw it as a journey through time and a form of semantic criticism or self-criticism. Why does everyone talk about "fake news, the Anthropocene and blockchain" today when yesterday it was "storytelling, the sharing economy and the post-internet"? How can photography tap into the zeitgeist of a period of history and transform it into personal expression, into the image of a timeless space? A 2.5-metre photographic print in the exhibition (it's so big it becomes an immersive, almost abstract image) features the word "Poesia" (poetry) in a window in the Gallaratese district of Milan, unwittingly restoring another interpretative key to architecture. It has – ironically – become a trend, an abused topos. The ambiguity of this typically Italian word is therefore a point of departure, somewhere architectural commission and installation, the historical avant-garde and passing fashion, and the past and future all meet.
Img.1 "Vietnik" by Luca Massaro at Metronom Gallery
Img.2 "Vietnik" by Luca Massaro at Metronom Gallery
Img.3 "Vietnik" by Luca Massaro at Metronom Gallery
What does photographing architecture mean to you?
I'm not an architect and I wasn't trained in a photography school, so I don't believe I can be a "real" architectural photographer like some of the friends whom I asked for advice during the research stage. There are clear, fundamental differences between my personal photography (installations and books), commissions (sometimes I like putting my ego aside and becoming part of a team) and the renewal of a building (I've got no pretensions here to academic training) – but often the borders are often porous and this installation demonstrates and experiments with this. I don't believe in pure documentation. My work focuses rather on the invisible space that separates a photo from its caption, and the production of images from their consumption, in their different forms of translation and transmission. Then I've become aware that unconsciously I'm always coming back to the duality of the medium of photography and the relationship between image and word. All my personal works – which start from architecture or music – are produced in a split, in what Deleuze called the "double articulation", in the disconnection between seeing and speaking.
You're from Reggio Emilia but you've lived in Paris, New York and now Milan. What has motivated your choices?
The sun and food, professional contacts and a little healthy Italian pride. I also feel part of a hyper-connected European generation, and Milan today is a cultural centre growing towards the level of other large cities, one easily attainable from here. Since my last university exam in Paris on Andrè Malraux, I've taken on the concept of an "architecture without walls – constructed on the possibilities and proliferation of photographic reproducibility" as a metaphor for my life and imagination. I've developed my studio on the Italian "house-and-workshop" model, but with a good internet connection and a central location – it's in the Stazione Centrale zone. I've got one foot halfway between Milan and Reggio Emilia (which is only half an hour away on the high-speed train) and the other ready to leave (to the coast next weekend).
TELEMARKET, at Gluqbar with Parasite 2.0, Pietro Mazza, Valentina Cameranesi, Filippo Luini, Giorgia Caboni
RETINA at Gluqbar with Giorgio Di Noto, Enrico Boccioletti, Alessandro Calabrese, Irene Fenara, Martina Corà, Luca Massaro, Filippo Minelli, Teresa Giannico
RETINA on show at Gluqbar
Caterina Barbieri Interactive Website by Gluqbar Studio
Sofia Borges, Gluqbar Public Installation Reggio Emilia
Federico Clavarino, Gluqbar Public Installation Reggio Emilia
Gluqbar is a year old. What's at the heart of this project, which you yourself have called "amphibious"?
The studio/gallery has an entrance on the street and I live on the floor above. Gluqbar is a house-plus-workshop for the sharing economy (half of it is always for rent on Airbnb) – it's part of the "entrepreneurial precariat", if you like. It's a space that's domestic and public, and used for research and work. It's personal and collective, and goes beyond the set boundaries between art, photography, publishing, art direction, clubbing, architecture and (web) design. I designed the restructuring of the disused space and chose a name with the same attention to detail that I'd apply to a book or installation of mine. It's dualistic and ambiguous like my photographic work, "amphibious" like the sofa-bed by Alessandro Becchi in the studio, which I work on sometimes but also sleep on occasionally. The two floors complement each other in colour and tonality. The hues are cold and white in the public working area, warm and bold in the private living space. "Gluqbar" sounds like the name of a bar on the outskirts of the city (in Via Gluck), but with the variation of the letter "q" instead of "ck". It also recalls Uqbar, Jorge Luis Borges' imaginary city.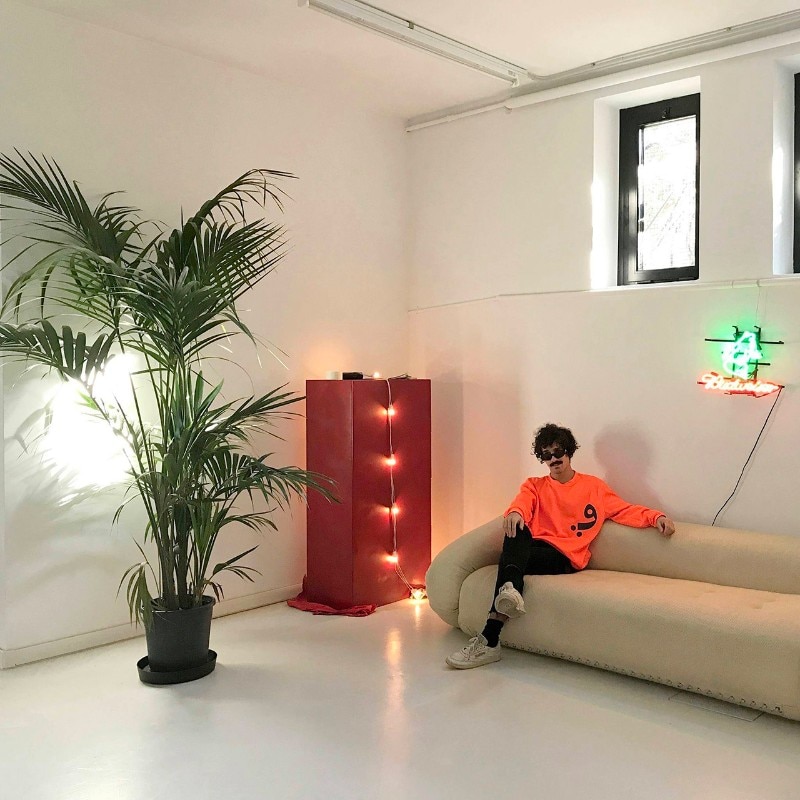 Having a studio gives me space and three-dimensionality for ideas and photographs, but it also lets me open it up – under a name different from mine – to collaborations on exhibitions and commissions (in Milan and Reggio Emilia, and online, Gluqbar has worked with what I think are some of the most interesting groups of my generation). You can see a traditional exhibition, watch a magazine shoot, hold a meeting for a website, or simply have an aperitif in the little garden, just as you would in a bar. Gordon Matta-Clark's Food and Alighiero Boetti's One Hotel are points of reference for me of liveable art or "anarchitecture" – I feel much closer to these than to a traditional studio. Gluqbar started as a URL window, developed into a series of public installations in Reggio Emilia, and this year has been a gallery/club in Milan. In September we'll be reopening with a festival and other initiatives bringing together image and sound. In future I'd like to take Gluqbar outside the walls of Via Gluck.
Title:

La Tendenza

Photographer:

Luca Massaro

Opening dates:

11 July – 14 September

Venue:

Marsèlleria Permanent Exhibition

Address:

via Paullo 12/A, Milano